TechLatest is supported by readers. We may earn a commission for purchases using our links. Learn more.
Finding the coolest and comfy Activewears have always been more accessible with Fabletics. With the best-fetched results and 20-50% off on all the products, your clothing collection would have undoubtedly increased.
However, with top-notch quality options and discounts, you often go out of budget, or another reason you would think of canceling its VIP subscription. We have covered you all if you are wondering how to Cancel Fabletics! 
You can cancel the Fabletics premium plan anytime and avoid spending on its membership. It is noteworthy that unused Member Credits have a lifetime of 1 year from the date of purchase.
Note: There are no time limitations on using the member credits as they don't expire
How to Cancel Fabletics?
There are several ways to cancel Fabletics. You can choose one that you find suitable. They have better customer support; hence, reaching out and canceling is smooth. It is apparent with the variety of methods that it offers.
Method 1: Cancel Fabletics Online
The most straightforward way to cancel Fabletics Online is to visit its official website.
Follow the steps given below to cancel your Fabletics membership online:
Head over to Fabletics.com
Navigate to Account and log in with your credentials
Click on your profile icon at the top-right side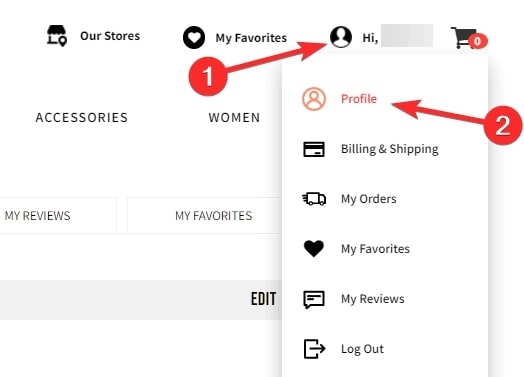 Select Cancel from the drop-down menu that appears
As a part of customer feedback, you will have to answer the page's questions about why you canceled the subscription! You should share the real reason. Besides, you need not worry as none of your answers will affect the membership cancellation plan.
If you do not want to follow an online procedure, then the next method is for you! 
---
Method 2: Call Fabletics Team Member
You can avoid canceling your Fabletics membership anytime at the convenience of a call. All you need to do is have the mobile number linked to your account and login details to confirm that it is you!
Further, call the number 1-844-322-5384 to talk to any of its team members. You can do so at any time, as they are reachable 24/7. While you connect, you can specify that you wish to cancel your subscription, and they will ask you for some of your account credentials.
If you are not so open to calls or not in a hurry, then you can back out even over text. It's not much time-consuming as it's a live chat!
---
Method 3: Connect on Live Chat
You can connect with Fabletics over Live chat through its official website.
Follow the steps given below to cancel Fabletics via Live Chat:
Login to Fabletics.com
Go to Help and Contact
Click on Contact Us at the bottom that reads Still can't find what you're looking for? Contact
Select Live Chat amongst the three methods that appear

You can then mention that you intend to cancel your Fabletics account! When chat is a way out for you, the same thing can be exciting with more convenience and ease. Do you want to know how?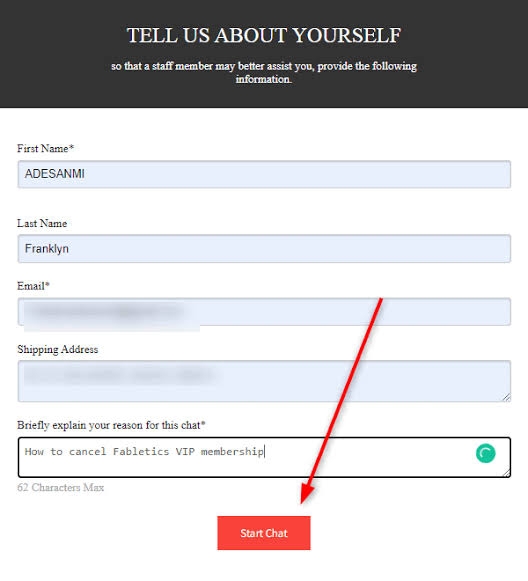 Well, the following method is for you! 
---
Method 4: Ping on Facebook Messenger
Facebook Messenger is simple and quick to chat. With chat heads over your smartphone and a better interface than the official website, Messenger has become the best way to contact anyone.
Follow the steps given below to cancel Fabletics by contacting a team member via Facebook Messenger:
Go to Fabletic's official website
Move to the Help and Contact Section
Hit the Contact option
Select Facebook Messenger, the third option that appears in the pop-ups
The site will take you to Facebook Messenger, and you can text them anytime for help! You need to tell them you wish to cancel, and they will help you do the needful. Further, you do not need to worry about security as the Facebook account is official.
Still, if you want to carry it out officially, you can cancel your plan via email.
---
Method 5: Cancel Fabletics Membership via Email
Unlike every other firm and service out there, Fabletics, too, has email support. What sets them apart is that they provide timely support over emails.
You can compose an email to support@fabletics.com and state that you want to cancel your Fabletics membership. Make sure to clarify in the subject that you wish to cancel your Fabletics membership so that it doesn't get mixed among tons of spam mail.
Besides, do mention some information about your subscription and membership. We also recommend writing to them to send a membership cancellation email after it's done. Thus, you will have official proof that Fabletics has approved your request.
Some of you would still be doubtful about whether you must cancel Fabletics! After continued usage, sometimes you need some time for decision-making. The following method is the ultimate rescue, then! 
---
Method 6: Use the Skip This Month Feature
Fabletics gives you an option to skip this month's feature. With it, you can skip being a premium member for one month. Thus, you can be sure whether you want to cancel or not during this time. Later, when you decide, you can cancel or continue the subscription. You would not have noticed the feature as it is not always available. It shows up on your account page from the 1st to the 5th of every month.
Follow the steps given below to do so:
Visit the Fabletics official site and log in
When you log in, press the orange-colored Skip This Month button
Another pop-up will open with some hottest outfits; click on the Yes I'm Sure to Continue to Skip, which shows up as red-colored text
Fabletics will then email you that you have successfully skipped a month. You can skip Fabletics for a month and will not enjoy the membership benefits. 
---
Frequently Asked Questions
Can you cancel Fabletics after the first purchase without being charged?
You can cancel Fabletics without paying any cancelation charges. 
---
The Final Word
If you were looking for how to Cancel Fabletics, you would have gotten your answer! You can visit their online site and cancel with the direct feature. Otherwise, you can connect with its team members via call, live chat, or Facebook Messenger. Alternatively, you can also send a mail to their official mail. Finally, if you are unsure about the cancelation, you can skip it for a month.
We think the best option is to cancel it online rather than connecting with someone or other platforms. If you have any queries, do let us know in the comments below!
Leave a Comment