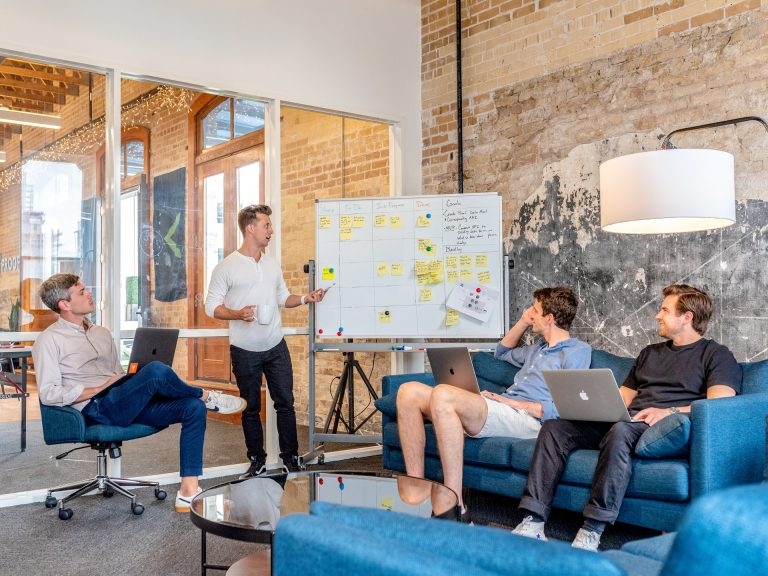 TechLatest is supported by readers. We may earn a commission for purchases using our links. Learn more.
When you're preparing a presentation for a business conference or smaller audience of students, you probably think about making it more interactive and attention-grabbing. One of the best ways to create such a presentation is to make slides animated.
Fortunately, there's a huge number of applications for any operating system that offer animations for presentations. Some of them are even free and cross-platform. Let's check the most popular ones.
Microsoft PowerPoint
Back in the day, the words PowerPoint and presentations would be used interchangeably. This software is known worldwide and is mostly used on Windows computers and laptops.
PowerPoint has a lot of animation options, transitions, and settings to customize the duration, delay, motion, and other key parameters. You can also add a sound to transitions.
Presentations are saved in PPTX format, which is the international standard. That means your file will be compatible with virtually every computer.
All these features and even more advanced ones for editing presentations are included in Microsoft's desktop office suite. The prices start at $6 per user/mo for businesses and $69 per year for individual use.
---
Focusky
Focusky is positioned as software for HTML5 business presentations and therefore a good option for business teams.
Focusky offers advanced animations, including free 3D transition effects — for example, zooming, panning, and rotating. The product provides users with more than 300 animation effects, numerous motion paths, animated backgrounds, and GIF characters.
The solution works on Windows and Mac computers. There's even a free plan, but it applies a watermark on presentations and restricts import to PPTX and access to templates. All the best options are available within the Professional plan for $99 yearly.
---
Keynote
Keynote is the Apple software for presentations, which is normally pre-installed on every Mac and iPhone. As the entire Apple office suite, Keynote is free.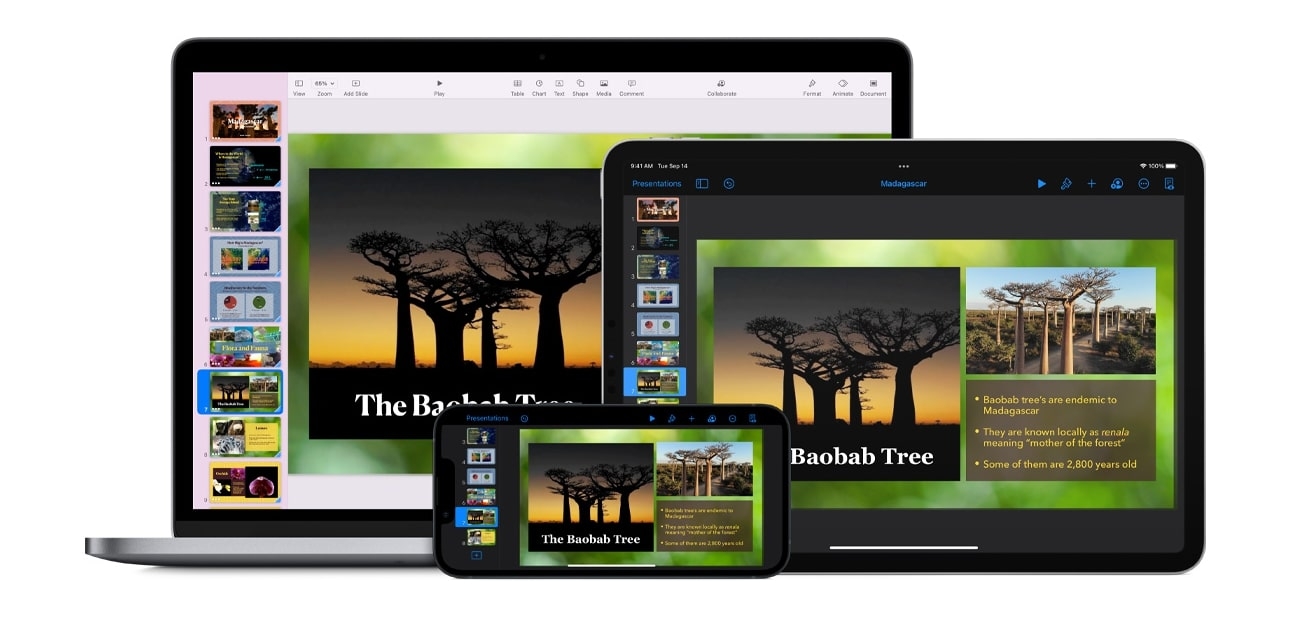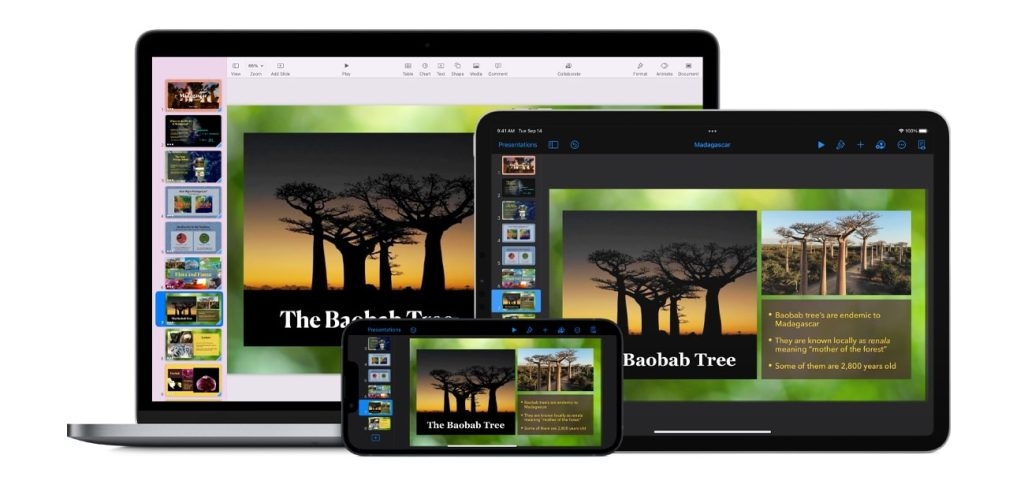 In Keynote, you'll find enough templates for presentations, as well as animation options for objects and text. Transitions for slides are also available. The design of animations in Keynote is really unusual and impressive for viewers.
Except for the omnipresent PPTX format, you can save your slides as a GIF file, set of images, PDF, or even a movie. Keynote definitely offers a bit more than some other free applications. If you have Apple devices or Mac computers, this app would be a solution to most presentation-related tasks.
---
Visme
Visme is an online service that offers presentation editing, animations, and design. The key advantage here is a template library — no need to start design courses to draft a professional presentation.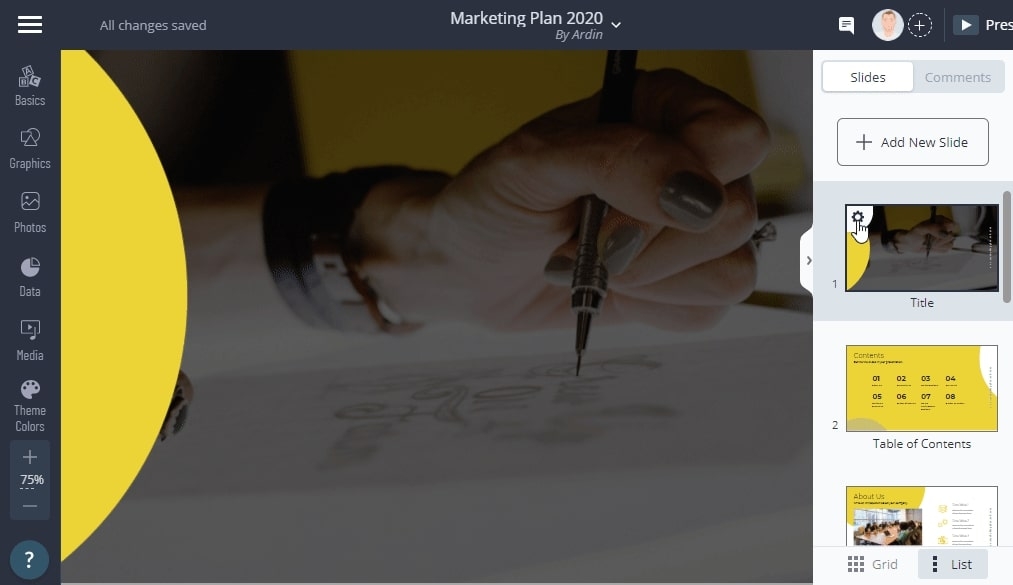 Source: Visme
Whatever field your company is active in, Visme has presentation templates. Technical or financial teams, nutrition blogs, education — there are designs for creating a perfect look and feel of a presentation.
You can add classy transitions and animations, save the final version of a presentation as JPG or PNG slides, PPTX or PDF files, or even as a video with sound. Such features are great for anyone who needs truly professional slides on a nearly daily basis.
Visme is an online-based solution, so you'll need an Internet connection to work there. The pricing starts at $297 per year for 1 user.
---
Prezi
Prezi is one of the most popular presentations apps. No doubt, the best about it is the intuitive and clear interface. Any user can navigate and work in Prezi easily without additional expertise.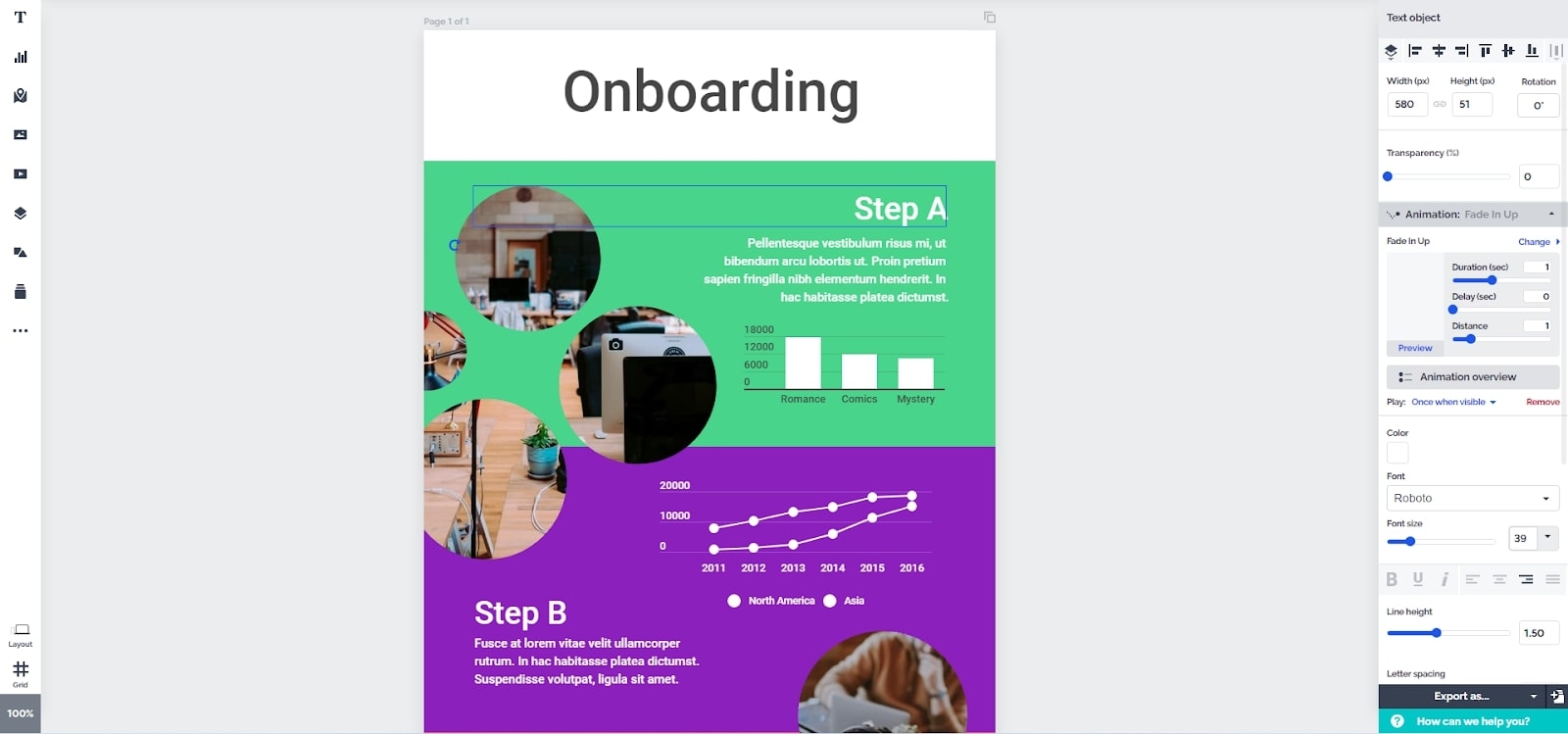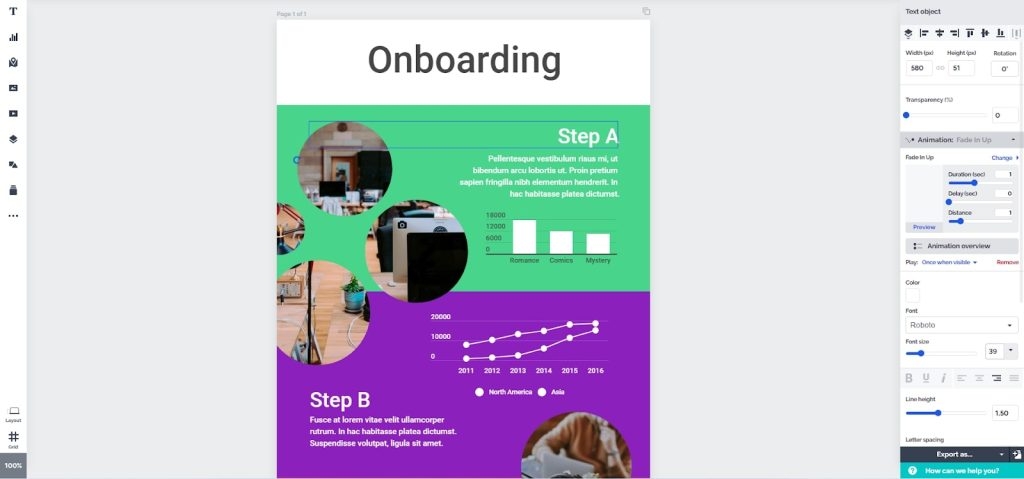 Just like Visme, Prezi offers a template library. However, it provides only 200+ designs — it's enough in most cases, though. Also, animation choice is pretty much limited to fading and zooming in and out.
Thanks to the desktop app, Prezi can run on Windows and Mac computers without the Internet. In fact, this software is perfect for an occasional presenter.
There's a free plan, but the best features and functionalities are available in the Plus plan, which costs $12 per month.
---
Genial.ly
Genially is another feature-rich and user-friendly presentation service. Fully online-based, it provides you with numerous templates and animation choices.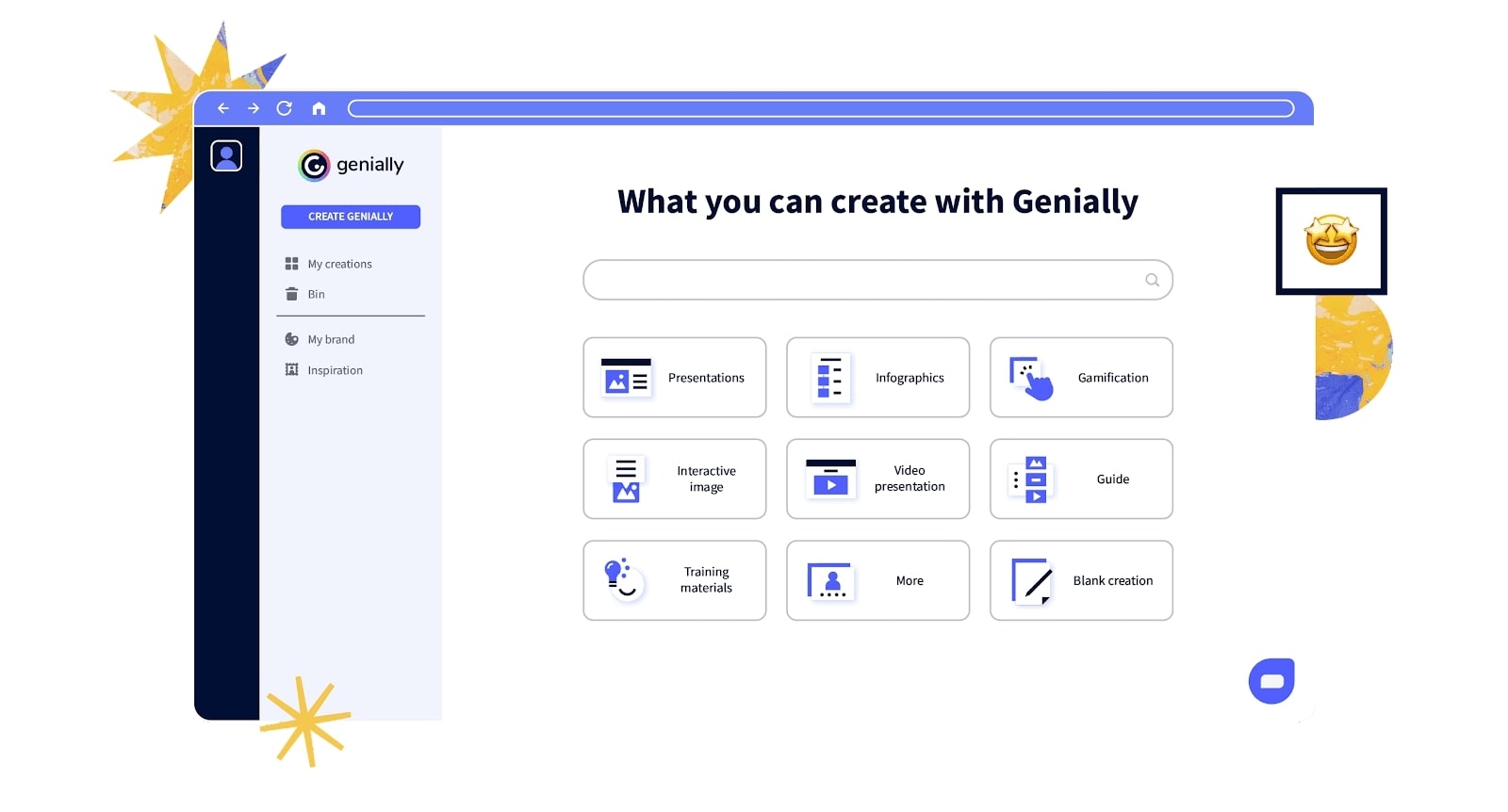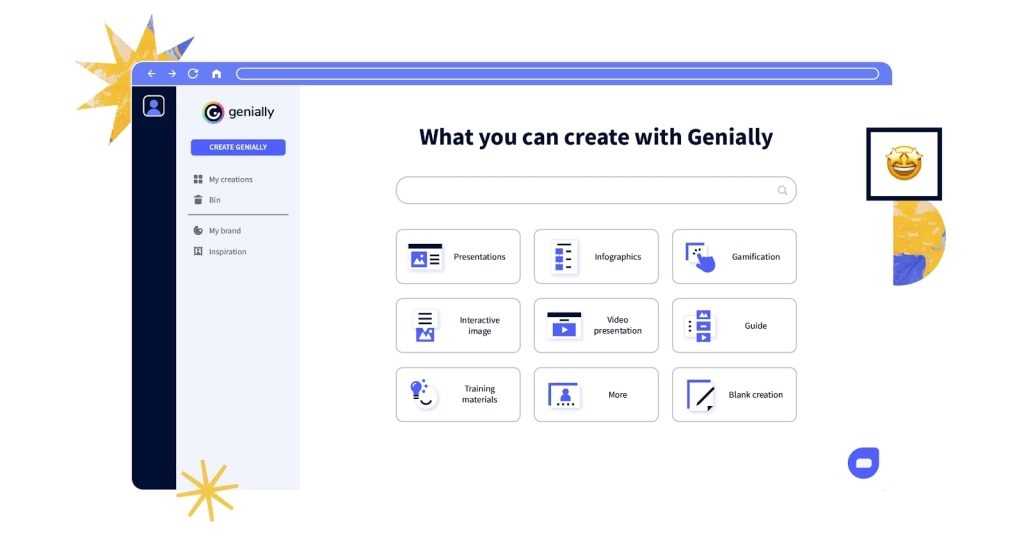 In Genially, you have 4 motion paths and several animation options for each one. Start, speed, and direction can be easily customized in the settings.
Moreover, there's integration with popular stock image websites, such as GIPHY or Pixabay, the ability to insert the so-called smart blocks (charts and infographics), and interactive elements. With these functionalities, Genially is rather a good alternative to Visme or Prezi.
The output presentation can be shared online or downloaded as JPG, PDF, and even HTML. The standard PPTX format isn't really at the core of Genially, so the best idea would be to deliver the presentation right from the browser.
The Pro plan unlocks necessary features and costs 7.49 EUR per month.
---
Final thoughts
Presentations play a crucial role in today's business routine and education. They're a nice way to deliver thoughts to prospects, colleagues, or students in an understandable way. Animations are perfect to win the attention of your audience.
Each of the numerous presentation editing software has animations and transitions for interactive slides. However, the set of features is different in all applications and hence the pricing may vary.
Choose a suitable app based on how often you need presentations, whether advanced animations and templates are important for you, and certainly the cost.
Leave a Comment