Highlights
Due to anime characters, the popularity of anime titles has massively risen to fame in recent years.
Anime isn't available to watch on TV outside of Japan; hence you watch to watch it online.
We have listed the best anime-watching apps for Android and iOS.
TechLatest is supported by readers. We may earn a commission for purchases using our links. Learn more.
Are you an Otaku? Most of you would be familiar with this word, while some may need to be more familiar. Whether or not you know it but you are an Otaku.
Well, anime and manga fans are known as Otaku, a Japanese term. You would be obsessed with characters like Naruto Shippuden, Borato, and various others!
With their aesthetically pleasing appearances, minimal movements, and intricate acting skills, you would also want to watch them on the go. You need anime streaming apps for Android and iOS, and we have covered you all with it!
Best Anime Streaming Apps for Android and iOS
Amongst a horde of streaming apps, you would need clarification about which lets you watch anime. Also, you would think about which deserves your time, and we have covered the best ones under the category!
1. Crunchyroll
Are you looking for a streaming app with the vastest legal anime library?
If yes, then Crunchyroll is what you must check out!
Whether you want to watch Naruto, Boruto, or even JoJo's Bizarre Adventure, the platform has it all! The best part is that you can watch the latest anime without much delay.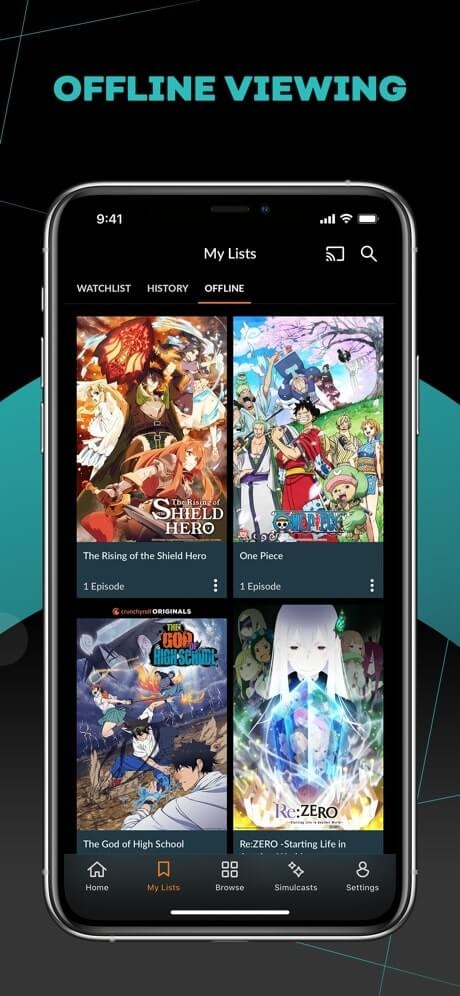 All you have to do is wait for its release in Japan, and you can see it after that on Crunchyroll. You can even stream content from your account to 6 screens simultaneously.
If you are new to anime or need clarification about which show to watch, use its Random Play option. You would see the be options from popular ones and even depending upon the choices you usually make.
You can even check out the show summary before watching it. Further, it doesn't hide the content since it has subtitles that never have a black background.
Apart from watching anime, there's a lot more to the app. One of the most happening activities are playing games, shopping for anime toys and clothes, and there is even Manga for you to read.
However, it has one downside due to its massive variety of content and features. The app has a cluttered interface; hence mobile novices would find it difficult to use. You can watch anime free here for a limited time, after which you have to avail of its subscription.
Check out the app for Android | iOS
---
2. Funimation
How about the second most popular anime streaming platform, which supports legal content for free?
If yes, then Funimation is something you cannot afford to miss!
It also has a paid pain, but those with a stricter budget and who can't afford much can go with this. You can continue for free, which supports free content with ads.
Though it doesn't have as much anime and manga as Crunchyroll yet, you would find the best, trending, latest, and so on. Further, the app is easy to use as everything is well organized.
There is a list of genres with choices like Shoujo and Shounen, which makes it easier to choose. We understand that though you would be unfamiliar with Japan's nativeness, you would want to witness the authenticity of anime.
Hence, Funimation allows you to watch them in Japanese, which doesn't change the original audio. Further, its stand-alone closed captions help you understand what it is all about.
Whether you want to watch something full of romance or action and adventure, you have plenty of options. If you are different from the rest, then the Sci-Fi category would be your partner in leisure time.
Check out the app for Android | iOS
---
3. VRV
How about an anime Streaming app for Android and Ios where you can also watch cartoons and movies?
If yes, then VRV should be your go-to choice!
The app started serving recently and grew to fame in a short time. However, it's available only in the US. Therefore, you have to use a VPN along with it.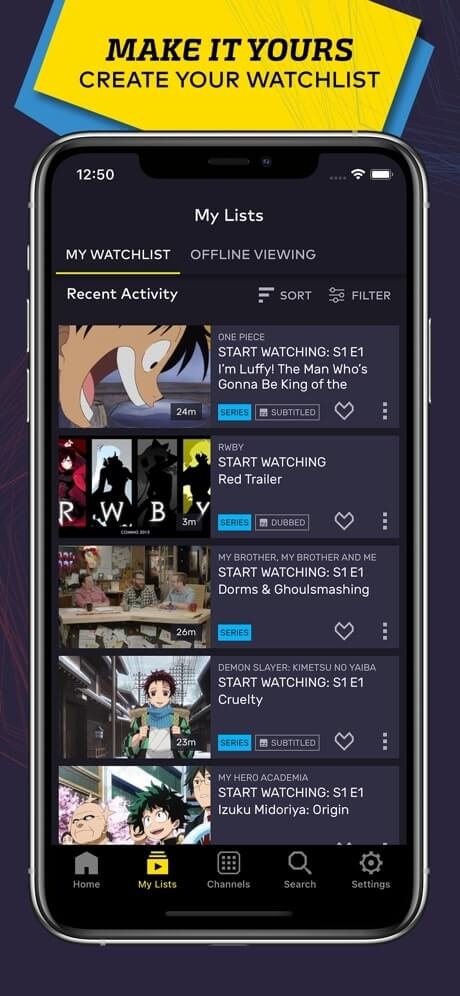 It picks content from the platform, which includes Funimation, Crunchyroll, and Mondo Anime. Yes, you heard that very few platforms let you watch the anime of Mondo, and that's what sets it apart from others.
All of it is apparent from the fact that some experts even argue whether it's better than Crunchyroll. Yet, the most exciting part is that after subscribing to VRV, you get automatic access to Crunchyroll Premium.
Besides, you can easily navigate through the app as it has a friendly UI.
Check out the app for Android | iOS
---
4. 4Anime
Would you like a free anime streaming app with a good collection of subs and dubs?
If yes, then 4Anime anime is for you!
When thinking about an entirely free app, you would think of it infecting your phone with viruses and other malicious files. However, 4Anime stands differently.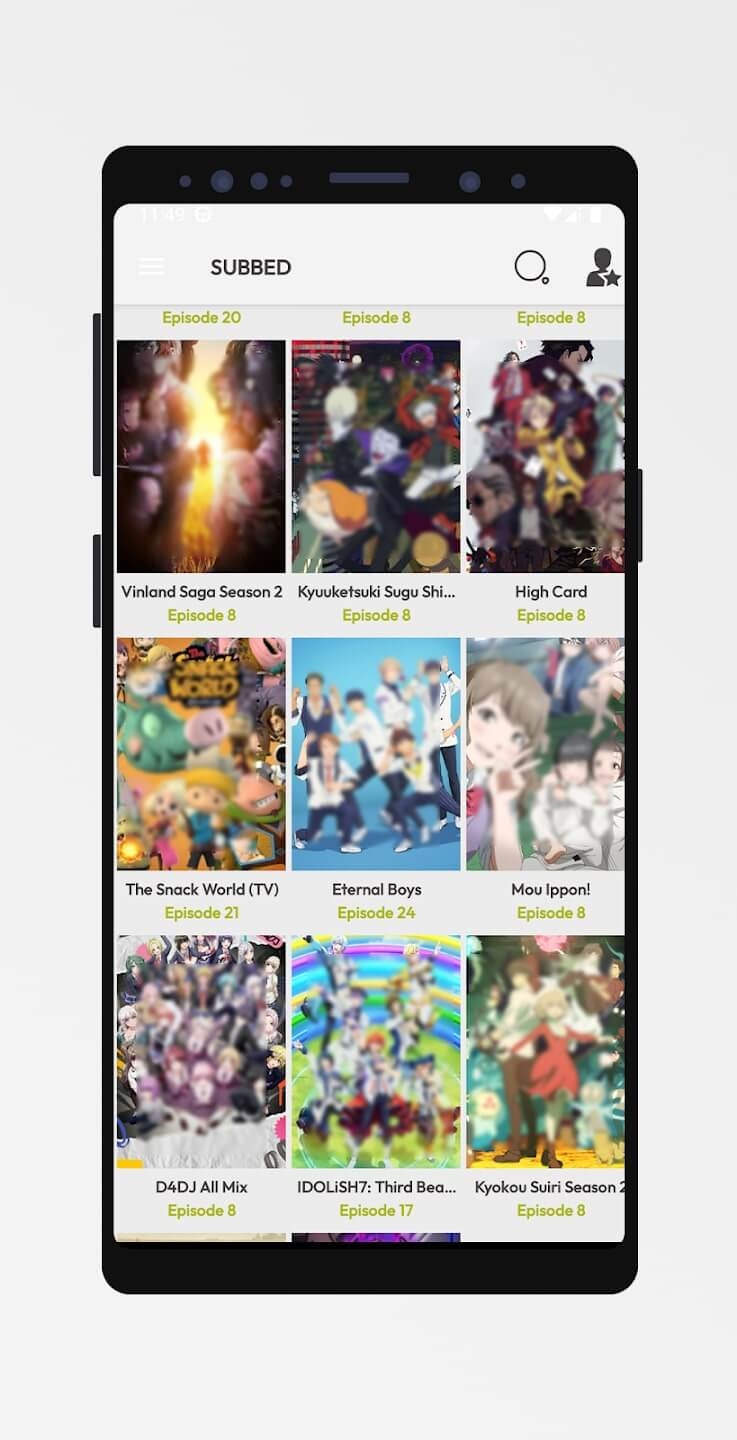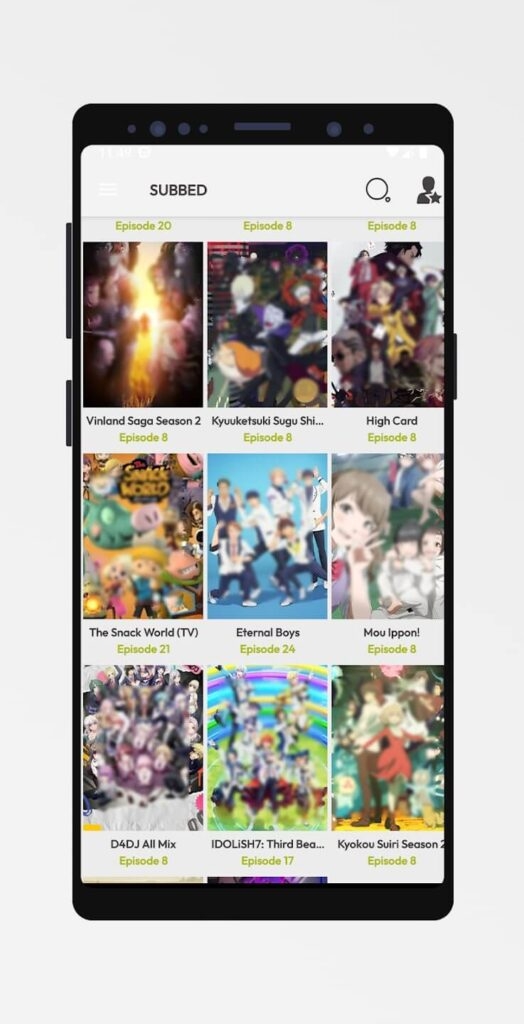 It also has printed content with the most extensive range of subs and dubs and is also pirated. You don't have to see blurred or low-resolution anime as it streams them in HD resolution, which other pirated apps don't provide.
Though using it is illegal in most other countries, it's safe and legal if you are in the U.S.. Yes, you got that right!
So, States users can easily save up to the cost of subscribing to different anime platforms. Those residing in other countries can connect to a VPN for safe access. Its collection is from Crunchyroll, Funimation, Netflix, and similar leading sites.
Another app feature is streaming anime on a poor-quality internet connection. Despite that, the videos won't buffer, so you need not worry.
Check out the app for Android | iOS
---
5. Tubi
Can you imagine a free anime streaming app that features pirated content?
Well, that's possible, and Tubi does provide it. It offers some good quality handpicked content to binge on your weekend. It has a dark theme and doesn't consume much of your phone's battery.
The app has a friendly interface. On the main page, there's an incredible collection of trending shows, and after use, it will show the recommended ones. Further, you can search better with different genres and categories in the explore section.
After watching, you can add your favorite anime to the My List section after signing up. Apart from anime, you can even watch series and movies. Besides, often while streaming, you might not understand anime, so you use Closed Captions, which cover content. In such cases, you can use Subtitles or customize them so they don't affect anime visibility.
Unfortunately, this, too, has a drawback in that you can't download your anime. So, it will consume more data while streaming. You can turn on the app's Data Saver feature to avoid it.
Check out the app for Android | iOS
---
6. RetroCrush
Do you want to immerse yourself in the nostalgia of classic and old anime?
If yes, then you must not miss out on RetroCrush!
As the name implies, it curates a collection of evergreen anime from the retro era. It will roll you back to the good old of your childhood vibes, and you can witness authentic anime better. One of the most striking features of this app is that it has a 24×7 live feed.
Apart from the shows of the 70s or 80s, it does have some new yet incredible collections of anime shows. Though a vintage collection, it has 100 series and easy to use 40 features. However, the drawback is that they last added more classical anime since then.
The developers constantly work on improving the app. Hence, they have enhanced the UI and UX to make navigation easier.
Besides, you can watch it for free with supported ads. Though similar apps in the category do provide the same thing yet, unlike them, it shows fewer ads. Thus, its friendly plan will be easy, and this can be your classic anime streaming app.
Check out the app for Android | iOS
---
7. Netflix
Are you looking for an anime streaming app with the best anime collection?
If yes, then Netflix is just for you!
The streaming service needs no introduction to whether series, movies, or any other; Netflix is the go-to binge-watching partner. Its friendly interface makes it easier to browse content.
To watch anime, you have to locate the anime category, and you will see plenty of anime. Whether you want to see subtitles or not is entirely your choice.
Further, with shows like Naruto, Demon Slayer, Fullmetal Alchemist, and Black Clover, the nail-gripping storylines and incredible quality screen resolution will entertain you.
You can go ad-free by subscribing, and legal anime is another ado. Plus, Netflix is accessible in most prime locations; hence you don't have to use a VPN. You can choose to see the Closed Captions and customize them per your preferences.
The benefit of subscribing to Netflix is that with its premium, you can access other content like web series, movies, and cartoons.
Check out the app for Android | iOS
---
8. Hulu
How about a legal anime streaming app with 100+ anime titles that let you watch movies and web series?
If yes, then you should go for Hulu!
Similar to Netflix, Hulu is a legal streaming pp that is extensively accessible in most countries and has an anime catalog also.
Yet, the difference between the two is that Netflix features the best anime of all time, while Hulu has a massive collection of 100+ shows.
Be it evergreen anime classics like Cowboy Bebop or contemporary ones like Naruto Shippuden, you would get them all.
Whether you want to witness romance to the peak with the emotion of your favorite characters, see them battling, or enjoy some horror genre; Hulu would help you.
Yes, you can sort anime into various genres like romance, action, horror, sci-fi, adventure, and other categories.
For a hassle-free experience and to access them all, you have to subscribe to Hulu+, but it's worth it.
Check out the app for Android | iOS
---
9. YouTube
There's an anime streaming app on your phone, so you don't have to download another.
Yes, many of you have guessed it right it's YouTube!
With the ever-growing collection of videos, channels, vlogs, and a comprehensive database on YouTube, you would find tons of anime also.
Its variety includes Revolutionary Girl Utena, Sherlock Hound, Chibi Maruko, and many more. All of them are legal and free to watch. So, what are you waiting for? Binge on them now!
---
10. AnimeLab
AnimeLab is yet another very popular anime streaming service. It is also extensive in terms of shows. With this app, you get new HD episodes of popular shows straight from Japan.
With over 718 shows spread out across 32 genres, AnimeLab is great if you are way into Anime. The only catch is that it is available only in Australia and New Zealand.
However, by using a VPN, you can bypass the geographical barriers and use this app for streaming anime on your smartphone.
---
11. Amazon Prime Video 
Amazon Prime Video is one of the most affordable streaming services with a little bit of everything. You will find award-winning Academy movies, classic TV shows, etc. 
Well, that's not everything; you can find a lot of cool anime titles on this platform, including Great Teacher Onizuka, Akira, Cowboy Bebop, Flame of Recca, Toradora, etc.
The streaming quality is fantastic and you also get the option to save your favorite shows offline so that you can watch them later.
---
12. RetroCrush: Classic Anime
Finally, we have RetroCrush: Classic Anime. Here too, the name is a dead giveaway. If you are looking for an app that curates classic anime, this is the perfect one for you.
The app is very minimal in terms of design. The app is free to use, and you can stream all the nostalgic anime series from this platform.
---
The Final Thoughts – Best Anime Streaming Apps for Android and iOS
Anime Streaming apps for Android and iOS are a great way to watch anime titles on mobile. Moreover, animes aren't available on cable or TV networks, but you must be careful when selecting a streaming platform. We find Crunchyroll as the best anime streaming platform for the subscription.
Further, if you want to watch ad-supported anime for free, then Funimation is a must-check. When it comes to retro anime, you can use RetroCrush. Lastly, if you want to stream free content without ads, then a pirated streaming app like 4Anime.
Further Reading:
Leave a Comment