Highlights
It's been a long-time since the release of GTA 5, and its fame is evident because it still stands as one of the best games.
However, its original graphics now seem outdated, and you might feel the need to offer immersive gameplay.
GTA graphics mods fix this drawback, and we have covered you with the 10 best ones.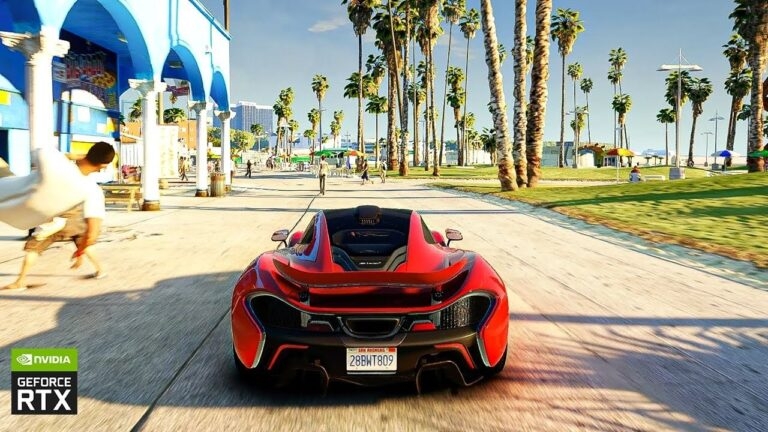 TechLatest is supported by readers. We may earn a commission for purchases using our links. Learn more.
We all like to play games with modern and HD Graphics. When players see intriguing Graphics on the screen, it helps for immersion, and a gamer can perform with more concentration. At the same time, it feels pleasing to the eye.
Every graphical element, like the environment, setting, characters, lighting, and motion aesthetics, shapes a game's look and feel. So, game developers have been paying a lot of attention to it.
During its release, GTA 5 was one of the few games that offered top-notch Graphics to users. It gave an unmatched gaming experience on Xbox and Playstation, improving players' gaming skills.
But, the technology has been rapidly changing, and users expect more high-quality graphics from the game. You can always get a Graphics mod for the game if you are one such user. 
This article will describe the best graphics mod for GTA 5 with their details. So, you can choose the ideal one to get incredible graphics in your GTA 5 game.
Read: A Comprehensive Guide To Install Mods in GTA V – Everything You Ought To Know
Best Graphics Mod for GTA 5
There are several Graphics Mods available online with a variety of features. But we have listed the ten best ones to take your game's graphics to another level. They are as follows:
1. Visual V
Do you want your GTA V to look like the real world?
If so, you can use the Visual V mod that works intending to replicate the real world. It depicts different kinds of weather similar to the ones found in Los Angeles Photos and videos. Also, it has adequate lighting that makes every element more visible in the game.
It has precise details as the moon's movement begins from the east that has a size matching the real-world moon. Moreover, there are fog elements that make the visuals more stunning than ever. 
The developers of Visual V have created special cloud colors, their intensity, and movement from scratch for the Players. You can see clear shadows of the vehicles in the game, which creates a pleasing effect without blocking other vehicles.
In the recent updates, the same lens flares for three lead characters have been added, which makes them look more commanding.
In addition, a dithering effect from the grass has been eliminated to make it look more authentic during rains. Plus, the developers have made many other minor changes to make it an overall excellent background experience for a user.
It brings edited details like areas/interiors and better color correction than the real game that, makes Los Santos and Blaine County look so much better. You will be delighted to know that this mod enhances the game's rendering code, which helps for seamless gaming.
This mod can be installed on both high and low-end PCs as needed, making the visuals look flawless. Some reports suggest that this mod increases FPS.
---
2. Natural Vision
How about a Graphics mod that gives you sharp visuals and improved reflections?
If so, you can download and use the Natural Vision graphics Mod. Although, its original version was too outdated. But the new version of the graphics mod is incredible to use.
Natural Vision has been considered one of the most impressive graphics mods for GTA V. Its new version is a fascinating mod with perfect details and elements. The makers have changed the contrast of the graphics that give perfect lighting and sharp visuals. 
It comes with better highlight elements and better performance, giving you a smooth gaming experience. Plus, you can increase its initial value for more crisp images.
Natural Vision has better glare and reflections than other graphic mods, particularly in night settings. Moreover, the headlights' more defined reactions make it look more authentic. Plus, you get better shadows.
Again a new night version was released on September 30, 2021. In that update, further improvements were made in saturation and glare limit at night.
---
3. Old Gen Vision
Are you looking for a graphics mod with more elements in visual settings?
If so, Old Gen Vision is a must-have for it. It has all the graphics elements of the PS3/X360 version of the GTA V game.
There are a variety of weathers, lens flares, lightning, light pollution, clouds, and other kinds of visual setting elements. This mod restores various graphics elements from the PS3/X360 versions of the game to the PC version. 
There is a common notion that Old Gen reduces the graphical quality of the PC version of this game. But, we shall make it clear that this is not true at all.
Instead, it has visuals and a setting that makes it look similar to the GTA 5 game released in 2010. So, many players use it to get a classic feel. 
Additionally, it has a variety of textures of bokeh, damage effects, and flares that include anamorphic, artifact, chromatic, corona, and water foam. Also, there are snapmatic filters with clouds and storms.
With the new updates, additional editing filters have been added. Moreover, fewer fog volumes are placed around the map, an optional aspect.
You get an option to remove the HUD Blur and remove lens Artifacts. No NGcoronas removes additional light sources from vehicles' headlights and streetlights in the same file.
The developers have made new improvements, offering more settings and elements to install the mod. In addition, the latest graphics added in GTA have excessive and unrequited settings.
So, adding this graphics mod will be of little help. Similar to many other graphics mods, it increases the FPS after installation. 
---
4. PRSA – PhotoRealistic San Andreas ENB
Are you looking for the most commonly downloaded graphics mod for GTA 5?
If so, then you should know about the PhotoRealistic San Andreas ENB. It creates visual settings similar to movies.
So, this is a comprehensive visual enhancing mod that makes any weather or lighting in your GTA 5. Also, it uses custom shaders to create high-quality graphics. 
Most users commonly download PRS graphics mod because it creates precise effects. Moreover, it gives perfect color grades and postprocessing.
It has various customization options; you can change the ENV settings. Overall, you get natural and realistic visuals. Furthermore, you obtain endless looks with accurate elements.
---
5. Colorful Hud 
Are you looking for a simple and attractive graphics mod for your GTA 5?
If you prefer simple and attractive graphics, you can download and use Colorful Hue for your GTA 5. It is an easy-to-use mod, and it brings small yet impactful changes to the game
Just as its name suggests, this mod changes the gray icons that give a dull look to the game. It adds color to every icon making it more lively and pleasant.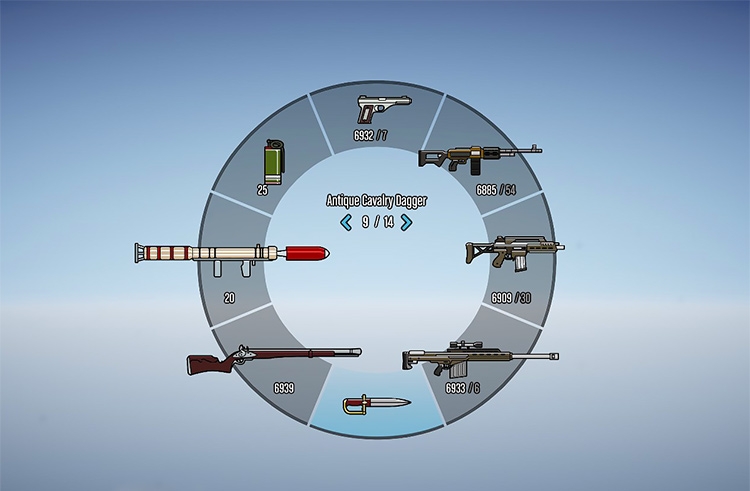 Not just that, it modifies the radio station icons and the entire gray wheel display too. You may think that this one is fundamental in comparison to others. But you will realize that you wanted it once you use it.
It will give you a more enjoyable experience of playing the game with colored weapon icons, radio icons, and even map Blips that don't make too many changes. Instead, it fixes all those dull aspects.
---
6. ENB
Are you looking for a graphics mod that will Increase the graphical quality of your GTA 5 but still give the original feels?
We all like to play games with better graphics to enjoy the experience. Still, we want to preserve the classic look and feel of the game. For this purpose, ENB can be the ideal graphics mod for your GTA 5.
It preserves the basic GTA graphics look and makes it more clear and sharp to use. Although, it will make it look less fantastic than the other ones on this list. But, this is its unique quality. ENB will give you solid graphics, and you will have many other things under your control.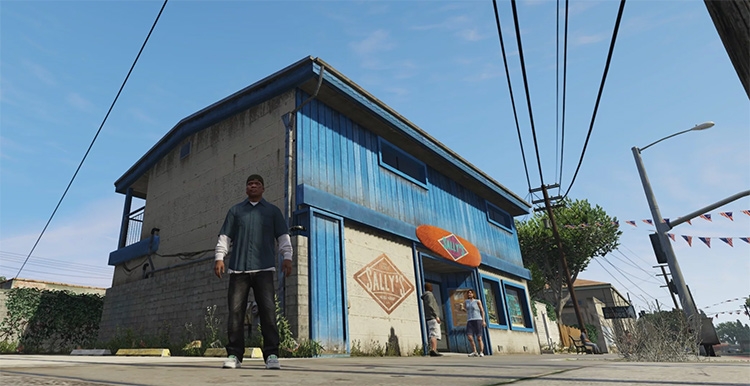 It offers optional modern complex effects. Unlike other games that use fake HDR, ENB uses True HDR.
Moreover, you can change the post-processing filters and colors in your GTA 5 game. Also, it is compatible with many other games besides GTA 5 online. 
Another significant aspect is that ENB allows you to personalize the games visually and make them suit your requirements.
In addition, you can share your personal presets on the ENBSeries forum or other sites. At the same time, you can download the ones shared by others. 
ENB has a small size code with minimal textures. Plus, you get powerful shaders for editing that help you create the graphic effects of your choice.
---
7. Natural Vision Evolved 
Are you looking for a graphics mod similar to the real world?
If so, you must use Natural Vision Evolved, which creates graphics similar to the real world. It is a popular graphics mod for GTA 5.
This graphics mod increases the visual tone, post-processing, and material effects that improve the player experience.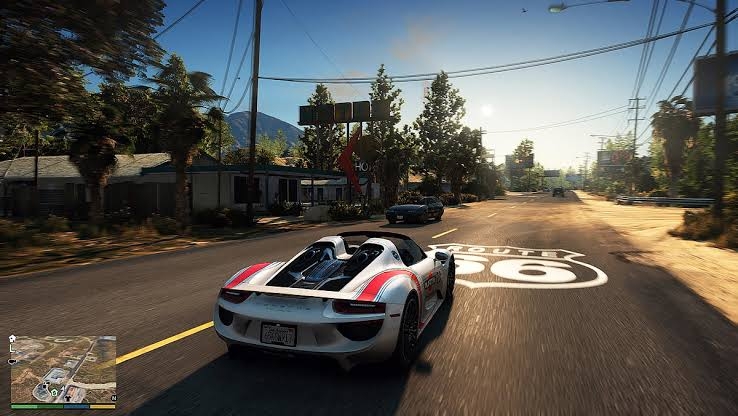 Another important aspect is that the graphics mod offers high-quality screen-space reflections, which makes the graphics closer to reality. 
It includes multiple elements like weather and lighting systems. Additionally, it provides color grading to adjust the color and tone mapping to balance the contrast and tone with textures to improve the feel.
Apart from this, there are building models, ambient colors, vegetation, and more. It was created to reduce the difference between fantasy and reality.
---
8. HD low end 
HD Low End is ideal for people who want to enjoy the enhanced visuals of GTA 5 despite having low-end PCs. It improves graphics quality at lower settings and employs ingenious methods to boost device FPS. So, you can increase the FPS to 20.
You can change its settings and choose among the options that match the capacity of your device. In the latest update, some bugs were improved by the developers, which has made it more smooth to use. 
HD low-end offers a better end color for rains that won't slow your game. Also, it creates perfect light reflections for a realistic feel and gives a more sharp and more natural image than the original ones of the game. 
Moreover, it has improved color correction, which makes the graphics more authentic and less artificial. Plus, there is less saturation for better visuals. There are better rain particles, less GPU power, and better animations.
---
9. Redux 
How about a Graphics mod for GTA 5 that offers a location-based time-cycle edit for customization?
The time cycle of a game is usually different from reality. But redux offers location-based time-cycle edits in specific areas for customization.
It is not like any other graphics mod in the list. We say so because it has updated physics, sounds, and many more visual treats. 
The mod uses GTA 4's Euphoria physics engine that has a great setting with a crisp and clean look. Also, there are stimulated global illumination.
It creates incredible shadow cascades for a more realistic feel with more distance and intensity. Plus, the new time cycle modifiers offer stunning tone mapping. A lowered fog makes it a more natural and exemplary landscape with perfect atmospheric touch.
Redux has lowered lens artifacts and no chromatic aberration, noise, and environmental blur. So you get a clean and barrier-free view. There is an added motion blur, DOF effects, and bokeh that gives a better appearance.
In the latest update, Volumetric lighting has been added for all times of the day. New weather particle effects and elements include original atmospheric mist/fog, pollen particles, dust, and wind debris.
---
10. RTX-V Alter Graphics
Are you looking for a free graphics mod for your GTA 5?
The majority of graphics mods are paid. But, you will not have to pay a single penny for using the RTX-V Alter Graphics for your GTA 5.
It was developed last year, and the recent updates have improved visuals.  It gives a new look to the game and makes the map graphics better for you. 
So, it is unsurprising that more than 13,00 players have used this mod. At the same time, you can expect new features to keep coming up with new updates. You need the mod for clean graphics with vibrant and sharp images.
---
Wrapping Up – Best Graphics Mods for GTA 5
GTA 5 is a popular game; players love its look, feel, and gameplay. Over the years, it has developed a loyal fanbase that loves the game.
However, we love the graphics of the game. Still, players get bored of them and look for something more high-quality.
Consequently, you can use the graphic mod mentioned in the list above if you want better and different graphics for GTA 5. We have listed all the popular visual mods for GTA
V that have unmatched aesthetics. You can try them and give your game a new realistic and visual enhancement.
If you have any doubts regarding these graphics mods for GTA5, please let us know in the comment section below.
Further Reading:
Leave a Comment