TechLatest is supported by readers. We may earn a commission for purchases using our links. Learn more.
With an increase in the number of passwords that we use daily, it has become more important than ever to keep track of them.
In recent years, there has been an explosion of password managers, and Bitwarden is one such password manager that has gained popularity.
This article will review Bitwarden, highlighting its features, advantages, disadvantages, pricing, and more. 
Bitwarden Review, is it Good Enough?
Bitwarden stores your sensitive information, such as usernames, passwords, and credit card details, in an encrypted database. It is a free and open-source password manager that allows you to store and manage your passwords in one place. 
It is available as a browser extension, desktop application, and mobile app, making it convenient for all devices. I have been testing Bitwarden for a couple of months and will let you know some of the key features I admired about Bitwarden. 
Bitwarden Features
Cross-Platform Support
One of the standout features of Bitwarden is its cross-platform support. Whether you're using a Windows, Mac, or Linux computer, or an Android or iOS mobile device, Bitwarden has you covered.
It also offers browser extensions for Chrome, Firefox, Safari, Edge, and Brave, making it easy to access your passwords from within your web browser. 
This cross-platform support is made possible by Bitwarden's use of end-to-end encryption. Your data is encrypted locally on your device before being sent to Bitwarden's servers, ensuring that your data remains secure, even if it is intercepted in transit.
Password Generator
Creating strong, unique passwords for each account is essential for securing your data. Bitwarden includes a password generator tool to create complex passwords with various characters, including uppercase and lowercase letters, numbers, and symbols. 
You can specify the length of the password, and even exclude certain characters if needed. Using the password generator in Bitwarden, you can ensure that your passwords are strong and unique, reducing the risk of a security breach due to a weak or reused password.
Secure Sharing
Sharing passwords with family members, coworkers, or trusted friends can be a necessary part of modern life. However, doing so can also introduce security risks if the passwords are not shared securely.
Bitwarden's secure sharing feature allows you to share passwords and other sensitive information with others in a way that is both convenient and secure.
When you share a password with someone in Bitwarden, they are sent an encrypted link that they can use to access the password.
The link can be set to expire after a certain amount of time or revoked at any time if you no longer want to share the password. This ensures that your passwords remain secure even when shared with others.
Two-Factor Authentication
Two-factor authentication (2FA) is an essential security feature that adds protection to your online accounts. Bitwarden supports a range of 2FA methods, including TOTP (Time-based One-Time Password), YubiKey, and Duo. 
By enabling 2FA for your Bitwarden account, you can ensure that even if someone manages to obtain your password, they will still need access to your physical device or a secondary authentication code to access your account.
Password Health Reports
It can be challenging to keep track of all your passwords and ensure they are strong and unique.
Bitwarden's password health reports summarize your passwords, including their strength, age, and whether they have been reused across multiple accounts.
This allows you to identify weak passwords that need to be updated and ensure you are not using the same password across multiple accounts.
Secure Notes
In addition to passwords, Bitwarden allows you to store and manage secure notes. These can include sensitive information such as credit card numbers, bank account information, or personal identification numbers. 
By storing this information in Bitwarden, you can ensure that it is secure and easily accessible when you need it. Indeed, this password manager also has certain advantages and disadvantages; let's examine that one by one. 
---
Bitwarden Advantages and Disadvantages
Advantages of Bitwarden:
Security
Bitwarden is a secure password manager using the latest encryption standards to protect your passwords. It uses AES-CBC 256-bit encryption, salted hashing, and PBKDF2 SHA-256 bit encryption, "if I'm not wrong," considered one of the most secure encryption standards available today.
Open-source
Bitwarden is an open-source password manager, meaning its source code is available to the public. This allows security researchers to scrutinize the code for vulnerabilities and ensure the product is trustworthy.
Cost-effective
Bitwarden offers a free version that includes most of the features you need to manage your passwords. The premium version is also very affordable, costing just $10 annually.
Easy to use
Bitwarden is very easy to use and has a simple user interface. It also has browser extensions that make it easy to autofill website passwords.
Disadvantages of Bidwarden
No local-only option
Bitwarden is a cloud-based password manager, meaning users must store their passwords on the cloud. Some users may prefer to store their passwords locally, which is not an option with Bitwarden.
Limited customer support
While Bitwarden does offer customer support, it is limited to email support only. This may frustrate users who prefer more immediate support options, such as live chat or phone support.
Limited password sharing
Bitwarden allows users to share passwords with other users, but the sharing options are limited. Users can only share passwords with other Bitwarden users, which may be problematic if users need to share passwords with non-Bitwarden users.
Limited password analysis
Bitwarden does offer a password analysis feature that checks the strength of passwords and alerts users to weak passwords. However, the analysis is limited compared to other password managers, and users may need to use additional tools to ensure the strength of their passwords.
No automatic password changer
Bitwarden does not offer an automatic password changer, meaning users must manually change their passwords when needed. This may be time-consuming and frustrating for users with many passwords.
---
How to Get Started with Bidwarden?
Step 1: Create a Bitwarden Account
The first step to getting started with Bitwarden is to create an account. To do this, visit the Bitwarden website and click the "Get started for free" button.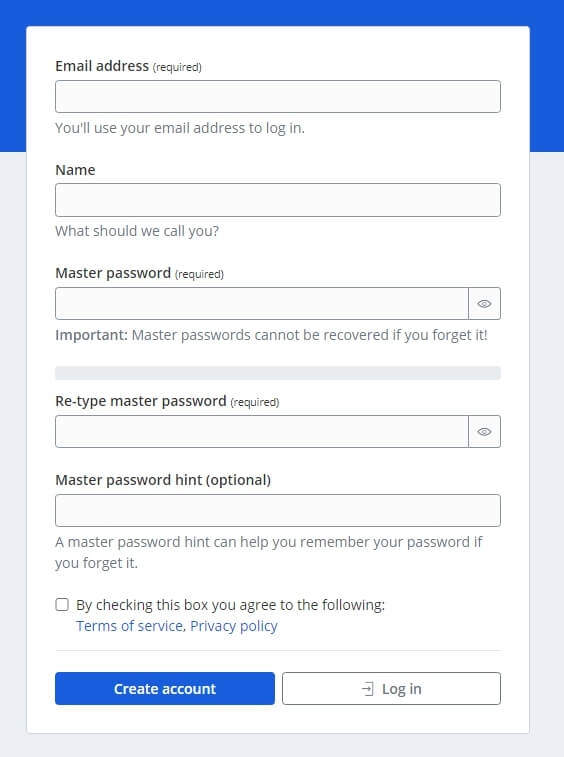 You'll be asked to provide your email address and choose a master password. Your master password is the key to accessing your stored passwords, so be sure to choose a strong, unique password that you can remember.
Step 2: Download and Install the Bitwarden App
After you've created your account, you'll need to download and install the Bitwarden app on your device. Bitwarden has Windows, macOS, Linux, iOS, and Android apps, so you can use them on any device.
To download the app, visit the Bitwarden website and click the "Download" button. Follow the on-screen instructions to install the app on your device.
Step 3: Import Your Existing Passwords
If you've been using another password manager, you can import your existing passwords into Bitwarden.
To do this, open the Bitwarden app and go to the "Tools" menu. Select "Import Data" and choose the file containing your existing passwords.
Bitwarden supports importing data from various password managers, including LastPass, 1Password, and KeePass.
Step 4: Start Using Bitwarden
Once you've created your account, installed the app, and imported your existing passwords, you can start using Bitwarden.
The app will automatically save your login credentials as you use them, and you can access your stored passwords from the app's main menu.
You can also use the Bitwarden browser extension to fill in your login information on websites automatically.
Step 5: Secure Your Account
To keep your Bitwarden account secure, following a few best practices is important. First, use a strong, unique master password that you can remember.
You should also enable two-factor authentication to add an extra layer of security to your account.
Finally, keep your Bitwarden app and browser extensions up to date to ensure you have the latest security updates.
---
Bitwarden Pricing
Bitwarden offers both a free and a premium version of its password manager. Here are the pricing details for each:
Bitwarden Free 
This version of Bitwarden is available for free and includes the following features:
Unlimited password storage
Access to all Bitwarden apps (Web, Mobile, Desktop
Two-factor authentication (2FA)
Secure password generator
Auto-fill passwords
Secure sharing
Two collections/folders
Bitwarden Premium
This version of Bitwarden is available for $10 USD per year (or $1 USD per month) and includes all the features of the free version plus the following:
1 GB encrypted file storage
Advanced two-factor authentication (FIDO U2F, YubiKey, Duo)
Vault health reports
Priority customer support
Bitwarden Authenticator (TOTP app)
Unlimited collections/folders
Note that Bitwarden also offers a Teams and an Enterprise plan for organizations, which include additional features, and pricing is based on the number of users. You can visit Bitwarden's pricing page on their website for more information.
---
Bitwarden Pros and Cons
Pros
Cross-platform availability

Easy-to-use interface

Secure password generation and management

Two-factor authentication support

Encrypted cloud syncing of passwords

Options for storing other sensitive data

Affordable premium subscription

Open-source code

Audit trail of password changes, and access
Cons
Limited free version features

No offline access to passwords on the free version

No password sharing in the free version

Limited customer support in the free version

No option for self-hosting

Limited options for customization
Bitwarden Password Manager Review
Bitwarden is an excellent password manager that offers many features and advantages. Bitwarden's affordability and ease of use make it an attractive option for anyone looking for a password manager.
Summary
Bitwarden's security is top-notch, with end-to-end encryption and a zero-knowledge model. While Bitwarden can be slow and challenging to use on some devices, these are minor issues that do not detract from the overall quality of the password manager. Overall, I highly recommend Bitwarden as a reliable and secure password manager.
Bitwarden FAQs
How does Bitwarden work?

Bitwarden works by encrypting your sensitive information with AES-256 encryption before storing it on its servers. Your master password is the only key to unlocking your encrypted data, so choosing a strong and unique password is important. Bitwarden also offers browser extensions, mobile apps, and desktop applications that allow you to access your passwords from any device.

Is Bitwarden safe?

Yes, Bitwarden is considered safe and secure. Bitwarden uses strong encryption to protect your data, and it follows industry-standard security practices. Bitwarden is also open-source, meaning its code is publicly available and anyone can review it for security flaws.

Can Bitwarden autofill passwords?

Yes, Bitwarden can autofill passwords on websites and apps. Bitwarden offers browser extensions for popular web browsers like Chrome, Firefox, and Safari, which can automatically fill in your website login credentials. Bitwarden also offers an Android and iOS app to autofill passwords on mobile apps and websites.

Can Bitwarden generate strong passwords?

Yes, Bitwarden can generate strong and unique passwords for your accounts. When you create a new account or change a password, Bitwarden can generate a strong password for you and automatically save it in your vault.

Can Bitwarden store other types of sensitive information?

Yes, Bitwarden can store other sensitive information like credit card information, secure notes, and identity information. Bitwarden encrypts this information with the same level of security as your passwords.
Leave a Comment