Highlights
Dashlane is a password manager that allows users to securely store and manage their passwords, credit card information, and other sensitive data. It uses AES-256 encryption and two-factor authentication to ensure maximum security.
It's interface is user-friendly, with a simple and intuitive design that makes it easy for users to manage their passwords and personal information. It also offers a browser extension to autofill login information, saving users time and effort.
It is available on multiple platforms, including Windows, macOS, iOS, and Android. It also has a web interface that allows users to access their password vault from any device with an internet connection. Additionally, Dashlane offers a VPN service and Dark Web Monitoring to enhance security further.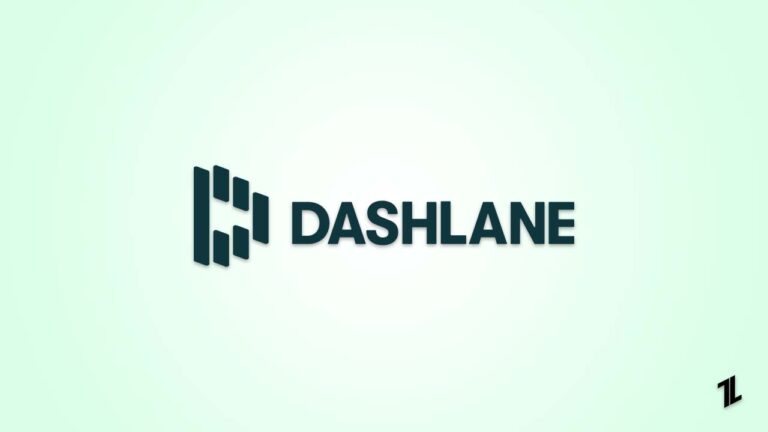 TechLatest is supported by readers. We may earn a commission for purchases using our links. Learn more.
It's getting harder and harder to remember all of our passwords in today's environment.
With so many online accounts and services, it's understandable that users frequently repeat passwords on different websites or choose weak passwords that are simple to guess and may be broken by hackers. Password managers like Dashlane can help with that.
In this Dashlane review, we'll examine this well-liked password manager and evaluate its features, usability, and general worth.
Dashlane Password Manager Review
What is Dashlane?
One of the best password managers is Dashlane, which keeps all of your passwords and other sensitive data in one place.
You may use it to establish safe passwords for new accounts, autofill login information on websites, and create and store strong passwords.
You may use Dashlane to store sensitive data other than passwords, such as credit card information and personal identification numbers (PINs).
---
Dashlane Features
There are plenty of useful features in Dashlane; however, features can vary from each user and use case, but here are some of the common and highly used features of Dashlane.
1. Dashlane Password Manager
You can save all of your passwords in one location using Dashlane's password manager, making it simple to manage and access them. Strong passwords may be generated and automatically saved using Dashlane. Your payment details, address, and other personal information can also be saved by the password manager for convenient autofill.
2. Dashlane Password Health
By recognizing weak, repeated, or hacked passwords, Dashlane Password Health aids users in enhancing the security of their online accounts. It functions by performing a thorough analysis of the passwords stored in your Dashlane vault and delivering a detailed report on their strength and security.
The following functions are possible with the Password Health feature:
1. Detect Weak Passwords: Dashlane Password Health examines the security of your passwords and reveals those that are vulnerable to guessing or cracking. Also, it highlights passwords that are too short or lack complexity and offers suggestions for stronger alternatives.
2. Detect Reused Passwords: One typical security concern is using the same password for several accounts. Password Health can identify this. It warns you if any passwords have been repeated and nudges you to provide each account with a different password.
2. Check for Compromised Passwords: Password Health does a check to see whether any of your passwords have been compromised as a result of data breaches or attacks. It checks your passwords against a database of passwords that have been known to be hacked and notifies you if a match is discovered.
You may take preventative measures to safeguard your online accounts and guarantee the security of your sensitive information by utilizing Password Health. Also, Dashlane makes it simple to strengthen your security posture by offering tailored recommendations for better passwords.
3. Dashlane Dark Web Monitoring
One of my favorite Dashlane features is the Dark Web Monitoring tool, which enables users to safeguard their sensitive and personal data from fraudsters operating on the dark web.
The Dark Web Monitoring feature looks for any stolen personal information, including login credentials, credit card information, and social security numbers, on the dark web, a portion of the internet that is inaccessible by conventional search engines. Dashlane will notify the user and offer actionable advice, such as changing passwords and keeping an eye on credit reports if any similarities are discovered.
This feature searches the dark web using a sophisticated algorithm for any information about the user's email address, phone number, and other personal data. The user's data is protected during scanning by Dashlane using secure servers and encryption techniques.
Users may choose the frequency of scanning and enable Dark Web Monitoring in their Dashlane account settings. Subscribers to Dashlane Premium have access to this feature which is accessible for a 30-day free trial.
Overall, Dashlane's Dark Web Monitoring feature gives customers a handy tool for keeping track of their data and defending themselves against online dangers and identity theft.
4. Dashlane VPN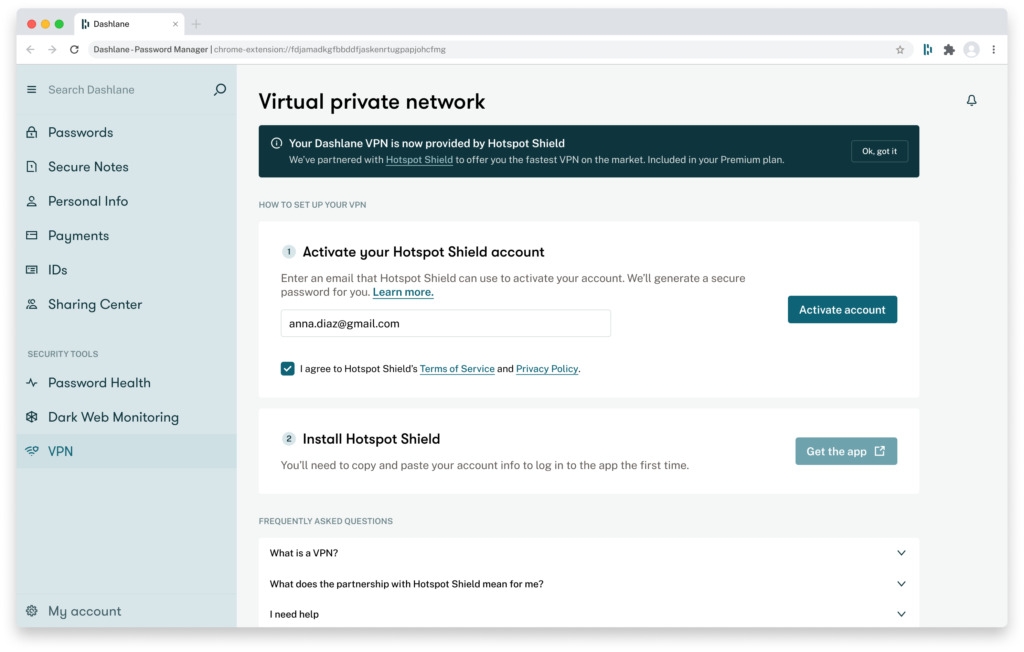 Users may safely save and manage their credentials with Dashlane, which is a password manager. But in addition to its functions for managing passwords, Dashlane also provides a Virtual Private Network (VPN) tool that aids users in safeguarding their online security and privacy.
By encrypting customers' internet traffic, the Dashlane VPN functionality makes it more difficult for hackers, ISPs, and other outside parties to intercept or access their data. Also, it enables users to get around regional limitations and access material that could be restricted in their area.
All Dashlane Premium users have access to the VPN functionality, which is accessible through both the desktop and mobile Dashlane applications. The United States, Canada, the United Kingdom, and other countries are among the many VPN server locations that users may select from.
In general, the Dashlane VPN function is a helpful addition to the password manager, giving users an additional layer of protection and anonymity when accessing the internet.
5. Dashlane Secure Notes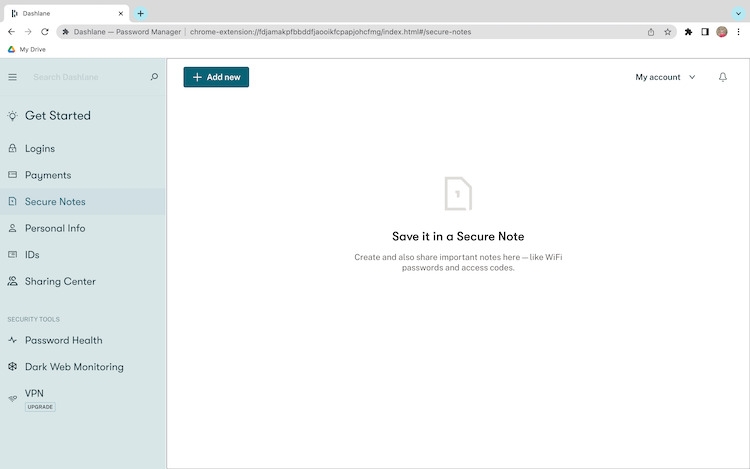 Users may keep private information in their Dashlane accounts using Secure Notes, including credit card numbers, passport numbers, and other sensitive information. Because these notes are encrypted and only the user may view them, their information is kept private and secure.
Users may make and arrange a variety of Secure Notes in their Dashlane account, making it simple to manage their private data. To make creating and filling out notes more effective, Dashlane also offers templates for popular note kinds like bank account details and Wi-Fi passwords.
Also, users may safely share their notes with others using Dashlane's Secure Notes function. Users can opt to email a message to someone who does not have a Dashlane account or to another Dashlane user. To keep the information safe, the receiver will be required to verify their identity before they can access the letter.
6. Dashlane Two-Factor Authentication
Users may add an extra layer of protection to their account by requiring a second method of authentication in addition to their master password by using Dashlane's 2FA functionality. A physical security key or a code issued by an authenticator app can serve as the second factor.
The initial step for users is to enable 2FA in their account settings before setting up 2FA in Dashlane. They can then select their preferred second-factor method, such as a physical security key or an authenticator app.
The user must download and install an authenticator program, such as Google Authenticator, Authy, or Microsoft Authenticator if they so wish. The app will then be connected to their account by scanning a QR code issued by Dashlane. From that point forward, each time the user connects to Dashlane, the app will create a new code.
As an alternative, if the user chooses to utilize a physical security key, they must buy a key that is suitable, like a YubiKey or a Titan Security Key, and set it up in their account settings. The actual key must be inserted into a USB port on the user's computer and touched to confirm the user's identity each time they log in to Dashlane.
---
Dashlane Advantages and Disadvantages
Advantages of Dashlane
Secure Password Storage: Industry-standard encryption is used by Dashlane to store your passwords and other sensitive data securely. Even Dashlane does not have access to the encryption keys because they are kept locally on your device.
Easy Password Management: You can effortlessly generate, maintain, and auto-fill secure, unique passwords for all of your online accounts with Dashlane. You no longer need to remember several passwords for various accounts or to be concerned about weak passwords.
Automated form-filling: Dashlane can quickly and easily complete online forms with your data, including your name, address, and payment card information.
Syncing data across devices: Dashlane allows you to access your passwords and other information from anywhere by syncing your data across all of your devices.
Sharing passwords: Dashlane enables you to safely exchange passwords and other details with loved ones, friends, or coworkers without disclosing the actual password.
Security warnings: Dashlane will let you know if any of your accounts have been affected by a data breach so you can take precautions.
Two-factor authentication: Dashlane provides two-factor authentication for an extra layer of protection, allowing you to safeguard your account.
Disadvantages of Dashlane
You should be aware of the following drawbacks before using Dashlane:
Cost: Although Dashlane has a free version, the full complete version requires a membership, which may be rather expensive if you need to manage many different devices.
Restricted browser support: Dashlane is compatible with the majority of widely used browsers, but certain less popular ones aren't supported, which might be an issue if you use one of them.
Syncing Issues: Problems synchronizing data across various devices have been observed by some users, which may be aggravating and time-consuming to fix.
Restricted password customization: Dashlane has decent password management tools, but customers who desire greater control over their security may be concerned with the restrictions when it comes to personalizing passwords.
Complexity: Several users have complained that Dashlane is too complicated and challenging to use, which can be an issue for non-techies.
Security Concerns: Although Dashlane takes security seriously and employs robust encryption to secure user data, some users may still be wary about keeping their sensitive data on the cloud because it might be subject to hacker assaults.
Dashlane is a well-liked and efficient password manager, but it might not be the ideal option for everyone. It's crucial to balance any potential disadvantages and determine whether the advantages exceed the expenses and restrictions.
---
How to Get Started with Dashlane?
Step 1: Download and Install Dashlane
Downloading and installing Dashlane on your smartphone is the first step toward getting started. For Windows and macOS, Dashlane is also free to use. Visit the Dashlane website, and install the extension
Step 2: Create a Dashlane Account
You must register for an account with Dashlane after installing it. On the login screen, click the "Create an Account" option. Next, adhere to the instructions to input your email address and create a password. To access your Dashlane account and all the passwords saved in it, you must also create a master password.
Step 3: Import your Passwords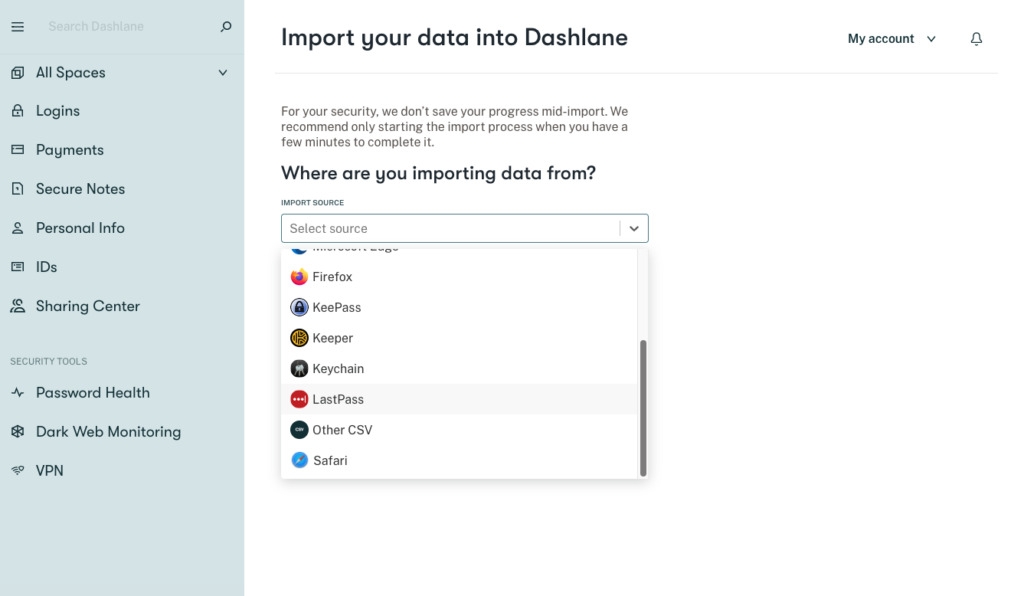 Dashlane can import passwords that you've previously saved in your browser. To import your browser passwords, just select the "Import Passwords" option in the Dashlane menu and follow the instructions.
Step 4: Add New Passwords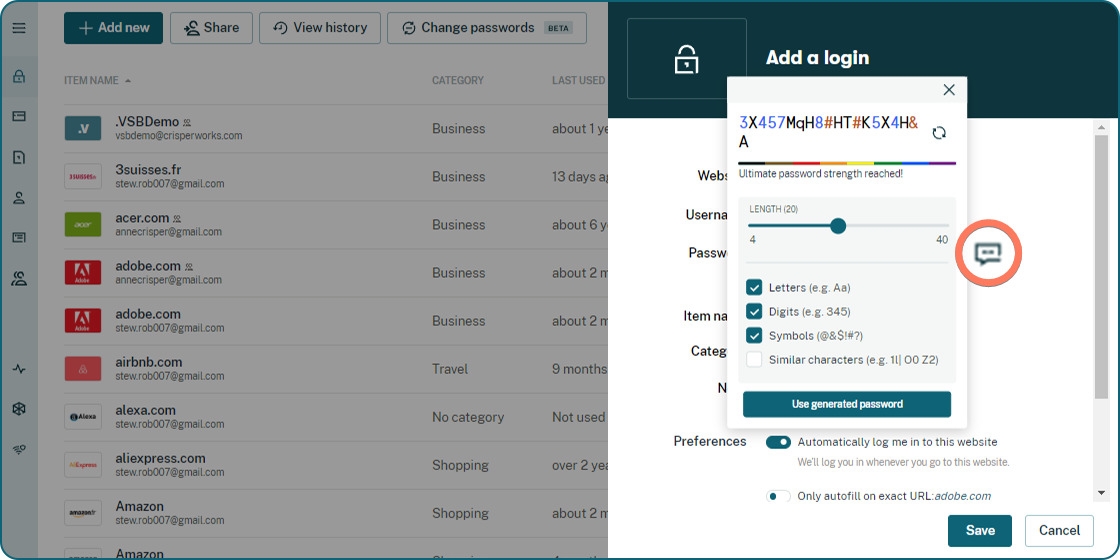 Dashlane will urge you to save the new password when you create a new account or modify an existing one. When you select "Save Password," Dashlane will save your new login details in your account. By selecting "Add Password" from the Dashlane menu, you may also manually add passwords.
Step 5: Use Dashlane to Log-in
You may use Dashlane to log in automatically to your accounts after saving your passwords there. Just pick the desired account by clicking on the Dashlane icon in your browser. Instead of you having to remember or type in your login information, Dashlane will do it for you.
Step 6: Generate Strong Passwords
The password generator in Dashlane is one of its greatest features. Just select "Generate Password" from the Dashlane menu whenever you need to establish a new password. You may use the strong, one-of-a-kind password Dashlane creates for you with your new account.
Step 7: Secure your Account
There are a few things you can take to increase the security of your Dashlane account and passwords. First and foremost, be sure to choose a solid and distinctive master password.
Second, turn on two-factor authentication (2FA) for your Dashlane account, which increases security by requiring a second factor (such as a fingerprint or security code) to log in.
Lastly, discover weak or recycled passwords using the password health tool and replace them with better ones.
---
Dashlane Plans and Pricing
Dashlane offers a Free plan, a Premium plan, and a Family plan for customers that use the service for personal purposes. A Business plan is also available for teams and advanced use. You may also buy Dashlane on a monthly payment plan if you don't feel like shelling out the full yearly price.
The features included in the Premium and Family plan still make it one of the greatest value-for-money password managers available, despite the costs being a little more than those of most rivals.
Dashlane Free vs. Dashlane Premium
The restricted set of passwords and supported devices are the primary distinctions between Dashlane's free and premium alternatives. You may save an infinite number of passwords on one device using Dashlane free; thus, you won't be able to sync passwords across your smartphone, tablet, etc. For the bulk of us who possess several devices, this is a significant disadvantage.
The free plan is still entirely functional and secure; it offers two-factor authentication, limitless password sharing, secure notes, form & payment autofill, and secure notes. It lacks more sophisticated functions like monitoring the Dark Web and protected file storage. You'll need to pay if you're interested in it. You can check the pricing and other details by clicking here.
Dashlane for Business
For businesses of all sizes, Dashlane for Business is a password management program. It is a safe and practical approach for companies to manage the passwords of their employees and safeguard corporate information from illegal access.
Employees may generate strong passwords that are different for each of their accounts using Dashlane for Business, and they can save those passwords in a safe, encrypted vault. Users may share their credentials with other team members as necessary and access them from any device. To assist prevent data breaches, the program also has capabilities like automated password resetting, two-factor authentication, and dark web surveillance.
Administrators may use Dashlane for Business to control how their staff has access to corporate resources, establish guidelines for password complexity and strength, and keep track of user activity. They can also impose adherence to industry standards like SOC 2, HIPAA, and GDPR, as well as give or revoke access to certain passwords or accounts.
Employees can quickly and securely retrieve their passwords while working thanks to Dashlane for Business' integration with well-known productivity applications like Google Workspace, Microsoft Office 365, and Slack. Moreover, the program provides single sign-on (SSO) features for faster access to several apps.
---
Dashlane Customer Support
First of all, Dashlane features an extensive online help section with articles and manuals that address a wide range of issues linked to utilizing the software. The "Help" button is located in the bottom right corner of the Dashlane app and may also be accessed by going to the Dashlane website.
Dashlane Help Center: The Dashlane Help Center is an extensive source of answers to common queries and advice on how to fix problems. To find articles about your problem, go to https://support.dashlane.com/hc/en-us
Dashlane offers email and lives chat customer service in addition to its online help center. The Dashlane staff will reply as soon as they can to support requests made by users via the Dashlane website. Users can have a real-time conversation with a support person for more critical situations.
Email Support: You may email Dashlane customer service at support@dashlane.com if you need further assistance. To help the support staff help you as soon and efficiently as possible, be sure to provide the support team with as much information about your issue as possible.
Dashlane Community: You may also go to the Dashlane Community forum to ask questions and receive answers from other users.
Dashlane Chat: Dashlane offers chat help to its Premium and Business clients as well. Log into your account and click the chat button in the bottom right corner of the screen to access this.
Support on Twitter: Tweet at @DashlaneSupport to get in touch with Dashlane support on Twitter.
Users may occasionally run into problems or have queries regarding how to utilize a technology product efficiently, as is the case with any technological product. Dashlane offers several customer service methods to handle these issues.
Moreover, Dashlane provides "Priority Support," a premium customer service that ensures a response from a support representative within one hour of submitting a request. Those who have paid for a Dashlane Premium or Premium Plus membership are eligible for Priority Support.
---
Dashlane Pros and Cons
Pros
Offers easy-to-use password management

Generates strong passwords automatically

Allows for easy login to websites

Supports multi-factor authentication

Provides secure storage for payment info

Offers Dark Web monitoring for compromised accounts
Cons
Some users may find the interface overwhelming

Certain features are only available in premium version

Limited customization options

Some users may not trust storing sensitive data in the cloud

Certain features are only available in the premium version

Can be expensive for families or teams
Dashlane Password Manager Review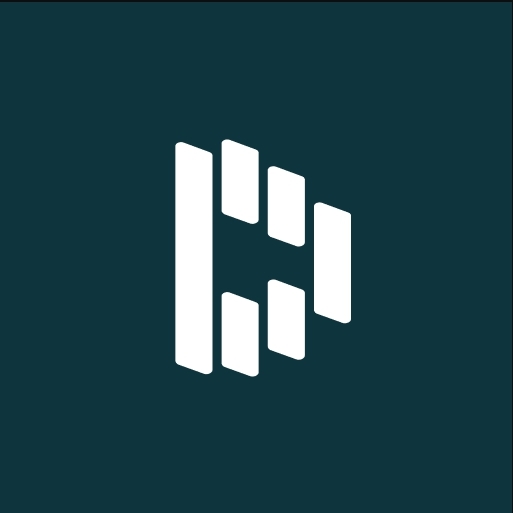 Dashlane is a complete solution for online security and organization thanks to its handy features, including automated form completion, a digital wallet, and safe note-taking.
Summary
For anybody searching for a quick and safe way to manage their passwords, Dashlane password manager is a great option. Dashlane enables you to generate and save complex, one-of-a-kind passwords for all your accounts without the burden of remembering them, thanks to its robust encryption and user-friendly UI.

Despite the market's abundance of password managers, Dashlane distinguishes out thanks to its emphasis on user experience, security, and privacy. It is a cost-efficient and practical answer for people, families, and companies alike. Ultimately, the Dashlane password manager is necessary for everyone who wishes to streamline their digital life and safeguard their online identity.
Dashlane FAQs
How Does Dashlane Work?

All of your critical information is encrypted by Dashlane before being stored either locally on your device or in the cloud. The only password you need to remember to access your information is a master password.

Is it safe to use Dashlane?

Dashlane is regarded as a reliable password manager. To safeguard your data, it employs AES-256 encryption, one of the most powerful encryption techniques currently in use.

Can Dashlane produce reliable passwords?

Sure, Dashlane can help you create secure passwords. Your login information may also be stored and filled in automatically for a variety of websites and applications.

Does Dashlane work on all devices?

A variety of devices, including PCs, laptops, smartphones, and tablets, are compatible with Dashlane. Also, it provides Chrome, Firefox, Safari, and Edge browser extensions.

Is it free to use Dashlane?

Dashlane offers a free version with few capabilities, but you must pay for a paid membership if you want more sophisticated features like syncing across several devices and secure file storage.

Can Dashlane help me with password changes?

Sure, you may change your passwords for multiple websites and applications with the aid of Dashlane. Also, it can notify you if any of your passwords have been misused due to a data breach.
Leave a Comment