Highlights
AI has now become the present and future of mankind.
With ChatGPT doing rounds over the internet, imagine a tool making its task easier.
Chatpad does the required, but there might be concerns about whether it's safe and efficient, which we have answered!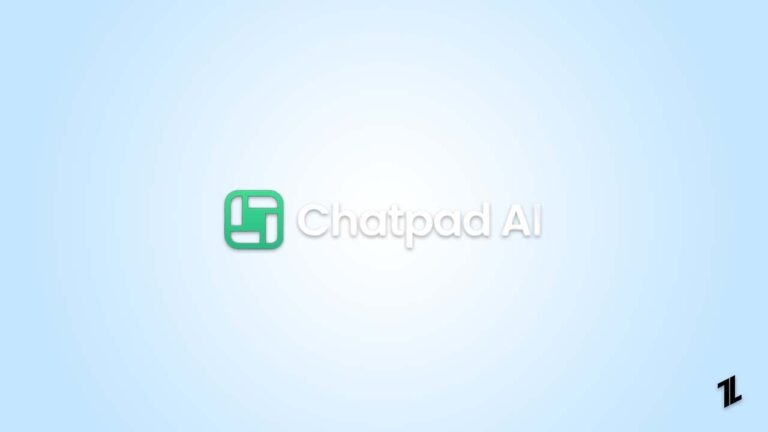 TechLatest is supported by readers. We may earn a commission for purchases using our links. Learn more.
Whether writing notes, cold and warm emails, social media posts, or formal messages, ChatGPT would have become your go-to tool!
It works effectively, and you can unleash its full potential only if you input the correct prompts, which is a skill. However, it does require effort and isn't a cakewalk. 
To make things easier, we recently tried testing several APIs to complete the task easier and have thus reviewed Chatpad AI, which we highly recommend!
What is Chatpad AI?
Chatpad, unlike its name sounds, is more than just an ordinary alternative to ChatGPT. It is an API with enhanced features and uses OpenAI technology. Hence, it integrates various levels, including GPT-4, 3.5, and similar technologies.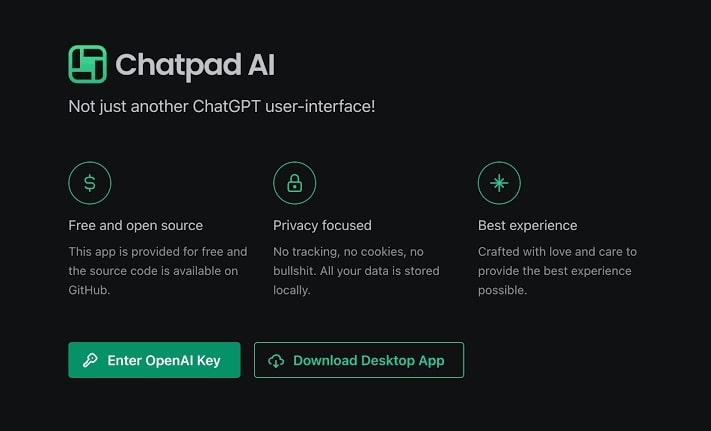 Its interface has layers to Chats, saving prompts, multiple levels of tone, and more. Since it utilizes open-source technology, it is free to use without any hidden costs. 
---
Features of Chatpad AI
One of the most common notions about Chatpad AI is that it's not an ordinary API. Legit speaking, a rich set of functionalities makes it shine.
Below mentioned are the features of Chatpad AI:
1. Character Selection
In ChatGPT, you gave simple prompts, and it acted accordingly. For more efficiency, providing a prompt of "You are a <Charactername>…" did wonders. Instead of typing such long prompts, Chatpad eases up your task.
You have to go to the character section and select from a range that includes HR Consultant, Customer Support Agent, Academic Researcher, and more. Thus, your AI avatar will assume the role and accordingly generate the output.
2. Tone, Format, and Style Personalization 
Apart from selecting the character, more preferences matter. Tone decides the level of formality of your article, and format helps you choose the type of answer. These, along with Character Selection, make the task of giving smarter prompts easier as they are in-built in the tool.
Hence you have to select them from the drop-down lists and give prompts, and it will generate the most accurate results with minimal effort.
3. Open Source 
The software is under the General Public License as it is Open Source. So, apart from using its app, you can fetch its source code from its GitHub repository.
Further, you can modify the code as per your requirements. Afterward, you can distribute it legally. Being open-source also gives you free and no in-app purchases access.
4. OpenAI Integration 
OpenAI is appropriately integrated into the tool. Though sources claim that it supports GPT-4 but that's not true.
We have tested it, and if you don't have GPT-4, you can use the default GPT-3.5. Besides, you have to enter the OpenAI Key before proceeding.
5. No Cookies Storage 
It is a modern-age API that has advanced features. Thus it understands privacy and confidential browsing. Hence, it does not store any cookies for enhancing UX. All of it makes the API a privacy-focused AI tool.
6. Import/Export Conversations
Though it doesn't store cookies, yet for convincing, you can save your conversations on Chatpad onto its database.
You can then look up them and import or export them when required. It has a direct Twitter share option as well!
7. Saves Prompts 
Having designated purposes like generating product reviews, cold emails, graphic design ideas, and social media posts is common. Most of you work smart and hence generate content via OpenAI.
However, typing the same prompts repeatedly takes time and effort. You can save this time as well by saving. Chatpad lets you save prompts with specific Titles when needed; thus, you can invoke it when required.
8. Inbuilt Settings 
Chatpad is more than just an API. It has a settings feature that lets you tweak the OpenAI key.
You can modify the OpenAI type, model, auth, base, and version using it and save it! Thus, you can keep all your custom presents and linked ChatGPT account.
9. Sentence Rephraser 
Remember using Quillbot for excellent paraphrasing but the character limit in the free version?
Chatpad eliminates the need for it as you can rephrase sentences in the desired way with added features effortlessly. There's no character limit as well!
10. Style Editor 
Editing the article's tone has become easier as Chatpad's features let you edit by choosing conciseness, detailed explanation, or other style presets.
11. Sentence Formatting
It's a GPT-4 ready OpenAI API that helps you format sentences. The API lets you do so, whether it be APA title casing, text formatting, or similar features!
12. Grammar Check 
Grammarly is an AI assistant, making it easier to rectify grammatical errors. However, since it does have drawbacks and is only sometimes fully functional. Besides, frequent crashes and expensive subscriptions are another set of limitations.
It cannot fully edit your articles be it academic, SEO, or other purposes, as it's not a robust model. Chatpad AI is a rescue that helps you check grammar with a single prompt and rectify it on another request.
13. Browser Database 
The API's database stores your prompts, usage, conversations, and more. However, only one can access it if you share.
The extensive database makes it easier to locate previous discussions and get the output anytime. All its data is stored on your browser and not on its server.
14. Light/Dark Mode 
The API works both in Dark and Light mode. By default, it uses the Mode enabled in your browser and device. However, even if you want Chatpad to have a navigation Mode different from your browser, you can change it with a single tap!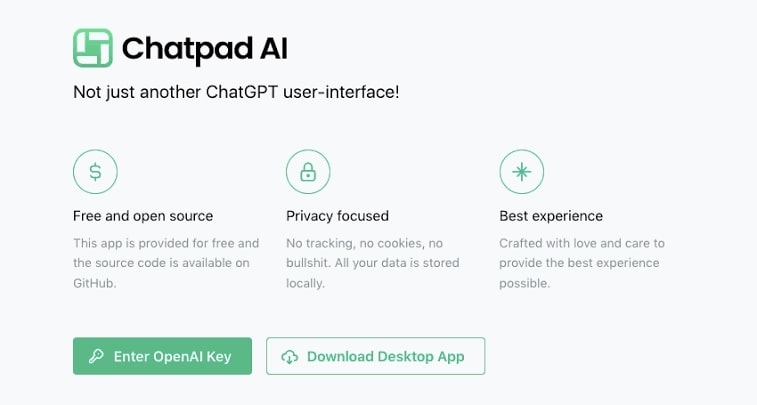 15. Varied Versions
You don't have to give commands to invoke. Besides, it's always optional to visit the web app to connect online and generate results. It has a Desktop app as well. 
16. Seamless User Experience 
Chatpad's clean, minimalistic, and organized User Interface provides a seamless user experience to both novices and seasoned tech experts. Hence, it's a sigh of relief in a hectic schedule.
---
What Do We Like About Chatpad
Apart from its features, we like some things about it, so we recommend the tool to you!
Easy to Navigate
Lesser downtime
No in-app purchases
Highly secure
Quicker response
---
Limitations of Chatpad AI 
Though a great app, it has its own set of limitations. We have thoroughly tested it so that you can go ahead accordingly!
Complicated setup requires a technical expertise
Larger Desktop app size (~100MB)
---
Is Chatpad Safe? 
Since Chatpad is an open-source software project published under the GNU license, its source code is easily accessible. Thus, anyone can use it, modify and redistribute which might bother you about its security.
However, the OpenAI key setup ensures the safety of the platform. To conclude, Chatpad is safe and isn't malware. 
---
How to Use Chatpad AI?
To begin with, you have to decide whether to wish to use the Desktop app or proceed with the online version. For the initial one, you have to install the app, while for the latter, move to the website by tapping on the three-lined icon. 
First, enter OpenAI key, which is stored in your browser.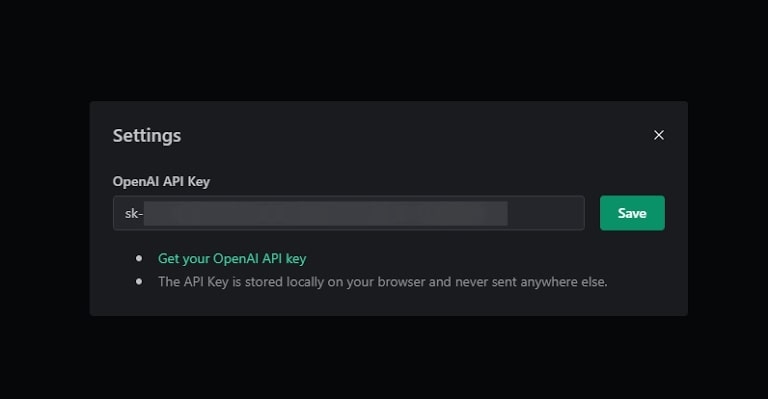 If you don't have the OpenAI Key, generate it by visiting the link here. Now, go to the Chats tab,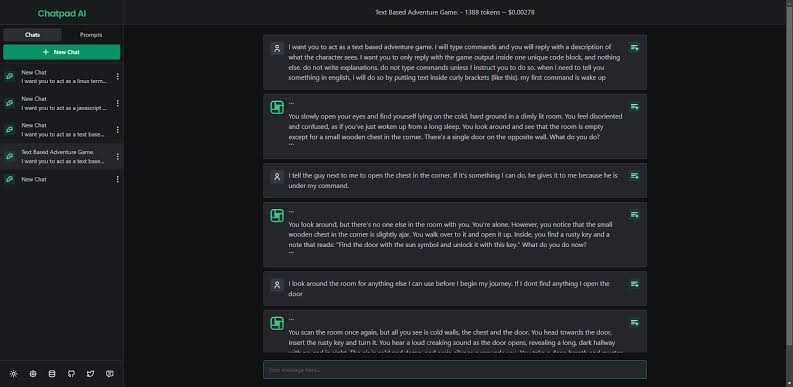 Click +New Chat, and set Character, Style, Tone, and Format. You can now enter a prompt, click the arrowhead icon, and it will instantly generate results. 
Besides, you can save prompts by expanding the Prompts tab and adding Prompt with its Title.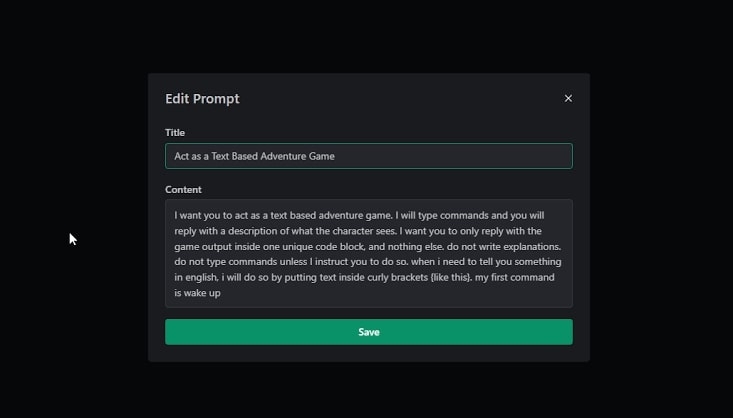 ---
The Final Word: Chatpad AI 
Chatpad is a versatile and advanced API for OpenAI and supports GPT-3.5, 4 models. It specializes in privacy and enables you to work more smartly by saving prompts for instant and accurate results. You can also use it to correct grammatical and readability-related issues.
Further, its decluttered interface makes it easier to use. Besides, it has Dark and Light modes, making navigating convenient. Chatpad is safe to use, but entering the OpenAI key is complicated.
Further Reading:
Leave a Comment