TechLatest is supported by readers. We may earn a commission for purchases using our links. Learn more.
No matter how beautiful your home theatre setup is, you'll eventually need something more… personal. The people you live with are irritating you, and you simply want to watch your movie without getting distracted.
If you have Apple TV and AirPods, you're in luck: they're no exception to Apple's idea of smooth cross-device communication, and pairing them to an Apple TV for private listening is a breeze.
Airpods is the new wireless headset from Apple, and it allows you to listen to music and answer phone calls wirelessly. It's also got two physical buttons for Siri: an incoming call or answering a call.
Buy the Pro version of AirPods (your Apple TV has 4K). You'll get active noise cancellation and Apple's immersive Dimensional Audio feature when watching movies and TV shows – not just music.
If your Apple TV and AirPods have the same Apple ID, they can connect them easily.
Here in this article, you will learn how to connect AirPods to Apple TV.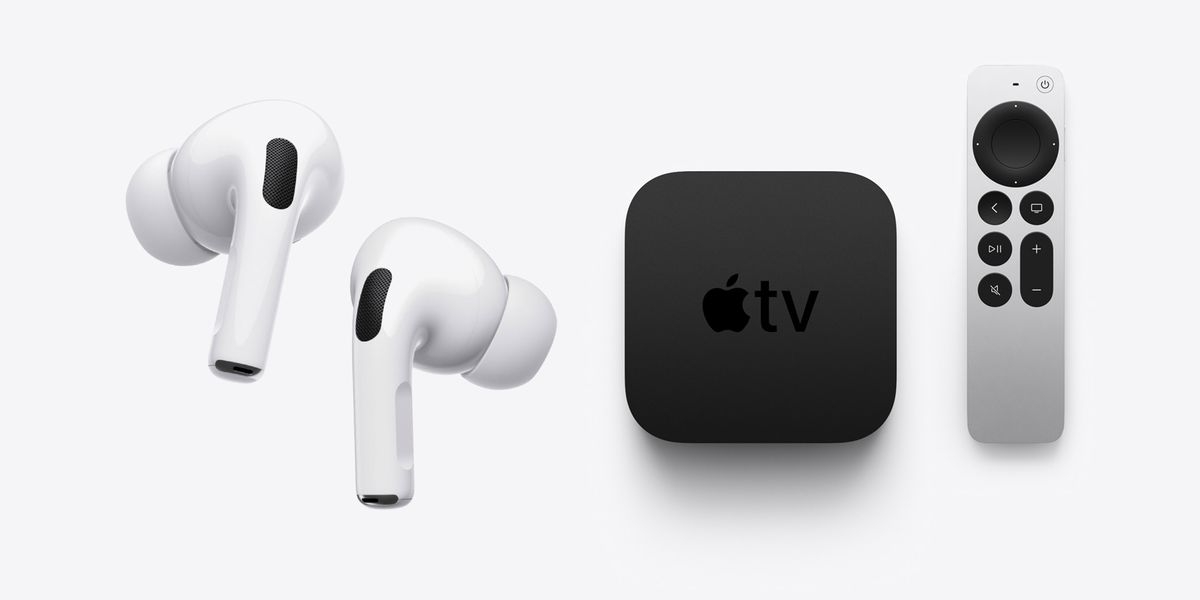 Possible Ways to connect AirPods with Apple TV
You can easily connect your Airpods to Apple TV using Bluetooth settings or iCloud.
If your Apple ID is connected with the AirPods, you can directly connect it to your Apple TV.
Step 1: Open AirPods case
Put the AirPods in the case and make sure that they're not currently paired to any of your other devices. Also, make sure that your AirPods are charged.
Step 2: Open Settings on your Apple TV
Use Apple TV remote and click on the gears icon in the app picker to open Apple TV settings.
Step 3: Go to Remotes and Devices
In the Apple TV settings, go to remotes and devices settings.
Then click on the Bluetooth option. Here you will all devices in range.
Step 4: Pair your AirPods
Flip open your AirPods case, then press the button on the back until the light blinks white.
You will see your AirPods in the other devices section. Select your AirPods with the remote.
Once connected, you will see the connected tag for AirPods.
Pop them into your ears and enjoy unlimited music.
How to Connect to Apple TV to previously paired AirPods?
If you have already paired your AirPods with your Apple TV, you can easily connect them again.
Step 1: Go to Settings and then go to 'Video and Audio'
Open Settings on your Apple TV and go to Video and Audio settings. Then
Step 2: Select Audio Output
The Audio Output is set to TV Speakers. In this menu, swipe down to the "Temporary audio output" and tap to Select.
Step 3: Flip open your AirPods case
When you open the AirPods case, it will appear in the list of available devices.
Select them with your Remote and pop them into your ears.
Now you can watch your favorite show on Apple TV and enjoy the content.
How to Connect AirPods and Apple TV using iCloud?
You can also use iCloud to connect your AirPods with Apple TV. For this, you have to enter the same Apple ID when setting up your Apple TV.
Step 1: Flip open your AirPods case.
Step 2: On Apple TV, go to the Home screen.
Step 3: Hold down the play/pause button on the Apple TV remote.
Step 4: Select your AirPods.
How to reconnect AirPods to Apple TV with Audio settings?
Step 1: Open Apple TV Settings and then choose Video and Audio > Audio Output.
Step 2: Then select Temporary Audio Output.
Step 3: Open your AirPods case > select your AirPods and it's done.
Leave a Comment