Highlights
It is possible that there are a number of problems with your iPhone 14 Pro Max. Most of the time, the problem is caused by a simple software bug.

Regardless of whether your phone is a budget or a premium model, these issues will come up from time to time. However, this type of issue is not so common for users.

Luckily, in this article, we have some fixes that will surely help you fix the iPhone 14 Max Pro not turning on issue. 
TechLatest is supported by readers. We may earn a commission for purchases using our links. Learn more.
Do you have an iPhone 14 Pro Max that is not turning on? If so, then you are in the right place. There are a variety of problems users are experiencing with the iPhone 14 series.
However, iPhone not turning on issue is one of them. If your iPhone 14 Pro Max locks up and you see a black screen, then you can simply read this guide until the end.
Here in this comprehensive guide, you will learn how to resolve the iPhone 14 Pro Max not turning on issue. Therefore, let's get started with this guide. 
Why Isn't My iPhone 14 Pro Max Turning On?
When an iPhone won't turn on, there are a few possible explanations. Usually, a software crash is the cause of you not being able to start your iPhone 13. You may still be able to power on your iPhone, but the screen will be black and unresponsive after a crash.
There's also a possibility that your iPhone 13 doesn't charge because it has run out of battery. In this case, your iPhone won't turn on because it won't have enough battery life to do so.
It is also possible that an iPhone component is damaged if it won't turn on. In this case, you'll need to contact Apple Support directly to repair your device.
---
What Are The Methods to Resolve iPhone 14 Pro Max Not Turning On Issue?
So, here are some methods that you can use to resolve iPhone 14 Pro Max not turning on issue:
Fix 1: Charge Your iPhone
There is a good chance that your Apple iPhone won't turn on because of a low battery. You should charge your iPhone 14 Pro or iPhone 14 Pro Max for at least 30 minutes before turning it on.
In order to turn on an Apple iPhone, you need to press and hold the power button (side button) until you see the Apple logo appear.
---
Fix 2: Force Restart the Device
There is a possibility that your iPhone 14 Pro Max is not turning on due to the camera freezing up or a software bug.
It is recommended that you restart your iPhone to fix such issues. As far as data loss is concerned, it does not occur. Hence, you can test the solutions with no worries.
It is the same procedure to force restart an iPhone 14 Pro Max. Your latest iPhone should be forced restarted if you did it on your iPhone 13 or iPhone 12. Here are some steps to help you:
Initially, hold down the volume up button and release it quickly.
Afterward, quickly press and release the volume down button.
You can now press and hold the side button. Then, release it when you see the Apple logo.
---
Fix 3: Check the Display
You won't be able to turn on your iPhone if the display is damaged. When the device is turned on, hold the power button for a few seconds to see if the screen has any problems.
Make sure you have the device close to your eye. If you hear a sound, but the screen does not display anything, then the screen probably needs to be repaired.
---
Fix 4: Inspect Your iPhone Charger
Your iPhone can be charged in many different ways, such as by plugging it into your laptop, wall adapter, or car charger. In case of power fluctuations, the iPhone's software will disable charging.
You can charge your iPhone with multiple power sources. Rather than using your wall charger, you can use your laptop's USB port.
You know that the charger is causing the problem when your iPhone charges from one power source but not from the other.
---
Fix 5: Update Your iPhone
It might be a good idea to update your iPhone. Users can usually do this through Settings > General > Software Update, but if your screen isn't turning on, it might be necessary to use a Mac or PC.
No matter how you update your device, either with Finder or iTunes, it is pretty straightforward and has the potential to resolve iPhone 14 Pro Max not turning on issue. So, let's check out the steps to do so:
Using a Mac or PC, connect your iPhone.
Depending on what you are using, look for your iPhone in Finder or iTunes.
From here, tap on the Check for Update button. You should see this message whenever you open iTunes or Windows if an update is required.
---
Fix 6: Restore to Factory Settings via iTunes (Data Loss)
It is impossible to turn on an iPhone with a frozen iOS. There is a malfunction in the operating system that causes this to happen. It is common for iOS to be corrupt in most cases.
It is best to restore your device to factory settings if your iPhone 14 is not turning on. If you use a Windows or Mac device, you need iTunes installed. Here are the steps involved:
Initially, install iTunes on your computer and connect your iPhone.
In recovery mode, iTunes will automatically detect your device.
Once iTunes diagnoses an issue, it will suggest either an update or a factory restore.
If you wish to restore your iPhone, click on the Restore button.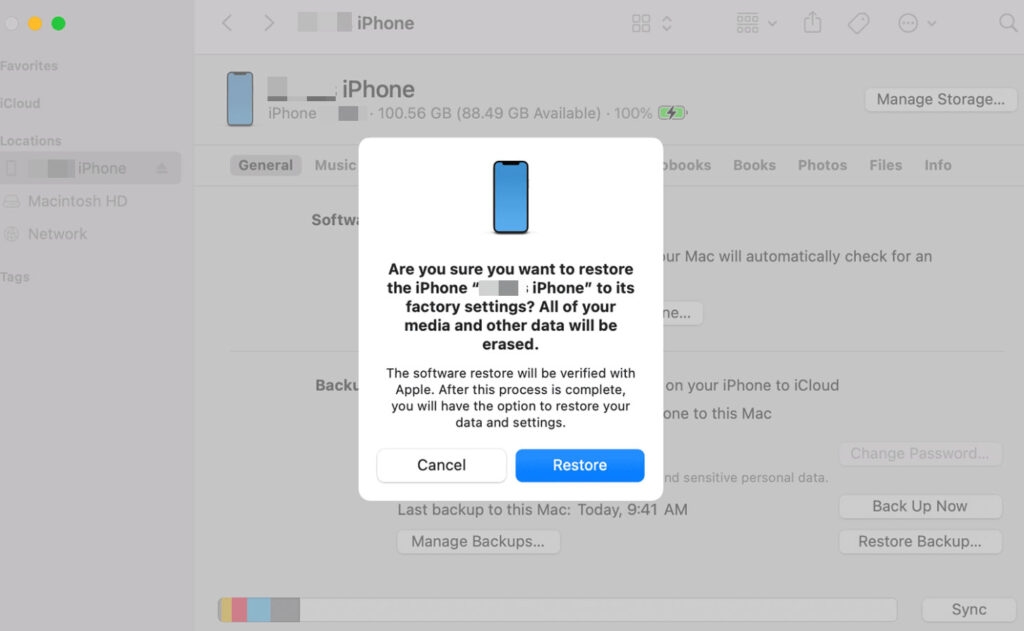 By downloading the software, iTunes will begin the restoration process.
Your iPhone will be updated once iTunes downloads and installs the software.
If you lose your data during this process, you will lose everything you have previously saved. Generally speaking, it isn't a loss since you don't otherwise have access to these files if your iPhone 14 Pro Max is not turning on.
---
Fix 7: Check Your iPhone's Charging Port
Make sure the charging port on your Apple iPhone does not have any liquid or debris in it, as it is the reason why you are getting the iPhone 14 Pro Max not turning on issue.
In addition, make sure that the charging port doesn't have a lot of dust built up around it. Using a soft cotton cloth to clean the charging port and plug in the charging cable once it is cleaned is a good idea.
---
Sum Up
So, that's all we have for you on how to fix iPhone 14 Pro Max not turning on issue. It's our hope that this guide has helped you. In the meantime, comment below and let us know if you have any doubts or queries regarding this topic.
Further Reading:
Leave a Comment