TechLatest is supported by readers. We may earn a commission for purchases using our links. Learn more.
Data recovery software for windows PC is a must-have for any computer user. It is becoming increasingly important in today's digital world.
With the increasing data amount being stored on computers, the risk of losing important files and documents is greater than ever before.
A data recovery software can help you recover data that has vanished due to accidental deletion, formatting, or other issues. With the right data recovery software, you can easily restore important documents, photos, music files, and more.
This software can scan through hard drives, external storage devices, and even deleted files to find lost data. It also provides users with a variety of tools to make sure that their data is safe and secure.
With data recovery software, users can rest assured that their important documents are safe and sound no matter what happens. You can find many data recovery programs available in the market.
However, it may not be simple to select a useful and reliable one. So, to help you, we have reviewed iBeesoft, the best data recovery software for Windows PC. 
Introduction Of iBeesoft Free Data Recovery for Windows PC
Have you ever lost important files due to accidental deletion or corrupt drives on your Windows PC? No problem! iBeesoft Free Data Recovery is the best free data recovery for Windows PC in 2023.
It gives the power to recover deleted or lost files from your Windows PC quickly and easily. With advanced technology, you can recover all file types, including images, videos, documents, and more. You can get your valuable data in no time with iBeesoft Data Recovery.
iBeesoft Data Recovery for Windows PC works in different data loss scenarios, like:
Formatted Hard Drives
Permanently Deleted Files
Lost Partition
Raw Partition
Lost Files because of OS reinstallation/drive failure/virus attacks
---
iBeesoft Data Recovery – Main Features
Deleted File Recovery
Have you ever accidentally deleted an important file? Yes? No need to worry! iBeesoft's deleted file recovery makes it easy to get your data back on any device, whether it is a laptop, desktop, or mobile phone.
The software is trusted by millions of users across the globe and makes recovering lost files fast and painless. Rest assured that your important documents are safe with iBeesoft!
Corrupted Files Recovery
Do not let corrupted files stand in the way of your productivity. With iBeesoft, you can easily recover all your damaged files with just a few clicks.
Recover photos, videos, documents, or any other file safely and quickly with the help of its advanced recovery technology.
Get back to work with confidence & never miss a beat again – iBeesoft is here to ensure your data stays safe & secure!
Formatted Drive Recovery
Data loss is a thing of the past with iBeesoft's formatted drive recovery. This revolutionary tool can recover any deleted file in no time, including photos, videos, documents, and more.
With iBeesoft, you can enjoy the freedom of confidently restoring your data without any hassle.
Scanning
With iBeesoft's advanced data recovery scanning tool, you can recover lost documents and media in no time. No matter the cause of data loss, powerful scanning technology will help you find your lost files quickly and securely.
Deep Scan
Get your lost data back with the help of iBeesoft deep scan features that allows you to scan very old documents and files if your finding is not up to the mark.! Its easy-to-use interface means you can recover data quickly without any technical knowledge.
Storage Device Recovery
This powerful data recovery tool can recover lost, deleted, or corrupted files from any storage device, like hard drives, USB sticks, memory cards, and more.
It is fast and easy to use with one-click recovery and supports all major digital data formats. Restore precious memories, work files, documents, and more with iBeesoft.
Find Target Files Using Tags
Looking for the file you cannot seem to find? Keep your sanity and get organized with iBeesoft! Its powerful tag-based search feature quickly locates your target files in seconds. No more digging through folders & subfolders, and no more wasting time!
---
Step-by-step guide for how to use this free data recovery
Whenever you lose files, videos, folders, or pictures, you can recover them using iBeesoft Data Recovery for Windows PC.
It can retrieve data from many file systems and various devices, including exFAT, FAT, NTFS, HFS+, ext2, and ext3. It works great for a RAW hard drive as well.
iBeesoft is a simple-to-use data recovery software with a compact interface. You can recover lost or deleted data by following the simple steps below:
1. Install iBeesoft Data Recovery
Open iBeesoft's website to download and install it. Ensure good internet availability to avoid any hindrance in the process.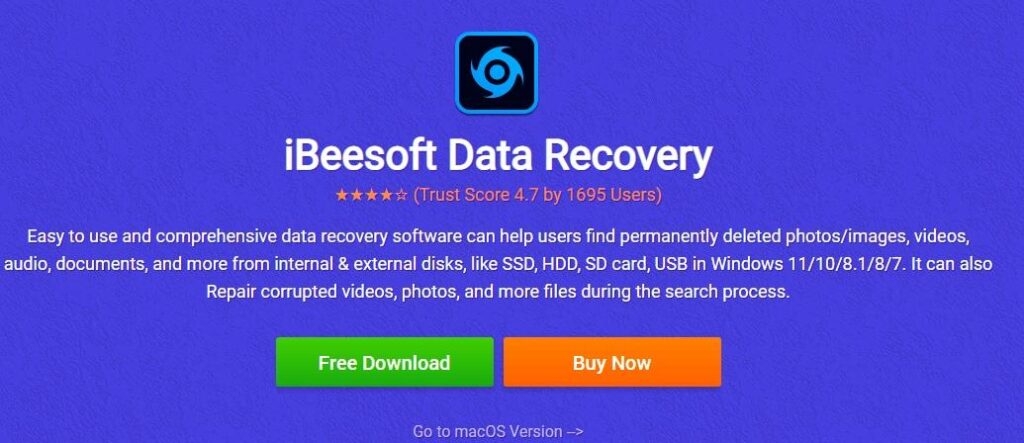 ---
2. Choose A Folder/Drive To Scan
Once you complete the installation process, you will get a window on which you will be asked to choose your missing file disc.
Then, you will be offered a list of discs on the computer and their space utilization. Using iBeesoft, you can filter the scanned data by file type. It will speed up your scanning process.
To filter the scanned data, click on "Go to Options" and choose the preferred file types. Hover over the chosen drive and you will be displayed with an option to scan. During this process, the program starts rearranging files in specific folders based on the data retrieved.
---
3. Recover Deleted Files
Following the scan, choose the files or folders you want to recover. iBeesoft allows you to inspect every file before you recover it. After you have chosen the files to recover, click "Recover."
---
Pros and Cons
Pros
iBeesoft Data Recovery is nearly perfect. If you want to search files and folders on Windows PC, use iBeesoft Data Recovery only. You will not be bombarded with advertisements or forced to purchase additional software.
Inexpensive And Budget-Friendly
Detects Incomplete And Corrupted Data
Recovers Erased Files
Simple To Use Interface
Recovers Data From External And Internal Hard Drive, Digital Devices, Memory Card, And Removable Drive
Cons
The only con of iBeesoft Data Recovery is that you might not find the files after their retrieval. If your hard drive has many file types, you may find it difficult to search.
---
Summary
iBeesoft Data Recovery is a powerful tool that helps you recover deleted data from your hard drives, memory cards, USB flash drives, and other digital devices.
This robust data recovery tool delivers its claims. It is an easy-to-use application that can quickly scan for missing files and folders and restore them in no time.
With its advanced scanning algorithms, it can even recover data from formatted or corrupted storage devices. The application also supports a wide range of file types, making it ideal for all data recovery needs.
The only sticking point with this software is the time it takes to scan lost files. Though it depends on the drive's size that it needs to go through, the larger a drive, the more time the process takes.
Right from installation to recovering lost/damaged files, it is simple to guess the next step and what the result will be.
With iBeesoft Data Recovery, you can be sure that your important files are safe and secure. Get peace of mind knowing that your data is safe with iBeesoft's powerful and easy-to-use recovery features. Recover Your Data – Try iBeesoft Now!
Leave a Comment