Highlights
Infinix teases the upcoming GT 10 Pro smartphone, revealing a stunning transparent design with a vertical triple-lens camera system and LED light strip.
The GT 10 Pro is expected to feature a MediaTek Dimensity 8050 chipset, a 6.7-inch AMOLED display with a 120Hz refresh rate, and a powerful 108-megapixel rear camera.
Infinix plans to release the GT 10 Pro in India in August 2023, creating excitement in the market, despite previous playful banter with Nothing CEO Carl Pei over design inspiration.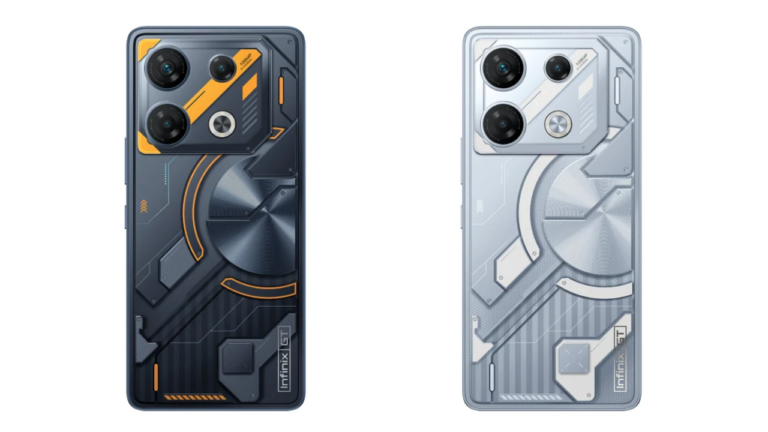 TechLatest is supported by readers. We may earn a commission for purchases using our links. Learn more.
For the last few weeks, Infinix has been teasing its latest offering, the GT 10 Pro smartphone, to be released.
Consumers' intrigue has been peaked by the company's teases, and now, leaked photographs have appeared online, giving us an up-close look at the phone's gorgeous design.
The photos, which were provided by reliable tipper Abhishek Yadav, show an interesting back panel that bears a strong similarity to the Nothing Phone (2).
Read: Apple iPhone 15 Series Launch May be Postponed to October
The translucent rear panel of the GT 10 Pro is a standout feature, allowing a rare peek into the device's inner workings.
This one-of-a-kind design reveals the phone's internals, including the camera module and battery, making it stand out in the market.
The triple-lens camera system is displayed at the top, with a flash right below it.
The GT 10 Pro has a compelling LED light strip running down the bottom of the back panel, which adds to its beauty.
This light strip performs several functions, including informing users with notifications, displaying charge status, and transmitting other important information.
Aside from its unique look, the GT 10 Pro is likely to have a powerful set of characteristics. The phone, which is powered by a MediaTek Dimensity 8050 CPU, offers smooth performance and efficient multitasking.
It is touted to include a large 6.7-inch AMOLED display with an amazing 120Hz refresh rate, providing users with a seamless and immersive visual experience.
GT 10 Pro is expected to boast a strong 108-megapixel rear camera, which ensures good photos and improved detail in every snap.
The phone is also expected to have a 32-megapixel front-facing camera for folks who appreciate taking selfies and making high-quality video calls.
It is expected the Infinix GT 10 Pro will be available to Indian users in August 2023, when the company aims to introduce the smartphone in the country.
The GT 10 Pro's cost has yet to be released, but the excitement around its release suggests it will be a highly sought-after handset in the Indian market.
To spice things up, Nothing CEO Carl Pei had previously tweeted, "Time to get the lawyers ready!" with a laughing emoji in response to the news that Infinix was preparing to sell the GT series phone inspired by the Nothing Phone 2.
Read: boAt Announces Its Smart Ring – Launching Soon
Leave a Comment