Highlights
Apple's "Wanderlust" event in 2023 unveiled the iPhone 15 series, Apple Watch Series 9, and Apple Watch Ultra 2 with impressive upgrades.
Notable features include USB-C adoption across the iPhone lineup, improved health sensors, and advanced gesture controls for the Apple Watch.
Apple also announced the release dates for iOS 17, iPadOS 17, tvOS 17, watchOS 10, and macOS Sonoma, promising exciting updates for all Apple device users.
TechLatest is supported by readers. We may earn a commission for purchases using our links. Learn more.
The tech community focused on Cupertino, California, on September 12, 2023, when Apple held its much-anticipated annual event, "Wonderlust."
The iPhone 15 series, Apple Watch Series 9, and Apple Watch Ultra 2 were among the noteworthy upgrades to Apple's product lineup that were made at the event, which mostly went as anticipated.
The iPhone 15, iPhone 15 Plus, iPhone 15 Pro, and iPhone 15 Pro Max make up the iPhone 15 lineup. The major development is that Apple has finally replaced the Lightning port on its entire line of products with USB-C. Connecting the iPhone to other devices and chargers will now be simpler, which is a nice move.
With a speedier CPU and a new health sensor, the Apple Watch Series 9 offers a small improvement over the Series 8. The next flagship Apple Watch, the Apple Watch Ultra 2, has a more robust body and a longer battery life.
The new AirPods' USB-C charging case replaces the Lightning port, which is a pleasant addition. Additionally, the sound quality and noise cancellation of the AirPods have increased.
Apple also revealed the dates for the release of iOS 17, iPadOS 17, tvOS 17, watchOS 10, and macOS Sonoma in addition to the new hardware.
The release date for iOS 17 is September 20, 2023. On the same day, iPadOS 17 will be made available. The release day for tvOS 17 is set for September 21, 2023. The release of WatchOS 10 is scheduled for September 22, 2023. The launch of macOS Sonoma is scheduled for September 23, 2023. Check out the detailed specs and upgrades of the products.
Read: Report Suggests Samsung Galaxy S24 Ultra May Come with 2TB Storage
Apple Watch Series 9
The Apple Watch Series 9 has been announced by Apple, the company's most recent entry into the wearable technology market. While it may be considered a slight upgrade from the Series 8 it replaces, it has several noteworthy improvements that are sure to attract your notice.
Apple Watch Series 9: Specs and Features
The new S9 chip, hidden beneath the svelte shell, is the most noticeable difference. This processor's speed has increased by 30% when compared to the S8 it replaces.
For users, what does this mean? Well, for one thing, Siri will reply more quickly than ever before, and resource-intensive programs and games will work without a hitch, giving users a richer user experience.
The Series 9's brighter display, which can reach an astonishing 2,000 nits, improves usage even more. This function makes lengthy use more comfortable by ensuring exceptional sight even in bright sunshine and lessening the strain on your eyes.
The "Double Tap" gesture was one of the Series 9's most notable innovations. With this game-changing accessibility feature, users may use an app's main functions by just touching their thumb and index finger twice.
The Apple Watch is now more accessible and inclusive thanks to this straightforward innovation, which is especially helpful for those with impairments.
Apple Watch Series 9: Pricing and Availability
The GPS model and cellular model of the Apple Watch Series 9 start at $399 and $499, respectively. Pre-orders are currently being accepted, and shipping will start on September 22.
When delving deeper into the improvements, it's important to highlight the S9 chip's excellent four-core neural engine. Machine learning tasks are accelerated by this additional horsepower, becoming up to twice as quick as Series 8 workloads.
This creates opportunities for more sophisticated health and fitness features and raises Siri's overall performance.
A second-generation ultra-wideband processor is another major improvement that dramatically improves the Find My iPhone feature's accuracy. Finding your gadget has never been easier, whether it is lost in a crowded area or concealed inside your house.
Running and hiking outside are now even more fun thanks to the enhanced display, which shines in all lighting circumstances. The Series 9 has got your back, so you won't have to squint or move your wrist to see important text.
---
Apple Watch Ultra 2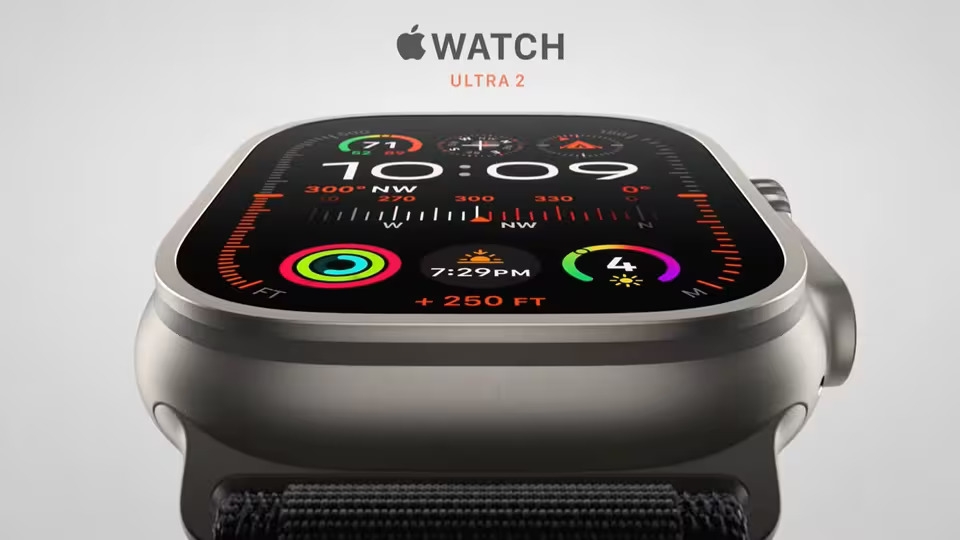 Apple continues to set the bar high in the rapidly developing field of wearable technology with its cutting-edge offerings.
The newest model in their excellent collection, the Apple Watch Ultra 2, has a bevy of features that make it a must-have for both tech aficionados and health-conscious people.
You'll be happy to know that the Ultra 2 keeps all the amazing features that made the Apple Watch Series 9 so well-liked if you're already familiar with that model.
Apple Watch Ultra 2: Specs and Features
It features the ease of the Double Tap gesture and on-device Siri integration and is powered by the S9 SiP chip, ensuring lag-free performance. Furthermore, it makes use of ultra-wideband technology to expand its capabilities.
Its display is one of the Ultra 2's most notable upgrades. It is easily visible even in strong sunshine when its brightness is increased by 50% to an astonishing 3,000 nits.
The display also has an ambient light sensor, which cleverly activates night mode to lessen glare in dimly lit areas.
Additionally, this iteration's battery life has been increased. With regular use, you can expect up to 36 hours of usage and, impressively, 72 hours in Low Power Mode, giving you a more prolonged experience than with its predecessor.
The Apple Watch Ultra 2 has much more to offer, though, and that is only the tip of the iceberg. Here are some additional important details:
Design and Robustness: The Ultra 2 has an elegant design and can survive daily wear and tear thanks to its sturdy titanium case and sapphire crystal display. Additionally, it can withstand water pressure of 50 meters, making it ideal for swimming and other water-related sports.
Features for Tracking Your Health and Fitness: Objectives include a blood oxygen sensor, blood pressure monitor, ECG app, heart rate monitor, and a built-in compass. To assist you in living a healthy lifestyle, it can track your exercise, sleeping habits, and several other health indicators.
Communication and Connectivity: The Ultra 2 is a hub for communication in addition to being a fitness tracker. Your wrist may be used to make and receive calls, send and receive text messages, and use a variety of apps, keeping you connected wherever you are.
Apple Watch Ultra 2: Pricing and Availability
Pre-orders for the Apple Watch Ultra 2 are now open, with prices beginning at $799. You won't have to wait long to enjoy the cutting-edge wearable technology because shipping will start on September 22.
---
iPhone 15 and iPhone 15 Plus
With the introduction of the iPhone 15, Apple has once again made significant strides in the ever-advancing realm of technology.
The newest version of the venerable iPhone series includes several ground-breaking improvements that are likely to surprise and impress both tech aficionados and ardent Apple fans.
iPhone 15 and 15 Plus: Specs and Features
The switch from the dependable Lightning port to the more functional USB-C port is one of the iPhone 15's most noticeable changes.
This change not only makes charging your device easier but also makes it possible to link your iPhone to a wide range of other devices and accessories.
The USB-C port offers lightning-fast data transfer rates as well as ease, enabling you to transmit your data with previously unheard-of efficiency.
The improved camera system on the iPhone 15 will excite photographers in particular. With the main camera's amazing 48MP sensor, your images and videos will capture even the smallest details with breathtaking clarity.
A 12MP ultrawide lens and a 12 MP TrueDepth front camera support this powerhouse, delivering a flexible shooting experience that meets all of your creative needs.
The A16 Bionic chip, marketed as the fastest chip ever built inside an iPhone, is what powers the iPhone 15.
This translates to a smartphone that performs flawlessly, quickly, and effectively in all of your daily tasks, from multitasking to gaming.
The enhanced satellite connectivity of the iPhone 15 is one of its most notable features. With the help of this invention, you may communicate with others even while you're in remote locations without smartphone coverage.
For individuals who depend on their smartphones for communication, it is a game-changer since it provides a lifeline in an emergency and makes connectivity possible in areas that were formerly thought to be inaccessible.
Apple has also given careful consideration to appearance and design. The iPhone 15 has rounded corners and a dynamic island, giving it a sleek and contemporary appearance that will grab attention.
But the device's display is astoundingly bright—2,000 nits—making it easily legible even in strong sunlight—and it's not just about how it appears.
The advancements continued after that. The camera system has been improved for better low-light and portrait photography, guaranteeing images that, no matter the circumstances, capture the essence of the moment.
With a 40% increase in performance over its predecessor, the A16 Bionic CPU guarantees that you may move through your apps and tasks with amazing quickness and efficiency.
iPhone 15 and 15 Plus: Pricing and Availability
Choose from one of the five eye-catching hues—pink, yellow, green, blue, and black—for the iPhone 15 to best express your style and personality.
The best thing, though? This device is affordable to a wide spectrum of users with a starting price of $799.
Pre-orders for the iPhone 15 begin on September 15; the smartphone will go on sale on September 22 for those who are eager to get their hands on one.
The iPhone 15 is poised to set a new trademark in the smartphone market with its remarkable features, cutting-edge technology, and Apple's renowned attention to detail. It will provide customers with a fully upgraded and connected experience on a global scale.
---
iPhone 15 Pro and iPhone 15 Pro Max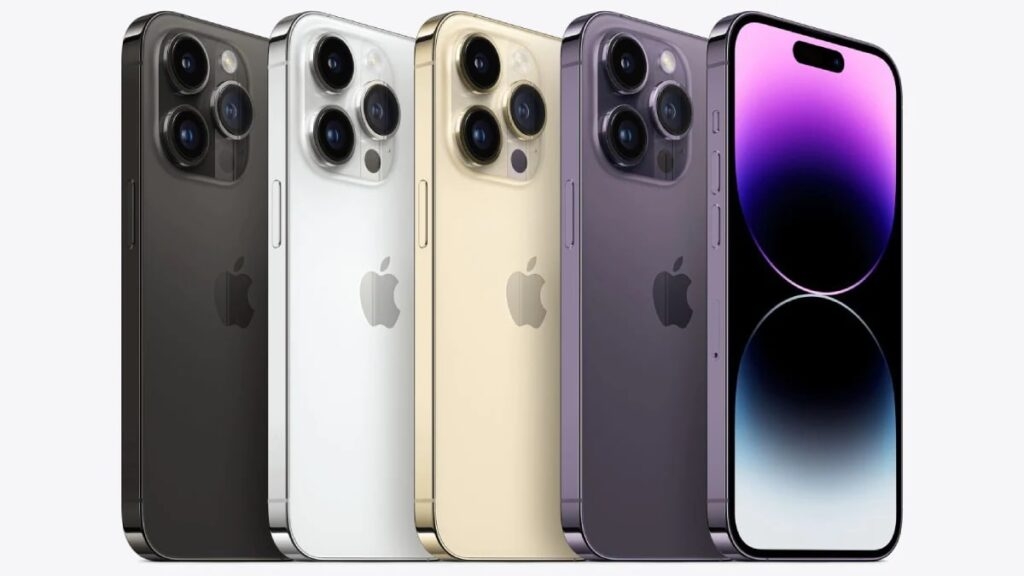 The iPhone 15 Pro and Pro Max have been formally announced, and they carry with them a host of innovative improvements that will excite users.
iPhone 15 Pro and Pro Max: Specs and Features
These new models have prioritized utilizing titanium's strength, which represents a considerable advancement in durability.
They combine a stylish design with a tough build to handle life's daily adventures, making them the lightest iPhone Pro models to date.
The extraordinarily tiny screen borders, which redefine the idea of edge-to-edge displays, are one of the most noticeable aesthetic upgrades.
These borderless screens offer an unmatched viewing experience, demonstrating Apple's commitment to building immersive experiences.
The iPhone 15 Pro and Pro Max emphasize functionality above just looks, though. These models are designed to be more repairable than ever, thanks to revised internal architecture.
Apple recognizes the value of sustainability and is actively working to make sure that its products are simple to maintain.
The Action button is a major feature of the iPhone series. With the help of this flexible feature, users may easily start voice recording, activate accessibility features, launch the camera app, or activate custom shortcuts. It's all about having convenience close at hand.
The cutting-edge A17 Pro chip, a wonder of semiconductor engineering, powers these new iPhones from within.
This chip is powerful, boasting a mind-boggling 19 billion transistors on a 3nm technology. Smooth multitasking is ensured by the six-core CPU, which has two high-performance cores and four high-efficiency cores. The six-core GPU adds hardware-accelerated ray-tracing for beautiful visuals and gaming experiences.
Those who enjoy photography are about to be amazed. A new 48MP primary sensor is the centerpiece of the significant improvement to the camera system.
This sensor can record 3D spatial videos, providing content producers with a myriad of new creative opportunities.
With a 5x telephoto zoom lens and a 120mm equivalent focal length, the iPhone 15 Pro Max goes even farther, making it ideal for people who demand the highest level of clarity and detail.
iPhone 15 Pro and Pro Max: Pricing and Availability
Let's now discuss affordability. The price of the iPhone 15 Pro starts at a reasonable $999, while the price of the bigger Pro Max model is $1,199.
Apple makes high-end technology affordable for many people by selling these premium items at reasonable prices.
---
Apple Software Line-ups
No need to worry if you aren't quite ready to replace your iPhone or Apple Watch—there is still something wonderful in store.
On September 18, Apple will make iOS 17 and watchOS 10 available for compatible devices, which are jam-packed with intriguing new features.
Along with these improvements, iPadOS 17 and tvOS 17 will debut on September 18. You may anticipate upgrading to macOS Sonoma on September 26 if you're a Mac user.
The fall of 2023 promises something new for everyone, whether you're an obsessive Apple Watch user, an iPad connoisseur, a dedicated tvOS viewer, or a devoted Mac user.
An example of what to anticipate from iOS 17 is as follows:
A redesigned Messages app with fun stickers, improved search, and expressive reactions.
a more user-friendly version of FaceTime that lets you leave messages for other people.
The inclusion of StandBy mode to aid in extending the battery life of your device.
Widgets have interactive capabilities that facilitate action with a single tap.
NameDrop, a unique feature of AirDrop, makes it simple to give out your contact information to others.
Here's an early glimpse at some of the intriguing improvements that watchOS 10 will bring:
A fresh compass app that includes an elevation view for better navigation.
cellular connectivity waypoints, which offer improved connectivity possibilities, were introduced.
A waypoint function for emergency calls for increased security.
Exciting new corporate features designed just for companies.
So come fall, whether you're into Macs, iPads, Apple TVs, Apple Watches, or iPhones, there's something new and tantalizing in store for you.
---
Wrapping It All
During the highly-anticipated "Wonderlust" event on September 12, 2023, Apple unveiled a host of exciting updates to its product range. This included the iPhone 15 series, Apple Watch Series 9, and Apple Watch Ultra 2, all of which offered substantial improvements for Apple enthusiasts.
Notably, the shift to USB-C for their devices promises simplified connectivity and charging. With these innovations, Apple remains at the forefront of tech, ensuring a little something for everyone come the fall of 2023.
Leave a Comment