Highlights
The OnePlus Open foldable phone is set to be attractively priced below the Samsung Galaxy Z Fold 5, aiming to make it a cost-effective choice in the Indian market.
Leaked details suggest the OnePlus Open will feature a Snapdragon 8 Gen 2 SoC, a larger circular rear camera module, and dual AMOLED displays.
The OnePlus Open could potentially offer better specifications and features compared to its Samsung counterpart, signaling a competitive entry into the foldable device industry.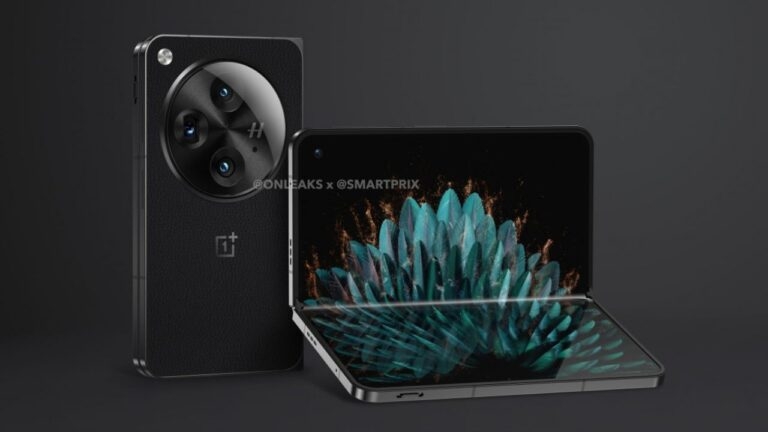 TechLatest is supported by readers. We may earn a commission for purchases using our links. Learn more.
A significant leak just emerged, revealing insight into the price plan of the impending OnePlus Open foldable phone in the Indian market.
According to reports, this cutting-edge foldable phone would be attractively priced below the expensive Samsung Galaxy Z Fold 5.
Given its estimated price range of under Rs 1.2 lakh, this move is expected to present the OnePlus Open as an appealing option, particularly in terms of cost.
In comparison, the Samsung Galaxy Z Fold 5 costs a whopping Rs 1,54,999. The Tecno Phantom V Fold is now available in India for Rs. 88,888.
Yogesh Brar, a very reputable tipster known for his spot-on forecasts in the domain of smartphone pricing, is the source of this leak.
Read: OnePlus Open Leaked Renders Reveals Major Design Upgrade
It is also expected that the OnePlus Open would be powered by the Qualcomm Snapdragon 8 Gen 2 SoC, which has remarkable power and efficiency.
New design renderings reveal details about the next OnePlus Open, signaling a divergence from previous assumptions.
Notably, the device looks to have a larger circular rear camera module, which appears to be deliberately positioned in the center of the upper part of the back panel.
Furthermore, rumors indicate that the phone will have a larger display with softly rounded corners that stretch all the way to the hinge side.
When opened the smartphone is believed to have a sweeping 7.6-inch AMOLED display, joined by a secondary 6.7-inch AMOLED display on the cover.
Photo enthusiasts may expect a powerful camera configuration with a 50MP primary lens, a 12MP ultrawide lens, and an 8MP telephoto lens.
Aside from its appealing pricing, the OnePlus Open may tilt the scales even further in its favor due to a slew of greater features over its Samsung competitor.
Notably, it is said to have a more powerful processor, a larger battery, and a more durable overall design. While the OnePlus Open's actual cost remains unknown, Brar's leak provides a tantalizing look into the brand's goal to emerge as a serious rival in the developing foldable phone industry.
If the OnePlus Open materializes according to Brar's estimations and price, it would undoubtedly be a game changer in the world of foldable devices.
Of course, the onus is on OnePlus to deliver on the enticing prospects they've been tied to. In essence, Yogesh Brar's leaked insights serve as a beacon of hope, sparking excitement for what OnePlus may disclose in the near future.
Read: Honor Teases Magic V2 Global Launch Alongside a Mystery Foldable at IFA 2023
Leave a Comment