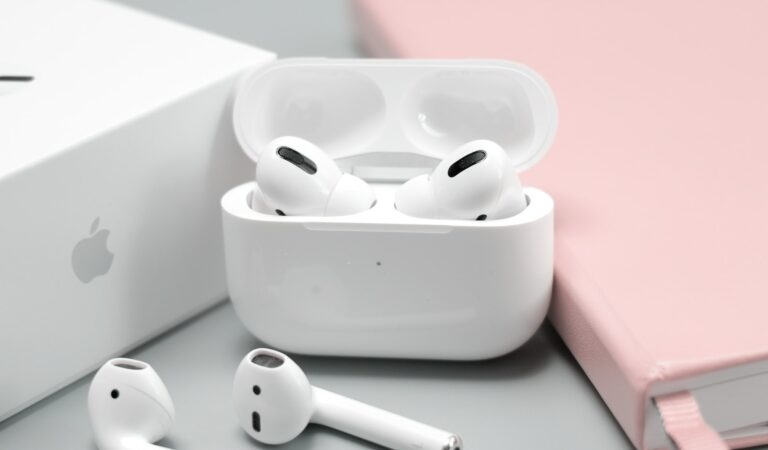 TechLatest is supported by readers. We may earn a commission for purchases using our links. Learn more.
It is soothing to travel in a rainforest area, listen to your favorite songs while driving or riding, and enjoy the feel! Well, everything is incomplete without proper music. Fortunately, you have AirPods on your side that will not let your precious moments go in vain.
Some personalization to them, be it for you or if you gift someone is always exciting. Therefore, Apple can engrave things for you. So, when you are looking for the best AirPod Engraving Ideas, we have covered you. You will find a worth steal-the-deal idea from it.
You can engrave contact information, hometown representation, name, emojis or Emoticons, inspiration, or even gifting greetings on it!
Best AirPod Engraving Ideas
Engraving AirPods is one of the most fantastic ideas around the corner, as Apple allows you to engrave up to 22 characters, which is enough for a design. Though it would not let you engrave sentences due to its character limit and only Caps font format yet, it is enough to get the best designs on your pretty little case.
As Apple does not intend to promote obscenely, vulgarity, or similar, forget to engrave them. However, there are numerous good things for a good appeal and to make the case charming.
Some of the ideas are listed below:
Idea 1: Engrave Contact Information
One of the wisest options is to engrave your contact information on your AirPods. The benefit is that if you misplace it or exchange it with someone else, another person can figure out that it belongs to you!
Imagine forgetting your AirPods at the lounge and the person who calls you to return! You would heave a sigh of relief. We even understand your issues about privacy and theft, so you may choose not to share your number. In such a scenario, you can get your email ID, Instagram username, telegram username, or similar on the case.
You can get the contact information engraved along with the network's logo. Below listed are some templates that you can use as per your prerequisites!
<telephoneicon> <mobilenumber>
<instalogo> <username>
<emaillogo> <emailid>
<telegramlogo> <username>
Idea 2: Engraving Hometown Representation
When you are away from your home in another nearby city for better opportunities or settle abroad for some reason you can express your feelings on your AirPods case.
You listen to music to calm your disturbed mind, refresh your mind when you are working out, or similar. Whenever you have your AirPods around, it will give you a homely feel and keep you close to your native place.
The following are some of the ideas of the same:
❤ se Indian
Mumbaikar
Delhite
Indore wale
You can even engrave many other things like your name. Know why!
Idea 3: Engraving your Name
No matter what happens, most of you cannot eliminate engraving your names over your belongings. It makes it a credible reason why personalized things are forever in trend. Be it water bottles, mobile covers, Keychains, passport covers, t-shirts, pendants, earrings, or similar, all owe to personalization, and so do AirPods.
Further, it also gives someone else a reason not to steal it and even if it does not get exchanged with someone else. When you hug it for your beloved one, you can engrave their name or your name so they will forever cherish your memories.
Idea 4: Engraving Emojis or Emoticons
Initially, Emoticons were a good idea to express your personality. With the innovation of Emojis, it is widely used instead of Emoticons. However, if you are an old-school personality, you would choose Emoticons and can engrave them on your AirPods case.
The newer trend is where people select an emoji as per their personality that represents their true self. It also indicates your craze if you have any!
Some of the examples are given below:
🌈 (if you have a colorful personality)
☀️ (when you are someone's sunshine)
🧪 (if you love sciences)
💻 ( for a tech freak)
🎨 ( for an artist)
You can select one that you love! If you are a workaholic or never give up, there is an option for you also!
Idea 5: Engraving Something Inspirational
As you can engrave up to 22 characters on the AirPods case. Hence, you can use short inspirational or motivational pieces for you. Some of them are listed below:
Praise the Lord
Feed your Dreams
YOLO
All The Best
Work Hard
Today or Never
Better late than never
Character limits cannot be exceeded and hence short ones are listed. You can use the key phrases of your favorite texts also!
AirPod Engraving Ideas for Gifts
You gift your loved one AirPods on their birthday, be it your spouse, kid, friend, or anybody. Engraving things on the case gives them a sense of closeness with our greetings and short texts.
You can wish them for their birthdays, promotions, or on similar occasions. For example, if you give it to your kid on their 18th birthday, they will always reminisce about your care, nurture, and how you took care of their ever-increasing demands. Similarly, you can propose to your loved one with a text. Some of the gift Engraving Ideas are mentioned below:
Officially an adult
Congrats Buddy!
I ❤ U
Happy birthday
Our Joy
Grow more
Moreover, you can also get their name initials embedded on the case, which sets it apart. Even some emojis related to the occasion like a bouquet while greeting, balloons, or cake on birthdays and anniversaries would work well.
The unique idea is to engrave their nickname on the case.
The Wrap Up
You have your answer if you were looking for Best AirPod Engraving Ideas. With 26 incredible ideas, including templates, you can choose one that's most desirable. Further, you can even choose a unique one per the given Ideas. All of them are as per varying choices.
Leave a Comment