Highlights
Building a custom gaming PC can be troublesome but quite beneficial.
It is meant mainly for gamers, graphics designers, and users carrying such hefty tasks.
Building these custom PCs is expensive, but you can use an effective yet affordable PC case under 100 USD.
We have selected the best ones under the category.
TechLatest is supported by readers. We may earn a commission for purchases using our links. Learn more.
Do you find cleaning the dust and debris regularly accumulating in your PC difficult? If so, you must get yourself a good PC case that protects the interiors of your PC from dust, dirt, and debris. Also, it will help to keep your PC safe from accidental falls or other damage.
If you plan to build a gaming PC for yourself, the PC case will help you organize its internal parts. You need to get yourself a good one that is sturdy and stylish to complement your room's interiors and enables you to customize it. Apart from it, it would offer smooth air ventilation to avoid overheating.
So, in this article, we will tell you about the top 8 best budget PC Cases to buy this year under 100 USD with their specific details. 
Top 8 PC Cases under 100 USD
There are countless PC Cases available in the market. But, we have selected the Top 8 ones under 100 USD with an excellent aesthetic design, offer scope for upgrades with multiple I/O panels, provide cooling, and keep your PC safe, among other features. Let's go:
1. Musetex Atx PC Case
Are you looking for a PC case that keeps your PC cool?
The Musetex Atx PC Case has 6 PWM ARGB fans that maintain the airflow keeping your PC Cool. Also, it gives a high-airflow performance with Polygonal Mesh, a Side ventilation slot, four airflow channels, and support up to its radiator. At the same time, it has a faster transfer speed with USB 3.0 and a reset option.
It will make your PC look more attractive with a stylish tempered glass design, high-light transmittance, and Explosion proof glass that is not easily damaged.
At the same time, the tool-free disassembly ensures that you don't have to find tools every time to disassemble it. To make your PC look attractive, it has a variety of lighting modes with different colors. 
It has Side opening glass panels for smooth heat dissipation and ultimate thermal performance. The case has six fans, so you won't have to buy more fans to keep the system cool. The design ensures powerful directed airflow with several side ventilation slots.
The case is built with a solid high-density black metal material and a matte color scheme that gives a beautiful look. Moreover, the Atx case has been scientifically designed spaces.
So, multiple mounting slots and cable cutouts help for easy installation. It also gives a good convenience for building a custom-lighted chassis.
Given its wider cutouts, you can decide the placement for fans with flexibility. It has a magic dust filter to keep its interiors free from dust.
Pros
Ensures good airflow

Easy to remove

Easy to assemble

Strong build quality

Sufficient space inside the Case
Cons
Poor cable management

Noisy fans
---
2. Cooler Master MasterBox PC Case
How about a PC case with adequate routing space and efficient cable management?
The Cooler Master MasterBox PC case has a sufficient routing space that is enough for wiring all your cables systematically. Dust quickly accumulates inside a PC with smooth airflow, and it isn't easy to clean daily.
So, this PC has a magnetic Dust filter that ensures no dust and dirt accumulation. Also, it has a unique pattern on dust filters to support it.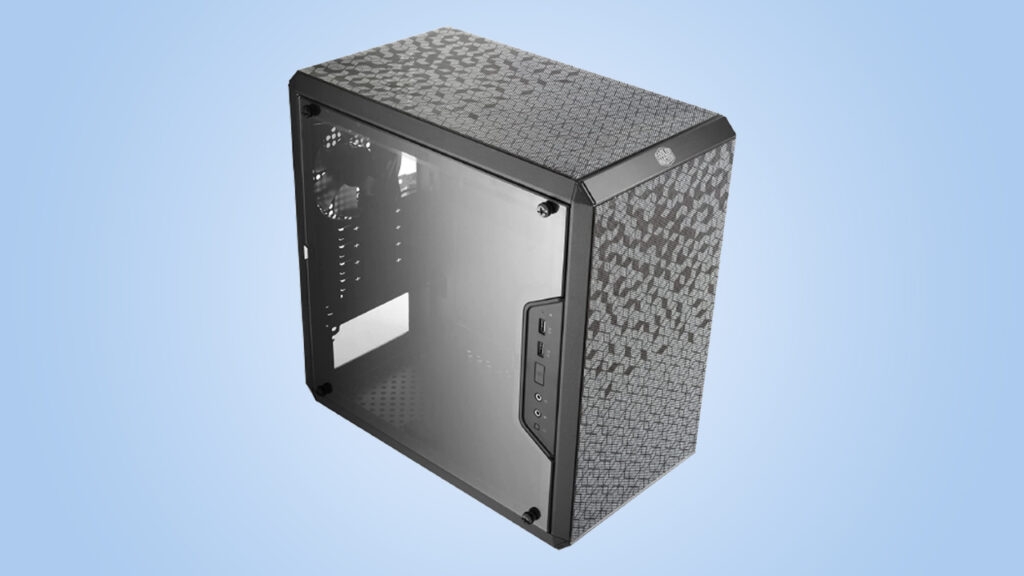 The PC case has flexible I/O panels that can be adjusted to different PC sides. So, you can install the I/O panels on the top, front or bottom sides. Cooler Master MasterBox PC Case has versatile mounting options on all three sides and can accommodate 240 mm liquid coolers.
It includes CPU coolers up to a height of 159mm. Also, it consists of graphics cards of up to a length of 360mm and power supplies of up to a length of 160mm.
Moreover, the PC case has sufficient interiors to include a Micro-ATX or Mini-IT length motherboard as per need. Due to its open Thermal Design, you can customize the thermal airflow. 
Pros
Adequate airflow

Good design

Easy and convenient to remove screws
Cons
Noisy rear fans

The paper-thin metal around 0.5mm bends easily
---
3. Thermaltake Versa PC Case
Are you looking for an elegantly designed PC case for your PC?
The Thermaltake Versa PC case has an elegant Front Panel Design. It has a brushed aluminum front panel to mask the drive devices that give a wholesome appearance and aesthetic look.
Besides, a panel for a USB 3.0 data transfer port is at the top front. There are also two standard USB 2.0 ports, an HD microphone, and headset jacks. So you can get direct access when you need to use them.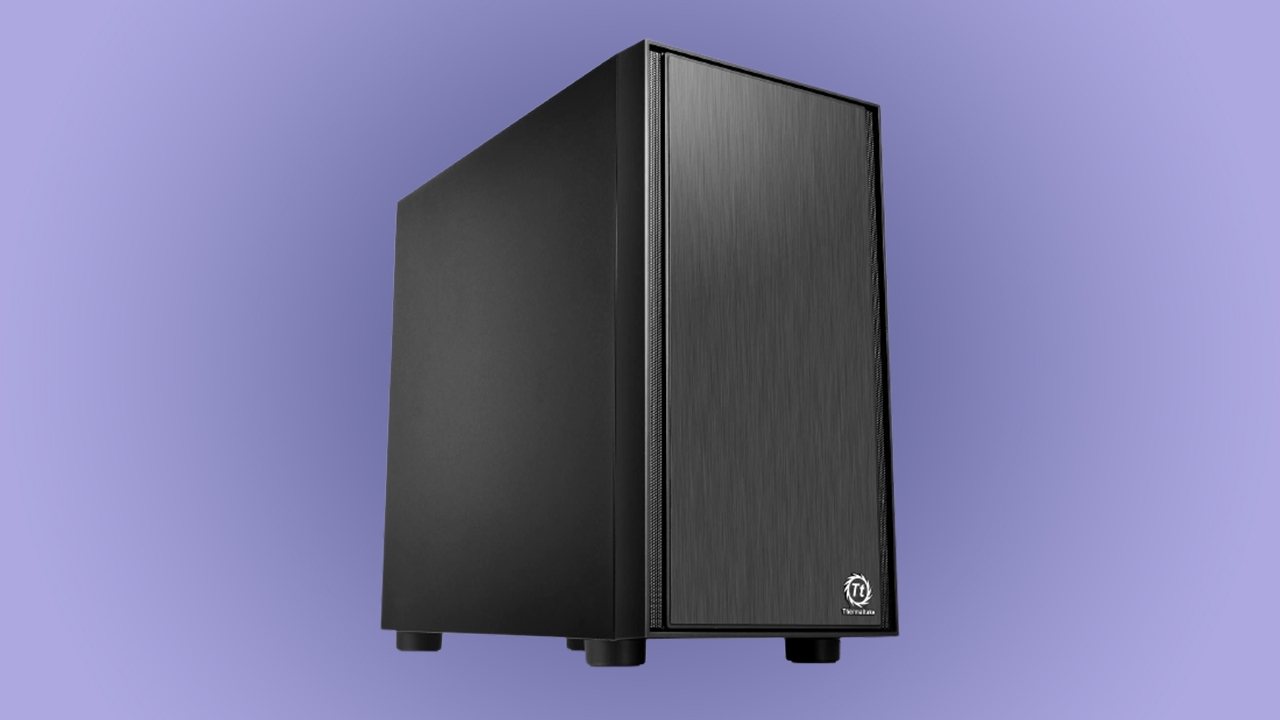 The PC case offers superior Hardware Support to add multiple devices. It has a motherboard up to the size of a micro ATX and a tower CPU college. So, its maximum height is 155mm with a dual expansion slot VGA of up to 350mm.
If you are a gaming or PC-building beginner, this case should be your choice with a simple design and easy cable management feature. Also, it is compatible with liquid cooling with good ventilation options that won't let your system heat up efficiently.
It is a stylish PC case with manageable frame size and advanced features. The PC has a compact design that fits all your small racks or tables and a 2.5"/3.5" tool-free drive bay design. Thus, it eliminates the problems with installing or removing the PC.
Pros
Easy to assemble

Good build quality
---
4. AeroCool PC Case Cylon
Are you looking for a PC case with interesting lighting modes?
If so, the Aerocool PC case Ceylong has a beautifully designed RGB LED on the front panel displays. It has more than 13 lighting modes; you can choose from one of them and create your custom style.
There is additional support for VGA fan coolers and dual chamber design. Consequently, it allows good airflow and system cooling of the system. Hence, it prevents overheating.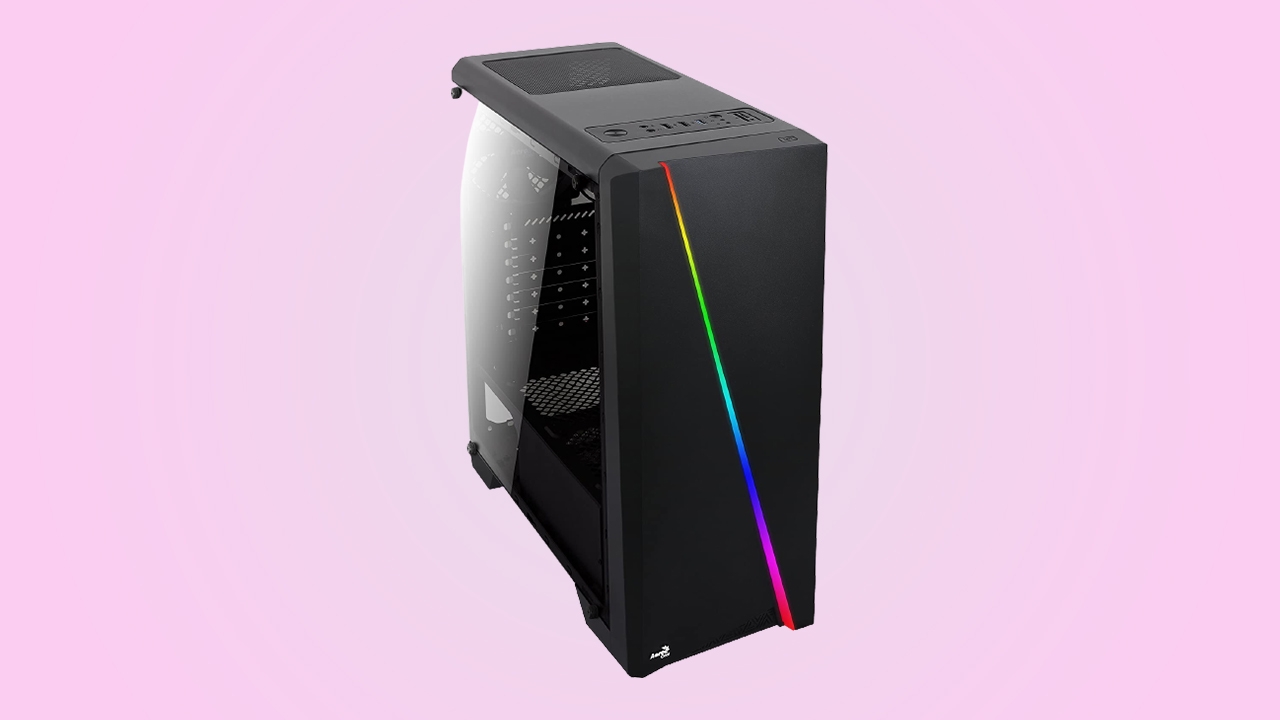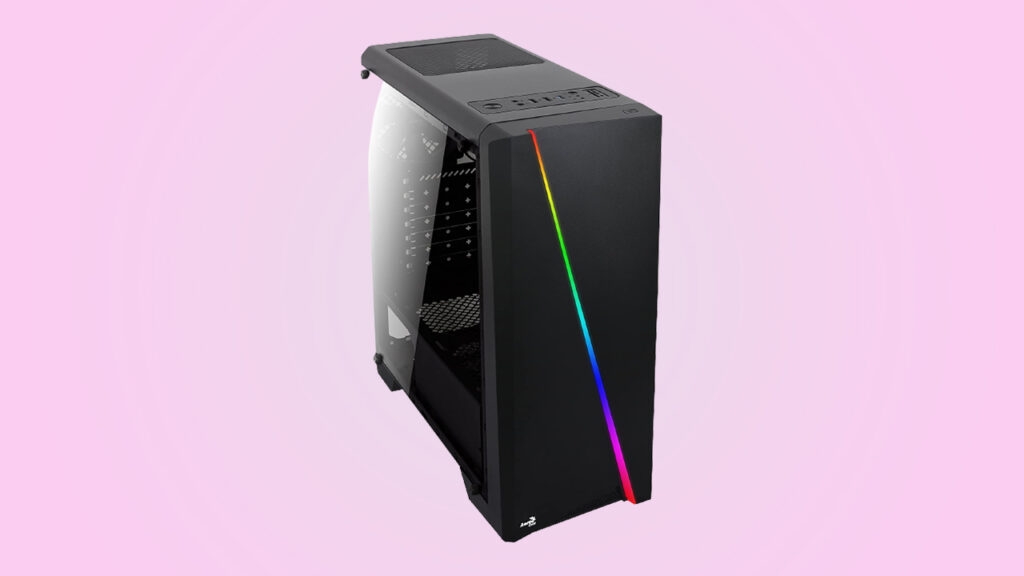 There are full acrylic side window panels with support for liquid cooling with a 240mm radiator in the front panel.
Also, it supports a CPU cooler up to 155mm and a VGA fan bracket design for cooling. There are dual chambers for good ventilation and a PSU dust filter that cleans the air preventing dust. 
The PC case supports SD or Micro SD memory cards. Moreover, it has a steel Thickness of 0.5mm. It can accommodate the motherboards of ATX/micro and ATX/mini-ITX.
Pros
Good airflow

Elegant design

Sturdy and thick glass on the side
Cons
Difficult cable management
---
5. Antec NX410 ATX Mid-Tower Case
Are you looking for a PC case with screw free design that is easy to disassemble?
If so, your Antec NX410 ATX mid-tower case has an easy-to-remove side panel with a screw-free design. So you will not have to look for tools to assemble or disassemble it.
You have a fine mesh front panel for ventilation with a sleek design. There is a magnetic and removable tempered glass Side panel for easy convenience. You need to remove the Side panel by lifting it.
There is a LED control button on the front panel. So, you can control them with a single button on the front panel.
You can even press a button to change the front panel ARGB lighting effect per your needs. To ensure ventilation, it has six fans that keep the system cool. Moreover, it has multiple I/O Ports.
It offers USB 3.0 connectivity for heavy gaming and has sufficient storage and drives bays. Also, there is room for expansion if you want to add anything. It supports a 360mm liquid cooling radiator at the front and 280mm on top. Overall, it is easy to assemble PC cases and quickly cools the system.
It has a 2x140mm ARGB fan for higher efficiency cooling. It has a grid front panel design that enhances the appearance of the case and creates an excellent addition to your interiors.
Pros
Strong build quality

Easy cable management
---
6. RHIROTEC ATX PC Case
Are you looking for a PC case with several I/O panels?
For that, RHIROTEC ATX PC Case is the best option. It has several I/O panels, including 1xUSB 3.0 high-speed port, 2xUSB 2.0 ports, and HD audio phone ports to enjoy better storage space and sound quality.
Additionally, there is a motherboard control and a 21-key remote controller. At the same time, it has LED buttons to control its 18 different lighting modes.
To prevent dust from entering, it has a magnetic Dust filter that is easy to remove and clean from the top and bottom of the case.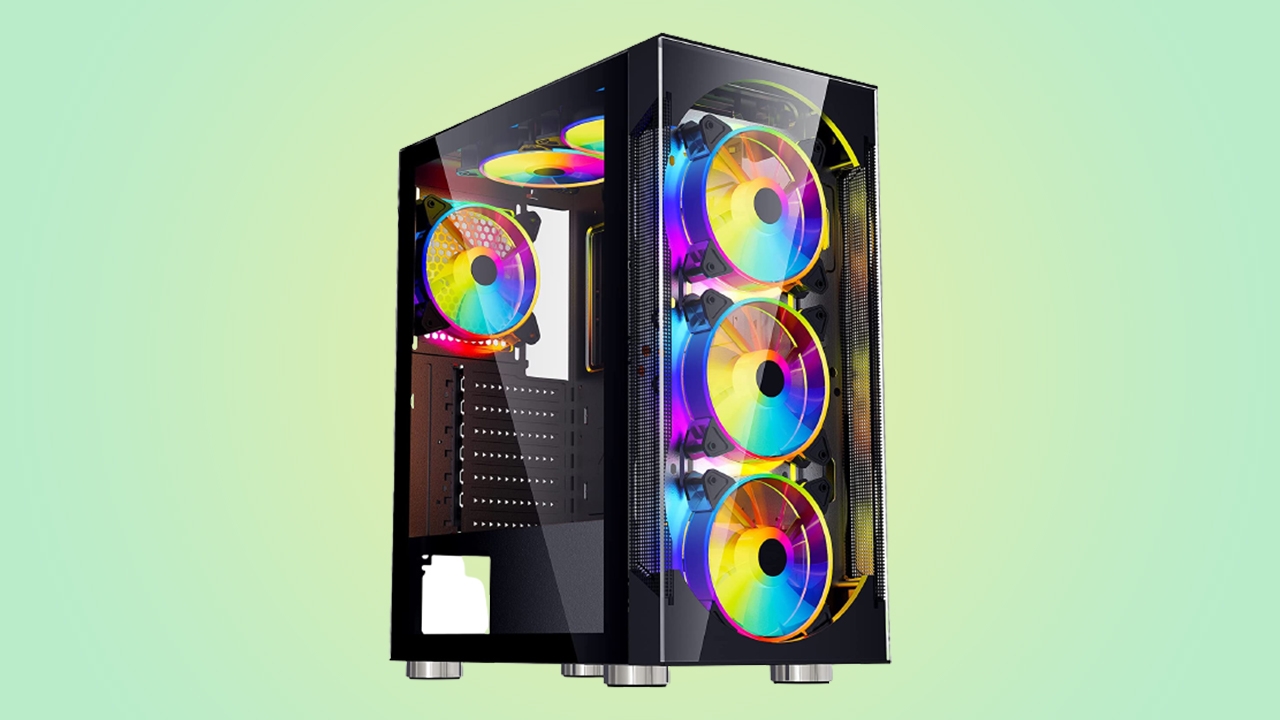 Another USP of this case is its metal feet with a rubberized cushion that absorbs potential vibrations and prevents minor damages or falls.
Alongside, it has a stylish and compact body. To increase Airflow inside the system body and deal with overheating, it has an upgraded Dual Rings Glow Fan. They provide a cooling effect with colorful lights glowing on the RGB fan.
Upgraded dual rings glow RGB fans, providing extra cooling airflow and a cool gaming light effect. It has a 4mm thick tempered glass fronts and sides panel that gives a better display system, particularly for gaming PCs. The case supports liquid cooling for efficient performance with more space for Mini ITX, Micro ATX, and ATX Motherboards.
Pros
Multiple I/O panels

18 different lighting patterns
---
7. MSI MPG GUNGNIR 110R – Premium Mid-Tower Gaming PC Case
Are you looking for a PC case that supports a variety of motherboards?
The MSI MPG GUNGNIR 110R PC case supports different motherboards, including Mini ITX, Micro ITX, and ATx cases. A tempered glass side panel gives a clear view of the system inside. Further, the ARGB lighting modes give it a fantastic Mystic look.
You can customize the lighting with four colors with 120mm fans. Also, it has an insta-light loop button that will help you easily change the light effects and color profiles. Moreover, it supports USB Type-C with a front USB 2.3.
It won't let your system overheat despite extensive use with optimized airflow. You get a magnetic Dust filter with a dust-capturing filter available in all the latest PC Cases to prevent dust from accumulating inside the system and obstructing its performance. It has a tempered glass window for a transparent view of the interiors. 
Pros
Reduces system noise

Well built

Easy to assemble

Good cable management
Cons
No accessories provided with the case
---
8. NZXT H5 Flow Compact ATX Mid-Tower PC Gaming Case
Are you looking for direct air filters to cool down the PC components after extensive work?
The NZXT H5 flows with a compact mid-tower ATX case with a perforated front panel and dedicated GPU fan. These features ensure that despite intense use in gaming or other purposes for hours, your PC stays cool with powerful airflow and cooling of the system. 
Also, it has perforated front and top panels that directly filters the air through its components. So, it improves the performance of the PC. There are 120 mm fans at angles that draw air from the bottom of the case to cool down the graphics card.
Also, it is sufficiently spacious with a 280mm radiator support in the front, 240 mm up top, and 120mm in the rear. It can include up to 6 fans, including dedicated GPU fans.
Pros
Adequate airflow

Dust filters

Strong build quality

Ample space for cable management
Cons
Improper cabling instructions
---
The Bottom Line
PC Cases are a vital accessory for your PC. They offer strong protection while adding significant beauty and style to your PC. Overall, it will help you improve the performance of your PC.
If you are looking for a PC case with multiple I/O panels, then RHIROTEC ATX PC Case will be a good choice.
If you want a PC case with a good design, then Thermaltake Versa PC Case has an attractive aesthetic.
Overall, you must carefully select the suitable PC case for your PC that ensures its beauty, longevity, and performance.
Further Reading:
Leave a Comment