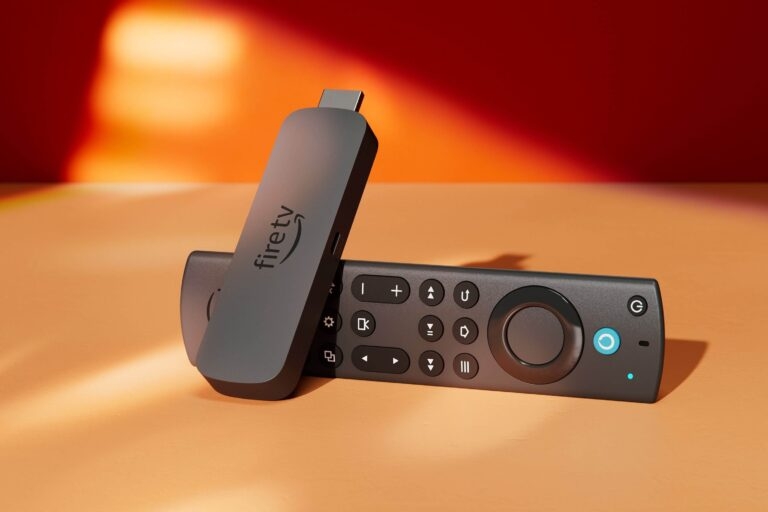 TechLatest is supported by readers. We may earn a commission for purchases using our links. Learn more.
It's nice that Online streaming devices like Amazon Fire Stick, Chrome Cast, and Android TV already have vast options like Live TV, Streaming apps, or OTT apps in their App stores.
But sometimes viewers want something more than that, and it's like sideloading! And why not? It enables you to go beyond the limitations that any App store has!
In this article, we present you the Top 10 AppLinked Codes that are Updated and working to date. Also, you will learn about its legality, features, and other important things.
What are AppLinked and AppLinked Codes?
Before you learn about the top codes available, It is crucial to find out what Applinked Codes exactly are and how they fulfill your wish into reality!
AppLinked Codes is an extra app store for devices like FireStick and Android TVs. It lets you add apps you can't find in the main app store (Amazon Play Store).
You get a special code and put it into a tool like Downloader or FileLinked to use it. Then, the code helps you get and install the app you want.
But Since FileLinked is gone, AppLinked is a great alternative to FileLinked, a tool that lets you access many APK files. it's a top pick for FireTV Users. It is made by Inside4Android Studios and is a fantastic replacement for FileLinked.
With AppLinked, you can use various apps to watch sports, TV shows, documentaries, live TV, and more.
Furthermore, it allows you to share files between Android and Amazon devices like smartphones, smart TVs, Fire TV Sticks, and Android TV boxes. It's a versatile and useful tool for FireTV and Android TV users.
Features of AppLinked
Applinked is a very popular service with special features, making it famous enough amongst the Fire TV community.
1. Free Codes for Diverse Content: It offers free access to various content through special codes. These codes allow you to unlock and explore different apps and files.
2. Helpful Tutorials: AppLinked provides plenty of tutorials and instructions to guide you through the software's usage. Whether you're a beginner or an experienced user, you'll find the assistance you need.
3. User-Friendly: Using these codes is straightforward and doesn't require advanced technical skills. You won't face a steep learning curve, making it accessible to many users.
4. No Download Restrictions: AppLinked doesn't limit the number of files you can link to or download. You're free to explore and access as many files as you desire.
5. Free Registration: You only need a free account and no need to provide credit card information or make any payments. It's a hassle-free and cost-free process.
6. Time-Efficient: AppLinked's feature of using a single URL to download and share multiple files saves you time. Instead of streaming files individually, you can efficiently manage and access them all simultaneously.
That's the magical feature that lets you benefit from the amazing functionalities of the app.
Warning
As per a tweet by the owner of the original AppLinked developer on 11th October 2021, the ownership of the application has been transferred to a new owner.
As per our investigation, we found out that the app has been modified multiple times without any feature or function update. Also, we scanned the latest APK on VirusTotal and discovered that there are many malicious flags.
---
Top 10 Working AppLinked Codes 2023
Here, we have listed the Top 10 best Applinked Codes working in 2023 and provide you with the best entertainment source you can expect.
1. 719778818
This AppLinked code boasts a collection of over 80 applications. It is the repository for some of the most sought-after third-party video apps, including Cinema HD, Bee TV, Tea TV, Nova TV, FilmPlus, and more.
In addition to these apps, the code provides variations like modified or ad-free versions of these apps. Furthermore, it offers APKs of official services such as Peacock and Tubi TV. Users can access this code via media players, utility apps, and VPN services.
2. 5555
The AppLinked code "5555" has been curated by the YouTuber "Free Tech" and is widely regarded as one of the top codes within the ecosystem. What sets this code apart is the extensive array of applications it offers to users.
You can discover several noteworthy apps within the collection, including Live Net TV, IPTV Smarters, Cinema HD, BeeTV, and many more. These applications cater to a diverse range of interests and preferences, ensuring there's something for everyone.
3. 4444
This code is a good choice if you want apps for doing useful things or watching videos. You can get MX Player, which is a famous video app. It also has VLC and Vimu for watching videos.
You can also get Aptoide from this code. Aptoide is like an extra store for apps on Android devices. If you have an Android TV, you can use this code to find apps to help you do different things.
4. 8888
When you enter the AppLinked code "8888," you'll discover that this store is primarily designed for users interested in Free TV Apps. It features a range of applications that cater to this specific need, making it a valuable resource for those looking to access content without extra costs.
Among the notable apps available through this code are Pluto TV, FuboTV, Tubi, Peacock TV, Sling, BBC iPlayer, VRV, ESPN, and more. With over 25 apps on offer, you'll find diverse choices to explore.
5. 4554
The Store 4554 stands out as one of the top stores, offering an extensive library of over 130 streaming apps.
You can find options for TV shows, sports, live TV, movies, and much more among the numerous apps available. Notable applications within this collection include Cinema HD, UK Turks, Vudu, Xumo, Pluto TV, Popcorn Time, Plex, Stremio, Rokkr, Ola TV, Peacock TV, TiviMate, FilmPlus, Hulu, and HD Streamz.
This diverse selection caters to a broad spectrum of content preferences, making Store 4554 a valuable destination for those accessing various streaming apps.
6. 727272
The AppLinked code 727272 boasts an extensive collection of nearly 150 apps. Within this collection, you'll encounter vast free video streaming apps, providing users a wide range of content options.
In addition to video streaming apps, this code offers the opportunity to explore and install various utility apps. These utility apps are designed to help maintain and keep your device, enhancing its functionality and performance.
7. 363605206
With the code 363605206, you can download popular third-party apps like Cinema HD, Bee TV, Live Net TV, Swift Streamz, and others.
While this code offers a selection of apps, it's worth noting that if you're seeking a broader range of applications, you may want to explore some of the other codes on this list. Yet this could be a good-to-go choice for you as this also contains a vast entertainment package.
8. 3333
For those searching for a blend of utility and streaming apps, the AppLinked code 3333 is worth considering. This code offers a selection of video apps, including HD Streamz, Redbox TV, Tivimate, Xumo, and others.
Alongside these video apps, you can also access utility apps such as Fast Task Killer, which are designed to help maintain your device's speed and performance.
It's important to note that the 3333 code does not have an extensive app collection. If you don't find the apps you're looking for here, explore some of the other codes listed, as they may better cater to your specific app needs.
9. 000111
Another Applinked code is for you. If you're looking for a quick way to install your favorite apps without sifting through a long list, give this code 000111 a try.
This code includes popular apps like Cinema HD, CyberFlix, Tea TV, and more. It's a convenient option for those who want to access these specific apps without the hassle of too many choices.
10. 7777
Our last inline is also a good choice and an easy-to-remember AppLinked code if you want to download free streaming apps. While it doesn't have a massive library of apps, it does offer some popular ones like Cuco TV, Cinema HD, UK Turks, Aston Cine, and more.
It's a convenient option for those seeking these specific apps without many extra choices.
So, after knowing these Applinked Codes, we headed towards the full process of How to install Applinked on your FireStick or any device you are using.
---
How do you install AppLinked on FireStick & Android TV?
Here is the complete process, assuming that you have installed the Downloader app on your device, which will be needed to install the Applinked app.
Open Downloader and search for applinked.store on its home screen.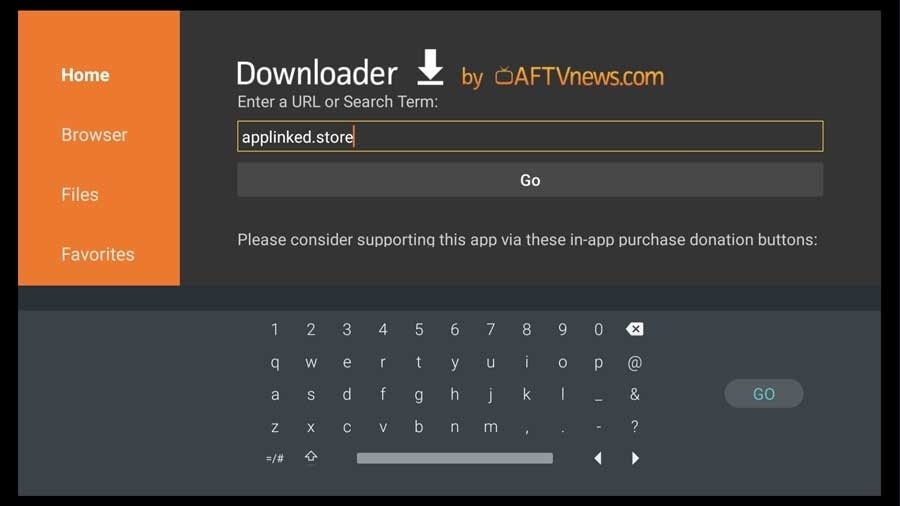 Click Go to go to the official AppLinked website.
Scroll down and click Download to start downloading the AppLinked app.
Once the download finishes, it will automatically start the installation process.
Click Install when prompted.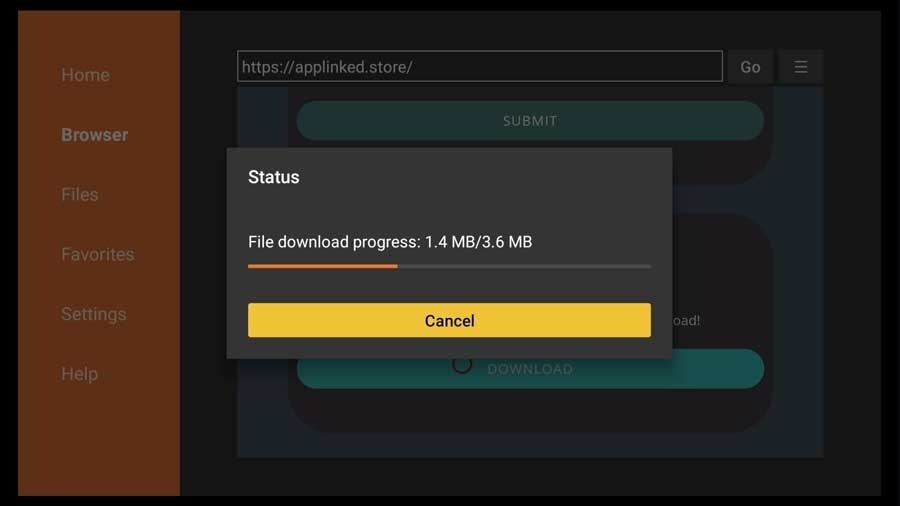 You might see a warning message AppLinked is Blocked by Play Protect, but you can click OK to continue.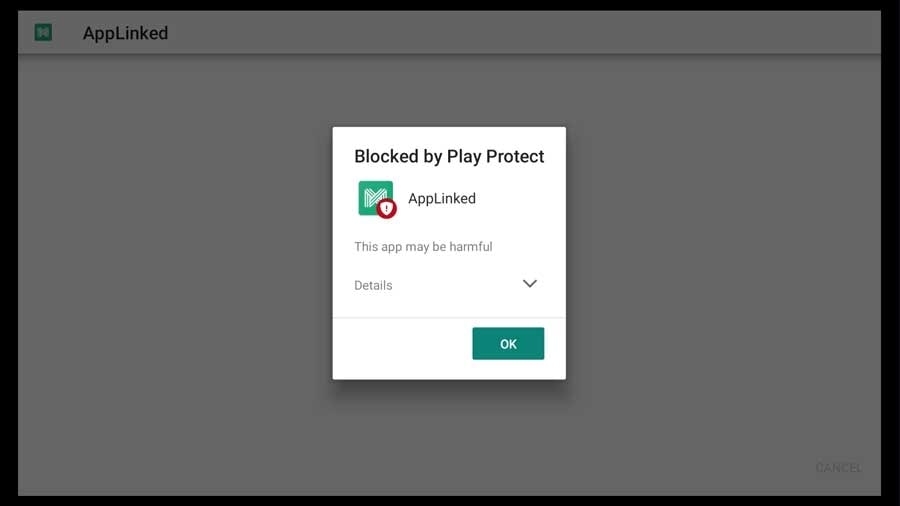 After installation, delete the APK file to save space.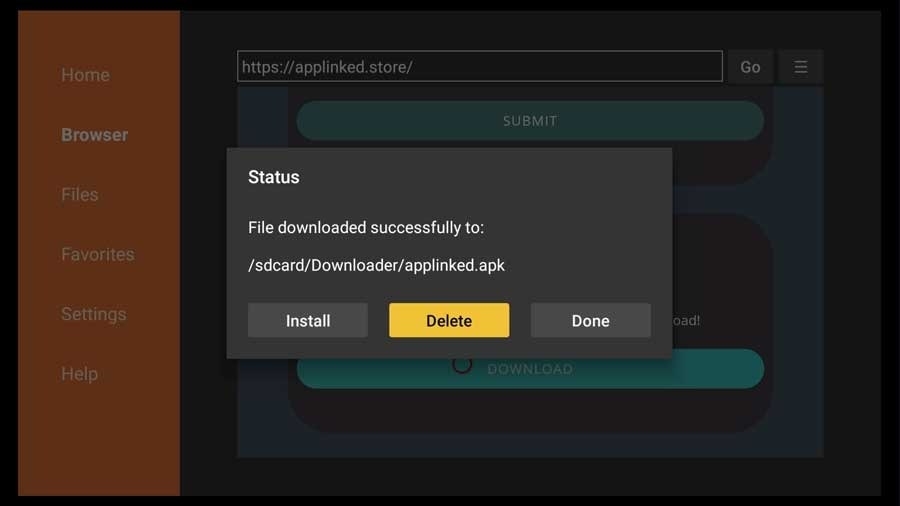 You can now open AppLinked from your device's app drawer.
After the Installation of Downloader, you have a way to enter your codes and download any apps as you wish; let's know about it in the next topic.
---
How do you download apps using AppLinked Codes on Amazon Firestick?
Here are the steps to use AppLinked Store codes on your Amazon FireStick or other compatible devices:
Go to the AppLinked home screen on your Amazon FireStick.
Click Add A Store to begin the process of adding a new store.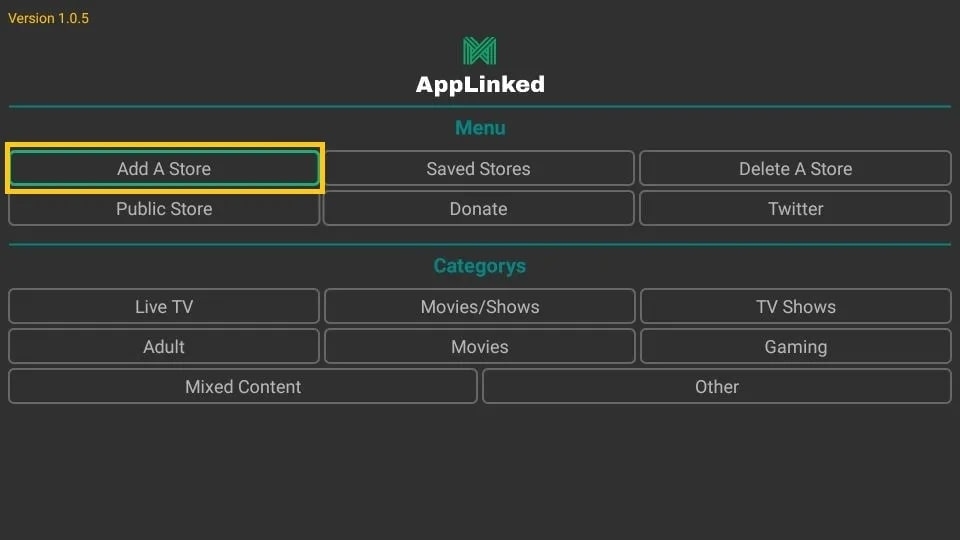 Enter the code of your choice and then click Submit. For example, let's use the AppLinked Code: 5555 as a demo. (Once you input a Store Code, it will be saved for future use, so you don't have to type it in whenever you want to access the same store.)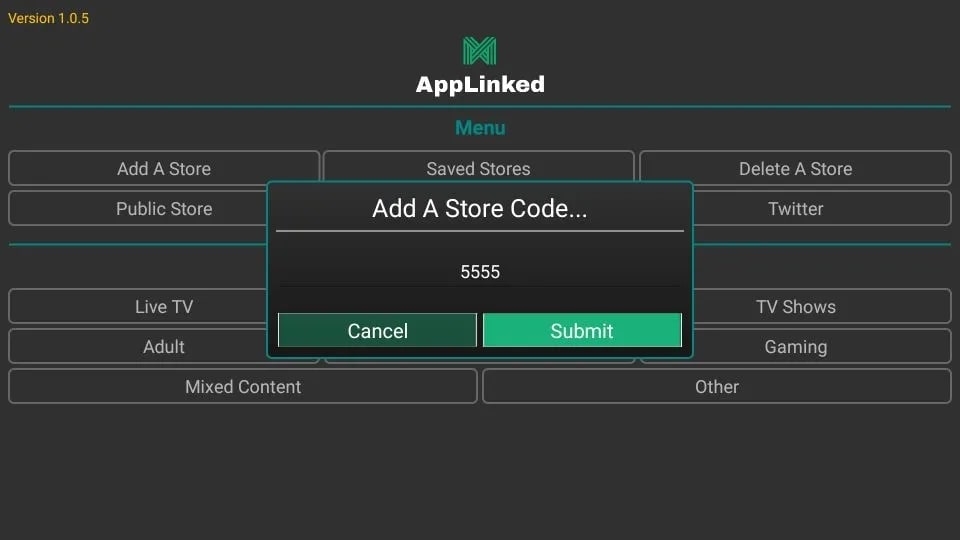 Return to the code home screen, and this time, click on Saved Stores.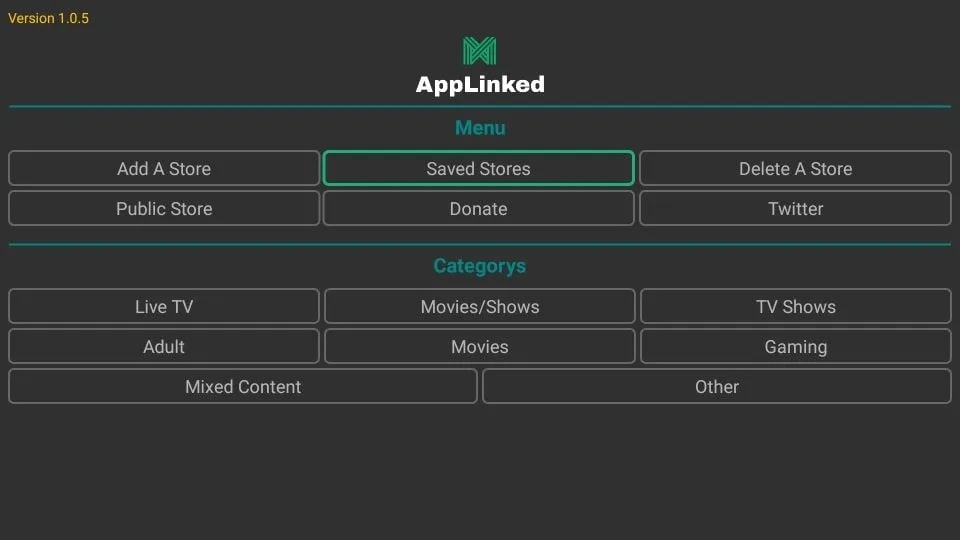 Now, choose the Select A Store option with the down arrow icon.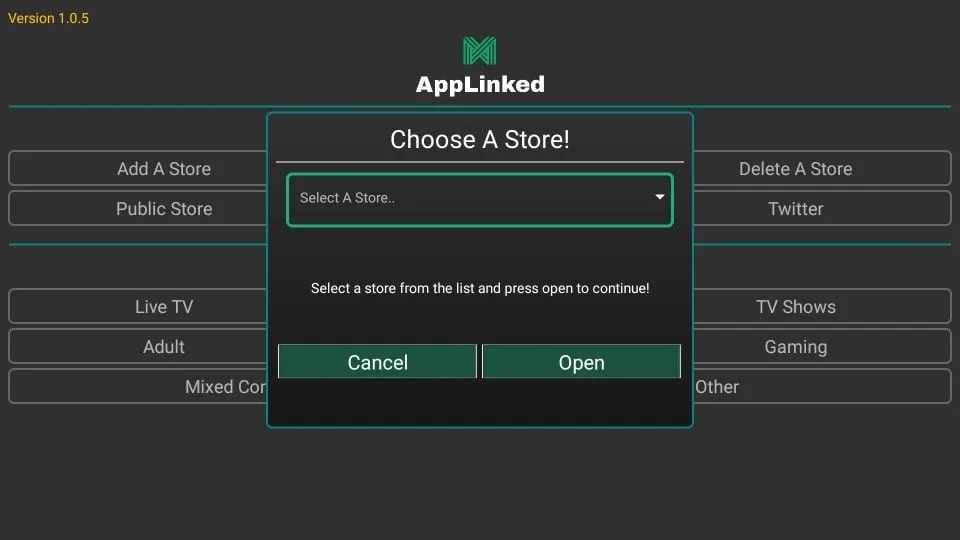 Pick the code you want to access; in this case, we're selecting 5555.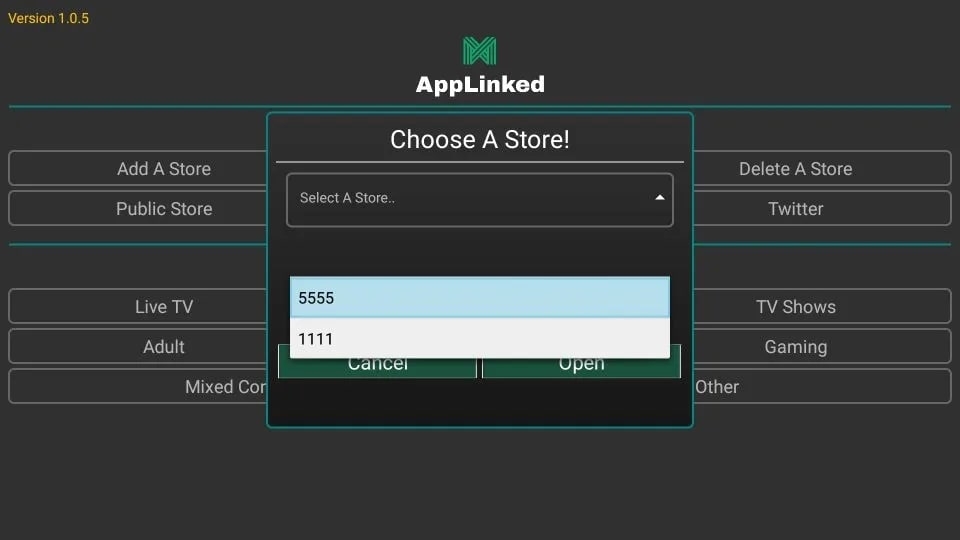 Click on Open.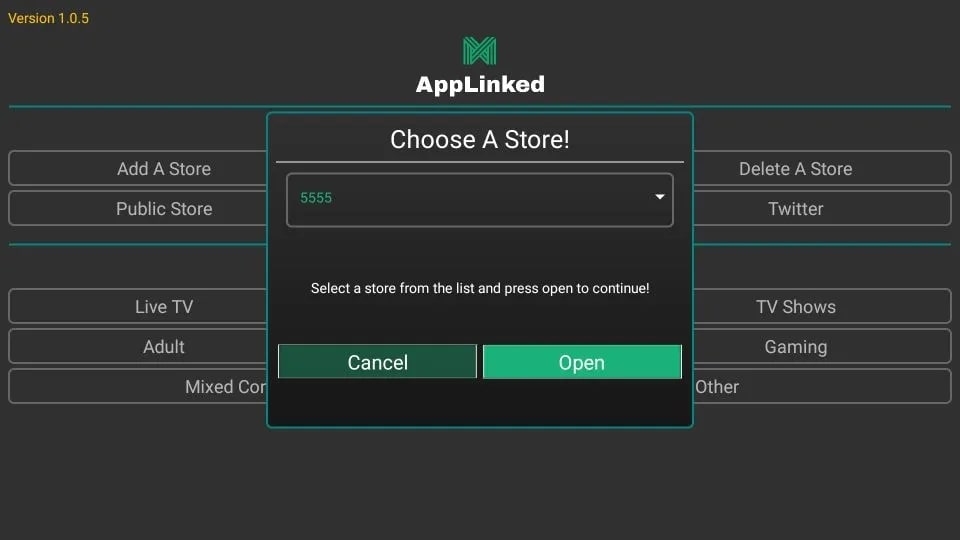 You'll see a list of apps available within this store code. Select the app you wish to install.
Click on Download.
Wait for the app's APK file to download.
Click INSTALL.
Wait for the app to be installed on your device.
Finally, you can choose to click DONE or OPEN.
If you want to install more apps, you can simply repeat the above process for each one you want to add to your device.
---
Are AppLinked Codes Safe and Legal?
After knowing about codes and the app itself, you may ask whether Applinked is safe to use, its legality, and more. Don't worry; we've got you covered.
Using codes to install apps and access free movies and TV series is legal and safe. It is a service that shortens URLs into shortcodes. However, it also lets you download third-party apps, which might have potential security risks.
But if you still have any doubt, we strongly suggest staying safe while streaming with AppLinked Codes; it's a good idea to use a secure VPN service. This helps protect you from hacking and surveillance while keeping your streaming activities private.
---
Conclusion
In short, AppLinked Codes are your ticket to a world of streaming options. They're super easy to use and open the door to various apps and content.
As you learned in this article, with AppLinked Codes, you've got a legal and fun way to explore tons of content. Whether you love movies or sports or just need some handy apps, AppLinked Codes make it all easy and enjoyable.
Further Reading:
Leave a Comment