Highlights
Long drives and fabulous weather are something fascinating yet incomplete.
You can spice it up with some good music and CarPlay apps that can enhance your experience.
We have covered you with the best 7 CarPlay apps for iPhone.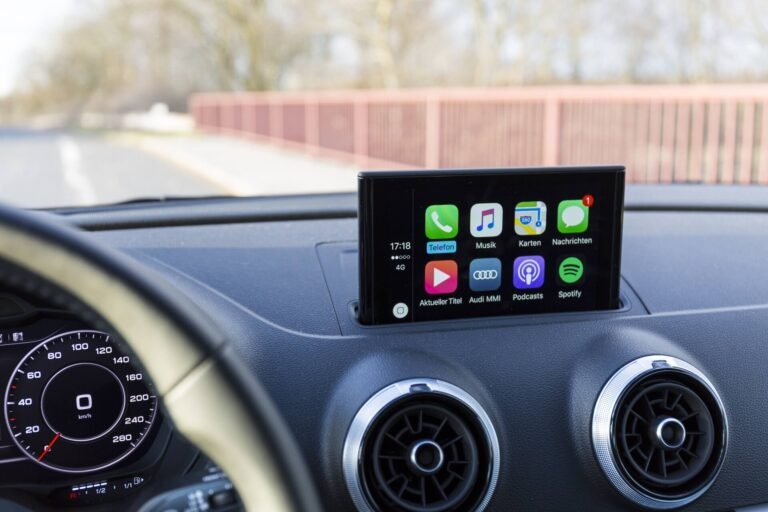 TechLatest is supported by readers. We may earn a commission for purchases using our links. Learn more.
Driving regularly can become boring sometimes. But technology can help you elevate the experience with multiple CarPlay apps in your hand.
The different kinds of Apple CarPlay apps enhance your driving experience by keeping you updated with news, engaged with music, and vigilant with navigation apps.
They make driving more quick and comfortable than ever. In addition, they offer a Smart driving experience because you learn about the traffic-free roads, construction halts, and nearby gas or EV charging stations that ensure a smooth ride.
If you are looking for the best Apple CarPlay apps to partner with your Journey, you are at the right place. This article will tell you about the best 7 CarPlay apps for iPhone devices based on their features and reviews.
Let's go.
7 Must-Have CarPlay Apps for Your iPhone
There are a variety of CarPlay apps that you can use on your iPhone. But, we have listed the best ones based on their features, use, and efficiency, which are as follows:
1. Apple Maps (In-built)
Are you looking for a good iPhone CarPlay app to help you with navigation?
Apple has its unique Apple Maps for GPS and navigation purposes. It has a clean and simple interface for easy navigation while driving. When you are unaware of how to reach a particular destination, it guides you to get to that place.
Also, it helps you explore new places to see. You can check the pictures and details of those places before you decide to go there so that you will be at the right place.
Irrespective of the Apple device, you have Apple maps that can seamlessly integrate with all kinds of apps. Moreover, it will show you locations around yourself without keeping your location history for more privacy.
At the same time, it helps you to understand your city better. The app brings you an interactive globe that can be helpful when you travel internationally.
You can place their cards separately in the app if you have some favorite places, like a restaurant. So, you will get easy access to their distance, phone numbers, and website the next time you want to go there.
Unlike other apps, apple maps give you an authentic bird's eye view of the location, making it better to get the right directions.
Price: Free
You can download this app from Here.
---
2. NPR One
How about listening to the news or discovering a new podcast while driving?
NPR One is a popular app that can help you to listen to stories and podcasts while you drive on your iPhone. It can help listen to NPR content and local public radio stations. It makes listening to the radio a more personal experience.
To keep you updated with the latest news, it begins with telling you about the latest headlines and then tells you about a series of new stories. It helps you to become more informed about the happenings around you. All the content is carefully created for users daily.
You can access the radio any time by clicking on the app's big play button, and you can start listening. In addition, you get an opportunity to skip the podcasts or news that you don't like.
Similarly, you can mark a story you find interesting. This helps the app understand your preferences, and you hear the stories matching these preferences and the top news of the day.
Traveling in another country and using this app keeps you connected with your locality by informing you about the local news and podcasts. NPR One tells about Local stories that are locally reported and delivered daily.
If you use the app while driving, you can skip, pause and search the app without a touch. Just make a simple glance, and it does your work. Moreover, you can add a sleep time to turn off the radio automatically whenever you want for more convenience.
Price: Free
You can download the app Here.
---
3. Overcast
Do you want to listen to podcasts while traveling in your car?
If so, Overcast is your perfect podcast CarPlay app on your iPhone. It is a simple and award-winning podcast player that offers unmatched content.
For its content and convenience, it has been featured by the App Store as Editor's Choice and critically acclaimed by The Verge, TechCrunch, 9to5Mac, AppAdvice, and more.
Interestingly, it is not made by a big company or a massive team. Instead, it is the only popular podcast app written by anyone. AppAdvice terms it as "Our favorite podcast client."
On the other Grand, Six Colors called it "My podcast player of choice." Even time tags it as "Overcast lives up to its lofty claims."
In terms of interface, Overcast has a modern and fully featured audio podcast app filled with helpful features. Still, beginners can easily use it with its simple, intuitive interface.
Whenever there is any distortion in the audio, it becomes irritating to hear. But Overcast has a Smart Speed that saves time without distorting the audio or sounding unnatural.
It also has a voice boost feature that gives every podcast the same volume with a broadcast-quality remastering engine.
Furthermore, you don't have to rely on an internet connection every time to listen to it. The app allows you to download podcasts for play anytime, even offline. You can browse new podcasts and get personalized recommendations like searching for others.
Price: Free (Premium at $9.99)
You can download it Here. 
---
4. Tunein
Want to get live news and sports updates on the go?
If so, you must download the Tunein app to listen to all kinds of live news, sports, music, podcasts, and radio content worldwide. You can listen to news 24/7 from local, national, and global sources, including CNN, MSNBC, FOX News Radio, NPR, and BBC.
For sports, you can listen to live NFL, NHL, and college games anywhere. Also, you get instant notifications about your chosen content. Based on your preferences, you can customize your listening experience.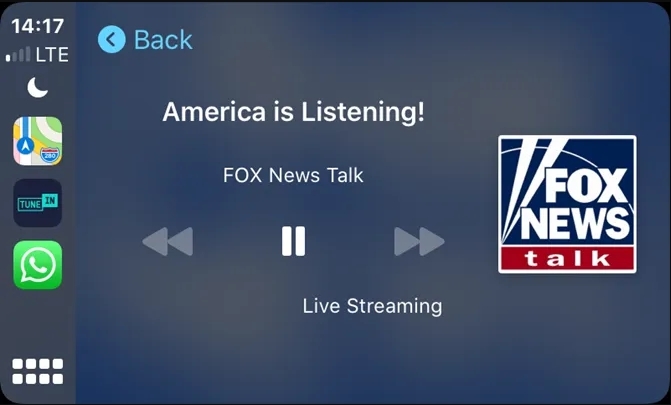 As its name and TuneIn goes, you can find music matching your mood with exclusive music channels, including Today's Hits, Classic Rock Hits, and Country Roads.
Another kind of content that is popular is podcasts. You can follow your interests and stream your favorite podcasts. You can also stream over 100,000 AM, FM, and internet radio stations broadcasting from 197 countries.
It's a free-to-use app, but you can unlock more features and content with the TuneIn premium plan. It will let you notice every important update of live sports games, and you will get fewer ad breaks while listening to the news. You can also enjoy commercial-free music with curated music States and no ads. 
Price: Free (Subscription starts from $4.99)
You can download the app Here.
---
5. Waze
How about preventing traffic each time when you want to go out?
Getting stuck in traffic for long hours daily can be irritating and time-consuming. But modern technology brings you multiple solutions to avoid that massive traffic every time you drive. One of those options is Waze, a navigation and live traffic app to use on your iPhone.
Along with navigation, everything you will get to know about what is the situation on the road. For instance, you will get live details about traffic, construction, police, crashes, & more. So, you can avoid traffic and every aspect that delays your drive.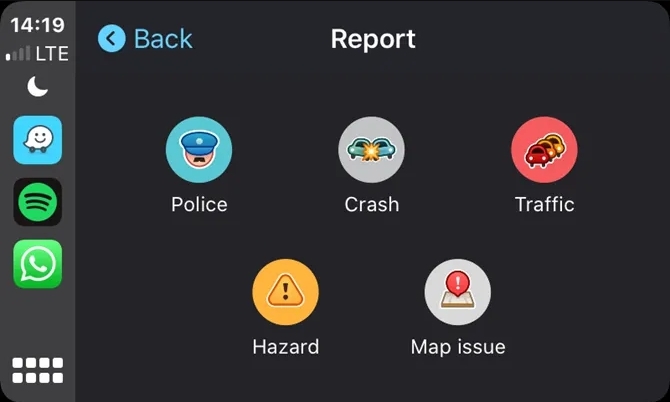 To keep you safe on the drive, it will tell you about the potential hazards on the road and save you time by keeping you informed about the way you choose.
With navigation and live traffic details, you can simultaneously listen to music and play your favorite podcasts directly from Waze.
If you find it challenging to give an estimated time to your friend or family member waiting for your arrival, this app will provide an exact arrival time detail based on live traffic data.
Plus, it helps you to save money because it will enable you to find the cheapest gas along your route. So, overall Waze is your all-in-one Apple CarPlay app.
Price: Free
You can download it Here.
---
6. Apple Music (In-built)
Do you ever drive without listening to music?
Music is a must-have for driving. So, for your iPhone, Apple brings you the Apple Music app, where you can listen to over 100 million songs. Also, it has 30,000 playlists that are entirely free for non-stop listening.
Like other apps, apple music can seamlessly work across all kinds of Apple apps. You can download your favorite tracks to listen to them offline for convenience and to avoid network breaks. Plus, you can create playlists and tune in to live radio stations.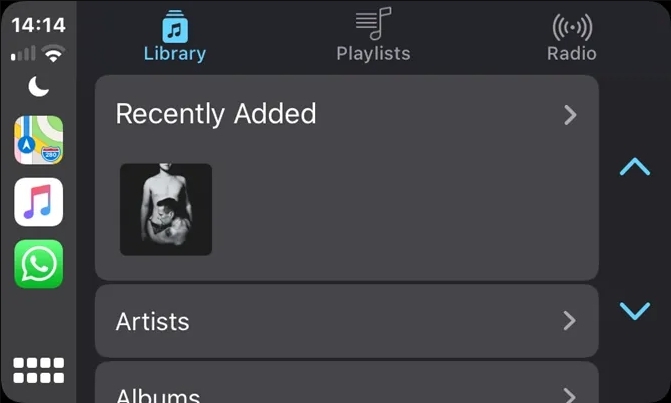 You can get a six months free subscription to Apple Music when you buy an Apple device. Apart from that, you can pay to continue using its services afterward. The app enables an immersive listening experience with a Dolby atmosphere.
If you are a music enthusiast, this app is for you as it gets automatic updates of new releases when you list your favorite artists.
Another feature that makes it different is an opportunity to sing along with apple music. It has new lyrical features that make it fun to hear new music. Alongside, you can access real-time lyrics and adjustable vocals to sing in duet with the artist.
Price: Free (Voice Plan starts from $4.99)
You can download the app Here.
---
7. Plugshare
Are you a Tesla or EV car user?
If yes, you must download the Plugshare app on your iPhone. It is an accurate EV and Tesla charging Station app to get exact details of your Nearby charging stations for quick charging of your vehicle.
It is the world's largest EV driver community. So, all the EV drivers using this app contribute to posting the details, photos, and reviews of the EV stations they know.
It helps them to make informed charging decisions. This means that every time you drive, you get details of the Nearby stations and can decide whether you want to go there.
You can filter the plug share map based on the plug type of your EV vehicle, like CHAdeMO and SAE/CCS, and the charging speed, including Level 1, Level 2, and DC Fast Chargers. Also, you can filter your search based on your charging provider. Consequently, you get a major EV charging network in North America, Europe, and much of the world.
Plugshare gives you the option to check the station functionality and current availability of it. In addition, you can link your favorite navigation app for directions to your selected charger Station.
Alongside, you can pay for charging with the Pay with PlugShare app and monitor your session and charging history. It can be the best app you intend to discover new charging stations on the map as you find them out. The app will notify you whenever a new charger is installed nearby.
Another great benefit is that whenever you plan to go there on a long road trip, you can arrange it with a built-in EV trip planner for comfortable driving.
Price: Free (Subscription starts from $0.99)
You can download the app Here.
---
The Bottom Line
This was our list of the best Apple CarPlay apps that can be your best driving partner elevating your driving experience. We hope you found the best CarPlay apps for your iPhone to elevate to make driving more convenient and easy.
You can choose the right CarPlay app for you based on your needs. For instance, if you like listening to music on the go, Apple Music is a great choice.
But, if you want to stay updated and utilize this time of day to follow up on the latest news, NPR One and TuneIn can be a match. Similarly, EV and Tesla car owners can download Plugshare.
Download the Apple CarPlay app of your choice and let us know your favorites in the comments section below.
Further Reading:
Leave a Comment