Highlights
CarPlay lets you control your phone using the car's infotainment system while driving.
Often, phone charges, but CraPlay doesn't work, thus creating an issue for you.
While there are multiple reasons accounting for it, our guide will help you resolve it easily.
TechLatest is supported by readers. We may earn a commission for purchases using our links. Learn more.
Imagine you are driving for miscellaneous reasons and get an important call. When you try to receive it using your car monitor and it fails, it bothers you.
Besides, something is wrong if you see that it's charging yet not working. If you are looking for how to fix Phone Charging but CarPlay Not Working, we have covered you all with it! 
Apple devices let you have an interconnected system that can sync data on each other. Thus, technology has created a smooth workspace for Apple devices with innovation. So, when answering important calls, sharing essential files, or similar, CarPlay lets you control your iPhone at the click of the car unit. 
Obstruction in its functioning can lead to massive loss, and it's essential to fix it! But how? The following section will help you resolve it!
How to Fix Phone Charging But CarPlay Not Working?
You're all set for a drive. Plug in your phone, and it starts charging, but Apple CarPlay remains stubbornly inactive. It's a crucial problem that doesn't let you control your phone from a Car monitor.
There are several solutions, and the exact one differs depending on the cause. Therefore, follow the different troubleshooting methods mentioned below to fix it logically! 
1. Make Sure it's Compatible
Before trying any other method, ensure CarPlay is compatible with your car. There are plenty of cars supporting CarPlay, but not all. Therefore, visit the Apple official website to check CarPlay compatibility with your car model.
Further, the forum auto-detects your country or region to show you related cars. If you have imported any forums that didn't detect your region, tap on the drop menu list at the top of the page! 
Before we dive into the fixes, ensure your vehicle is compatible with CarPlay. Not all models offer this feature, and regional availability also plays a role. Double-check your car's compatibility, as this could be the foundation of the issue.
---
2. Enable CarPlay
Sometimes, there are no issues except that CarPlay is disabled from the phone. So, if you have connected it with a USB cable, check if the connection is secure. Further, if you have established a wireless connection, follow the steps below to enable CarPlay. 
Go to iPhone Settings and navigate to General.
Turn on CarPlay is not already done.
After doing so, check again, and CarPlay will work fine again. If it is turned on, the methods below will help you fix the solutions. 
---
3. Check Siri
Whether it be dictating road direction via Navigation or you are asking Siri to execute your phone actions, the iPhone seems complete with a voice assistant.
Since CarPlay and Siri are vital pillars of the connection, their settings might cause a problem. Yes, sometimes inappropriate Siri settings cause CarPlay to malfunction. Thus, fixing it resolves the issue. 
Open iPhone Settings, navigate to Siri & Search.
Toggle on Listen for "Hey Siri", and Press the Side Button for Siri.
Enable Allow Siri When Locked to proceed further.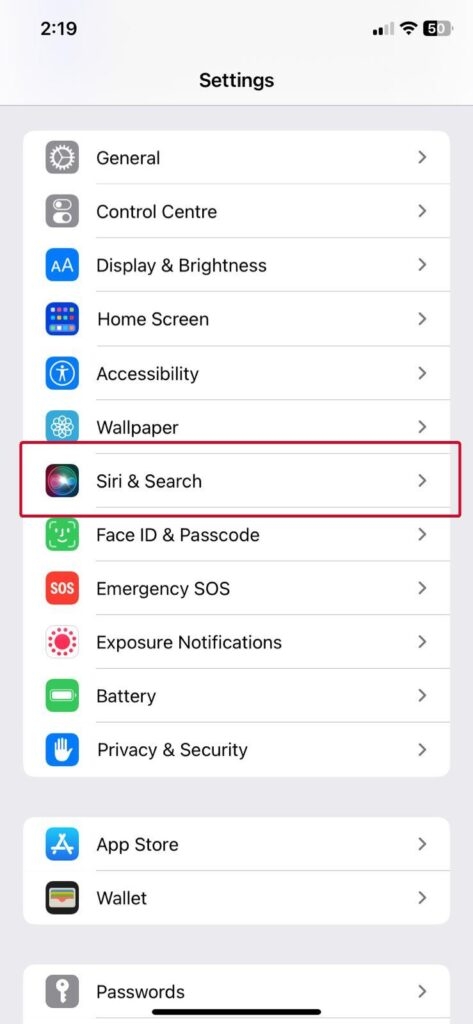 After enabling all these features for Siri, CarPlay would be working fine now!  
---
4. Ensure You Have Setup CarPlay Correctly
For CarPlay to work efficiently, your phone and car unit should have a proper connection with no hindrances. So, if you have a wired connection, remove the USB cable and re-connect it appropriately.
Further, for a wireless connection;
Go to Settings and navigate to General. 
Select CarPlay, locate your car name, click on it, and tap Forget This Car.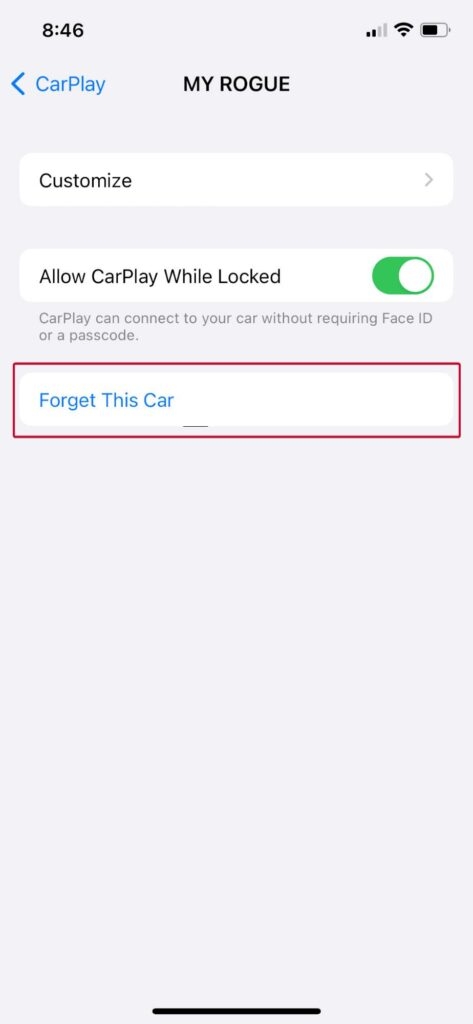 After doing so, retry, and the CarPlay not working issue will be resolved. 
---
5. Check Bluetooth Connection
When you have connected your phone to the car unit via Bluetooth, it's vital to ensure the setup is correct.
Open Settings and go to Bluetooth. 
Select Bluetooth and check whether it's connected to your car. 
If required, re-pair the connection. 
Further, you should forget old Bluetooth connections to prevent hindrances and ensure stable connectivity. 
---
6. Restart CarPlay from Car
Sometimes, CarPlay has a temporary glitch, and in such a case, restarting it from the car's infotainment system helps. It refreshes the connection and troubleshoots glitches. Depending upon the car model and the system installed, the steps vary! 
Check your car's infotainment system and navigate to CarPlay. 
Restart CarPlay from the unit. 
This resolves the iPhone charging, but CarPlay is not working issue.  
---
7. Restart Phone
Similar to glitches on CarPlay, there are often temporary bugs on your phone and even too much cache affecting the optimum performance of CarPlay and iPhone. Yet, a simple restart helps to resolve all of it as it clears the cache and resolves temporary issues. 
---
8. Let Your Phone Cool
Keeping your phone in humid or closed spaces can overheat it in high temperatures. Besides, even the fan sometimes gets blocked, which prevents your phone from cooling.
Such warm phones often malfunction, and errors like CarPlay not working despite charging are bound to occur.
Hence, you should cool your phone after disconnecting CarPlay to eliminate it. Keep it in an airy place and ensure that it's not kept in a closed space.  
---
9. Turn off USB Accessories
Most of the time, your iPhone has the USB Accessories feature enabled. This levies restrictions on other services like CarPlay, which interrupts its connection. Therefore, you should turn off the feature so your CarPlay works optimally.
Open Settings and go to Face ID & Passcode. 
Enter the passcode and toggle off USB Accessories.
Now, plug the USB into the car's infotainment system and check if the issue will be resolved.
---
10. Check for Content & Privacy Restrictions
Content & Privacy Restrictions aim to safeguard users' privacy and even mask appropriate content. If the feature has inappropriate settings with CarPlay enabled, it also prevents smoother running with your car's infotainment system.
Hence, tweaking the settings would resolve the issue. 
Open Settings and click Screen time. 
Navigate to Content & Privacy Restrictions. 
Tap Allowed Apps and turn off CarPlay. 
Now, turn it on again.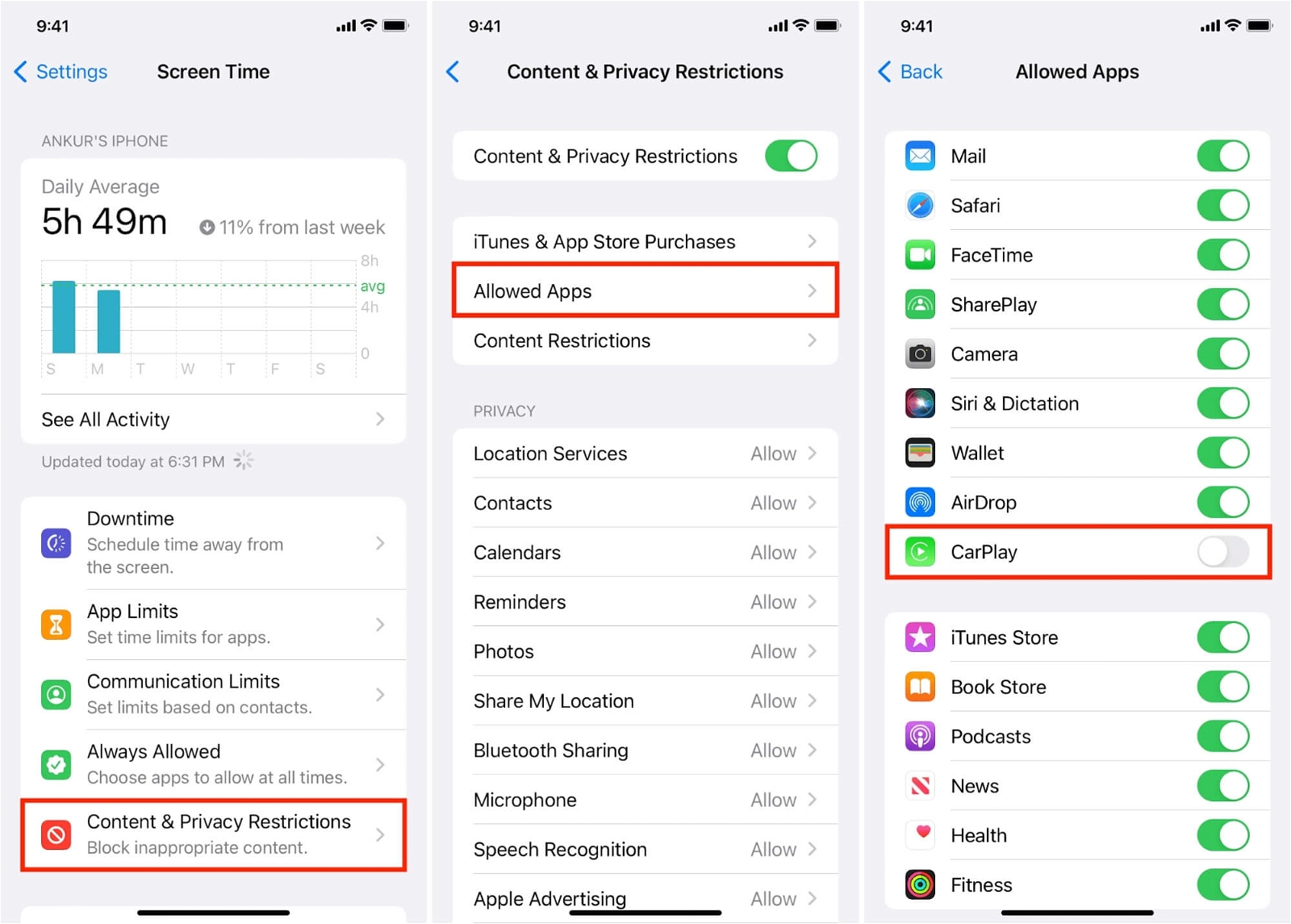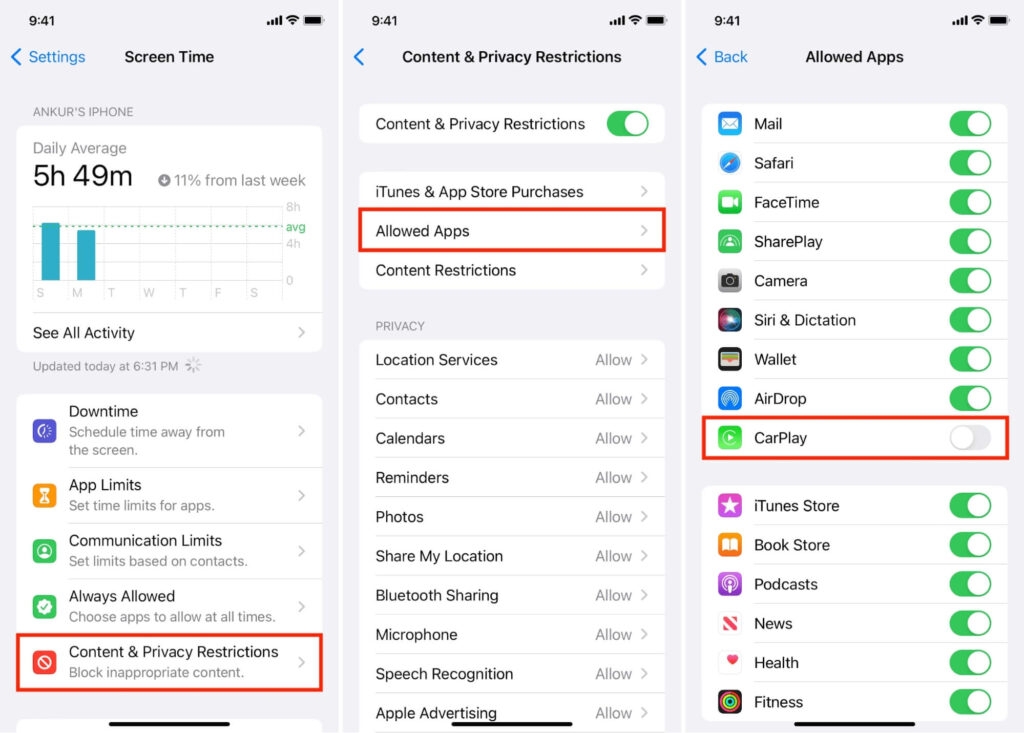 After reenabling CarPlay from Content & Privacy Restrictions, the feature won't obstruct its functioning, resolving the issue. 
---
11. Turn off Airplane Mode
For XYZ reasons or by mistake, you would have enabled Airplane mode on your iPhone, which cuts off wireless connections; hence, disabling it is essential. 
Open Quick Panel and tap on the highlight Airplane icon to disable it.
If it was not highlighted, then Airplane Mode was already off. 
---
12. Allow CarPlay from Lock Screen
One of the most common reasons behind phone Charging, but Carplay isn't working, is that it is restricted from running when the screen is locked. Thus, when CarPlay is connected, and the screen is locked, it doesn't work. To resolve it, you should allow it from Settings. 
Go to Settings and navigate to General. 
Select CarPlay, tap your car, and toggle on Allow CarPlay While Locked.

When fixed, CarPlay would work fine. However, if it were already enabled, the following methods would help. 
---
13. Update Software
Both iPhone and car's infotainment systems should have updated software. If any of these is obsolete, then compatibility, bugs, and similar reasons interfere with the functioning of CarPlay.
Therefore, first, update your car's infotainment system software. The process varies from system to system, so you should determine the applicable method. 
Further, for updating software on iPhones;
Go to Settings and navigate to General.  
Select Software Update, and the system will start detecting newer updates. 
Tap on Download and Install when prompted.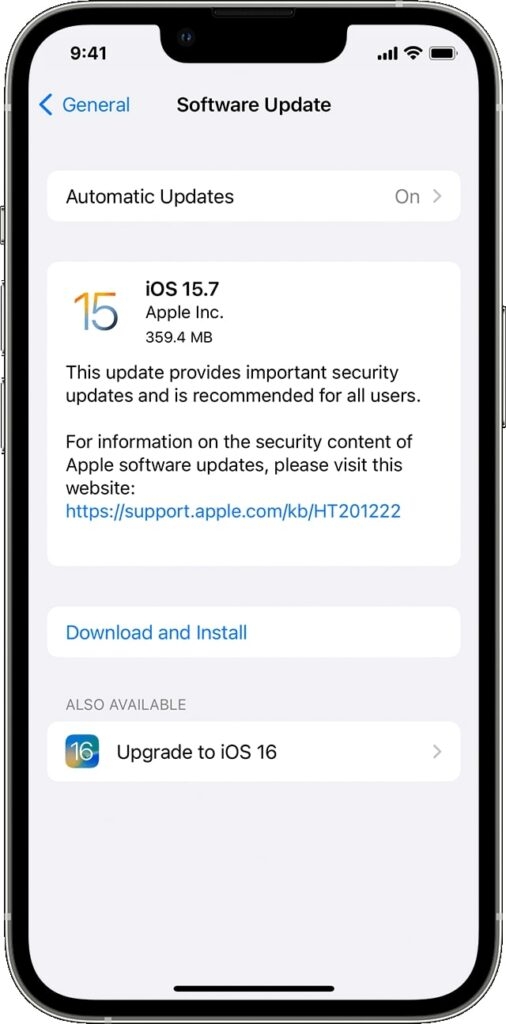 Input your passcode, let the process complete, and try again!
---
Frequently Asked Questions
Why is CarPlay not working when my phone charges?
A damaged USB cable, obsolete software on a phone or car unit, and similar issues interfere with CarPlay settings, preventing it from working. Further, the car's infotainment system ensures USB gives higher precedence to charging than CarPlay.
How can I ensure my car is compatible with CarPlay?
Why does CarPlay sometimes disconnect when the screen turns off?
When you have disabled the Allow CarPlay While Locked feature, it doesn't work when your phone screen is locked.
Can USB accessories mode affect CarPlay?
Yes, USB Accessories restrict data connection, which is essential for the functioning of CarPlay. It sometimes acts as an obstruction to it. Therefore, disabling USB Accessories mode helps to resolve the issue.
Why is Siri important for CarPlay?
Siri is important for CarPlay to have a hands-free operation, while navigation and directions and even to make/answer phone calls and similar things.
---
The Final Word – Phone Charging but Carplay Not Working
If you were searching for why the phone is Charging but CarPlay not working, then you would have got your answer.
Apart from improper connection, obsolete software, and broken cords, several reasons account for the issue. These include if CarPlay isn't allowed on a lock screen, Content and privacy Restrictions for it, enabled USB accessories mode, and a hotter phone.
To fix the issue effectively, you must follow all the methods sequentially until you find the one that works.
Further Reading:
Leave a Comment