TechLatest is supported by readers. We may earn a commission for purchases using our links. Learn more.
Why does the Apple Watch battery drain very fast? What are the reasons and what to do when the battery drains fast on Apple Watch? Apple tops the major smartwatch makers, and the Apple Watch completely undercuts its competition.
Apple's smartwatch has some great features for sports, fitness, and health with a high level of accuracy that you can hardly find on other smartwatches. This fully justifies its high price. However, the Apple Watch is not without its flaws.
One of the biggest complaints from Apple Watch users worldwide was poor battery life.
This problem seems reasonable if the device is a few years old, but most new Apple customers who bought the Watch Series 7 also said they had this problem. This guide will explore the causes of the Apple Watch series battery drain and some pointers to reduce battery drain.
What are the causes of the poor battery life of the Apple Watch?
There can be many factors that can cause your Apple Watch to have poor battery performance.
As we've already mentioned, the first is age; the older the device, the longer the charge cycle, which directly translates to shorter battery life. But it is not the only factor.
The Apple Watch is known to have poor battery life compared to other smartwatches, providing just over 18 hours of use on a single charge.
Many smartwatches that use Android can last on a single battery charge for days and weeks.
The Apple Watch has such a short battery life is simply the accuracy with which the sensors work every second to track your fitness and health tracking. Most users who have an Apple Watch find it convenient to charge their smartwatch overnight, although many users complain that they have less than a day of battery life.
Apple Watch battery drains very quickly as well as recovers.
Luckily, there are a few methods you can use to extend the battery life of your Apple Watch dramatically. You can access these settings directly on your Watch or through your iPhone.
Methods to Fix Apple Watch Battery Drain Issue
1. Reset your apple watch
Although this first step seems a bit extreme, if there is something wrong with any clock settings, this procedure should fix it. Don't worry; your fitness and health tracking data is saved on your iPhone, so you can't lose them.
Resetting your watch will restore it to factory settings and allow you to pair your Apple Watch with your iPhone again. This way, you can find a solution to any problem.
Launch the Settings app on your Apple Watch.
Go to General > Reset and tap Erase All Content and Settings.
Enter your access code.
Once the watch is erased, it will restart and ask you to pair it with your iPhone again.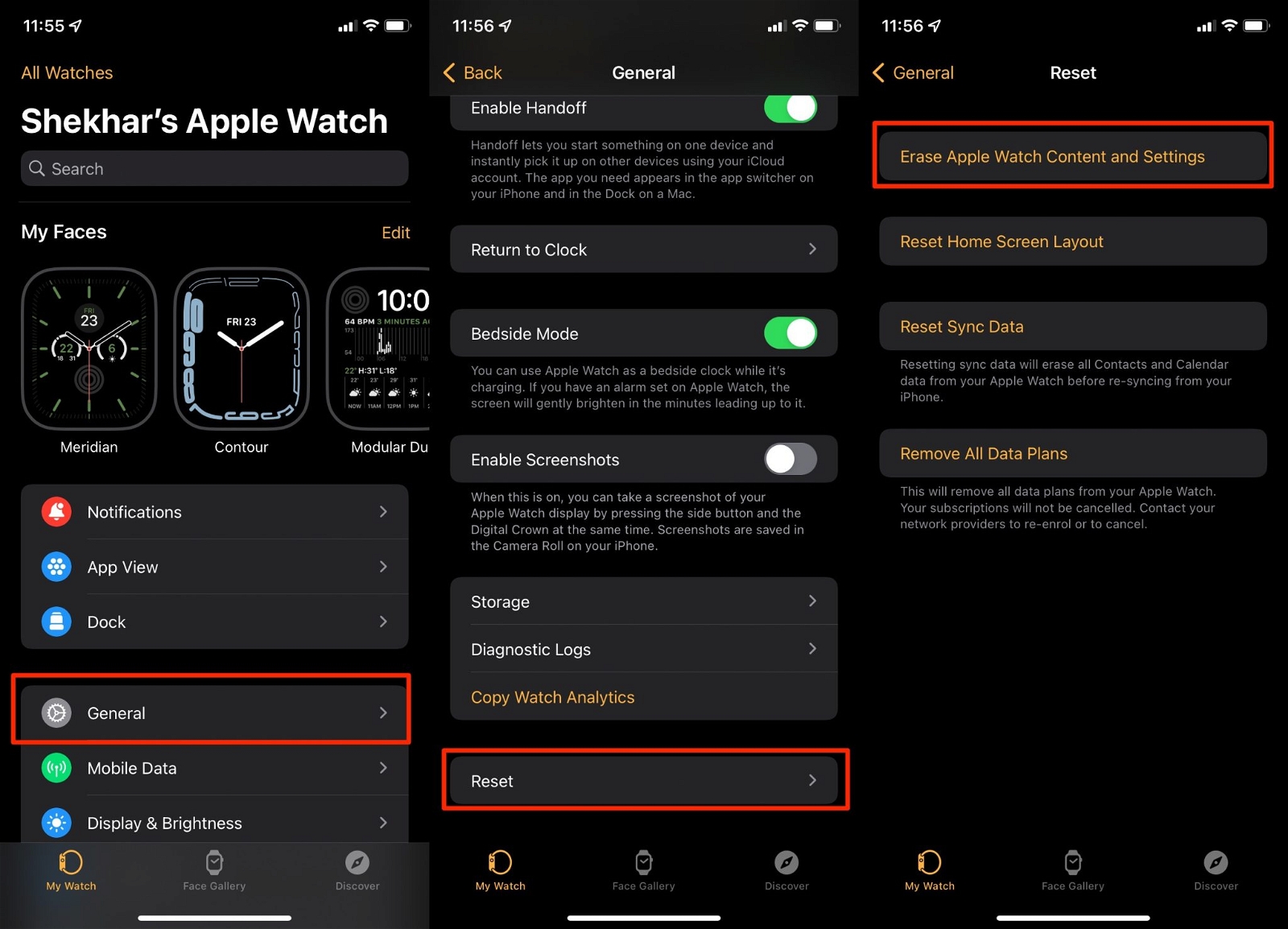 2. Turn on Slow Down
If you've used the Reduce Motion option on your iPhone before, you know how dramatically it can extend your phone's battery life.
Enabling this feature eliminates all animations that usually take up considerable battery power. What can do the same on Apple Watch?
On your iPhone, open the Watch app and tap on General.
Tap Accessibility, then tap Slow down.
Toggle the switch on to turn on Reduce Motion on your Apple Watch.
3. Disable Background App Refresh
The Background App Refresh feature allows different apps on your iPhone and Apple Watch to communicate with each other in the background. They do this primarily to exchange health data, information, and more.
As you can imagine, this can cause the watch to experience a noticeable drop in battery life. If you don't mind waiting a while to receive notifications and sync them between your eye and your phone, you can disable this feature.
On your iPhone, open the Watch app.
On the My Watch tab, tap Background App Refresh.
You can disable the function entirely or select individual apps to stop communication with the watch.
4. Disable Raise to Wake Gesture
The famous trigger screen on the wrist lift gesture has been praised by many for being extremely accurate and valuable for saving time, eliminating the need to use the other hand to check the time manually.
However, it continuously uses the watch's accelerometer sensor to verify the speed. Disabling this feature means you can now not only lift your wrist to check the time, but it also doesn't improve battery life.
On your iPhone, open the Watch app.
On the My Watch tab, tap General.
Tap Turn on the screen and turn the first switch off.
Additionally, if you still want to keep the wake gesture-enabled, you can reduce the time your Apple Watch display is active from 70 seconds to 15 seconds.
5. Turn off Notifications
If you use your Apple Watch for fitness tracking, you may want to consider turning off push notifications on your watch altogether. This will increase the battery life.
On your iPhone, open the Watch app.
On the My Watch tab, tap on Notifications.
Here you can individually select the apps you don't want to receive notifications from your Apple Watch.
6. Replace Battery
If everything we've explained to you doesn't extend your Apple smartwatch's battery life, it's probably time to replace the watch battery. You can call the nearest Apple Store and book an appointment to get your Apple Watch repaired.
FAQs
How to save the Apple Watch battery from getting wasted?
If you don't use it for a long time, please charge it halfway. Do not fully charge or discharge the device battery; charge it about 50%. If you store a device with a completely discharged battery, it may become exhausted because recharging is impossible.
How long does an Apple Watch battery last?
Up to 18 hours. The autonomy is calculated over 18 hours, based on the following use: 90-time controls, 90 notifications, 45 minutes of app use, and 60 minutes of training with music playback from the Apple Watch via Bluetooth.
At what percentage to charge an iPhone?
Based on what has been said, to keep the battery of the iPhone as "healthy" as possible, it would be advisable always to try to keep a charge from 30% to 80%.
When to charge the Apple Watch?
The smartwatch battery should last a little longer than that of a smartphone, and instead, the autonomies are equivalent. Just one day. This means that you will also have to recharge the Apple Watch every night as if it was not enough to restore the iPhone, the iPad, and the spare battery for both.
Conclusion
That was all; we tried to explain everything possible, why the Apple Watch Battery Drain issue exists, and what measures can be taken to resolve the issue.
If you have any other solutions that helped you to resolve the Apple Watch Battery Drain issue, then please let us know; you will add the solution to the guide, which can ultimately help others too.
Leave a Comment