TechLatest is supported by readers. We may earn a commission for purchases using our links. Learn more.
Be it a web browser like Chrome, Firefox, or a mobile browser; many users find video playback challenging due to the "this video file cannot be played. (error code: 224003) issue." Though it seems a complicated issue, it doesn't allow your browser to play the video codecs on your desired website.
There could be several reasons for the issue like using an Adblocker extension, using the Hardware Acceleration, a corrupted cache or cookies on your browser, outdated browser, disabled browser search history, browser incompatibilities, ISP or network service provider issue, and even an active Firewalls or Antivirus software.
How to Fix "this video file that cannot be played(error code 224003)" Error?
Well, as complicated as the issue seems, it is not that much. Above mentioned causes investigated for the issue are simpler, so the methods to fix it. But before you proceed to fix the error code 224003, it is essential that your browser is updated and you have no network connectivity issues. If the browser isn't updated, then you should update it. Besides, fix a poor network connection.
As Google Chrome is not safe even in the Incognito Mode, yet is the most used browser. Therefore, we have discussed the Advanced level fixes for both Google Chrome and Mozilla Firefox.
Method 1: Disable Browser Extensions and Add-ons
Using browser extensions and add-ons has become the new norm. Sometimes, to block ads, while other times to monitor the website's rankings or some other reasons people use extensions and add-ons. However, using them to block ads can lead to the "this video file cannot be played error code 224003."
You may be wondering how it affects the video! Nowadays, most websites display ads, so the users ultimately generate revenue for the website owners. Often some sites assess your browser to check whether the ads can be displayed or not, and if you have restricted them by any means, then it doesn't let you play the videos.
Disable Extensions and Add-ons using Chrome
On the top-right most corner of the screen, navigate to the three-dot icon
Go to Tools and select the Extensions option.
In the Extensions section, you will see the Ad-blocker extension blue colored button; toggle it off to disable it.
Disable Extensions using Firefox
Open The browser and choose the three-horizontal lines located at the top-right corner.
From the drop-down menu, select Add-ons.
Navigate to Extensions.
Beside the Ad-Blocker Extension, you will see a blue-colored button; toggle off the button to disable the Extension.
---
Method 2: Turn Off Hardware Acceleration
Hardware Acceleration or GPU rendering is a feature that boosts a browser's functionalities. It offloads computing tasks from CPU to GPU or into the hardware components of your PC. However, using it sometimes affects the Video Playback feature. Therefore, you need to switch it off to eliminate the issue.
Turn off Hardware Acceleration in Chrome

Open Chrome and click on three ellipses located at the top-right side of the window.
A drop-down menu will appear; from it, go to Settings.
In Settings, navigate to Advanced.
You will see a Use Hardware Acceleration When Available option and a blue button adjacent; toggle it off.
Turn off Hardware Acceleration in Firefox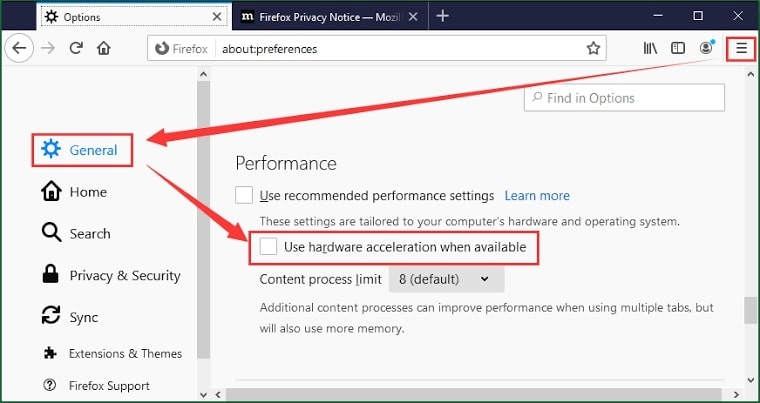 Open Firefox.
On the right-hand side, click on Menu.
In the menu, go to options.
Navigate to General, and select Performance.
Click the checkbox to switch off Use Hardware Acceleration When Available and uncheck Use recommended performance settings.
---
Method 3: Update your Browser
As discussed earlier, if your browser isn't updated, then due to compatibility issues with the web page, the video would cause the Video File cannot to be played with error code 224003. Therefore, your web browser must be updated to fix the issue. 
Follow the steps given below to update Google Chrome:
Open Google Chrome
On the right-hand side, near the top ribbon, click on the three-dotted icon to launch the Chrome menu.
Go to Settings.
Navigate to the About Chrome option.
Check if Chrome is updated or not.
If not, then update and if already updated, then refresh the browser. The error would be most likely fixed. 
---
Method 4: Enable your Browser's Search History
Chrome does not face the issue as it collects data. Therefore, browsers like Mozilla Firefox that is privacy-oriented often lead to the "video file cannot be played error" due to disabling search history. Consequently, you need to enable the browser's Search History to get rid of the issue. 
Follow the steps given below to enable Firefox's Search History
Open Mozilla Firefox.
Click on the three vertical lines icon on the top right corner.
The menu will open and go to Settings.
Navigate to Privacy and Security.
Select the History option, and a drop-down menu will open.
In it, click on the Remember History option
Afterward, again open Firefox and the "video file cannot be played error" will be resolved. 
---
Method 5: Clear Cache and Cookies on your Browser
Browsers collect cache and cookies on your device. Every browser does that; if you think that Chrome does not do it in Incognito Mode, you are wrong. It does collect cookies and cache. Sometimes cache memory or cookies data in your browser get corrupted, leading to the "video file cannot be played error".
Follow the steps given below to clear Cache and Cookies on Chrome:
Go to Chrome.
Click on the three-dots icon to launch the menu.
Navigate to select More Tools.
Click on Clear Browsing Data.
Now select the Sign-out option and go to Advanced.
Click on Select Time Range of all time.
Press on the checkboxes and select the Clear Data button.
Now, reboot your device and open it to check if the issue has been fixed or not. Go to your desired website, and the issue will be fixed if it was caused due to a corrupt cache. 
---
Method 6: Use Another Browser
Often you try to access a video from a website and encounter the 224003 error code. In such a case, compatibility issues between the website and your browser don't stream the required video codecs on your device
 Therefore, to tackle the issue, you should try another browser. Like, if you use Google Chrome, then try Mozilla Firefox and vice-versa.  
---
Method 7: Use VPN or Switch Network
Often your ISP settings are an obstacle for the website and do not let any website make unparseable data packets which further lead to the video file cannot being played error code 224003. A VPN is often used, or the network is switched to fix the issue. 
Download a VPN.
Click to Install it.
Setup the VPN and set the location to the USA.
When you load your desired website, it will fix the video file cannot be played error; however, if it does not switch networks. You can use any other network apart from your current ISP. It could be WiFi or a mobile hotspot to access the website. 
---
Method 8: Disable Firewalls or Antivirus
But if you use any Antivirus or Firewall, then it could be the issue. Therefore you need to disable it to fix the video cannot be played error. Further, you must ensure that disabling it might pose your network threats and threatens security.
You can access your browser settings for Privacy and Security and disable Firewalls. Further, if you have installed an Antivirus, uninstall it to fix the error code 224003. 
---
Frequently Asked Questions?
Is there any app installation to fix the issue?
Installing a third-party app won't be an effective fix to the problem. But you can check out the Windows website to install the available media packs that support media files playback on browsers and the Windows OS.
How to update Chrome Browser to fix the error code for Android?
Android users must check the Play Store. Navigate to the Apps and Updates section and check if any updates are available. If your Chrome isn't updated, it will be shown in the list of updates, and click the Update button to install the latest update. 
Why do video loads fail?
The primary cause behind failed videos is poor network connectivity. Check if your router or WiFi is working properly or not. Put your device on flight mode and later disable it to refresh your system's internet if the network connectivity is stable. 
What is Error Code(s) 241001?
Error code 241001 stands for not enough memory to display Flash content. Try reading the page. You must clear unnecessary data from your device, including cache and cookies. Further, reboot your device and check the desired website to see if the problem persists or not! 
Leave a Comment