Highlights
An Interesting Fact: Reels get 22% more engagement than regular Instagram Videos.
Many people directly record Reels with pre-existing Audio, which is not the only way to make a Reel.
Another way is using your existing pictures from Gallery to make a reel.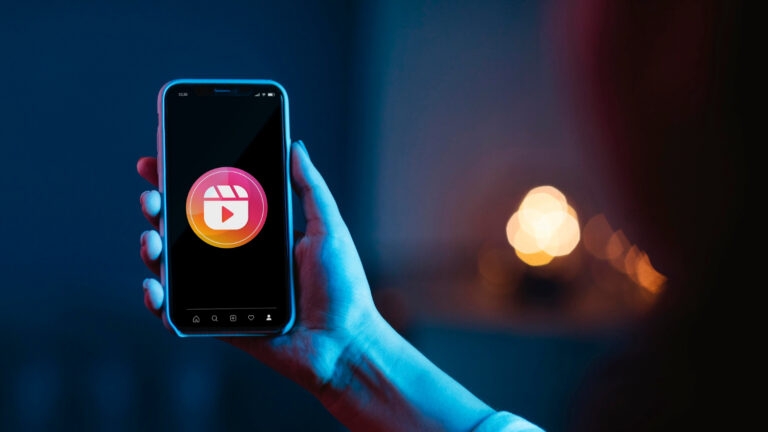 TechLatest is supported by readers. We may earn a commission for purchases using our links. Learn more.
Here is an Interesting Fact: Reels get 22% more engagement than regular Instagram Videos.
You would have heard about Reels, a popular alternative to TikTok. Since people enjoyed watching short-form video content, Instagram developed this feature.
So, if you have a personal or Business account on Instagram, you must make reels to get more engagement. It can fetch more followers, likes, and comments on your profiles.
Also, it has a greater chance of going viral, like "Learn from Khaby lame" or the "Runaway Aurora " theme. Many people directly record Reels with pre-existing Audio, which is not the only way to make a Reel. 
Another way is using your existing pictures from Gallery to make a reel. It's usually when you are uncomfortable facing the camera in one go or have better images to share.
Therefore in six easy steps, you can make a reel with photos. You will also learn about the third-party apps that can help you make reels from pictures. Let's dig into the detail,
6 Easy Steps to Make a Reel with Photos on Instagram
There are multiple steps in making a reel that seems confusing to a Beginner.
So, we have listed six easy steps to guide you in making a reel in that are as follows:
1. Open the App
The first step is to open the Instagram App on your device. Otherwise, you can log in to your account through the Instagram website on the Internet.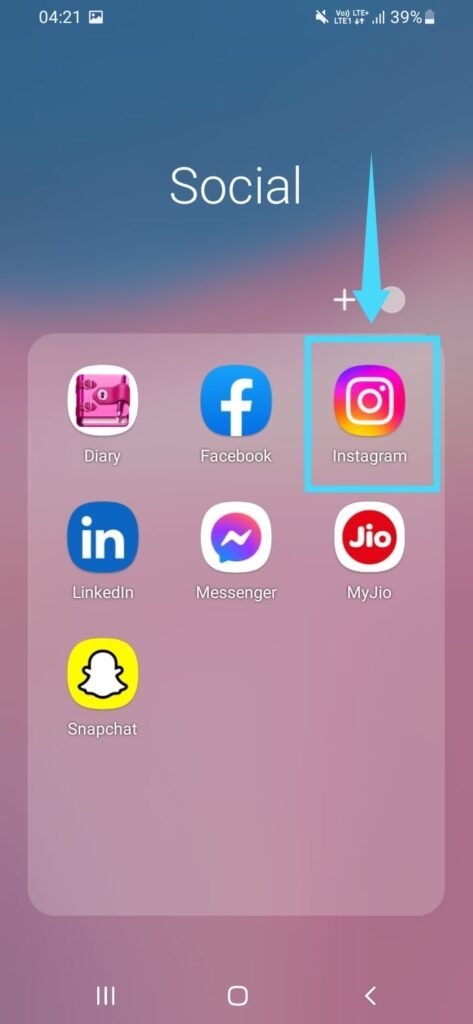 ---
2. Select the "New Reel" Option
When you open the Instagram app on your device, you will see a '+' option icon in the bottom middle. Click on it and choose the 'Reel' option to help you create a new One.
---
3. Go to the Device Gallery
When you go to the reel option, there will be a gallery icon with a thumbnail near a small plus-shaped icon small on the bottom left. Tapping on it would open your device gallery on Instagram.
---
4. Select Pictures
When you enter your device gallery, select one image or tap and hold on to each desired image to select them. Further, press the Next button.
---
5. Edit
Instagram offers you a set of exciting features that you can add to enhance your reel. It includes icons, stickers, audio, text, etc.
So, after adding the image, Instagram will take you to the reel editing section. You can use its toolbar to edit or add elements to the reel per your creativity. 
---
6. Add Caption and Share
Once you finish the editing, you will reach the last section, where you can add relevant captions and Hashtags to your Reel. Also, you can choose whether you want to share it on your feed or only in the story.
Moreover, there are options to add a location or rename the audio.
You would have understood how to make a reel with your image. Now, let's learn how to make reels with multiple photos from your Gallery. 
---
5 Quick Tools to Make Reels with Photos
There are many popular third-party video editing apps to make reels. So, we have listed the top 5 apps that will help you make a reel with photos quickly.
1. Canva
How about using graphic design software to make a reel?
Canva is famous for making social media graphics with thousands of pre-designed templates.  You can also use Canva for image and video editing, which can help you make reels from images easily. It will also have various templates where you can add your photo and make a reel from it. 
---
2. InVideo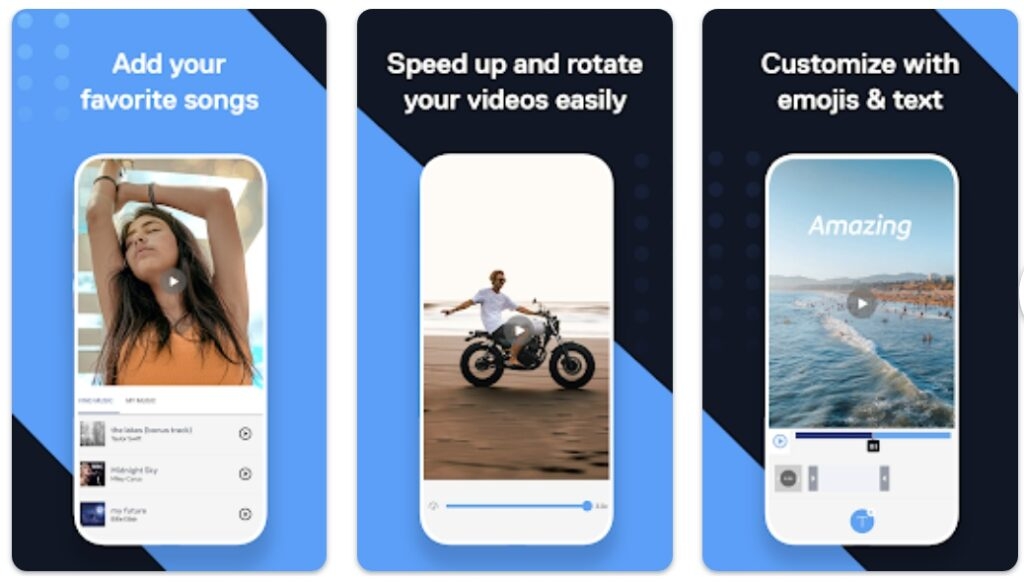 How about using an easy-to-use video maker tool?
If you want a free easy-to-use tool for making reels, InVideo is the right choice. It is a free video creation tool with several pre-designed templates. Moreover,  you can make the necessary changes to them for quick customization of images into a reel. 
Download Now: Android
---
3. Inshot
Are you looking for an All in one video editor tool to make Reels and IGTV videos?
If so, then Inshot is a comprehensive video editor tool. It can help you make all kinds of videos from images with easy edit options. You can make IG reels, IGTV videos, and all other kinds of video content from it.
You can use it to add filters, blur the background, add transitions, etc.
---
4. Filmora
Are you looking for a reel-making tool with professional features?
For that purpose, Filmora is the best alternative. You can make all types of video, including reels from images on Android and iPS devices.
It has impressive features like 4K editing support, GIF support, and noise removal. Further, it also enables color tuning, an audio mixer, scene detection, and an audio equalizer.
---
5. Adobe Rush
Do you want an Adobe tool to make Reels from images?
Adobe Rush is an alternative to the professional Adobe Premiere Pro software experts use. It is available for use on mobile devices too.
You can shoot or use images to make reels from this all-in-one software for
quick and consistent editing of videos. It offers interesting Adobe-exclusive features and detailed editing options.
After knowing about the best third-party apps to make reels from images, let's tell you a few tips to help you make your reel go viral.
---
Tips to Make your Reels Viral on Instagram
Add On-Screen Elements
As per an interesting fact, 85% of videos on Facebook are watched without enabling sound. So, seeing subtitles or other forms of text and graphics in reels is unsurprising.
You should add such on-screen elements to your reels to make them reach more audiences on IG. Additionally,  it can be helpful for people who have hearing issues to watch and understand it. 
Use a Catchy Opening
Your opening shall be the hook of your reel. Either it can make people stay and view it entirely or swipe down. So, you must ensure an attractive opening like a relatable quote, instance, or a catchy topic. It should be able to compel the user within two seconds to watch it further
Keep it Small
Reels are short-form video content on Instagram. But you can keep the reel shorter to make it popular. Ideally, a time duration of 8-10 seconds is suggested for a reel because people swipe down a longer reel.
Most of the users on IGTV prefer to watch reels because they are shorter than the other 10-15 minutes IGTV. So, you should consider this notion and make shorter reels. You can use a simple hook and continue with the main content or images.
Use Trending Music
The most common way to make your reel popular is by using trending music or dialogues. It is an open secret to increase the viewers because they tend to watch ahead when they listen to their favorite song.
For this reason, you will often see that many influencers and brands make reels on the same song that tops the music charts. Moreover, IG algorithms will even support your reel because people like other reels with the same music.
You can click on the thumbnail at the bottom right side to know a particular audio used in a reel.
Use Relevant Hashtags 
Another organic way to make your posts or reels famous is by using relevant hashtags. You can add targeted hashtags that make famous people watch that reel.
But make sure you add niche-relevant hashtags only. Although the Maximum limit is adding 30 hashtags, don't add more than ten hashtags with your Reel.
---
Frequently Asked Questions
Can you only add 10 photos to a reel?
Instagram doesn't focus on the number of photos in a reel but on the duration of the reel. So, ensure that your reel is either 15, 30, or 60 seconds and not more. Ten photo allowances will vary accordingly.
How do you put multiple pictures on one reel on Instagram?
To put multiple pictures on one reel on Instagram, you should tap and hold on to one image while selecting. Further, when you see the number 1, you can tap on more images to choose them for a reel. Hence, you can put multiple pictures on one reel on Instagram. 
How to Get Rid of Syncing Audio to Clips on Instagram?
It's an automatic feature on Instagram that selects and adds audio, usually music, on your reels based on your preferences. You can then remove the audio while using Edit options and add another of your choice.
How to Make a Video Collage Reel on Instagram?
To make a video collage reel, tap on the plus-shaped icon, select the reel and tap on the video layout from the left pane. Further, you must choose the media to insert, and Instagram will prompt you for the rest of the process. 
---
The Final Word 
If you are not confident in front of the camera but prefer making self-videos, then Instagram reels still help. You can select a cluster of images from your device gallery and create a reel with stunning effects.
If you were thinking about making a reel with photos, you would have got your answer! You can do so directly by checking the menu from where you create stories.
For an indirect method, you have to watch a reel, select Use Audio, and make one reel, and this ethos is usually preferred while recording simultaneously. 
Instagram does have cool filters, transitions, and lots more. Besides, creators use additional apps like Canva, Inshot, and similar to make reels. Further, if you have a public profile, we specified several tips to make your reels viral. 
Further Reading:
Leave a Comment