TechLatest is supported by readers. We may earn a commission for purchases using our links. Learn more.
Every time there is a situation when we trap ourselves in an unwanted group, text knows how dreadful it can be. All users can do while their phone erupts out of control is wait for the thread to quiet down gradually.
Fortunately, Apple included the ability to quickly remove yourself from an iMessage Group way back in iOS 8, and it's still available in iOS 16.
2019 saw the launch of Chat, Android's version of iMessage, for all users. A group message is not as accessible as an iMessage. However, you may turn off future notifications so that your phone doesn't constantly buzz every time someone replies to the group chat.
Methods to Remove Ourselves from Group Text
#1. iMessage
It's simple to unsubscribe from a group text if you're using iOS 12 or later.
To remove yourself from a group text, open your Messages app and then choose the group text.
After tapping it, you should tap the profile icons located at the top of the text message.
You should see a status bar with the choices of Audio, FaceTime, or Info.
We should select the Info button. Go all the way down to the bottom of the page after that. There needs to be a choice that reads "Leave This Conversation." Tap it. You've now quit the group text!

If a member of your group text does not have an iPhone or is not using iMessage, this option to Leave the chat may be disabled or not present at all.
In both of those circumstances, you won't be able to leave the group text; therefore, it would be better to advise the other participants to create a fresh group text without you.
---
#2. Temporarily Delete Group Text
By erasing the group text, you can also leave it for the time being. As long as others can still access the group text, this will prevent you from receiving notifications. Here is how to go about it.
From the list of messages, select the group text.
Then, swipe your finger over the group text to the left.
Press Delete.
But keep in mind that you will only be temporarily removed from the group text by doing this. You will once again start receiving group text messages whenever other members send fresh ones.
---
#3. Block People From Group Text
On iOS devices, the entire group text cannot be blocked. However, if you've had enough, you can manually ban some users from the spam group text.
You'll notice that one or two persons initiate messages frequently in the group text. By blocking these individuals, the spam group text notifications will be reduced. So, keep an eye out for those that persistently send spam to the group text. Then take these actions.
Start the iMessage app.
Toggle the group icons.
Next, choose the tab that lists the names and the total number of participants in the group text.
You can block people by tapping them.
Choose to block this caller.
In the pop-up, select block contact.
---
How to Unsubscribe from a Google Messages Group Text
Before Google could provide Android consumers with an iMessage alternative, it took some time. Thank goodness Google Messages came to the rescue, enabling the creation of group texts and the ability to transmit messages over the Internet. You can leave groups at any time, just like in any group discussion. On Android, follow these steps to unsubscribe from a group text.
On your Android phone, open Google Messages and navigate to the group chat you want to leave.
You may see group details by selecting the menu option in the top right corner of the screen.
At the bottom of your screen, select the option to exit the group.
Like iMessage, Google Messages' group chat function won't function properly unless each group member has the app's chatting feature turned on. Your messages will appear as individual texts if a member has it turned off, and you will also get their responses in that same format. In this situation, you can receive a deluge of text messages from several people.
In this situation, you can ban their text messages on your Android phone, but disabling their notification is preferable. If you don't want to miss any potential critical communications, you can still quickly see their messages in this manner.
Go to the target conversation> message details> notifications and turn off the button next to "allow notifications" to turn off someone's text notification.
---
How to Remove Group Chats From The Chat Apps
You can find yourself inundated with unsolicited group messages on chat apps other than the standard mobile messaging apps. Facebook Messenger, WhatsApp, and Telegram are a few of these frequently used chat programs. Fortunately, leaving group chats on these apps couldn't be simpler. Read on to learn how.
#1. Facebook
Open Facebook Messenger, then navigate to the message for the desired group.
At the top right of your screen, select the information i symbol.
Click on the option to exit the group after scrolling down to find it.
Verify your want to withdraw from the group.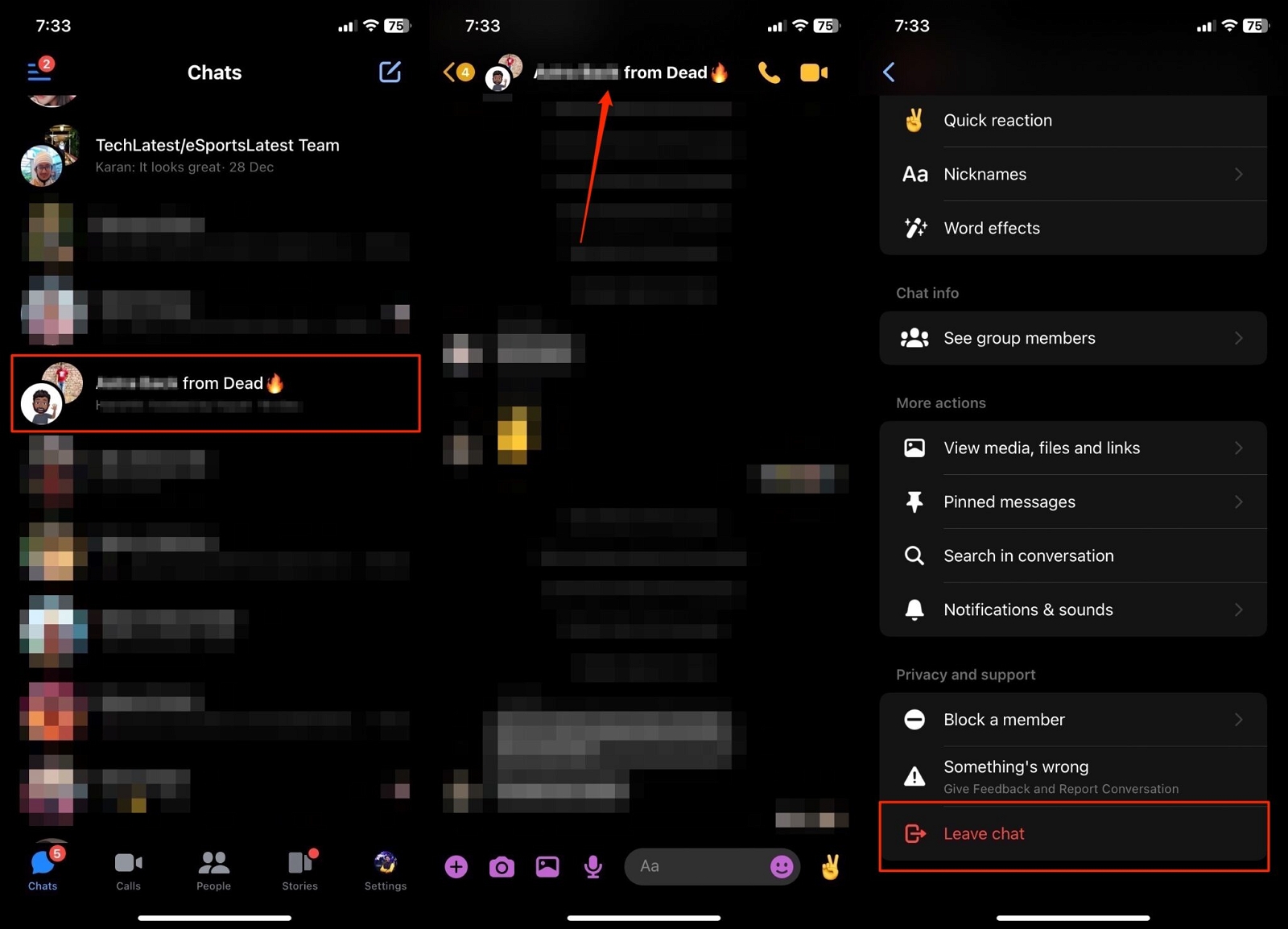 Other choices for managing notifications from that specific Facebook Messenger group are available on the same page. If you don't want to receive pings each time someone sends a message, you can disable the notification or ignore the group to flag the communications as spam. Either way, they are preferable to everyone finding out that you have quit the group.
---
#2. WhatsApp
Go to the group you wish to leave in WhatsApp once it has opened.
Go to group info by clicking the menu button in the top right corner.
After passing the group member, click Exit Group.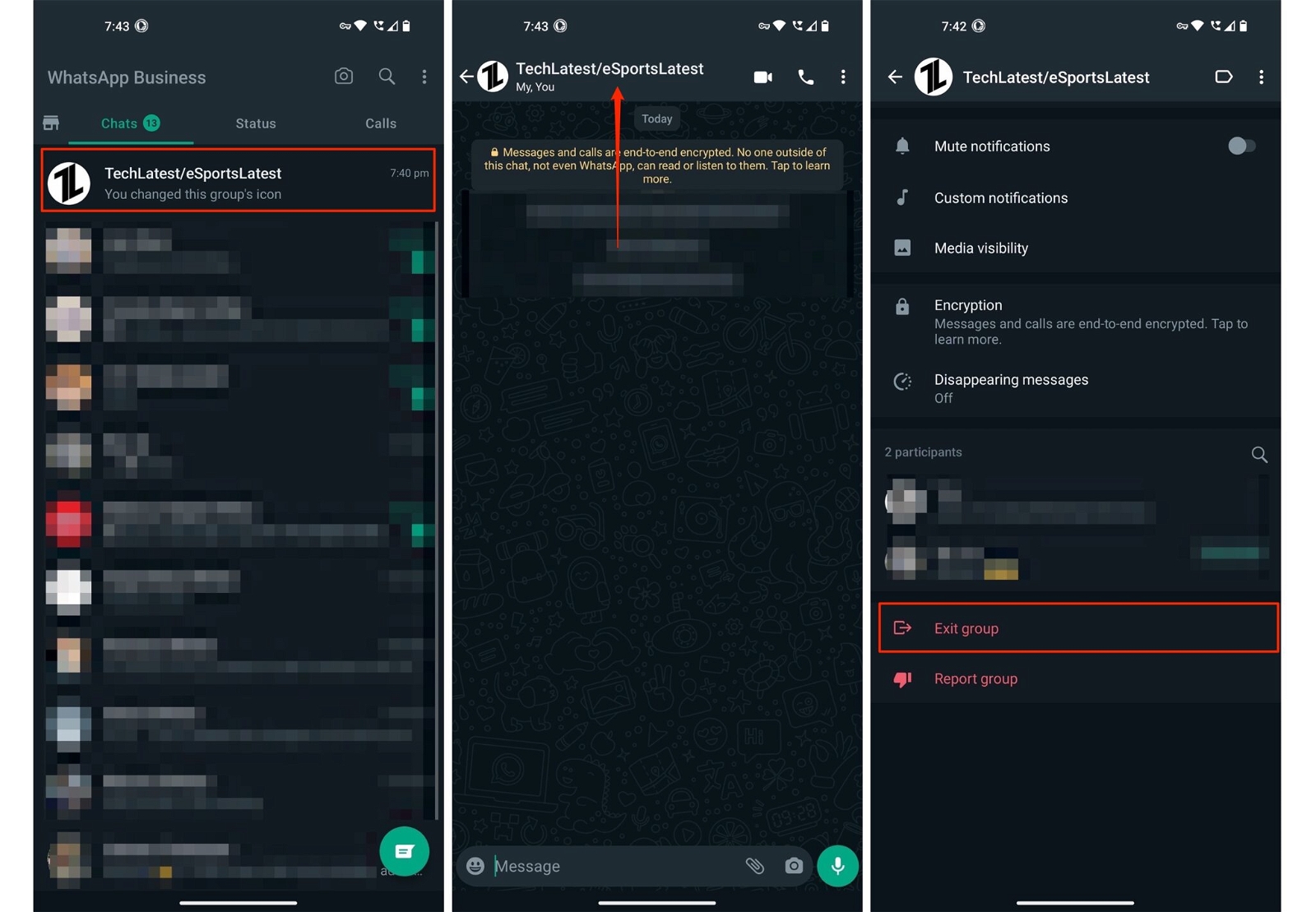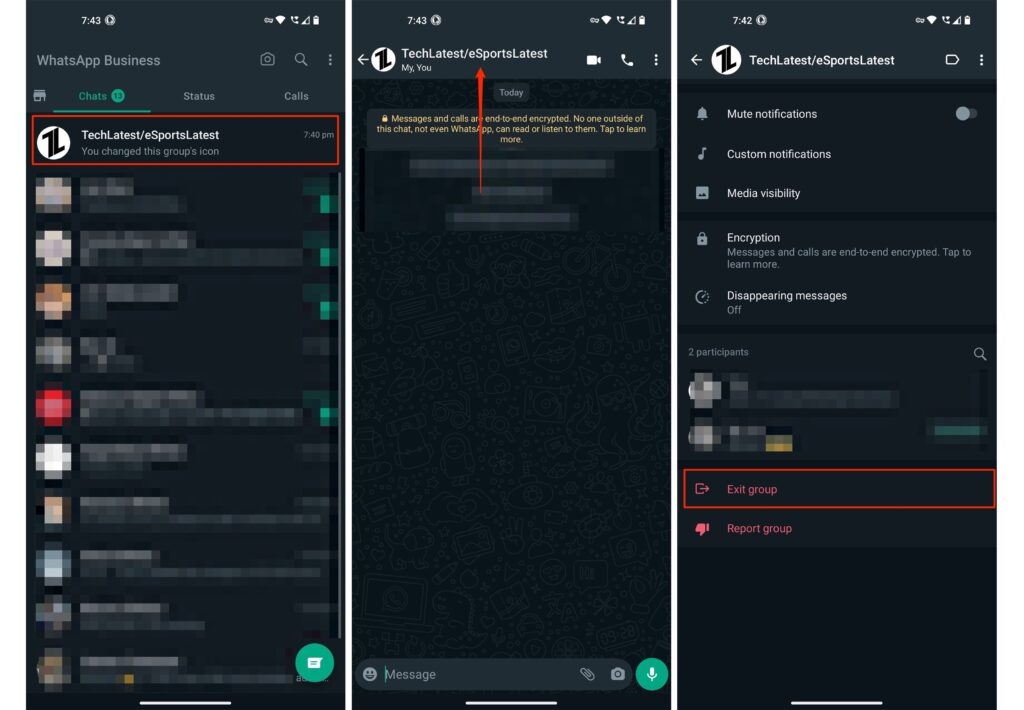 Like in other chat applications, everyone in a WhatsApp group will be aware of your departure. By navigating to the group chat and selecting the "mute notifications" option from the sidebar menu, you can disable notifications if you like.
---
What do You need To Do Before Unsubscribing from a Group Text?
Leaving a group text or group chat could send the wrong message because the other participants would be aware of your departure. You can explain why you're going and be polite if you're finding it difficult to connect with them. Although it's easier said than done, doing so will prevent people from misinterpreting you.
---
Conclusion
So, that's how you can remove yourself from a group text or chat. We hope that you find this article helpful. But, in case you need any further help, comment below and let us know. 
Leave a Comment