TechLatest is supported by readers. We may earn a commission for purchases using our links. Learn more.
How about using infrared energy for imaging photos and videos?
Yes, you guessed that right! We are talking about infrared cameras. Whether looking for hidden cameras/microphones around, checking for water damage, or inspecting the cause of HVAC damage, infrared cameras are always at a rescue.
If you are looking for the best-infrared camera apps, then we have covered you all!
9 Best Infrared Camera Apps
Ordinary smartphones do not have infrared sensors. But you can still explore the world with a new perspective of thermal imaging using infrared simulator apps.
Further, if you own a thermal camera, you must couple it up with an app. Such an app would let you inspect thermal images in real time and display the temperatures too! 
Several apps are meant for this purpose. But we have handpicked and selected the best-infrared camera apps upon which you can rely!
Below mentioned is a list of the same!
Thermal Camera FX: Sim/Prank
How about an infrared camera app that simulates thermal effects and does reliable thermal imaging with suitable hardware?
If yes, Thermal Camera FX: Sim/Prank is your ideal choice!
It adds thermal effects using IR technology to your photos, videos, and the shots you capture. When you couple the app with Flir hardware, it effectively gives you results using infrared thermal technology. It does work without the hardware, but it just adds thermal effects artificially and not actual sensing.
What's more interesting is that you can change effects in your video even between shooting it. Thus, you will get an efficient and real-time video with thermal effects. Moreover, it's easy to use. You can save your projects at the click of a button. It also supports the camera torch, front camera, and specialized infrared camera hardware button. The app is compatible with Flir One and Flir One Pro cameras.
For the most realistic FX thermal shooting effects to your photos, you can unlock premium effects that you can add while you shoot. However, you would have to pay for it. It displays a temperature meter when you use it in Flir Mode.
Further, it also has a PIP effect in Flir Mode. Using that, you can easily distinguish the difference that an infrared camera brings. Finally, it saves all your projects as a sub-folder in DCIM.
---
Seek Thermal
How about a perfect app to pair up with your Seek Thermal Camera?
If yes, then the Seek Thermal app will help you with it. This infrared camera app controls your Seek Thermal Camera. So whether travelling with your friends, exploring on a solo adventure, or going to a night camp, you can capture thermal energies conveniently. All you need is the apt Seek Thermal camera.
For better thermal energy insights, you need an app for the purpose. The best part is that you can detect, inspect, and analyze thermal energy with color effects.
If you are a wanderlust, then nightlife would fascinate you the most. Amidst too much darkness, smoke, fog, or too much light, infrared rays make inspecting objects with thermal energies easier.
The app has several viewing modes, so you can easily switch. In addition, with plenty of color palettes, you can apply multiple color effects for optimum thermal imaging.
---
Thermal Scanner Camera VR
How about an infrared camera that applies thermal effects when you record videos?
If that impresses you, then Thermal Scanner Camera VR is a must-check on your list. The app is equipped with a VR mode. So, when you record videos with it, it uses color gradients to differentiate elements based on their shades.
This is because ordinary phone cameras do not have infrared light and cannot detect thermal imaging naturally. So, you need to couple it up with the hardware for it.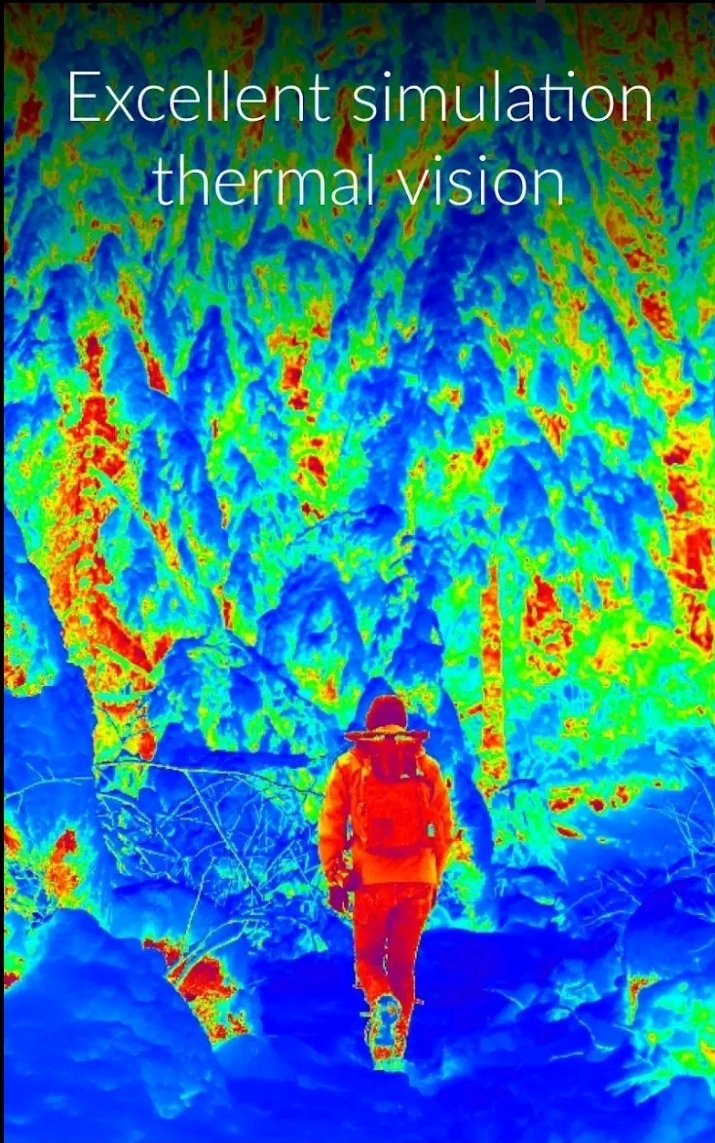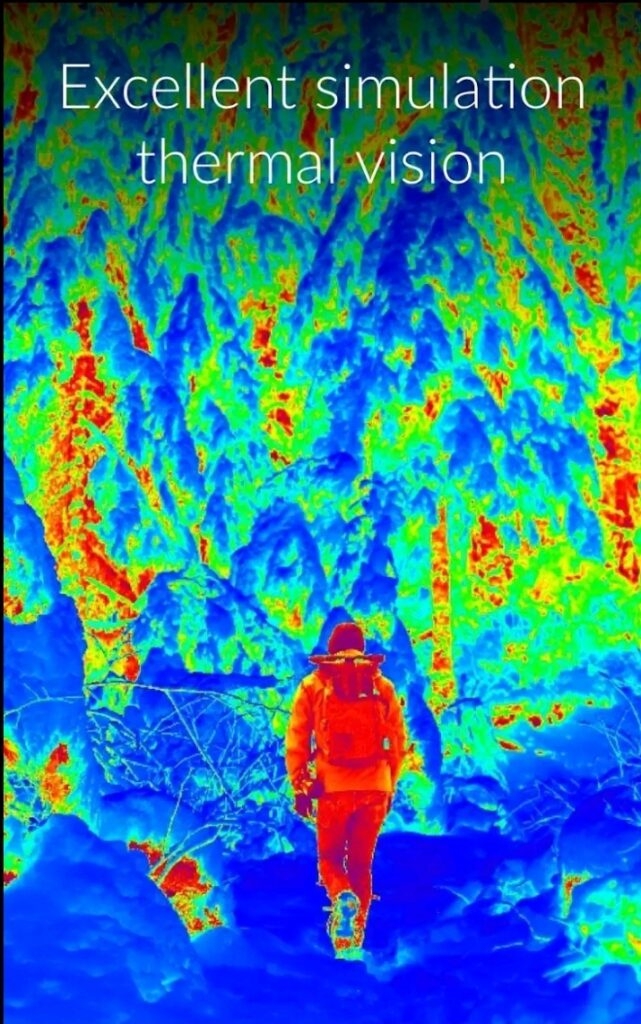 But you can use this infrared camera app which will simulate thermal imaging. You will see all the light objects in bright colors like red and yellow.
At the same time, it will indicate the darker things with colors like blue, green, and similar. If these standard colors bore you, you can also select a different color scheme using the inbuilt color wheel of the app. 
You can also apply thermal effects to existing files of your phone gallery. Besides, like a proper camera, this app will let you zoom, switch between front and rear, turn on/off the flashlight, and do similar things. At the same time, you can also swap between portrait and landscape modes.
---
Hidden IR Camera Detector & Spy Cam Finder
Do you fear a hidden camera or microphone while you travel?
Well, sometimes people spy on you, be it changing rooms in shopping malls, resorts, or hotels! If someone plants a microphone near you, your plans and confidential information becomes at risk.
Likewise, when there's a spy camera, probabilities suggest that someone is saying you or wants to record your illicit videos. In such a scene, detecting such spy devices becomes essential.
The Hidden Infrared Camera detector is an app that understands such situations and lets you unleash the truth. It detects spy cameras and microphones in its vicinity. The best part is that it can see up to distances of 15 cm.
It uses two ways to find out hidden cameras. The first one uses an inbuilt tool that analyzes infrared lights for sensing hidden cameras or mics. You have to open and use the camera.
There's a risk if you see a red light on your phone's screen. Further, it can also look for magnetic sensors, which spy devices emit and detect with a sound. 
Apart from that, it can also detect ceiling smoke. However, if you feel the app does not function effectively, your phone's hardware does not support a magnetic radiation sensor.
---
Hidden IR Camera Detector
How about another infrared camera app that detects spy cameras without any difficulty?
If yes, then the Hidden IR Camera Detector is a must-check on your list! It has a friendly GUI and easy-to-use interface that makes detecting spy cams and mics simpler.
Whether you are in a changing room, bedroom, resort, or anywhere you suspect hidden devices, then the app helps. It helps you feel safe when outdoors. 
Thus, you can sigh relief knowing that no one is threatening your privacy. It has a spy and focal point camera, which looks for WiFi hidden cameras, bugs, video or digital cameras, transparent hidden cameras, and similar devices.
Using it is easy-peasy! You must open the app's camera and move your phone around the room to detect spy devices.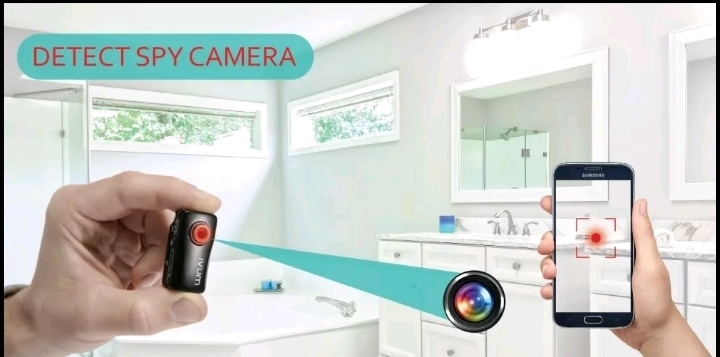 This infrared camera app senses infrared lights in its surroundings. It emits white light that is not visible to your eyes as infrared radiation. Besides, when you use its radiation meter, it checks for radiation around which hidden devices emit.
The difference is that the infrared tool emits light while the radiation meter rings a beep sound. You can check insights with the detect view graph feature.
It is noteworthy that you should close the camera app after use. However, your phone does not have a mobile magnetic sensor if it does not work efficiently. 
---
IR Camera Poco F1/Mi8
How about using an infrared camera app for your Mi8 or Poco phone?
Well, Mi8 and Poco do have an infrared camera. IR Camera helps in its functioning. It works with both the front and rear cameras for infrared detection. You need not worry about pictures in the dark! The app helps with it.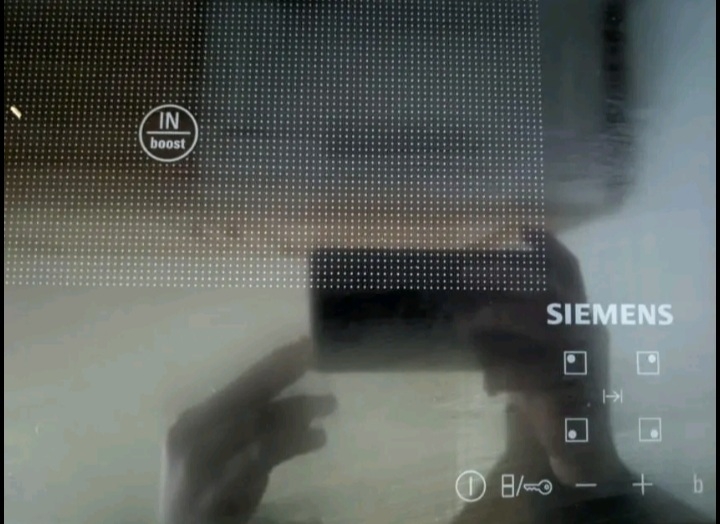 So, the IR camera is helpful if you want to see through liquids, materials, or dark glasses. You can even try your hand at whether it can detect the authenticity of money or not. The best part is that this app lets you check whether your TV remote is working.
---
Thermal Camera HD Photo Effect
How about playing a prank with your friends and imitating that you have an infrared camera that adds thermal effects?
If it sounds interesting, then the Thermal Camera HD Photo Effect is your ideal choice!
You can use it to capture images or edit existing ones. It will use different color schemes to simulate photos into thermal photographs. With special thermal effects, it is not hard for your friends to believe that your phone has built-in IR equipment.
Apart from changing color schemes and adding effects to photos, you can also use the available filter. One of the best filters is that of B&W.
---
Flir One
How about the perfect infrared camera app for inspecting objects with your Flir One hardware?
If yes, install the Flir One App to access your phone and convert your handset into a thermal infrared camera.
The app has an easy interface that smoothens workflow. Whether traveling, hiking, or doing anything else, you can inspect your Flir One shots for thermal effects on the go.
When you use it with a Flir camera, the app gives accurate, efficient, and reliable thermal effects. You can even use it without the hardware, but there is a difference.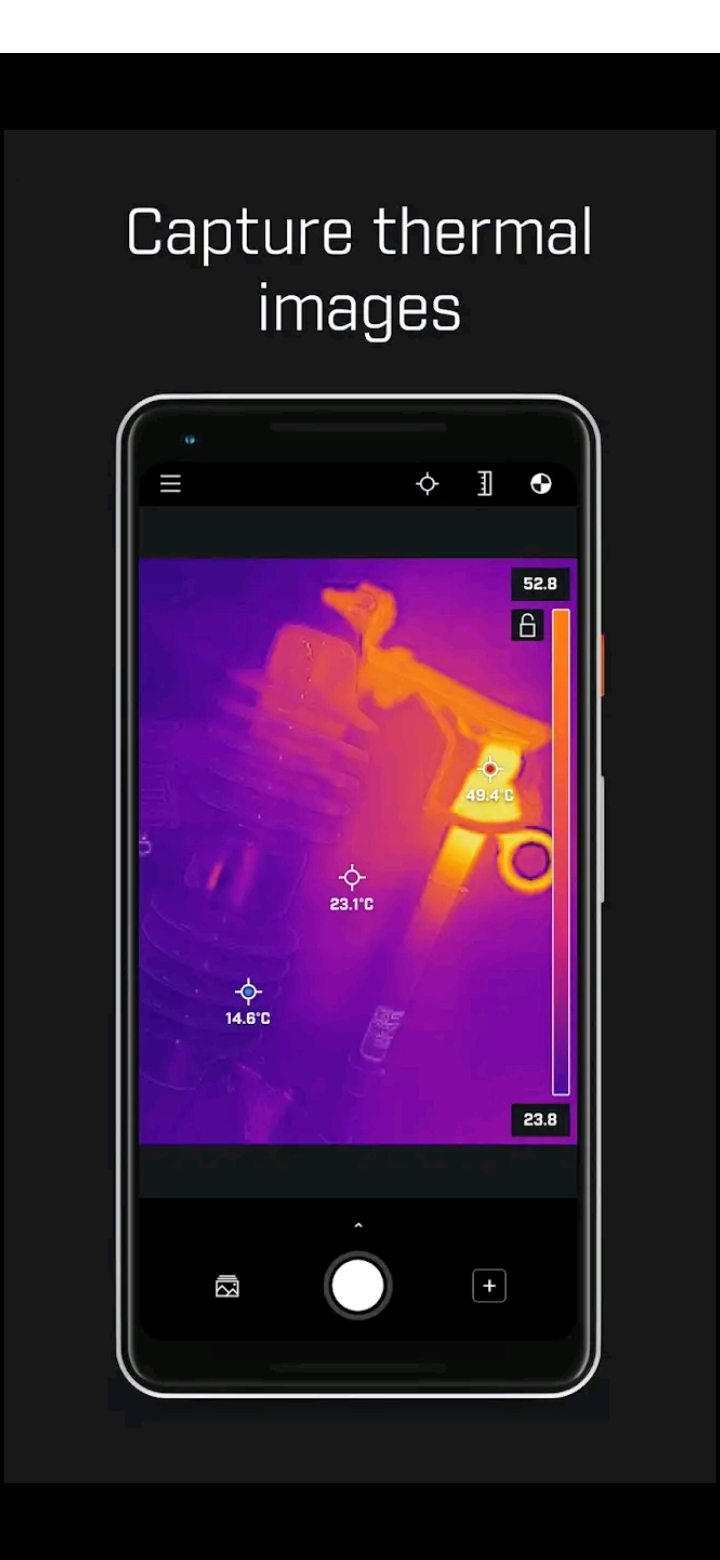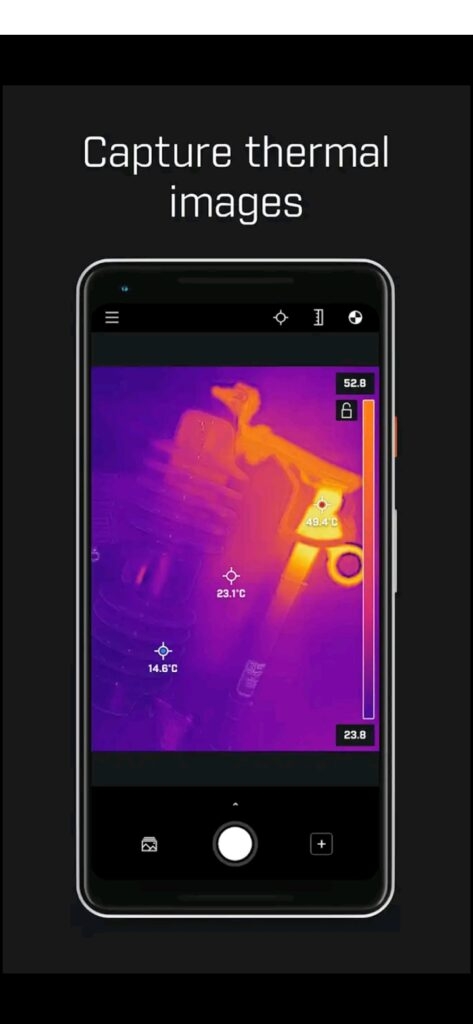 The accuracy of a thermal camera would then depend upon your phone. If your phone does not have an infrared sensor, it will add color effects to give a thermal feel. So you can use it as a Simulator. However, if your phone has an infrared thermal sensor, then there's not a hassle.
You can use it to assess your indoor electric panels, check out the root cause or HVAC failure and even look up for water leakage using it. Developers have equipped it with Flir MSX and VividIR features to procure your images with the most precise thermal effects.
Moreover, you can assess problems with other thermal camera view features. Besides you can also use the app if you want to click the usual pics and videos. If you have a Pro Series, you can detect the hottest and coldest spots. The best part is that it does so automatically. 
---
Infrared Thermal Imaging Cam
How about accessing the world with a unique perspective of thermal imaging?
If it intrigues you, then Infrared Thermal Imaging Cam will make it possible!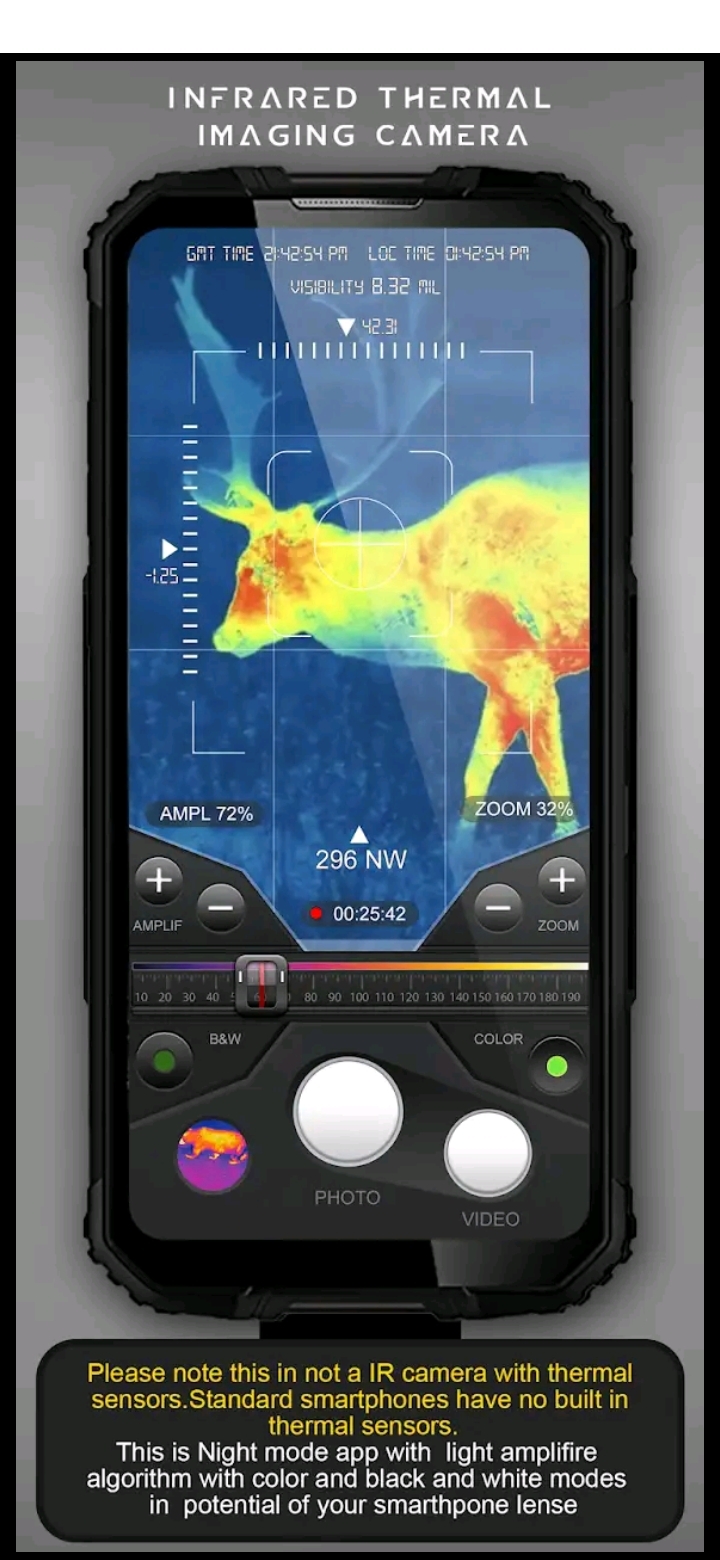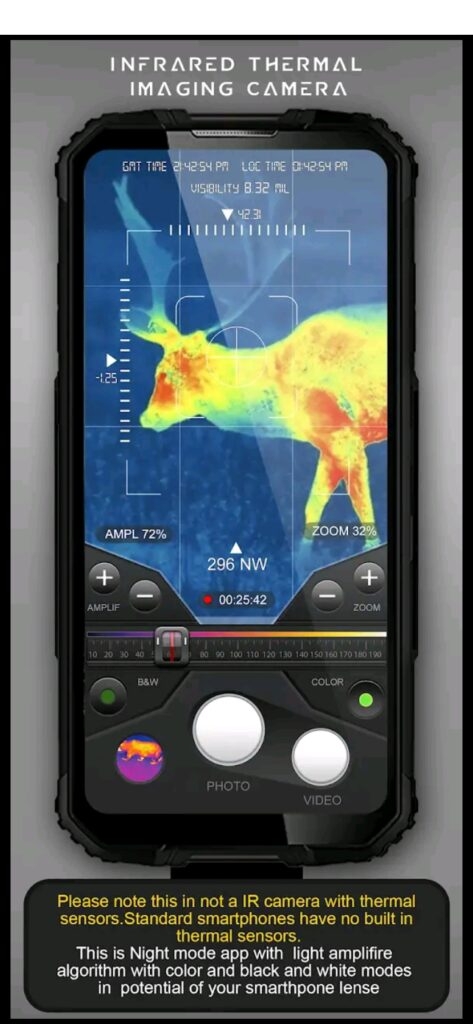 Ordinary phones do not have infrared sensors, and buying one such camera is costly. In such a scenario, this app acts as a Simulator. It adds a thermal imaging effect to your images.
Its light amplifier algorithm sets it apart from other such simulator apps. You can explore imaging and different effects with this camera, which uses the thermal color scheme to give you a legitimate infrared camera feel.
---
The Final Verdict
Finding the best-infrared camera apps takes work. But we have selected the most incredible ones in the category. Thermal Camera FX: Sim/Prank couples up with your hardware and can be used as a thermal simulator without it.
Flir One and Sleek Thermal are specially meant for their respective thermal cameras, and you can use them without them, too, for simulation or pranks.
Further, if you have a Mi8 or Poco F1 phone, then the IR Camera Poco F1/Mi8 app is compatible. Finally, the hidden Camera App lets you look for spy devices around if you have an infrared sensor in your phone.
Leave a Comment