TechLatest is supported by readers. We may earn a commission for purchases using our links. Learn more.
Do you love traveling to places or exploring the streets in the dark? Well, many of you would be Night owls!
Moreover, you would have become a photo freak by now with increased social networking, blogging, and vlogging! Clicking in the dark has never been easy, no matter how advanced the Night mode of your phone camera is.
Buying a thermal camera helps, but it is expensive, and you need to spend some good time to have expertise in it. Besides, it is not so portable that you can carry it everywhere.
Here, the role of thermal camera apps pops in! You would have already checked out many, but not all, of their help. So we have covered you with the best thermal camera apps that you should check out! 
You would already have some good shots on your phone to which you wish to add the thermal effects. You will find some good apps on the list.
Some thermal camera apps detect fevers, electricity issues, and plumbing problems. If that has fascinated you, you should not stop reading!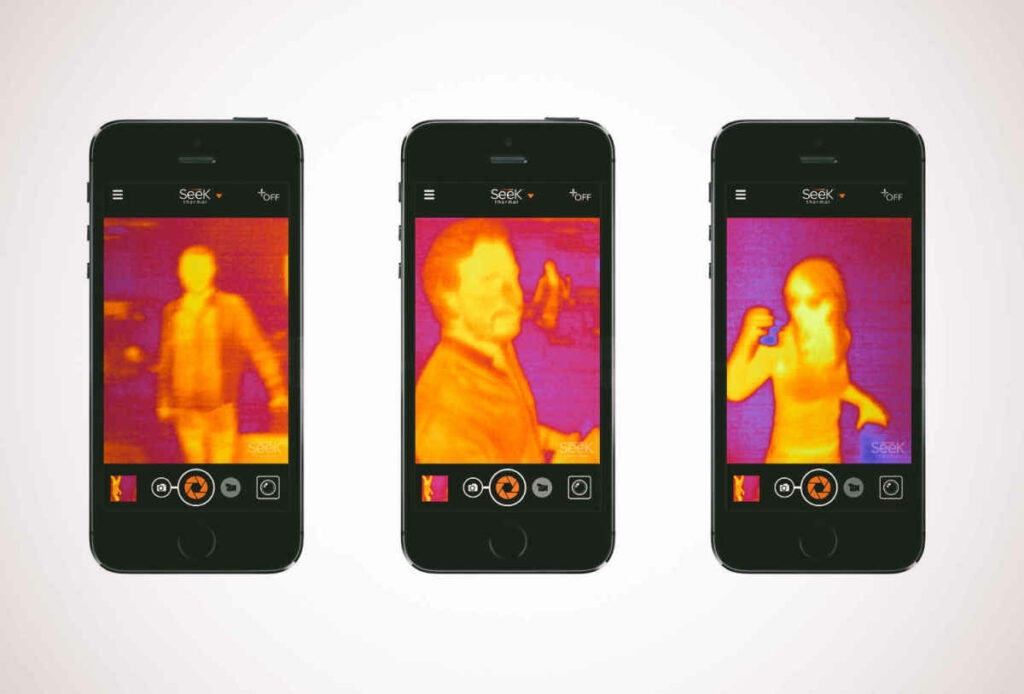 Best Thermal Camera Apps (iOS & Android)
Finding Thermal Camera Apps is not that difficult. However, finding one that works well for the purpose is daunting!
Below is a list of the best thermal camera apps for Android and iOS. These are available at an affordable and much lower cost!
Seek Thermal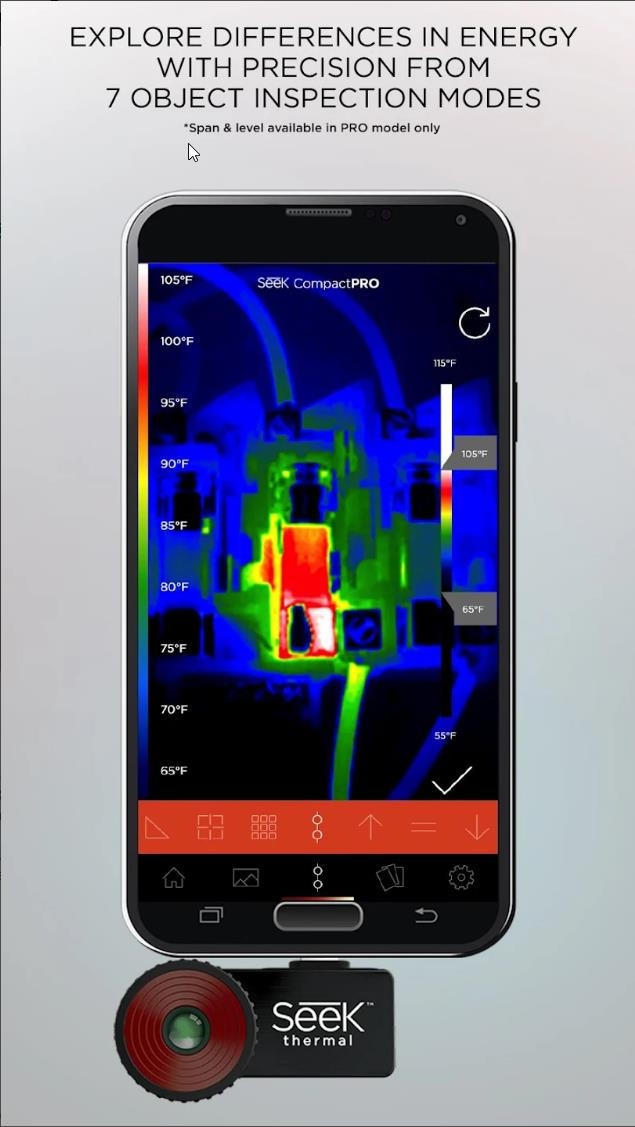 Seek thermal allows you to discover the natural world with great views and efficiency. It works by visualizing thermal energy at the point where the camera is focused.
The app allows you to study and observe thermal energy specifically sourced by insects. You can even capture images based on thermal sensitivity and save them in your gallery.
The app is a good starting point if you are a novice with thermal camera options for personal use. It is reliable and so hard that many people have downloaded and loved it!
Download:- Play Store
---
Night Vision Thermal Camera
The night vision thermal camera app allows you to check the accurate temperature of any object where you focus the camera.
By pointing the camera toward the subject, the app uses the color red to identify the rising temperature that a particular subject possesses. 
Besides rising temperatures, it also detects if an object is cold and indicates that by blue color.  Further, you can capture all HD-quality pictures to suit your interests. 
Apart from the Thermal Camera, it also has a fantastic Night Vision Camera. Its friendly GUI gives a smooth and flawless user experience. Thus, you can use it without any hassle.
Download:- App Store
---
Flir One
If you are looking for the most advanced and premium Thermal Camera app, then Flir One is the best option!
The coolest part is that it lets you check out any electricity issues or electric hazards. Further, you can get rid of them with its quick notifications feature. You can also check the plumbing system's irregularities around you.
It detects issues like leakage and clogging water when you scan any using this app. Its thermal sensitivity also serves the best when you want to explore tint matters!
The app creators have also designed additional equipment to increase your app efficiency. To avail themselves, you have to buy them from the creator. 
If you are looking for a thermal imaging app that is easy to use and storage efficient, then Flir One also nails this part. It occupies 18 MB of space on your smartphone.
It is one of the most renowned apps around. Over 100 thousand users downloaded this app, and critics have given it positive greenbacks. For a productive Thermal Camera, you should head over to install it!
Download:- Play Store
---
Thermal Camera Effect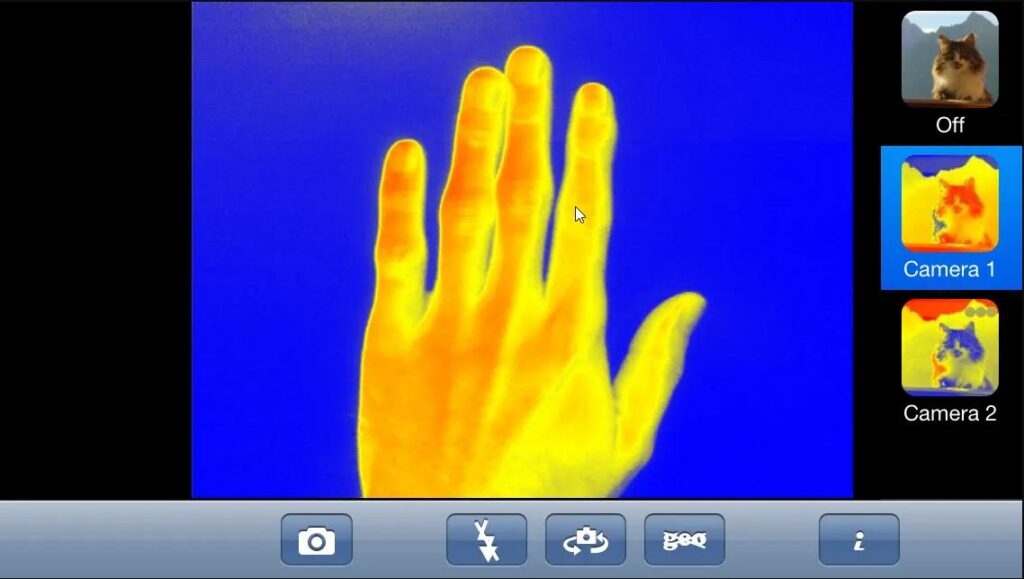 How about using a thermal camera that offers customization with aesthetics?  If yes, then the Thermal Camera Effect app is your ideal choice!
You can click pictures and videos in an unusual style. This is because it has a built-in feature that lets you change the temperature bandwidth per your desired choice.
Not just an app with ordinary Thermal Detection, but you can adjust the brightness and contrast of the elements you focus the camera upon. This is because it is just a Thermal Camera effect enabled in it. 
You can add filters to the images you capture and have an easy user interface that makes it beginner-friendly. 
Download:- App Store
---
FebriScan
If you are looking for a Thermal Effect Camera that focuses only on the Human face, then Febri Scan is specially meant for you!
Human face focus makes it remarkable and distinct from the other apps specified. It will focus only on your face rather than any other body part. This is because it incorporates AI technology for advanced functionality.
Febri Scan rose to fame during the COVID-19 pandemic. Users had used this camera and were alerted about elevated body temperatures signifying fever amongst individuals. You can use this app if you have a toddler or little one who cannot be patient until you examine them with a thermometer.
Download:- Play Store
---
Testo Thermography App
The Testo thermography app is slightly different from the other thermal apps available. It detects the thermal point from available pictures in your phone gallery rather than clicking one using the app.
It is one of the most outstanding thermal stimulation apps of all time, as you can choose from various available options in its library of inbuilt features.
Testo thermography app provides you with 15 thermal effects and automatically creates a discrete folder in your phone. This is where it stores all the images upon which you perform thermal detection using the app.
You can also create available reports for each picture drawn towards the app. Additionally,  no ads allow the users to use it smoothly.
Download:- Play Store
---
Thermal Viewer
Thermal Viewer has an incredible spectrum of thermal recognition if you download it only for thermal detection. It has a unique feature that points your phone's camera toward the subject to capture brilliant temperature observations.
It provides inbuilt support to edit the images processed through it, and you can control its brightness and saturation by editing as per your requirements. 
Thermal Viewer has a simple, intuitive design focused on capturing the images with thermal presence. You can also record a video using this app. The app occupies 22 MB of space after download. Besides, a satisfactory user experience and effective thermal motion urged users to review it positively.
Download:- Play Store
---
Thermal Camera Photo Filter Simulator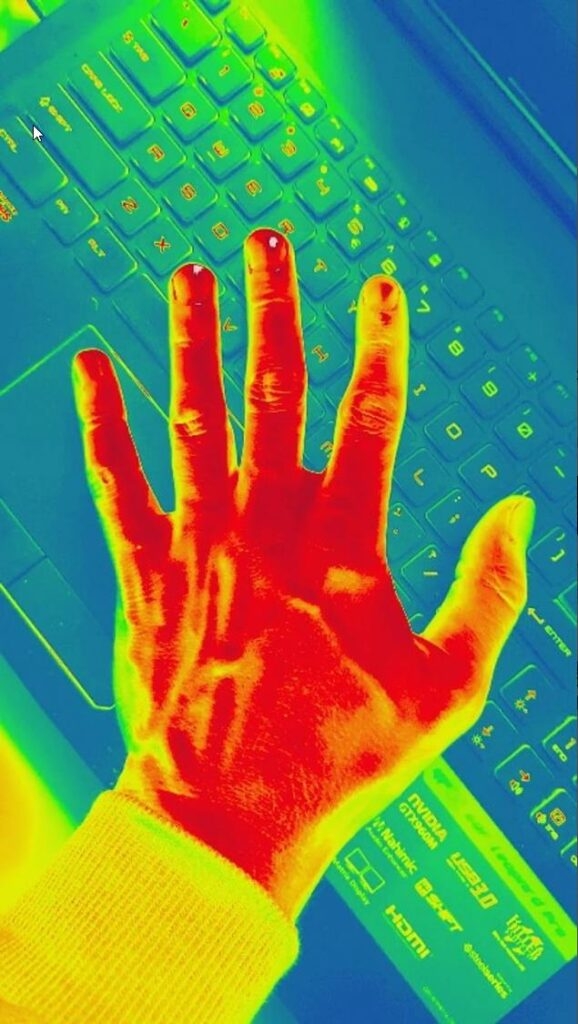 With the presence of a unique thermal photostimulation, you can capture distinctive, beautiful pictures. It lets your phone camera notice objects by focusing on aesthetic graphics in filters. 
Every shot captured has perfect and transparent pixels. With this, it provides users with real-time thermal camera effects.
Thermal Camera Photo Filter Stimulator has advanced features that extend to three Gamma colors, a standard pixel algorithm, adjustable brightness, and contrast for a great experience of real-time thermal camera effects. 
A sound and smooth user interface give you smooth sailing for anything you capture.
Download:- Play Store
---
Thermal Camera FX: HD Effects Stimulation (Currently Unavailable)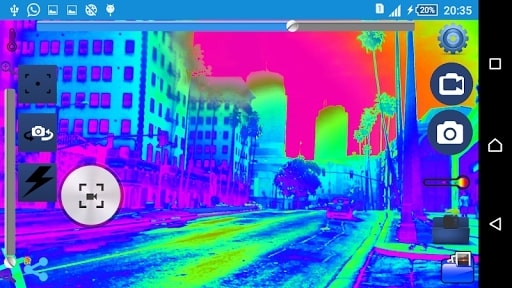 When looking for an accurate Thermal Camera app with top-notch quality features, Thermal Camera FX is your right choice!
You can capture high-resolution images, record videos, and use thermal mode for object detection. The remarkable feature of the app is that you can export existing images from your phone Gallery, and it performs thermal detection for them.
It enables you to save thermal images with a vivid color effect to indicate the thermal presence in pictures captured. Thus, the portable thermal camera provides you with a real-time experience.
Even if you turn on the flashlight on your phone camera, you can capture shots adequately with HD quality. It consumes only 17 MB of space on your phone. So, if you want to install a thermal motion camera app optimally, it is apt!
Download:- Play Store
---
Thermal Camera VR Stimulated (Currently Unavailable)
Virtual reality sets have recently become quite popular. If you indulge in VR features to enhance your experience, Thermal Camera VR Stimulated is apt! 
It has several advanced features that involve using VR for a good experience. When you want to have a real-time experience with pictures, thermal motion, and sensitive changes, then the app serves best. It is effective in detecting the presence of thermal energies around.
Download:- Play Store
---
The Conclusion
We have used a wide range of Best Thermal Camera apps if you seek a thermal camera option.
It helps you stay on a low-end budget yet have a hassle-free and practical thermal camera experience on your phone.
Instead of high-end thermal cameras, you can install apps for affordable and efficient thermal detection functionality. 
After going through the entire list, you must have found the best app that suits your interests. Bookmark our page and stay tuned for more insightful articles.
Further Reading:
Leave a Comment