Highlights
Smart Homes are more than common these days. People are moving forwarding to a fully IoT-owned world.
For a smart "Smart Home", a manager app is very important, it manages all the smart appliances.
Amongst various smart home manager apps which deserve your attention, we have selected the top 10.
Your smart home doesn't seem smart until you unleash its functionality. The light turns on and off automatically as per schedules; after forgetting a lock, you can lock your home away from home, and similar is helpful.
Besides, you can monitor your homes while out or if you get alerts on your phone, like if a glass has broken or the smoke alarm rings, which is beneficial. Yes, we are talking about smart homes.
If you have set up a smart home and are looking for the best smart home manager apps, then we have covered you all!
Best Smart Home Manager Apps
Amongst various smart home manager apps which deserve your attention is a must-know. Not all of their help is legitimate, so we have selected the top 10 under the category.
Amazon Alexa
How about a smart home manager app that aces in multiple recreational tasks and controls your Alexa-enabled devices?
If yes, then Amazon Alexa is a must-check on your list!
When boredom kicks in, all you need to say is Hey, Alexa, play some music, and it will do the rest. If you forget things, then you can set reminders, which will remind you. Yes, you guessed that right! It has hunches for the purpose.
Besides, whether at home or away, it will also alert you when there's something simple like broken glass or even too complex like a smoke alarm.
Often you might be in a hurry, or XYZ reasons you might have forgotten to lock the door. It will notify you and let you do so via the Alexa app. However, you should have Alexa-enabled devices or a smart lock.
Additionally, if you are unsure whether you switched off lights and similar tasks, you can also check its status. Further, you can even control those smart lights with the Alexa app.
---
SmartThings by Samsung
Would you like a Smart Home Manager that automates your home schedule?
If yes, then SmartThings by Samsung does it for you!
You can set up their schedules by controlling your HVAC system, locks, or other smart devices. Thus, you can turn them on or off and modify them with this app. The best part is that it supports most smart device brands.
Hence, it acts as a one-stop app for all your controls. The Scenes feature lets you connect and monitor all of them with scheduling.
Your home schedules might change depending on your weather and other preferences, so too SmartThings helps you manage it. The app also runs in the background to better sense the surrounding condition.
Further, controlling them and updates about these devices related to your home puts you at ease. If more energy consumption increases your bills, you have SmartThings energy that helps you monitor them and save them as per prerequisites. Not only Alexa or Google Assistant, but it also enables you to connect with Bixby Assistant.
Do you have confusion while you prepare your meals with fewer ingredients? It happens often, and that's when its Cooking feature helps. All you have to do is scan the available ingredients, and SmartThings suggests delicious recipes with them.
If you are new to such an app or the SmartThings, then its Explore section helps. With it, you can unleash all the features and functionality of the base and thus set up a truly smart home.
---
Google Home App
How about a smart home manager app that lets you stay productive and helps with your daily chores?
If yes, then Google Home is what you need!
A further ado will be if your AI acts legitimately like your assistant. Suppose it understands your point without saying much! Yes, Google Home does that, also.
You can set up your smart home appliances and control them with them. Besides, upon configuring about takes with schedules, it behaves smartly.
Like if you say Hey, Google, Good Night, then all it would do is switch off the lights, Check the door locks, etc., as per your prerequisites. It will also assist you with answering GK questions, playing some music, getting traffic updates, and other related stuff that keeps you productive.
Check out the app here
---
Nest App
Are you looking for a smart home manager app that helps you with indoor safety, security, and ventilation?
The answer is yes, so you cannot miss checking with Nest App. It's mainly to enhance your home and lifestyle.
With this, you can receive alerts on your phone when there are smoke or related incidents indoors. Besides, it also shows which of your doors are closed and legitimately secure against thieves. You can monitor clips of your home on the go while you are away from it.
Further, if you reach late, you can even watch any previous clips whether it's your HVAC or similar smart appliances that are smart so you can even check their temperatures. Later, you can adjust the temperatures per the surrounding ambient conditions.
---
Philips Hue
Do you want to install wireless color-changing lights at your home? Or have you owned a Philips Hue collection recently?
In either case, Philips Hue is a must-check on your list!
Philips has been at the forefront of wireless lighting innovation by becoming the first in the market. So, when you install it, you should use the Hue app. With this, you can easily control all the smart lights at your home.
Therefore, it eliminates the hassle of constantly monitoring and getting up or using a remote to make adjustments.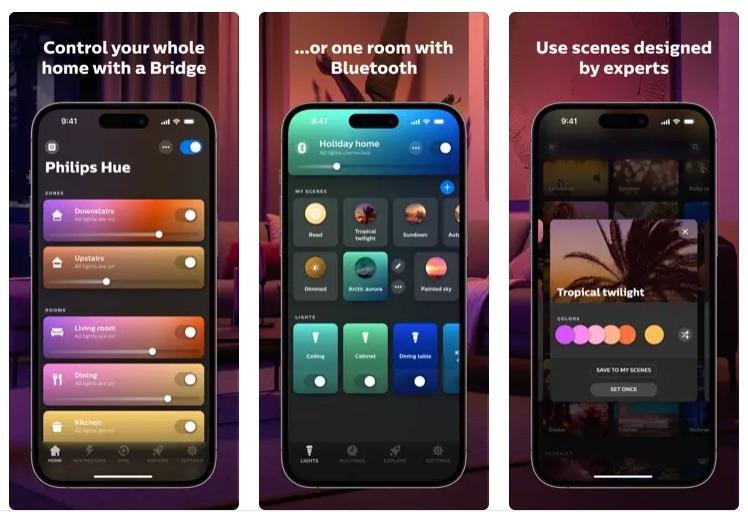 Besides, whether you are at home or away, it does let you control. Further, the app enables you to choose colors or set colors for Hue color-changing lights with the app as well.
With Its preset scenes designed by experts, you can light up your home more aptly if you find it challenging to set colors.
Whether it be waking up, going into, coming home, sleeping, or doing other activities, Philips Hue also lets you set up light automation.
---
Apple Home App
How about controlling your smartphone with a Smart Home Manager app from Apple? Do you have HomeKit-enabled smart devices at your home?
If the above two answers imply yes, the Apple Home App is what you need!
All you need is Apple HomeKit-enabled smart things and your Apple device to control them. You might be thinking, what does it do? You can keep live or exclusive footage in and around your home with the Home app.
The best lighting is the one that maximizes your output and productivity. Here's where Apple Home App stands apart from others in the category! It's because apart from your lighting specifications, it had something remarkable.
The Adaptable Lightning feature makes them sense your homes and color temperatures themselves. You don't need a master or digital keys as with its Digital Home Keys; you can also control that with the app. You can also connect to Apple TV Home with it for your entertainment.
Download Now: iOS
---
Ecobee
How about creating a Smart Home that adapts itself to your house's behaviors and activities? Or do you already have one such?
In either of the cases, you would have installed EcoBee security cameras or thermostats for assessment. Here's where you can use the official Ecobee app to get rid of it. It gives better insights into the lighting of your home.
Thus, you can save more power according to usage. If you have its security cameras, then Ecobee would help you keep a watch on doorways and other parts of your home.
---
Danalock Bluetooth Z-Lock App
Do you have a smart lock like Danalock for your home, or are you planning to install one?
If yes, then the Danalock Bluetooth Z-Lock App is what you need to manage Danalock!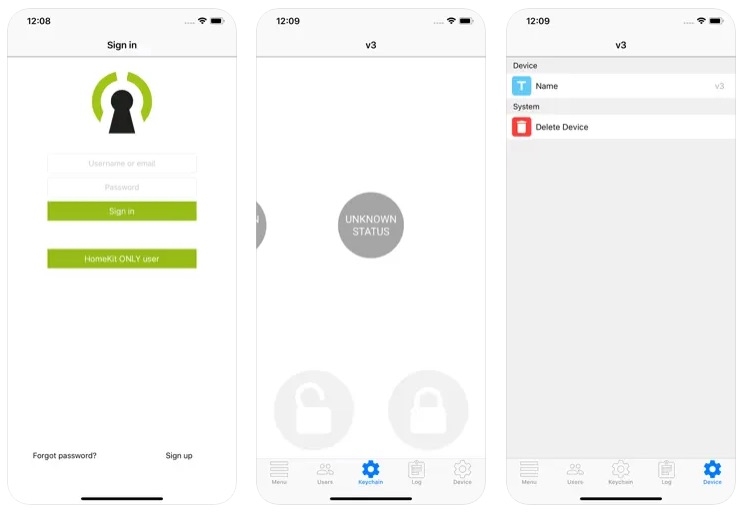 With it, you can set up your Danalock and even calibrate it. Yes, you got that right! Whether you want to calibrate it automatically or manually, the app lets you do so.
Further, its friendly UI is the cherry on the cake. It also allows you to check whether your Danalock is locked or not. Besides, things become easier with GPS automatic unlocking when you arrive home.
---
Yonomi
Do you want a smart home manager app that gives you complete control over your smart home?
If yes, then Yonomi is what you need!
It connects with almost all types and brand software smart devices and setup routines with it. Things become easier by automating them.
Often you would want to set up home schedules depending on your GPS location, weather conditions, and similar stuff; it also helps! For sure, it has voice Assistant support alongside.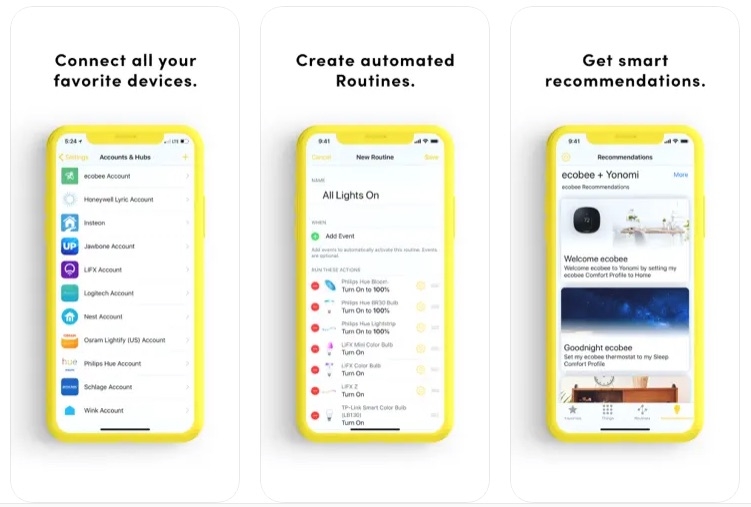 Besides, you don't need to think about how you can improve these routines. It's because it does have in-app recommendations tailored to your set routines to put you at ease.
---
MyQ Garage and Access Control
How about a smart home manager app that helps you with your garage door and locks?
If yes, then MyQ Garage and Access Control are what you need!
With this, you can know whether your home garage door is locked. Plus, you can also control your home lights and other things that are MyQ enabled.
You can create schedules by opening and closing the door or switching the lights on and off. Plus, it notifies you of susceptible activities happening near your home or garage, which you have set up.
---
The Final Word
If you were searching for the best smart home manager apps, then you would have got your answer! There are multiple factors to consider while using a smart home manager app.
First, you must consider whether it supports multiple devices or only specific ones. Next, you need to define your functionality. If you are using it for one purpose, does the app specialize in it? If you want a multi-functional manager app, does it provide the desired features?
SmartThings by Samsung, Apple HomeKit, and Amazon Alexa are our favorite ones! Which one do you like?
Leave a Comment