TechLatest is supported by readers. We may earn a commission for purchases using our links. Learn more.
Technology has undergone severe changes in the last few years, upgrading nearly everything around us. One of these items is a TV that has evolved considerably from a standard TV set to a new smart device with on-demand content and multiple other features.
Android TV that has a smart TV operating system. This successor of Google TV, developed in 2014, has allowed users to personalize their home screen and its services on the device.
Its wide range of modern service options like content discovery, voice input, and the opportunity to control smart home devices and search across different services has Android TV, a popular machine. Additionally, several Android TV apps can enable and help you get the best experience using Android TVs. 
This article will tell you about the 12 best Android TV apps to look for in 2023.
Best Android TV Apps
Countless Android TV apps offer a wide range of services for content, File transfers, universal search, and more. Let's tell you about the 12 best Android tv apps that are:
The popular app Spotify is available on Android TV. So, you can enjoy this platform's popular songs, shows, and podcasts on the big screen. Just easily swap through albums and Playlists with your TV remote control. Otherwise, you can get Spotify connected on your phone or tablet and enjoy great content.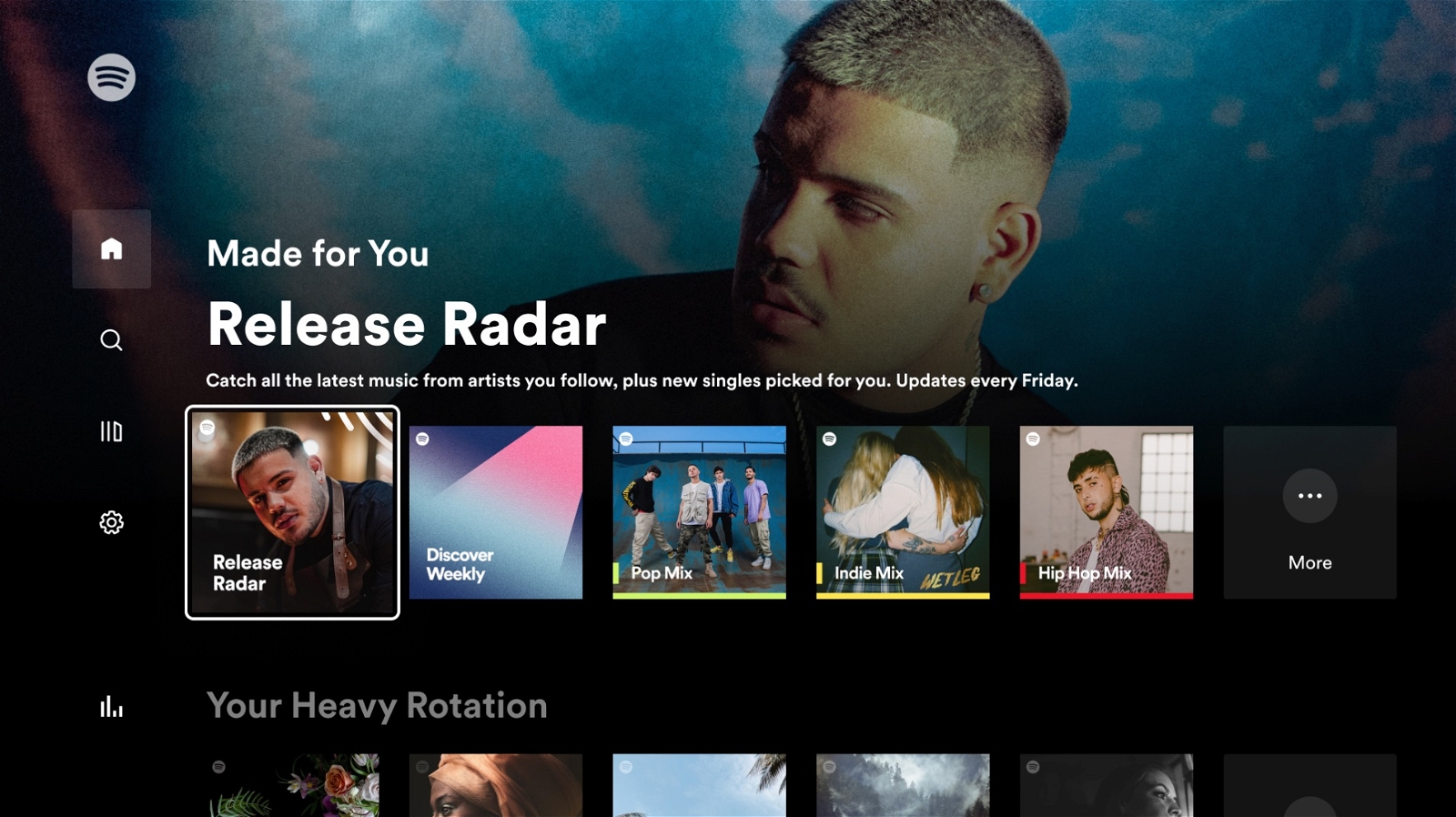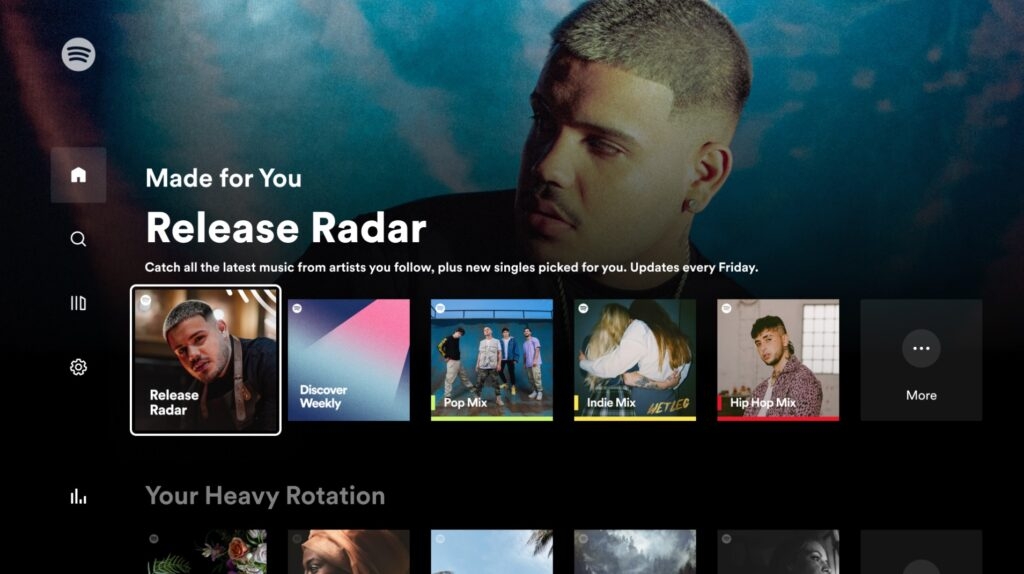 Another benefit is an option to view the fantastic cover art of Spotify on the big screen with high-quality audio and images. There is a free version on Spotify with limited features. Additionally, there is a premium paid service with no ads and more exciting features.
The platform has over 82 million songs from record labels and media organizations. You can easily search for your favorite music using the music genre, artist, or album. Moreover, to have a more personalized experience, you can create, edit and share a Playlist for the optimal experience on Android TV. 
---
The popular content streaming app Netflix is available on Android TV to watch your favorite movies, TV episodes, and series on the big screen. You need a Netflix member and an internet connection to use it on your selected devices without any interruption.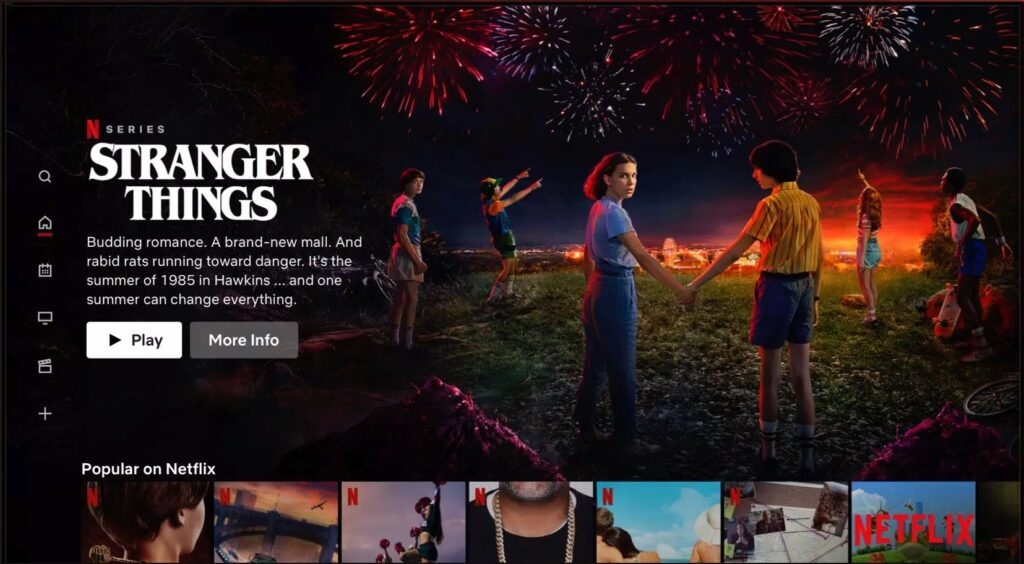 Netflix has a vast library of countless films and TV shows with millions of subscribers. You can stream and enjoy the latest series on Netflix with an unmatched immersive viewing experience on your TV rather than a tiny phone screen.
Moreover, the easy-to-navigate interface of the app makes it easy to control with your TV remote. So, watching their high-quality programs on TV won't let you get short of entertainment anytime soon.
Like Spotify, Netflix is a leading video streaming app with services available around the globe. So, if you still need to watch this streaming app, look at it. Netflix originals have a production company offering exclusive TV shows and more.
In some TVs, Netflix comes pre-installed; in others, you can download or log into your Netflix account to binge-watch the great content. 
---
Android TV often comes with many applications pre-installed for music and videos. But there are no news applications. So, If are no news apps on the TV or those don't match your needs, you can download Haystack news. It is a popular new provider app.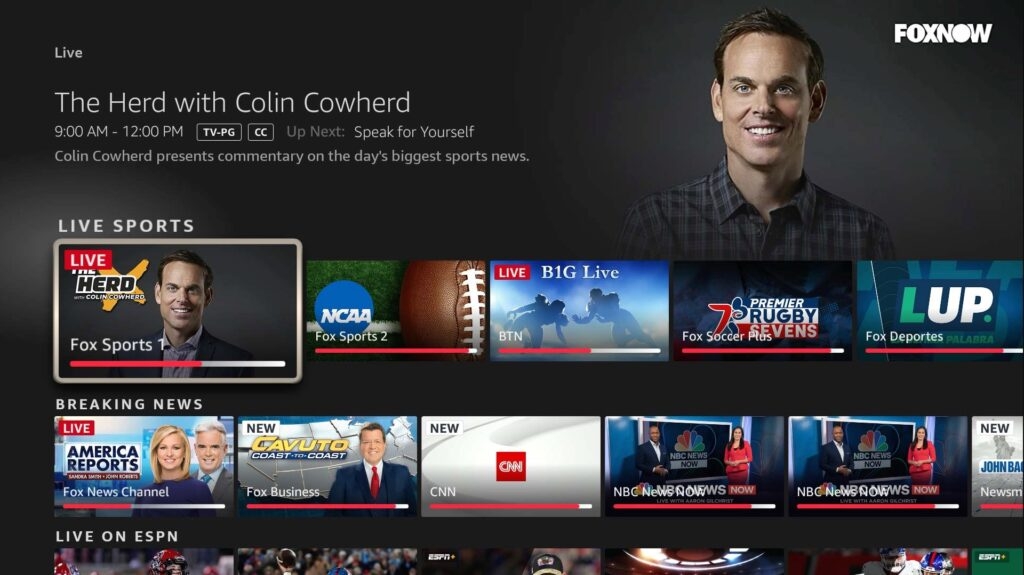 Haystack will ensure you are updated with all the new news from Science, technology, politics, current affairs, and the entertainment industry. At the same time, the news is gathered from various credible sources like AP, BBC News, CBS, and many more.
Alongside, Haystack has a weather pane where you can get the weather of your location through the app. The exciting part is that the news is decided per your viewing history and preferences. You can install the app for free with ads in them. 
---
Another common Android TV app is Disney+ Hotstar. This OTT platform is one of the leading apps for watching TV series, Movies, and web series. Also, there is a live stream section where you can watch different channels from India.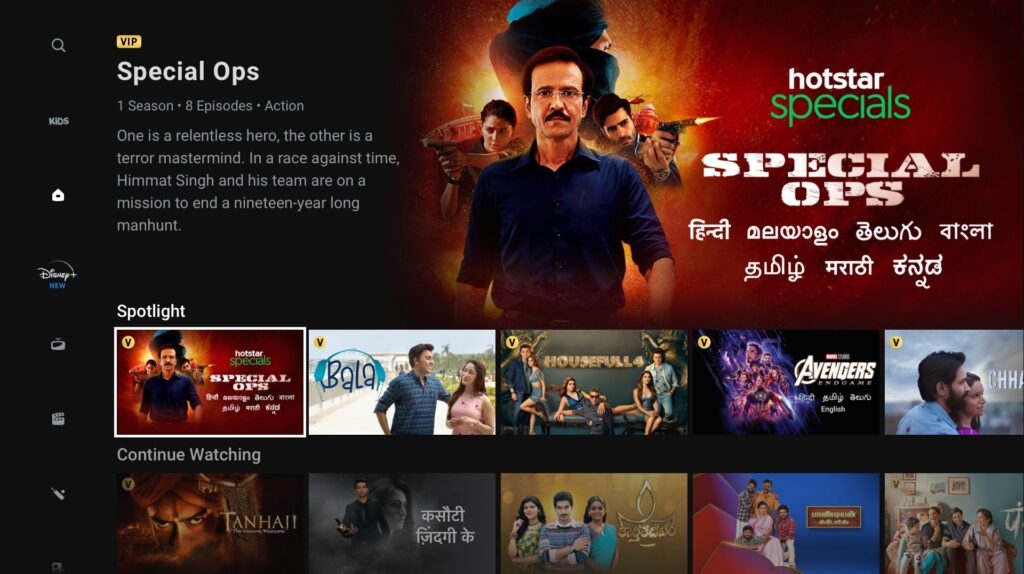 This app is a popular live sports platform that telecasts all the critical cricket matches held in India and abroad. Moreover, other sports like football, F1, Tennis, etc., are available too. Disney+ Hotstar has some of the most popular daily soaps and News channels that are free, and some are paid too. 
---
Similar to Hotstar and Zee5, Sony Liv is another leading OTT app for Android. It is a platform for watching multiple live sports activities like UEFA Champions League 2022/23, UEFA Europa, Nations League 2022/23, New Zealand tour of Australia 2022, etc. Along with that, you can get the latest updates on shows from channels under the Sony network.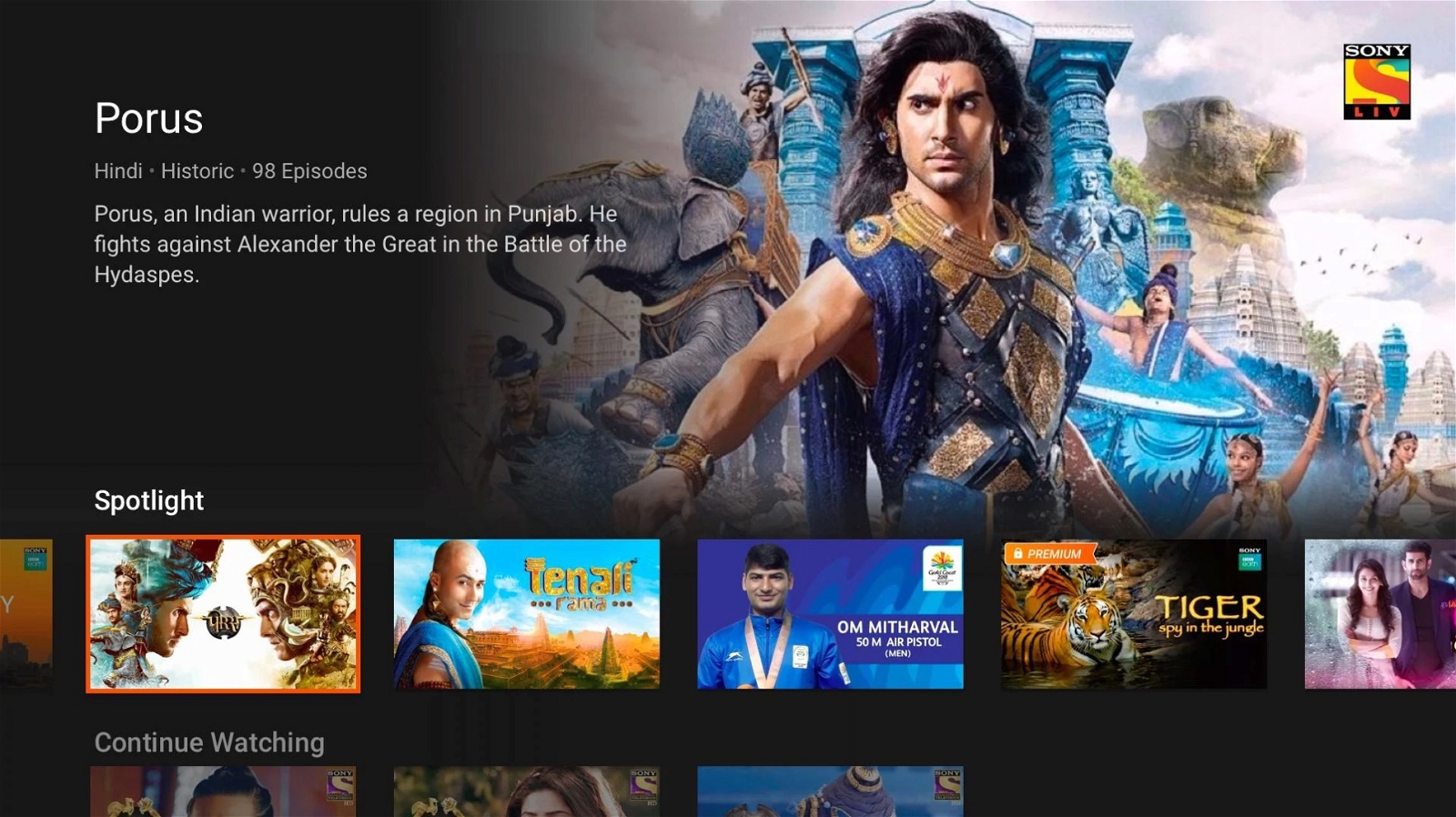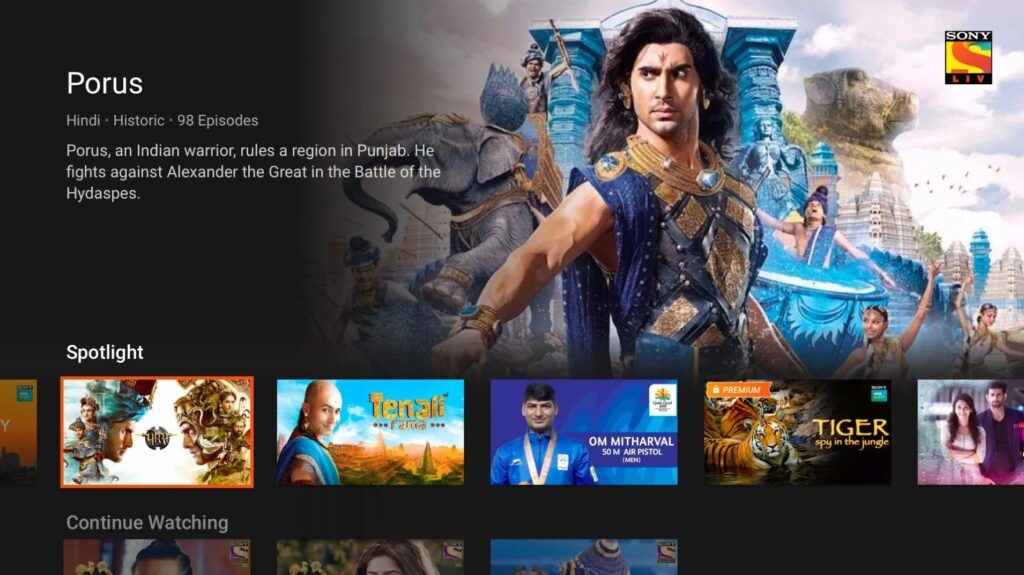 It was the first OTT service in India that won't let you get bored of its content. It has more than 40 thousand hours of TV content and 700 movies in Hindi and English to entertain you. 
---
Zee5 is another central platform on the list available on mobile devices, laptops, and Android TV. It has a live tab for live viewing too. Also, you can watch channels like India Today, Suvarna News (Kannada), TV9 Kannada, Wion, NewsX,  and others.
Moreover, you can access all the Zee channels Zee Picture, Zee Cafe HD, Zee Kannada, DD Chandana Zee Bollywood, Zee Action, etc.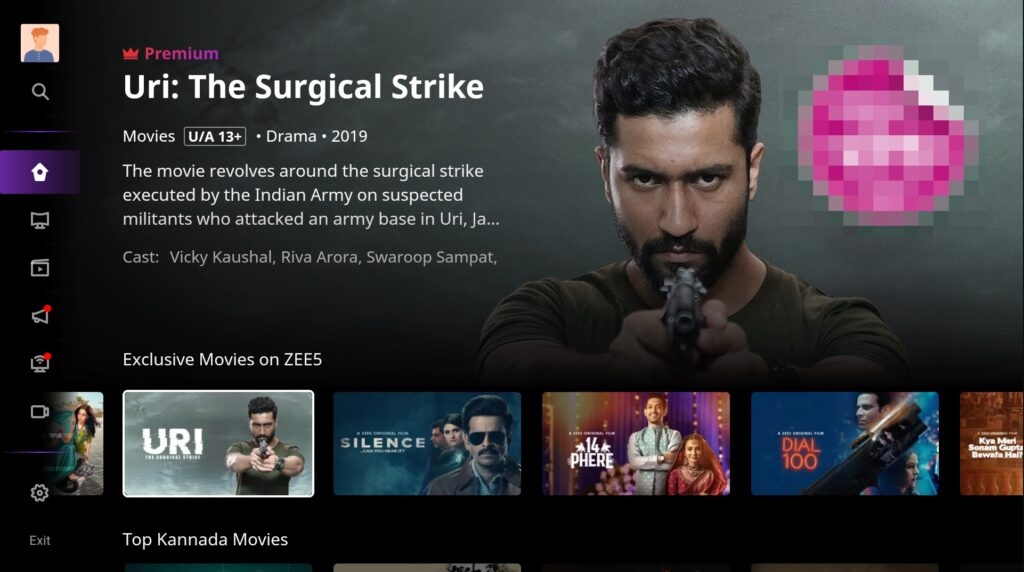 You can watch live TV in the free versions. But you need to get a premium account to avoid ads and get access to premium shows and movies on the platform.
---
YuppTV is a popular Android TV app. It even has a dedicated Live TV section where you can enjoy the live TV. It shows prominent channels like Aaj Tak, Times Now, ET Now, etc. Also, it has a good collection of regional language and spiritual tracks that caters to the needs of all your family members.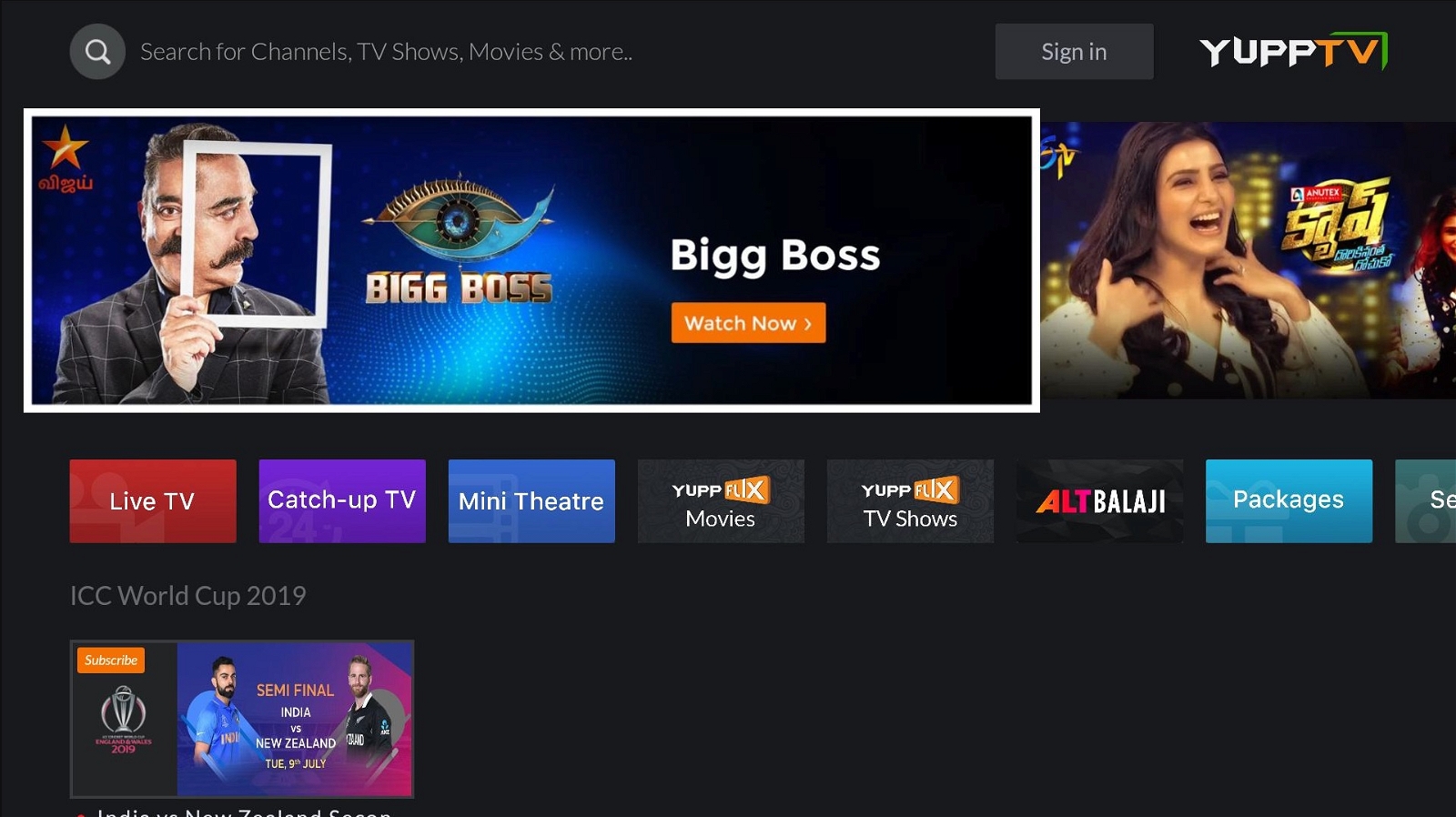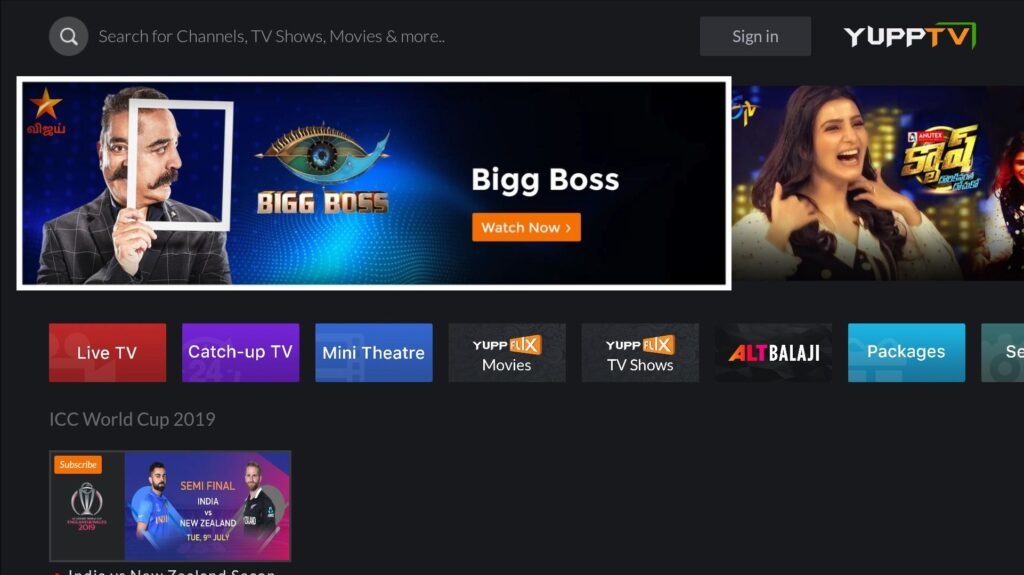 It has a good number of movie channels to sit by the weekend and enjoy them. Most are free channels that won't make you spend much money. However, it does come with ads, and you can take a subscription to get rid of it. 
---
Hulu is one of the amazingly designed apps widely watched in the west. It is available on Android TV for both live TV viewing and on-demand watching service. It has a good collection of TV shows, movies, and original content, making it a popular choice.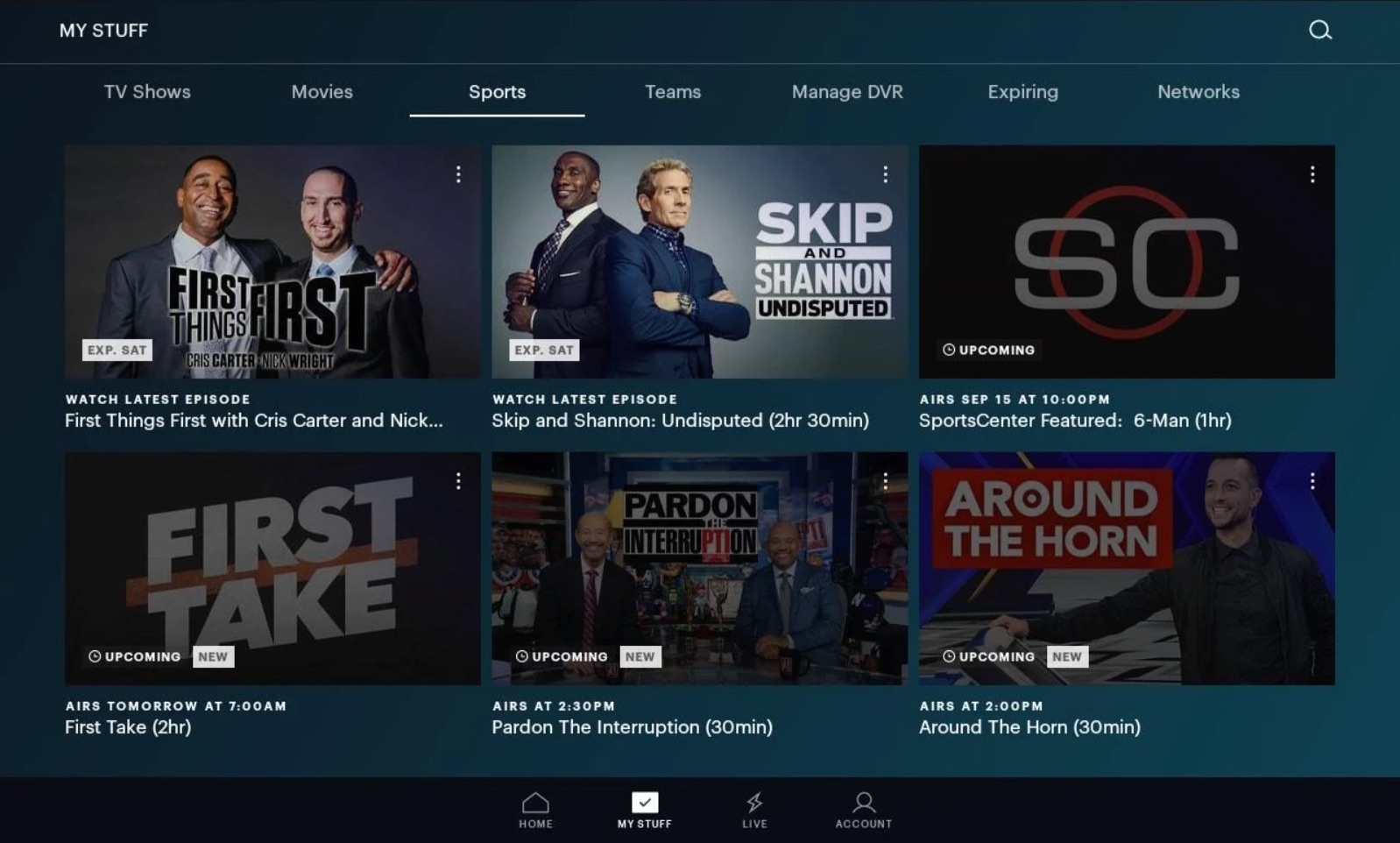 ---
Apart from content, a good app for your android TV is Send Files to TV. This app is one of a kind. Sometimes you want to transfer videos, pictures, music, etc., from other devices into your TV for viewing. At this time, you might look for a drive to share it.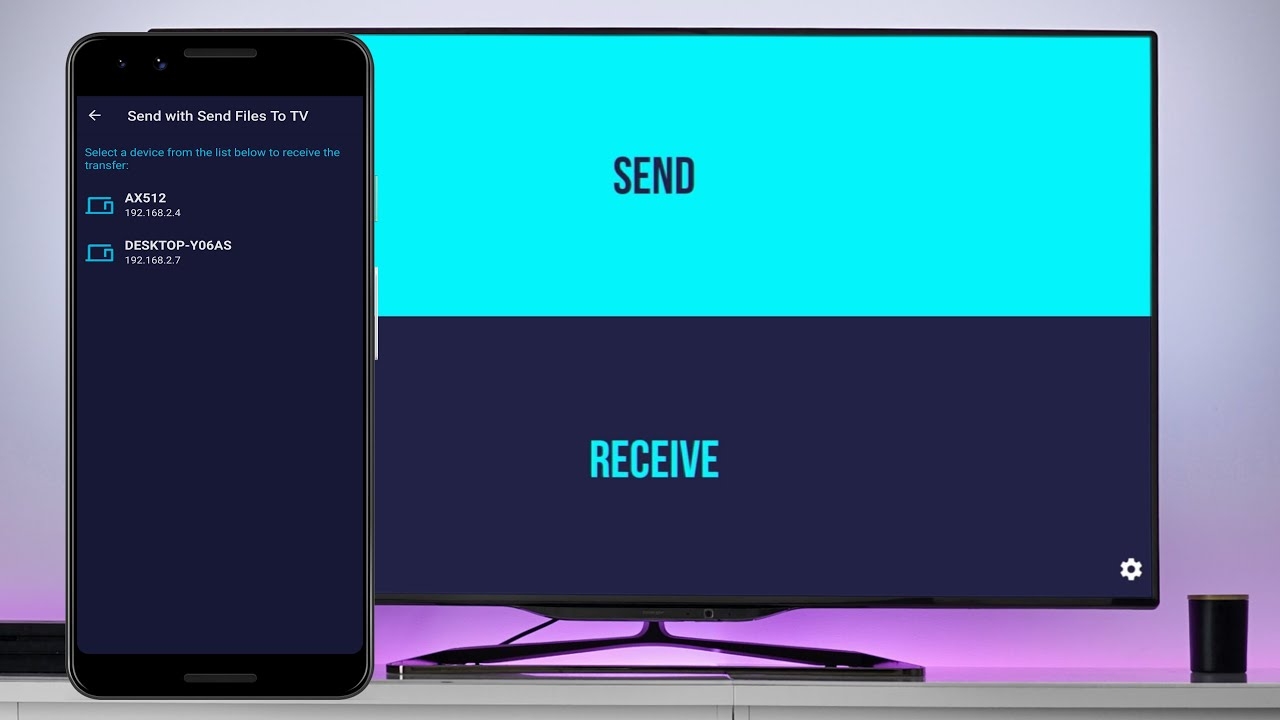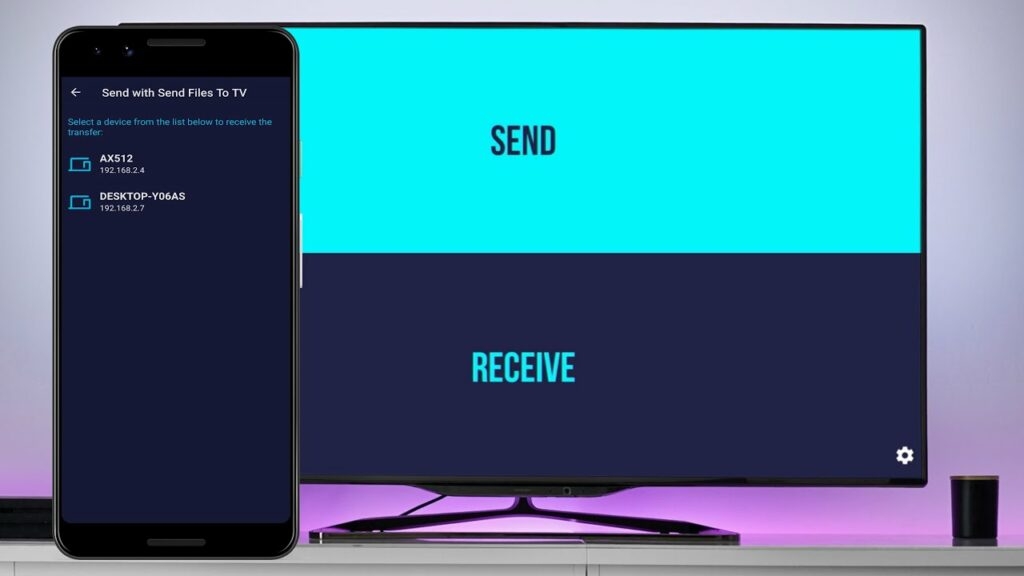 But, sending files to TV is an easy way to transfer content to your TV with the smooth wireless transfer of files. You need to install the send files to the TV app on your TV, smartphone, or other devices. Then you can make transfers through WhatsApp or other chatting apps. But you will need a good wifi network for this transfer.
In terms of reliability, it is a simple and easy-to-use app. Most of the transfers on this app are successful, and rarely will you get any failed attempts. This is particularly important when you want to transfer bulk content. So, when you wish to watch your videos or photos on a big screen, use this app, and you are good to go. 
---
Kodi is a powerful media server app for your Android TV. You can easily manage all your media and online streaming apps in one central place. So you can easily set up, access, and manage them.
At the same time, Kodi has various Add on features that make it a prominent android TV app. You can learn how to use the app through one tutorial link. Consequently, you can use it on different operating systems and enjoy media with the entire organization.
All the media content will be properly sorted and categorized by Kodi. It has additional features for a seamless viewing experience, and its versatile nature makes it a must-use app.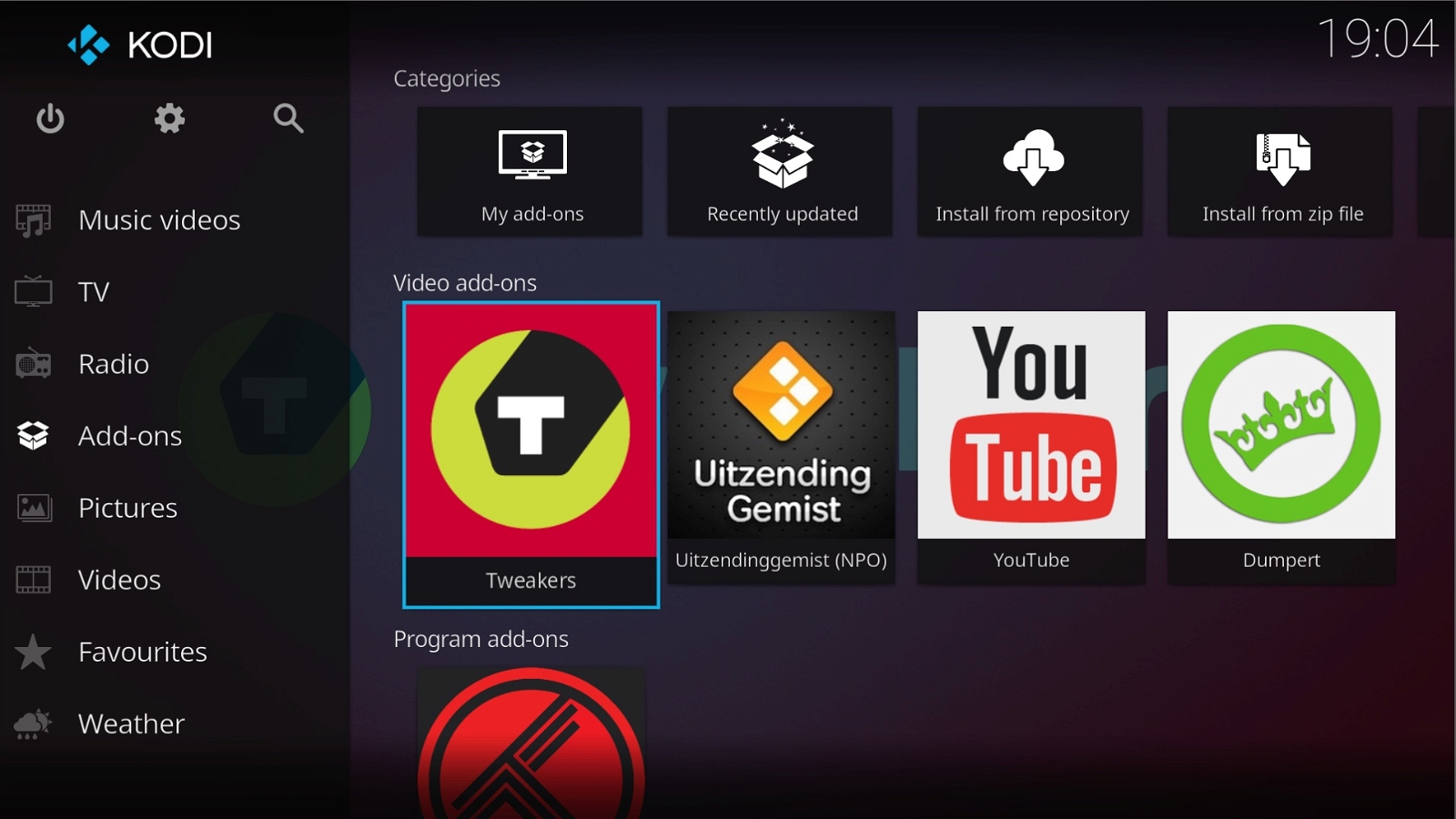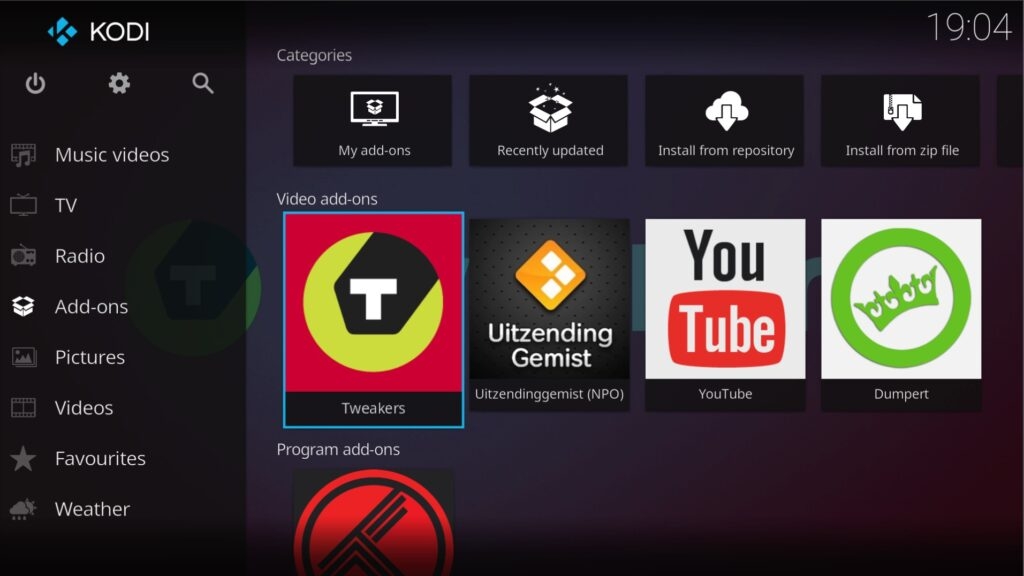 It is often difficult to manage different videos, photos, files, music, and streaming platforms on your android TV. To avoid this situation, Kodi is a  free, open-source media player that gives access to on-demand videos, live TV, News, Weather details, files, and much more. 
---
Like Kodi, another great media center app for your Android TV can be Plex. It does not have a wide range of plugins like Kodi, but this makes it simpler and easier to use.
It organizes all your media, videos, pictures, and streaming content in one place with simple access. Kodi might seem a little complex to use. In such a case, Plex has a simple user interface ideal for you when you are hurrying to access your content.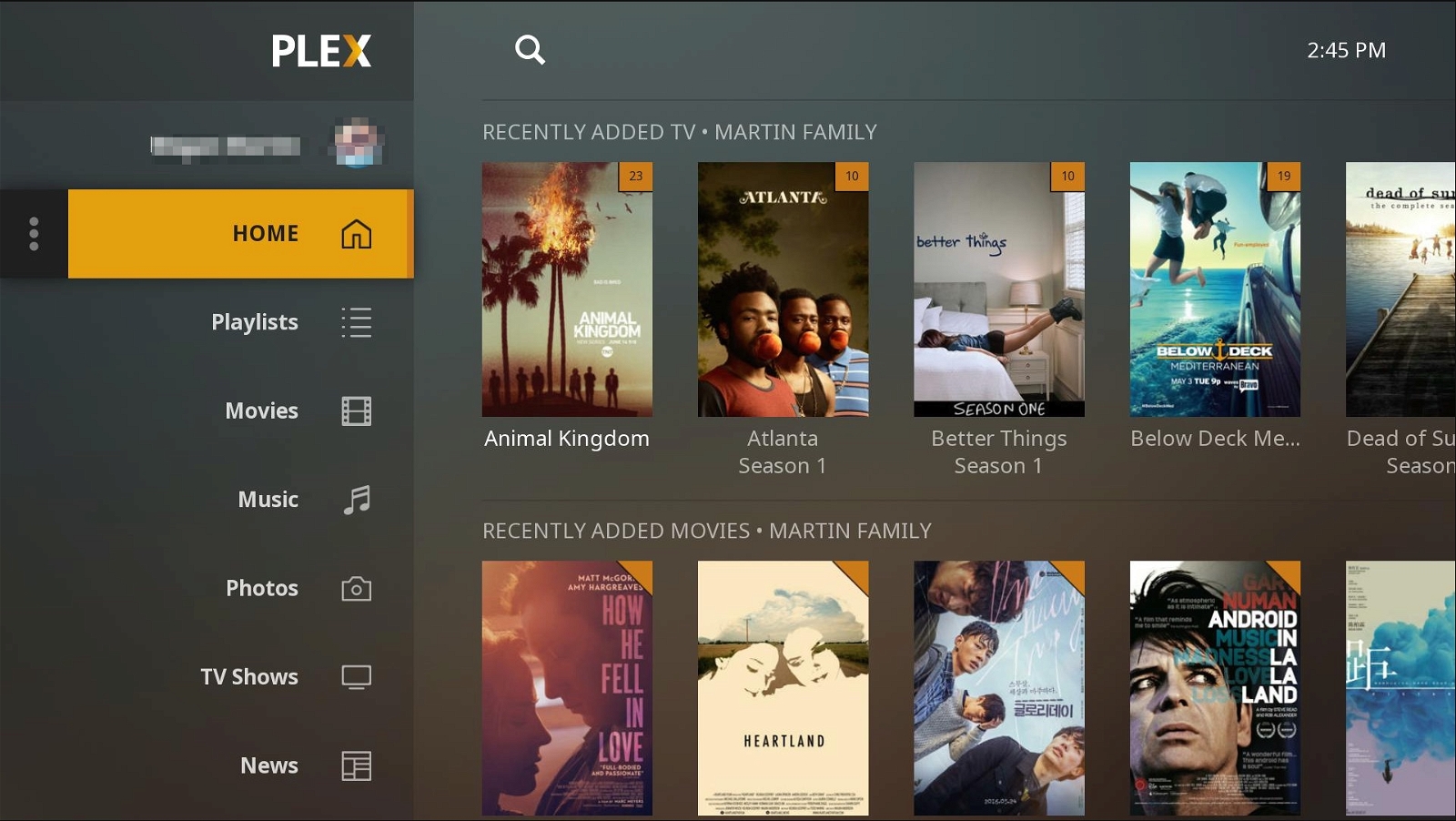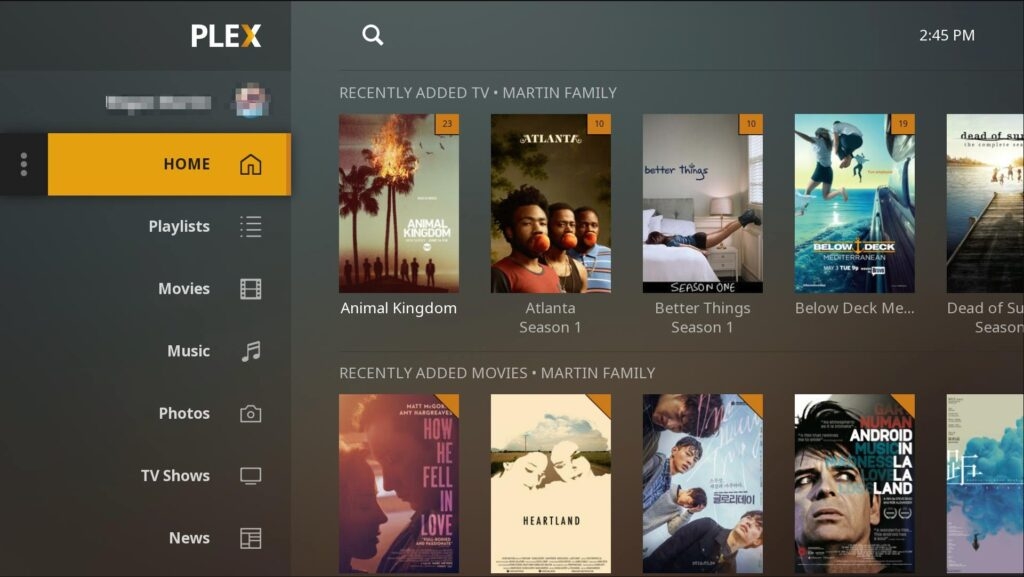 You will need a Plex server on your laptop that your TV can access. It requires good WiFi to work. After this, you can play any content directly on your android TV without having to sort and connect wires for transferring or spending hours sorting out things.
It is a free-to-use app with some in-app purchases. Another exciting part of this app is that it can download metadata, movie subtitles, and artwork of ratings too. 
---
As a rule of thumb, you must always have a file manager on your Android TV if you intend to load apps. This will be important to manage all your files, movies, songs, videos, pictures, documents, software, games, and nearly all other content or apps on your Android TV.
X-plore File Manager has a dual-pane approach for simple and quick transfers of an APK file. The transfer from your USB stick to your device's hard drive will be easy and smooth next time. It is free to use app that is a must for your android TV. 
---
Summing Up
Android TV is a product of developing technologies that have revolutionized how we watch TV. These apps mentioned above can be an ideal choice to take complete advantage and enjoy the broad capabilities of your Android TV.
These content streaming, File management/transfer, and media organization apps will simplify and enhance your experience of using Android TV like nothing else. 
Leave a Comment