Highlights
Threads and Twitter diverge in their purpose and format, with Threads emphasizing thoughts and views and Twitter focusing on quick, concise communication.
Threads offer a generous character limit of 500 per thread, allowing for more complex narratives, while Twitter restricts users to 280 characters, promoting brevity.
Twitter provides a robust messaging platform, enabling various forms of communication, while Threads solely relies on comments for interaction, fostering a different user experience.
TechLatest is supported by readers. We may earn a commission for purchases using our links. Learn more.
Threads and Twitter have grabbed users' attention worldwide with their distinct ways of communicating and interacting in the fast-paced world of social media.
While both cater to the skill of thinking and interacting with people, the difference resides in their format and purpose.
In this article, we look at some of the differences between Threads and Twitter, delving into the complexities of their capabilities and features and how they impact our online connections.
Whether you're a nerd social media user or a social media analyst, we discuss the opposing differences of Threads and Twitter and shed light on which is best for you.
Threads vs. Twitter, Major Differences
Threads and Twitter, although sharing the same digital social media environment, reflect separate identities in their purpose to encourage connection and expression.
While both platforms appreciate the simple art of text message sharing, their ideas and functionality are diametrically opposed.
Threads, a recent meta-developed app, embarks on an intimate storytelling journey, encouraging users to construct storylines through interwoven bursts of content.
Twitter, a long-standing pioneer of microblogging, relies on the quick interchange of real-time thoughts and information, where brevity is king. Here are the main distinctions:
Character Limit: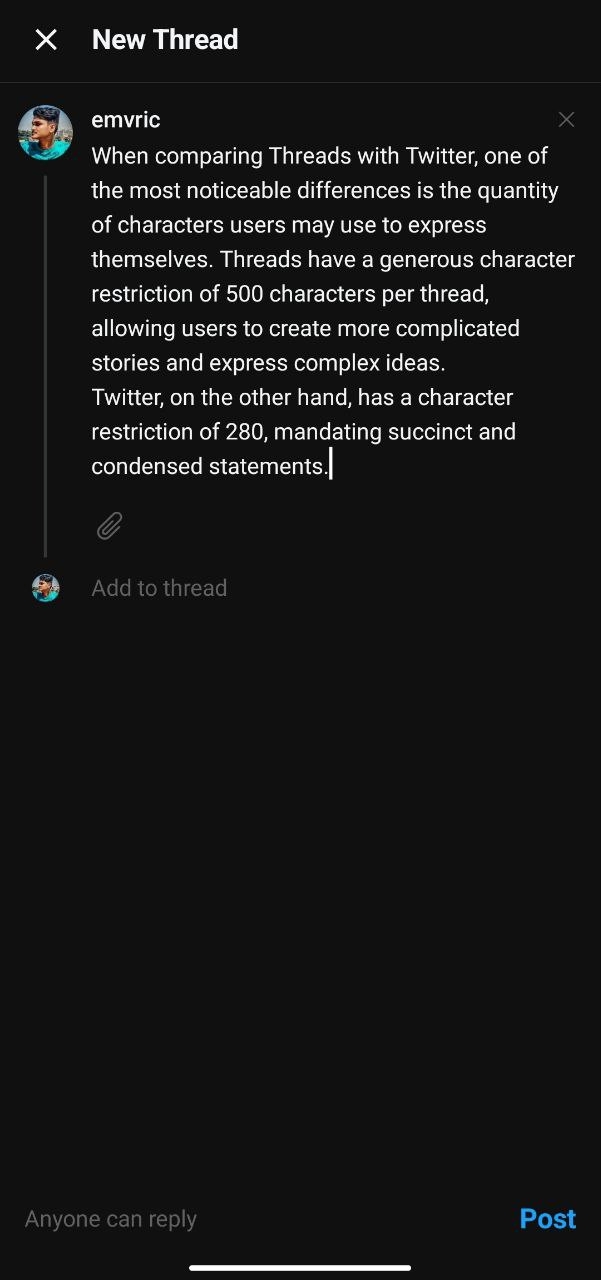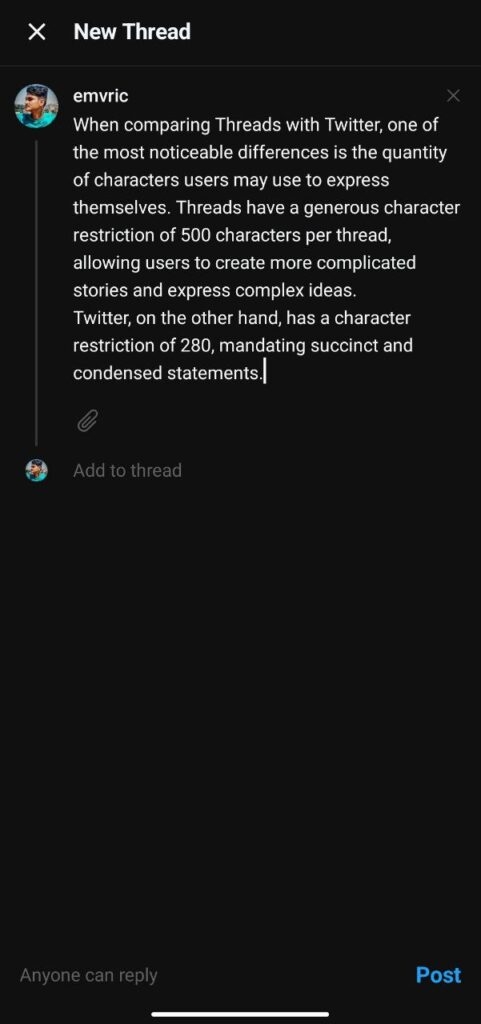 When comparing Threads with Twitter, one of the most noticeable differences is the quantity of characters users may use to express themselves.
Threads have a generous character restriction of 500 characters per thread, allowing users to create more complicated stories and express complex ideas.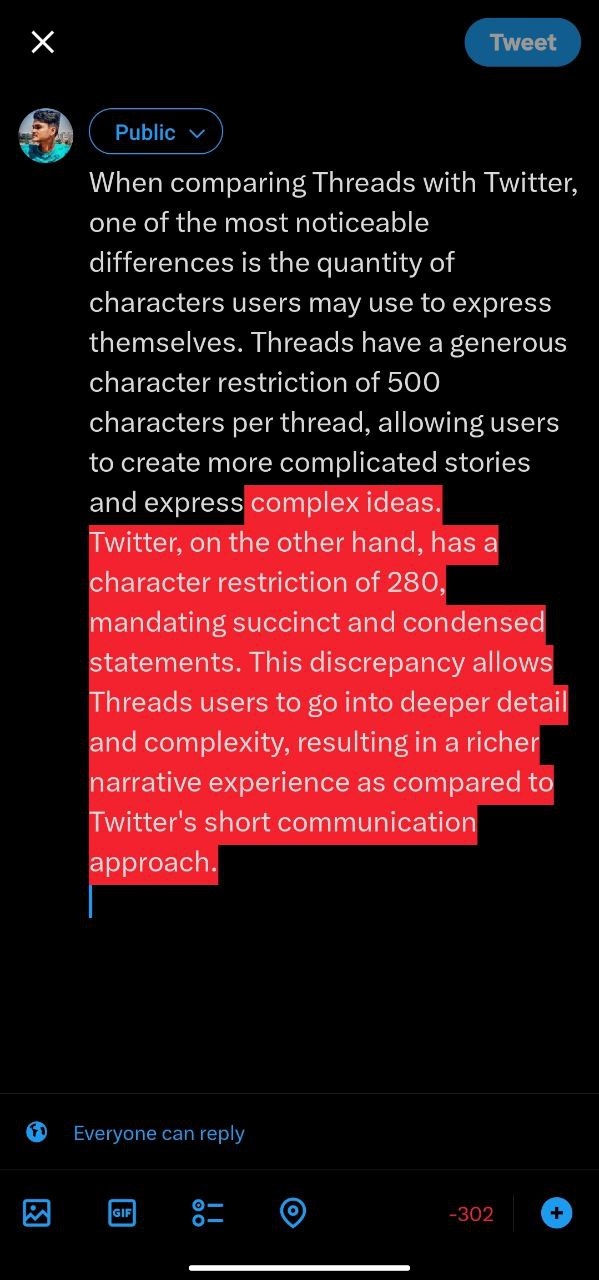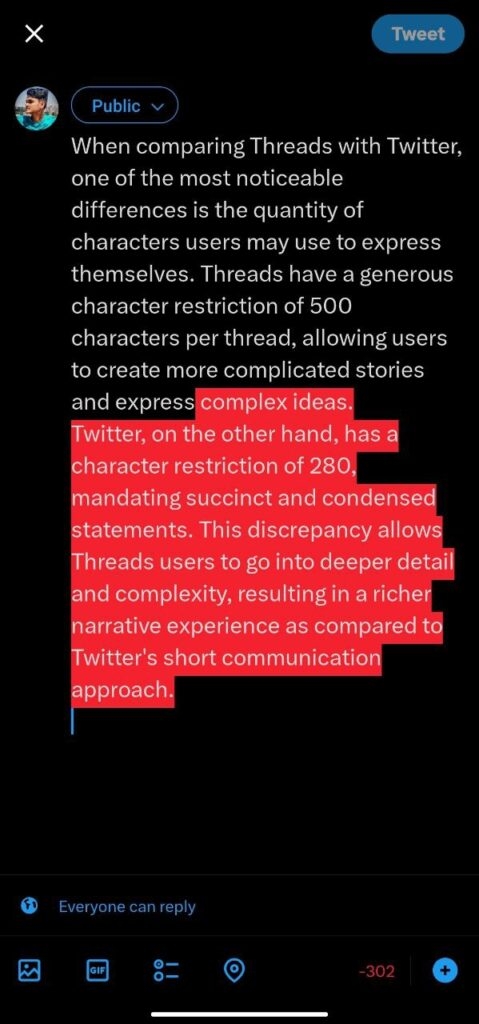 Twitter, on the other hand, has a character restriction of 280, mandating succinct and condensed statements. This discrepancy allows Threads users to go into deeper detail and complexity, resulting in a richer narrative experience as compared to Twitter's short communication approach.
---
Built In DMs
Another distinguishing feature is their communication capability. Threads lack an integrated messaging capability; therefore, users cannot send private messages to one another. Instead, they only interact by commenting on each other's blogs.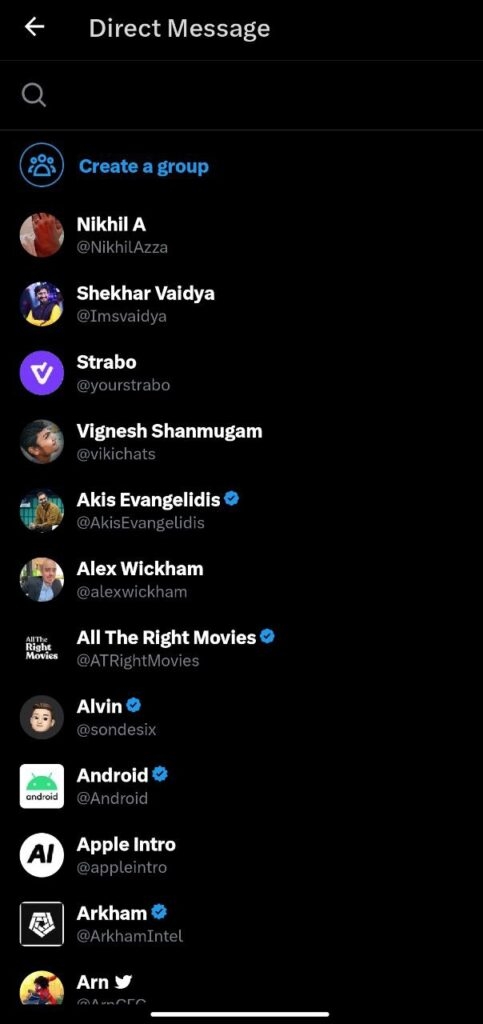 Twitter, on the other hand, provides a full messaging platform that allows users to interact in a variety of ways. They may text one another, share photographs and videos, and even exchange voice messages.
This striking difference in message functionality distinguishes Threads and Twitter, influencing the character of their separate user experiences.
---
Target Audience
Threads, with its emphasis on intimacy, provides users with a place to share intimate experiences, stories, and unique content with their closest circle of friends and family. It offers a welcoming environment where people may be themselves away from prying eyes.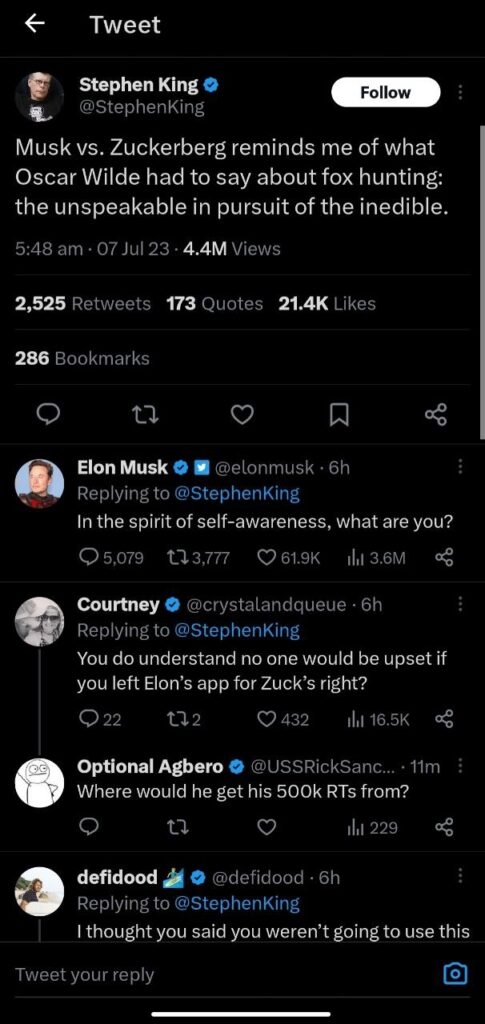 Twitter, on the other hand, is intended to be a lively marketplace of thoughts and ideas where individuals may freely express themselves to a larger audience. It thrives on the dynamic exchange of information, promoting dialogues, and connecting individuals from all backgrounds.
So, whether you're looking for a private hideaway for loved contacts or an open forum for expressing your thoughts, Threads and Twitter provide various ways to meet your social media demands.
---
Other Limitations
Twitter has recently adopted new limits that affect its users in a variety of ways: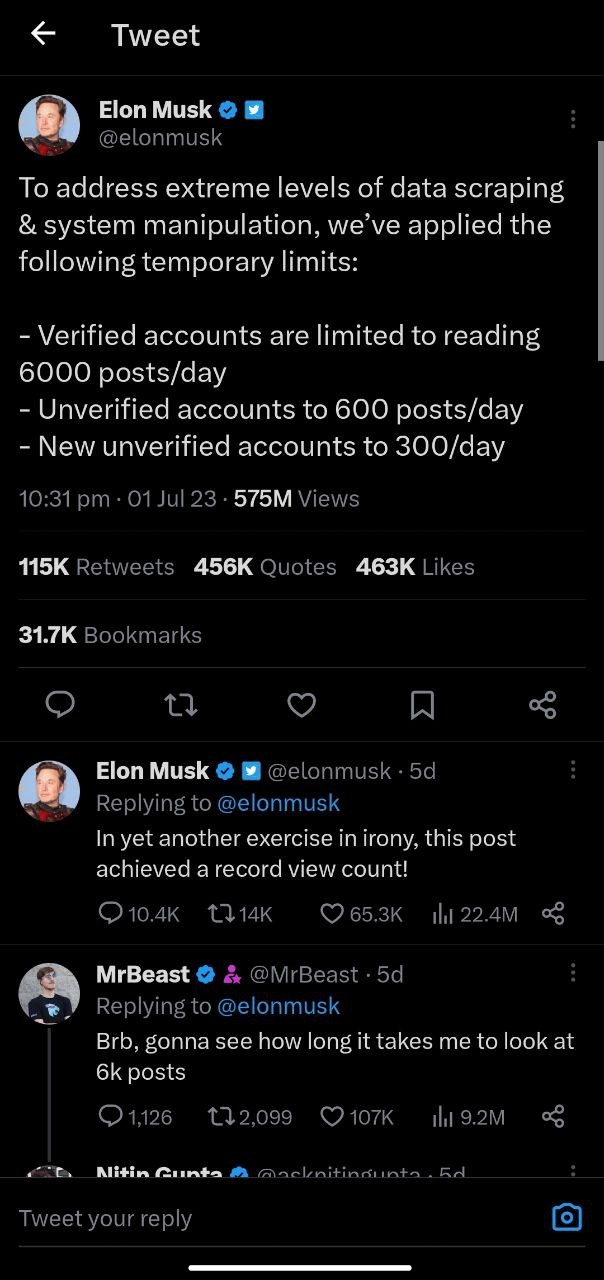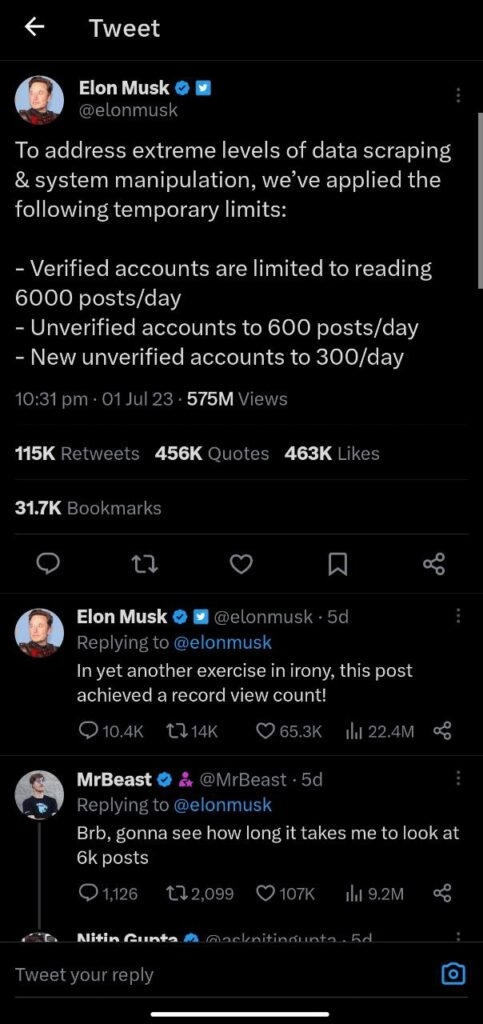 One notable constraint is the number of tweets that users may read every day. New unverified users were initially limited to 300 tweets per day, while unverified users were limited to 600 tweets per day, and verified users were limited to 6,000 tweets per day.
However, Twitter has recently increased the restriction, allowing new unverified users 500 tweets per day, old unverified users 1,000 tweets per day, and verified users a whopping 10,000 tweets per day.
Another change is the number of accounts that users may follow in a single day. This restriction, which was originally set at 400 accounts, has been increased to 1,000 accounts.
Finally, Twitter has imposed a change on the number of tweets that can be sent in a particular time window. Users were formerly limited to 20 tweets each hour, but they can now tweet up to 30 times every hour. These constraints influence the Twitter user experience, and knowing them is critical for properly navigating the network.
Threads vs. Twitter, Table of Differences
| Feature | Threads | Twitter |
| --- | --- | --- |
| Character Limit | 500 Characters | 280 Characters |
| Messaging | No | Yes |
| Features | Sharing to Instagram, close friends, and followers. | Global Audience |
| Audience | primarily Instagram users | Global Auidience |
| Plans and Pricing | Global Audience | Free, Twitter Blue |
| Availability | iOS and Android | iOS, Android, and Web |
---
Threads vs. Twitter Plans and Pricing
Although both Threads and Twitter are free services, Twitter offers paid subscription options known as Twitter Blue that allow users to enhance their experience.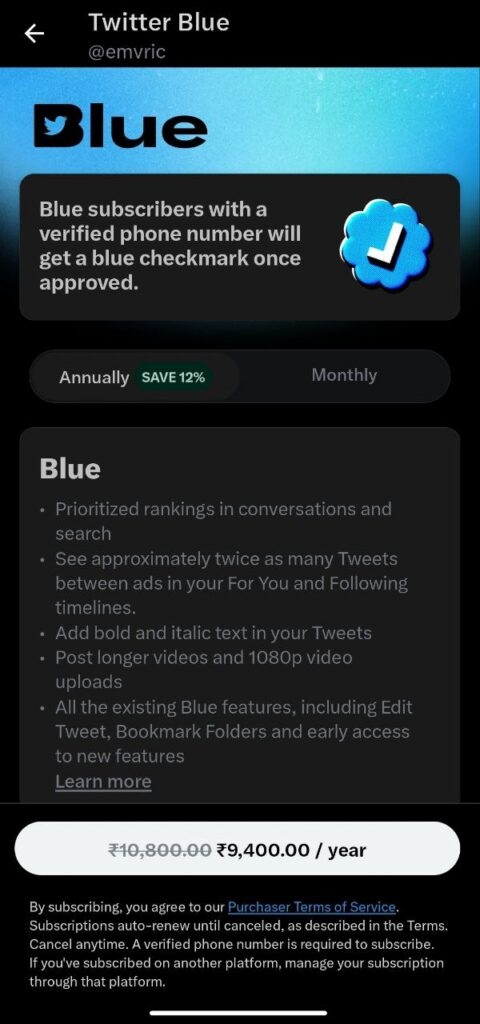 Twitter Blue has a few extra features, including:
The opportunity to personalize your Twitter experience with themes and other choices.
The ability to reverse recently sent tweets.
You may preview tweets before sending them.
Access to a dedicated customer service line.
On the other hand, Threads does not currently offer any paid subscription plans.
| Platform | Plan | Price | Features |
| --- | --- | --- | --- |
| Threads | – | Free of cost | Simple and all essential features |
| Twitter | Blue | $11/month | Experience without advertisements, customization choices, undo tweets, tweet previews, and customer support |
---
Threads vs. Twitter, Which is Right For Me?
Threads and Twitter are two social networking networks that let you send brief messages to your followers. However, some significant distinctions between the two platforms may favor one over the other.
Finally, the best social networking site for you will be determined by your unique demands and tastes. Threads is a wonderful choice if you want to share lengthier, more thorough thoughts and ideas with close friends and family. Twitter is a great option if you want to express your views and opinions with a larger audience and use tools like Fleets and messaging.
---
Wrapping It All
To summarize, Threads and Twitter take various methods of social media participation, catering to different interests and goals. Threads excel at offering an intimate narrative medium that fosters connections within a small group, whereas Twitter thrives on brevity and allows open expression to a wider audience.
The differences in character restrictions, communications possibilities, and target audience create the distinctive experiences provided by each platform. Twitter also provides more functionality via its premium membership option Twitter Blue.
Finally, the decision between Threads and Twitter comes down to personal tastes and requirements, with Threads functioning as a safe sanctuary for personal sharing and Twitter as a dynamic marketplace of ideas.
Read: Apple AirPods Pro with Hearing Health Features is Supposedly Under Development
Leave a Comment