Highlights
Apple Vision Pro is a highly anticipated mixed-reality headset that combines augmented reality (AR) and virtual reality (VR) experiences, offering users an immersive and natural interaction with their surroundings.
The headset features an impressive high-resolution display, comprehensive sensor array, and seamless transition between AR and VR through a dial, making it suitable for gaming, education, productivity, and creative endeavors.
While its powerful internals includes an M2 processor, 3D camera, and innovative features like Optic ID and audio ray-tracing in the operating system (visionOS), however, it comes with a hefty price tag of $3,499 and is expected to be available in early 2024 (in the US) and late 2024 (globally).
TechLatest is supported by readers. We may earn a commission for purchases using our links. Learn more.
The dramatic presentation of Apple Vision Pro, the company's long-awaited mixed-reality headset, stole the show at WWDC 2023.
Vision Pro has a really awe-inspiring aesthetic, boasting exceptional hardware capabilities and an unrivaled immersive experience.
To learn more, check out our detailed guide below, which covers all you need to know about Apple Vision Pro.
Read: WWDC 2023: Vision Pro, MacBook Air 15 & iOS 17 & More
Vision Pro: An Unmatched Mixed Reality Headset
What is Vision Pro?
Apple Vision Pro, an innovative mixed reality headset unveiled at WWDC 2023. This cutting-edge device merges augmented reality (AR) and virtual reality (VR), offering users an entirely novel means of engaging with their surroundings.
The Vision Pro headset boasts an impressive high-resolution display capable of showcasing both AR and VR content. Complementing this visual prowess, a comprehensive array of sensors enables seamless tracking of head movements, hand gestures, and even eye gaze. Consequently, users can enjoy an immersive and natural interaction with AR and VR experiences.
Designed to cater to a diverse range of applications, Vision Pro serves as an invaluable tool for gaming, education, productivity, and creative endeavors such as design and filmmaking.
Apple Vision Pro: Features and Specifications
Vision Pro is essentially a device for augmenting reality (AR), but it goes above and beyond by allowing users to smoothly transition between augmented and complete virtual reality (VR) experiences through a handy dial.
Unlike traditional controllers, the headset does not require one, allowing users to navigate between rows of app icons in a user-friendly operating system which is known as visionOS merely by directing their gaze.
Users may choose icons and traverse the user interface quickly by touching and flipping across the UI. Furthermore, the headgear includes speech recognition capabilities, allowing users to communicate with the device through voice commands.
Vision Pro is famous for its comprehensive interoperability with a large range of popular iPhone and iPad apps. Apple guarantees that the headset will support "hundreds of thousands" of these apps right away, giving its users a familiar and large software environment.
Furthermore, the headset has Bluetooth connectivity, allowing users to connect accessories such as the Magic Keyboard and Magic Trackpad, extending the available input choices. Users may also connect their Mac computer to the Vision Pro headset and enjoy Mac programs and functionality while engaged in the VR or AR experience.
The Vision Pro headset has downward-facing cameras that catch users' hand motions even when their hands are lower on their bodies. This feature improves natural interaction inside the VR/AR experience, allowing users to conduct a variety of activities and movements with ease.
The sophisticated features of Apple's new virtual reality (VR) headset promise an immersive experience. The headgear provides a connected experience unlike any other by revealing your eyes and producing a breathtakingly lifelike avatar.
You may experience the actual world in bright colors while simultaneously projecting three-dimensional things into your surroundings because of its passthrough video functionality. FaceTime users may be placed as video tiles with spatial audio to provide an exciting and interactive conversation experience.
Apple Vision Pro: Design
The Vision Pro headset is visually appealing, having a glass front and an aluminum frame. It makes use of cutting-edge technology, such as five sensors and twelve cameras, to provide a very immersive experience. Each eye receives a 4K display, delivering excellent visual quality.
Furthermore, the headset has an excellent cooling system with a fan that effectively distributes the heat created by the internal components, assuring maximum performance.
To provide users with a comfortable and customizable fit, Apple has developed a modular mask called the "Light Seal" and a strap called the "Head Band." These components have been painstakingly created with comfortable fabric inside and adjustable features to fit a variety of facial shapes and head sizes.
The ribbed build of the Head Band gracefully wraps around the back of the head, allowing for the simple interchangeability of different band sizes and styles to accommodate individual tastes.
Apple cooperated with Zeiss to build unique optical inserts that smartly magnetize to the headset's optics in order to meet the demands of those who wear glasses. This clever technique allows users to experience the gadget without the need for glasses.
Apple Vision Pro: Internals
Furthermore, the helmet has an additional battery with a lasting life of up to two hours. The battery is connected to the headset by a flexible braided cable, allowing users to carry it in their pockets. Alternatively, the headset may be connected to an external power source for continuous use throughout the day.
Apple emphasizes the display's outstanding clarity, offering an immersive visual experience capable of presenting breathtaking 4K video content.
This extraordinary headgear is powered by Apple's famed M2 processor, which is known for its great performance and economy. Furthermore, the system has an innovative processor known as the R1, which improves the device's overall functioning.
The headgear also has a cutting-edge 3D camera for shooting immersive films. Users may access a wide variety of material, including TV series and games from Apple TV and Apple Arcade, as well as special premium Disney products.
Despite some setbacks, this highly anticipated item is projected to become an important addition to Apple's product lineup, competing directly with Meta's Quest 2 and Quest Pro headsets.
visionOS: Giving Life to the Vision Pro
VisionOS, a revolutionary operating system created exclusively for spatial computing, is a unique breakthrough that effortlessly blends the virtual and real worlds.
VisionOS gives a seamless and consistent visual experience by utilizing the Vision Pro's powerful cameras and sensors, combining floating user interface components that can be interacted with effortlessly.
In addition, the operating system makes use of audio ray-tracing technology to provide an extraordinarily realistic soundtrack within the augmented reality environment.
The following are some of the VisionOS's primary features:
Spatial Computing: VisionOS is the first operating system designed from the ground up to enhance spatial computing. It makes the most of the Vision Pro's diversified camera and sensor array, allowing for seamless integration of the virtual and actual worlds. This convergence brings up a wide variety of opportunities for novel applications.
3D interface: VisionOS has a completely immersive three-dimensional user interface that displays apps in a spatial context. Users may interact with these programs using their eyes, hands, and voice, resulting in a more natural and engaging engagement than traditional 2D interfaces.
Optic ID: An innovative privacy and security feature of VisionOS, Optic ID ensures authentication by utilizing the distinguishing characteristics of your iris. This simple solution allows for quick access to devices and apps while also improving overall data security.
Audio Ray-Tracing: VisionOS incorporates audio ray-tracing, ensuring an extremely realistic soundtrack within augmented reality scenes. Whether the sound is generated by virtual things or not, you will be immersed in a completely realistic audio world that surrounds you from all sides.
Apple Vision Pro: Pricing and Availability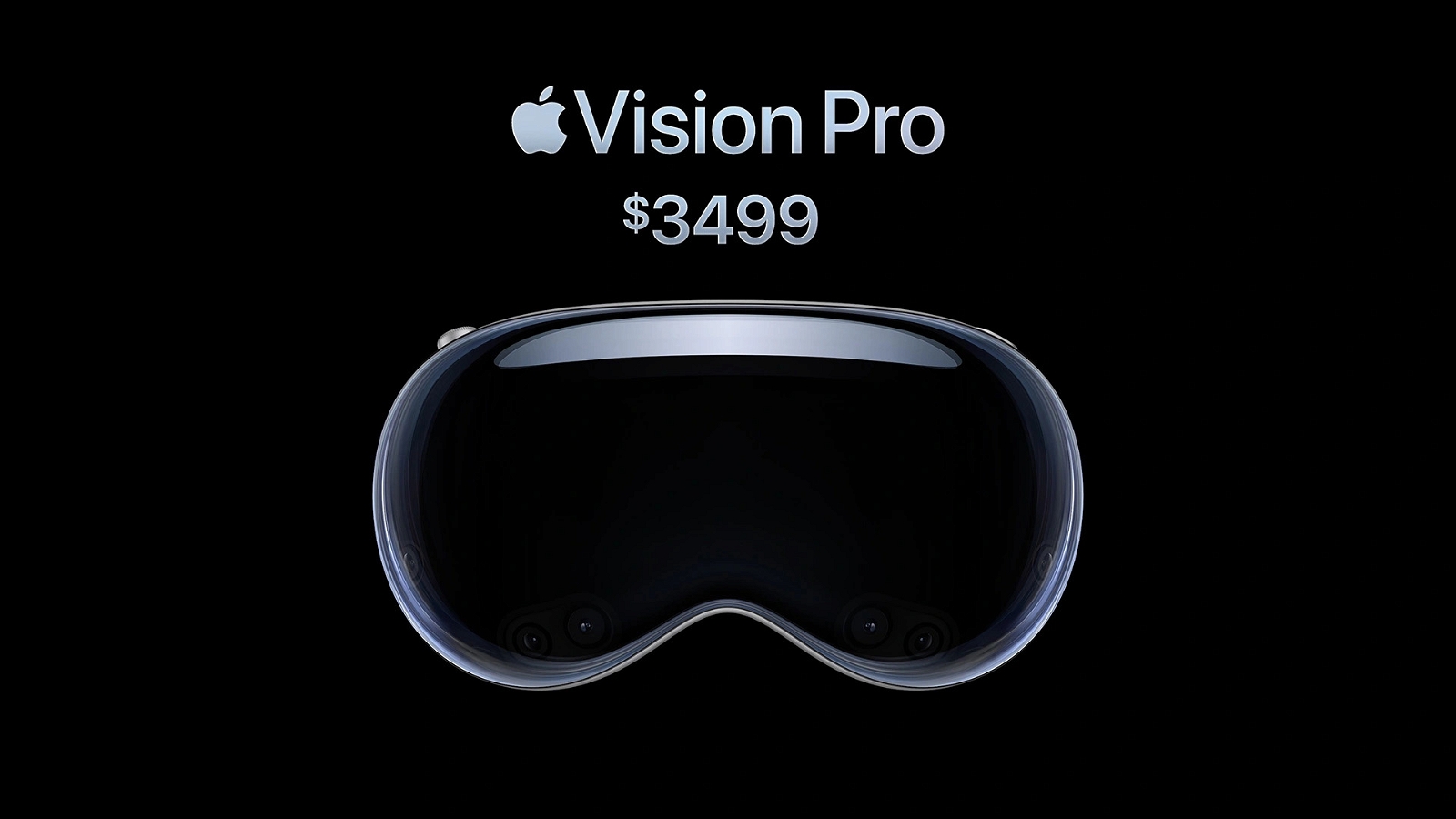 The Apple Vision Pro is a feature-rich and technologically advanced headset that has established itself as one of the most astounding items of this decade. As a result, it is prohibitively expensive.
Customers will need to spend $3,499 to get their hands on the Vision Pro headset. Apple has revealed that the headgear would be available in the United States in the early months of 2024. Customers outside the United States will have to wait until late 2024 for the Vision Pro to become available on the global market.
Wrapping it All
To summarize, the Apple Vision Pro is a powerful mixed-reality headset that mixes augmented reality (AR) and virtual reality (VR) experiences. It has a high-resolution display as well as powerful sensors for sensing head motions and gestures as well as eye gazing.
The headgear is intended for use in a variety of settings, including gaming, education, productivity, and artistic efforts. It has a user-friendly operating system called visionOS, which enables users to explore and interact with the interface via gaze, touch, and voice commands.
The headset works with popular iPhone and iPad apps, Bluetooth accessories, and Mac computers. The Vision Pro gives an immersive and lifelike experience thanks to its elegant design, comfortable fit, and configurable settings.
The headgear, however, costs $3,499 and is planned to be accessible in the United States in early 2024, with global availability following later that year. Overall, the Apple Vision Pro seems to be a game changer in Apple's product range, competing with other VR headsets on the market.
Leave a Comment