Highlights
At WWDC 2023, Apple unveiled its long-awaited mixed-reality headset called Apple Vision Pro. This headset, priced at $3,499, is set to be released in the US "early next year." 
It's a standalone device that runs on its own visionOS operating system, meaning you don't need an iPhone or MacBook to use it. However, it's worth noting that you will still need an iPhone or MacBook for audio functionality.
In this article, you'll find all the answers to your questions regarding Apple Vision Pro. So keep reading!
TechLatest is supported by readers. We may earn a commission for purchases using our links. Learn more.
Apple Vision Pro launch has settled. While this is definitely an exciting, expensive addition to the world of mixed-reality headsets, it also raises a lot of questions.
For example, what's Apple Vision Pro? Does it work with glasses? Is it possible to interact with people while wearing the headset? To help clear up some of the confusion that may arise, we've gathered the most popular questions about Vision Pro and answered them below.
Please note that this list of questions is not exhaustive, and we are actively seeking further details from Apple regarding the Vision Pro. Once we have all the official information, we will provide you with more answers.
Now, let's dive into the internet's burning questions about the Apple Vision Pro!
Apple Vision Pro: 14 Questions Answered from Features to Age Requirements
Here are some of the most frequently asked questions regarding Apple's Vision Pro, along with the answers.
What Is Apple Vision Pro?
Apple Vision Pro is a highly anticipated mixed-reality headset, and it's their first major new product category in eight years. This special headset combines augmented reality (AR) and virtual reality (VR) to give you an amazing and immersive experience with your surroundings. With the headset, you can feel like you're part of a different world.
What makes Vision Pro unique is how you control it. Instead of using buttons, you can use your eyes, hands, and even your voice to interact with the headset.
Tim Cook, Apple's CEO, said it's the first Apple product you look through and not at. He described Vision Pro as "spatial computing" and "a powerful new dimension to personal technology."
The Vision Pro has a really clear display that shows things in great detail. It also has special sensors that make everything feel more realistic.
You can easily switch between AR and VR using a simple dial. That means you can use it for playing games, learning new things, getting work done, or even expressing your creativity. The Vision Pro is an amazing device that will definitely grab people's attention.
---
How Does Apple Vision Pro Work?
The Apple Vision Pro is a remarkable headset that lets you control your computer without using a controller. It uses cameras, sensors, and microphones to create an immersive computing experience that you can operate with your hands, eyes, and voice.
The Vision Pro has front-facing cameras that capture the real world and show it on the two internal lenses, giving you incredible detail. According to Apple, these lenses provide more pixels than a 4K TV for each eye. It also has side and downward-facing cameras that track your hand movements. For example, you can click by touching your thumb and forefinger together.
What's really cool about the Vision Pro is its eye-tracking feature. Inside the headset, there are special cameras and LED illuminators that track your eyes. This means you can simply look at things like app icons or small details to highlight them. Then, you can type using your fingers or voice.
To put it simply, the Apple Vision Pro combines advanced technology and intuitive controls to deliver a truly immersive and hands-free computing experience. It's a game-changer in user-friendly computing.
---
Does Apple Vision Pro Work With Glasses?
No, Apple Vision Pro doesn't work with glasses. You won't be able to wear your glasses while using the headset because your eyes need to be close to the inner lenses for accurate eye tracking.
However, Apple has partnered with Zeiss to address this issue. They have created custom optical inserts that can be magnetically attached to the headset's lenses for those who wear glasses. These inserts come in various prescriptions, allowing you to find the one that suits your needs.
Keep in mind that the optical inserts are an additional expense and are sold separately from the headset. Apple has not disclosed the pricing details yet, but they assure that the inserts will provide vision correction without compromising the display quality or eye-tracking performance of the headset.
Also, note that not all prescriptions are supported, and you'll need a valid prescription to obtain inserts.
---
Does Vision Pro Run iOS or macOS?
No, the Vision Pro does not run iOS or macOS. Instead, it uses its own special software called "visionOS." This software was created specifically for spatial computing, which means it's designed for interacting with three-dimensional (3D) visuals.
While visionOS is similar to macOS and iOS at the basic level, it includes an extra part called a "real-time subsystem" that helps process the interactive visuals on the Vision Pro.
Apple has also stated that there will be a dedicated App Store for the Vision Pro. The apps available for the device will be optimized for the 3D interface, so they will work differently compared to how they function on iPhones.
Additionally, visionOS takes advantage of features like eye tracking and Optic ID on the headset. This allows users to use Apple Pay and autofill passwords while using Vision Pro. Apple has assured users that their data won't be shared with anyone without their permission.
---
Does Vision Pro Need Controllers or a Mouse?
No. Apple Vision Pro does not need a controller or mouse like a regular computer. Instead, you use your eyes, hands, and voice to control it.
This headset has a group of 12 different cameras and sensors that track your hand gestures and eye movements. To select something, you just look at it and tap your fingers.
For typing, you can use a virtual keyboard that appears on the screen or speaks out loud, and the Vision Pro will type what you say.
---
Is Apple Vision Pro a Standalone Device?
Yes. The Vision Pro is a standalone device with its own operating system called visionOS. It doesn't rely on an iPhone or MacBook to function, which is why it's referred to as a "spatial computer."
However, using an iPhone or MacBook with the Vision Pro will bring certain benefits. For example, you'll need a TrueDepth camera if you want a personalized audio profile for the headset.
In addition, MacBook users get a cool feature: a large virtual display that appears above their actual screen, something not available on other laptops.
In other words, while you can use the Vision Pro without other Apple devices, having an iPhone or MacBook will enhance the overall experience and provide additional benefits.
---
Can I Interact With People Around Me While Wearing Apple Vision Pro?
Yes, you can interact with people around you while wearing the Apple Vision Pro headset. The headset has a feature called EyeSight that reveals your eyes and lets those nearby know when you're using apps or fully immersed in an experience.
When someone approaches, Vision Pro lets you see the person and reveals your eyes to them at the same time. This way, you can easily stay connected to those around you while still enjoying the immersive experiences that the headset offers.
In addition to EyeSight, the headset also has a number of other features that make it easy to interact with people around you. For example, you can use voice commands to control the headset or use your hands to interact with virtual objects.
This means that you can still have conversations, take notes, and do other things that require you to interact with the physical world while wearing the headset.
---
Does Vision Pro Require Headphones?
No, the Apple Vision Pro does not require headphones. It has built-in speakers called "audio pods" that provide spatial audio. That means the sound will come from different directions in your environment.
To give you a personalized spatial audio experience, Apple designed these audio pods with two individually amplified drivers. So, you can enjoy immersive sound directly from the Vision Pro without wearing additional headphones.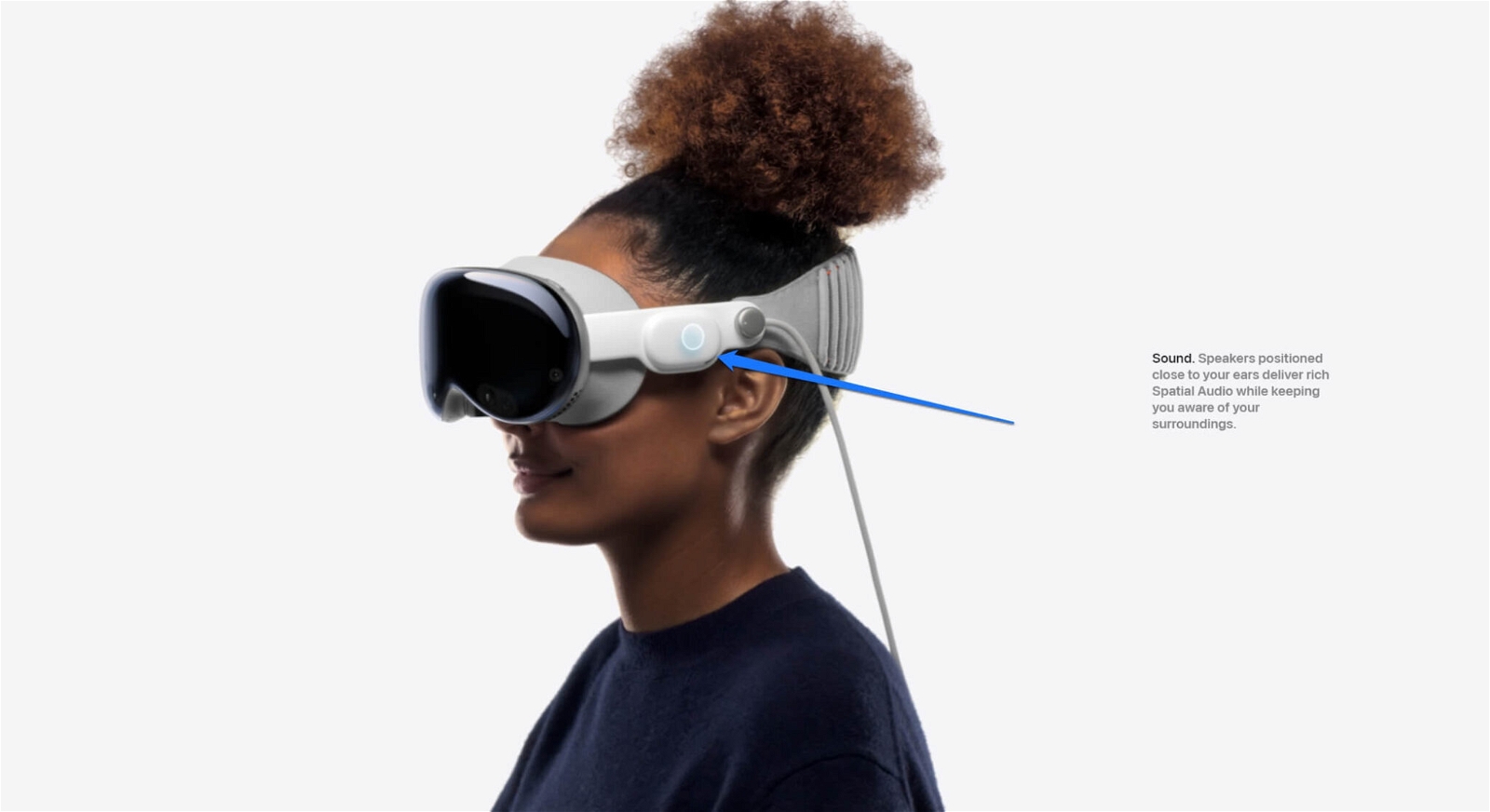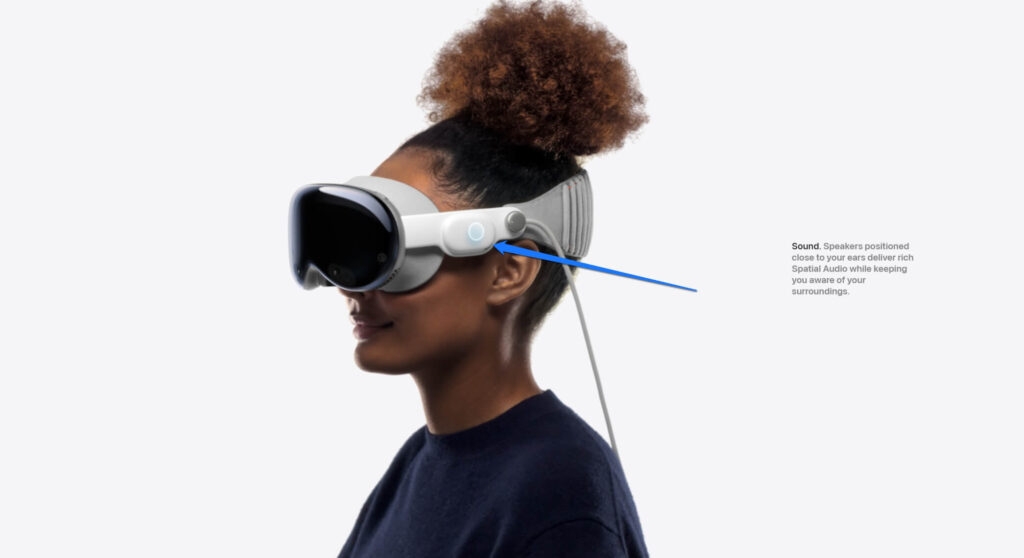 It's especially helpful when watching movies or playing games. If you prefer headphones, the Vision Pro is also compatible with Bluetooth headphones.
---
Is Apple Vision Pro Wireless?
The Apple Vision Pro is mostly wireless but has some wired components. It comes with a charging cord that attaches to the side of the headset for convenient power. Once connected, it can run all day like a desktop computer.
Additionally, the headset has a separate battery pack located away from the main body. You don't have to carry the weight on your neck. This design ensures comfort during extended use.
---
How Long Does the Battery Last?
The battery life of the Apple Vision Pro headset is around 2 hours, requiring periodic recharging. To achieve a lightweight design and ideal fit, Apple opted for an external battery pack.
This sets it apart from headsets like the Quest Pro, which have internal batteries that add weight and bulkiness, making them less comfortable for prolonged use.
---
Is the Vision Pro Water-Resistant?
As of now, Apple has not released any information about the water resistance of the Vision Pro. So we don't know if the headset has a water resistance rating.
---
Who Can Use Vision Pro? Is There An Age Requirement?
Yes. The Vision Pro headset is recommended for users 13 and older. That means this remarkable device is not intended for younger children.
---
How Much Does an Apple Vision Pro Cost?
The Apple Vision Pro will start at $3,499. The cost will go up if you need prescription lenses. It will be available in early 2024, initially in the US market and later in other countries.
---
When Can I Buy Apple Vision Pro?
The Apple Vision Pro headset is expected to be released in early 2024. Initially, it will be sold only in the United States, but Apple plans to make it available in more countries later on.
So, if you're in India, you can expect to buy the Vision Pro around the middle of next year or possibly by late 2024.
---
Bottom Line
So these are the most commonly asked questions about the Apple Vision Pro on the internet, and we provided concise answers to each.
Apple Vision Pro is a powerful new spatial computer that offers users a truly immersive and interactive experience. With its ultra-high-resolution display, advanced Spatial Audio system, and flexible input system, Vision Pro is poised to revolutionize the way we use technology. It can be used for gaming, productivity, creativity, and more.
If you are interested in learning more about Apple Vision Pro, stay tuned for our next article on Apple Vision Pro.
And if you have any other questions, feel free to leave them in the comments below. We're always ready to help!
Further Reading:
Leave a Comment