Highlights
The tech giant launched its first AR/VR headset named Apple Vision Pro.
Apple launched a new & updated Mac, i.e., Macbook Air, Mac Studio & Mac Pro.
Apple introduced new features for iOS17, TVOS10, macOS Sonoma, iPadOS17 &  WatchOS10.
TechLatest is supported by readers. We may earn a commission for purchases using our links. Learn more.
It is that time of the year when Apple hosts the WWDC. As you may already know, the World Wide Developer Conference is an annual event where Apple announces a slew of upgrades and new features and unveils new products (sometimes).
The 2023 WWDC is no different, as the Cupertino giant announced several upgrades & new features on the software side and an entirely new product launch.
In this article, we'll take a look at Everything that Apple announced & launched at its 2023 WWDC event
Apple Vision Pro
After years of being in the rumor mill & getting delayed, Apple has finally launched the much anticipated Augmented reality/ Virtual reality/ Mixed reality headset. Well, its company is trying to provide a Mac experience through the headset, and Apple calls it a "Spatial computer."
When you wear it, apps & windows appear visually in the space that the user has already occupied, and the user controls the apps by simply looking at them, tapping your fingers to browse through them and clicking your wrist to scroll, or simply using voice to dictate, the company calls it visionOS.
The Vision Pro is powered by Apple's own M2 chip[set for computing purposes and the new R1 chipset that processes input from the 12 cameras, five sensors, and six mics that ensure content appears before the user's eyes.
There's Optical ID for security and 2-hour battery life, and the Vision Pro is priced at $3,499, and it will be available early next year in the U.S.
Read: Vision Pro- Apple's First Spatial Computer (AR Headset)
Moving on, Apple announced upgrades to the Macs,
Macbook Air 15
Apple launched a new model in its MacBook Air series, i.e., The Macbook Air 15. The Macbook Air 15 sits between its two siblings, i.e., the 14-inch Macbook Air and the 16-inch MacBook Pro.
MacBook Air 15 features a 15.3-inch display, up to 24GB of unified memory & 1TB SSD & 18 hours of battery life. It starts at $1,299 / ₹1,34,900.
Read: Apple Unveils MacBook Air 15 with Apple M2 SoC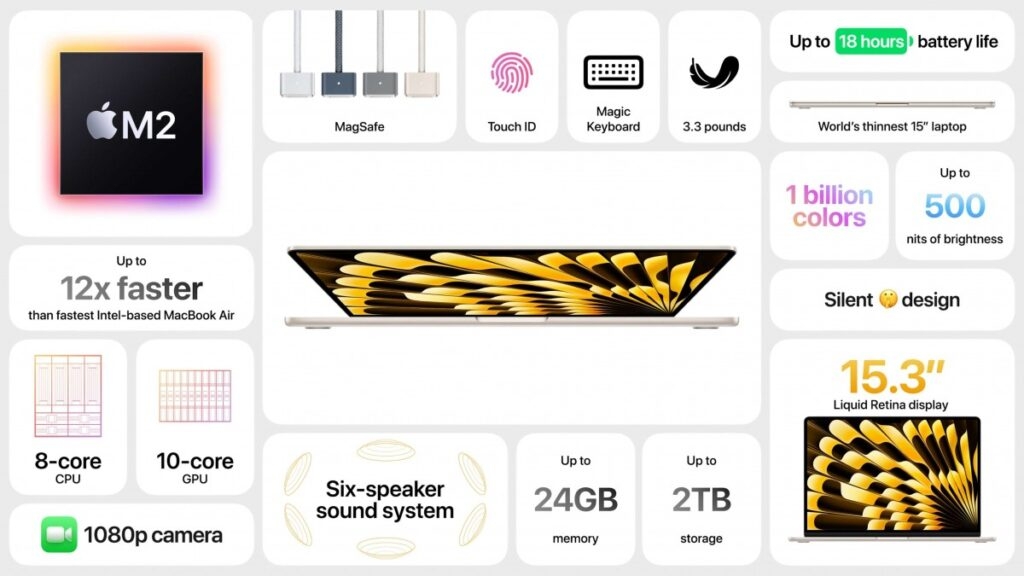 Mac Studio
The company also upgraded the Mac Studios, which brings M2 Max & M2 Ultra, by the way, which was also introduced in WWDC 2023 event.
The Mac Studio features a 12-core CPU, up to 38 cores of GPU, 96GB of unified memory, and 400 GB of memory bandwidth.
Mac Studio with M2 Ultra features a 24-core CPU 76 core GPU with 192GB of unified memory & 8000GBs of memory bandwidth.
Mac Studio with M2 Max is 50 percent faster than the old Mac studios and is 4x faster than the intel-based 27-inch iMac.
The Mac Studio with M2 Ultra is up to 3x faster than the previous generation Mac Studio with M1 Ultra and up to 6x faster than the 27-inch intel-powered iMac. The Mac Studio with M2 Max starts at $1,999, and Mac Studio with M2 Ultra starts at $3,999
Mac Pro
At the WWDC event, Apple finally unveiled the Mac Pro, aka cheese grater. Well, the most expensive Mac is finally getting the company's chipset.
The base Mac Pro features M2 Ultra Soc, a 24-core CPU, a 60-core GPU, and a 32-core Neural engine with 64GB of unified memory and 1TB of SSD storage. Mac Pro starts at $6,999 / ₹7,29,900.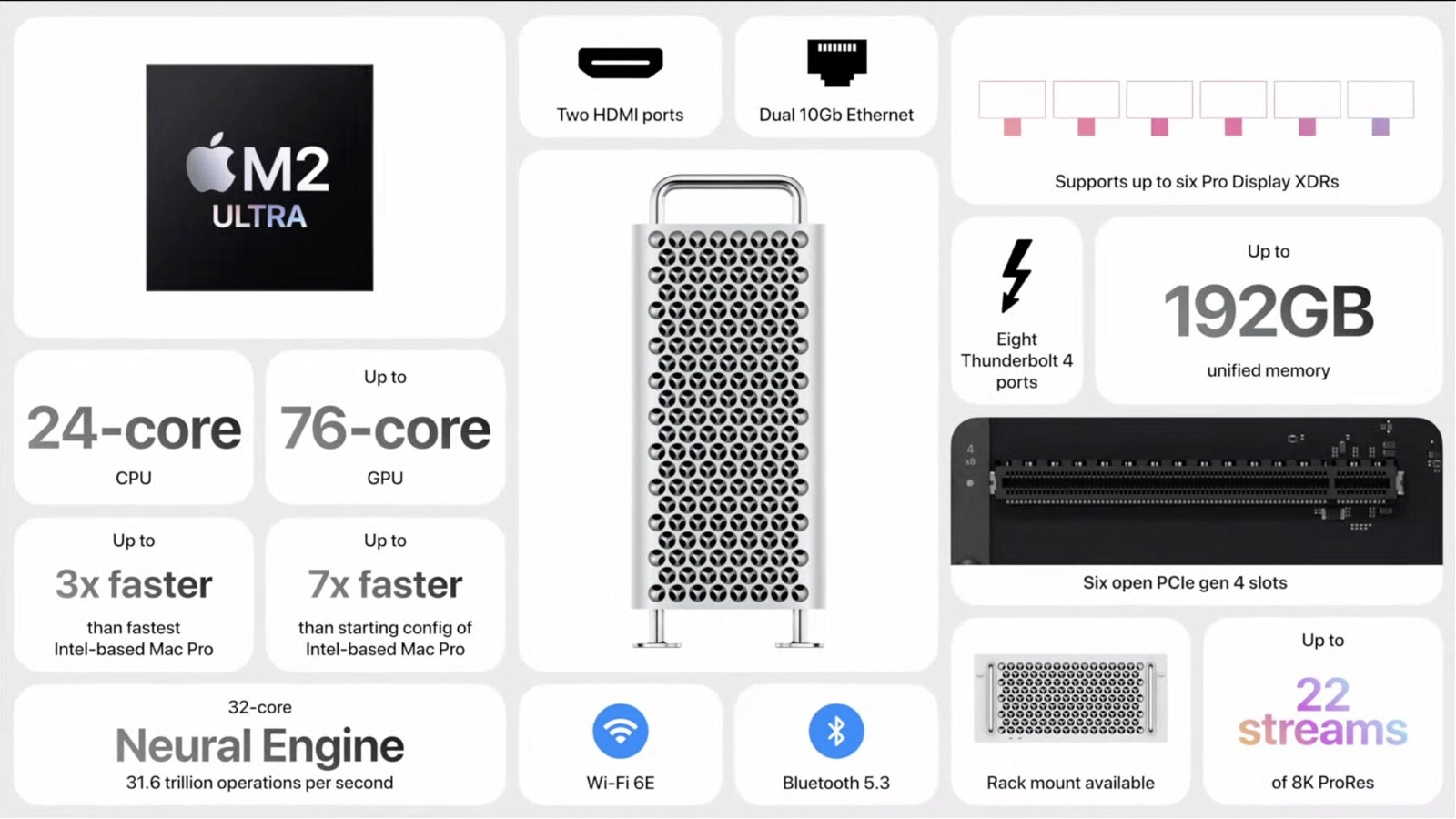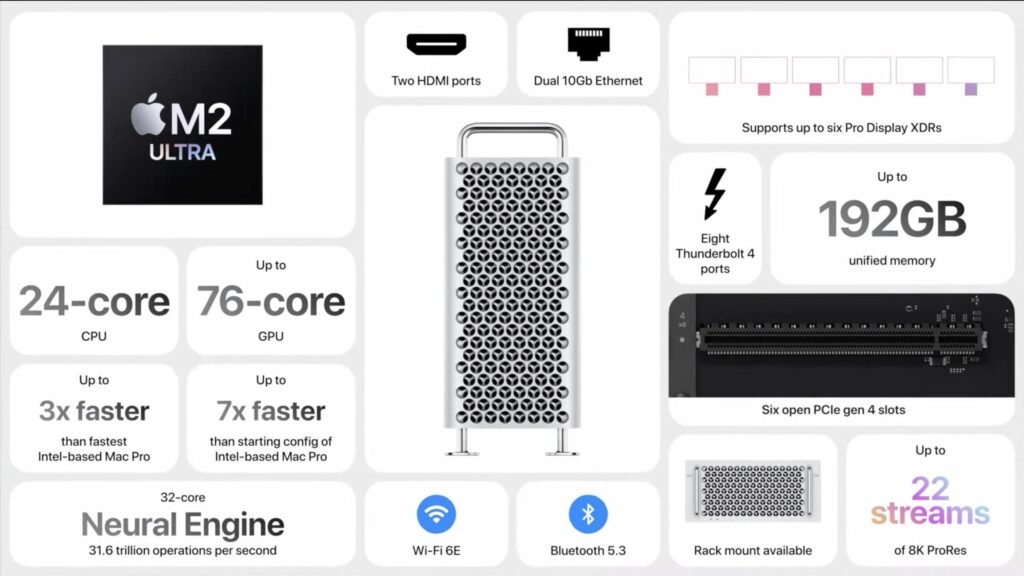 Now, let's take a look at the new features that the company announced on the Software Side of things
iOS17
Moving away from the Physical announcement, iOS 17 received a slew of new features; let's take a look at what's coming in iOS 17.
Several phone apps, like Phone, Messages, and Facetime, all received new features.
Real-time transcription in Voicemail – In iOS 17, users will be able to receive real-time voicemail transcription with a new voicemail feature
Customize Lock screen – Users will be able to customize the design how their screen looks of each individual in their contact list when they receive a call from them
Video messages in Facetime – In iOS 17, users will be able to leave video messages in Facetime if the other person doesn't answer the call.
Live transcription for audio messages – Users will be able to see the live transcription of the audio message they have received.
Stickers – Users will now also be able to turn live photos into stickers for the app.
Check-ins – You will be able to send automated texts & do checks-in to let the family members know of their location when they get to a certain location.
AirDrop – Airdrop also received some love in the form of new features. Now users will be able to share files & media by putting their iPhones in close range of each other. Similarly, users will also be able to share contacts in the same way with the new NameDrop feature.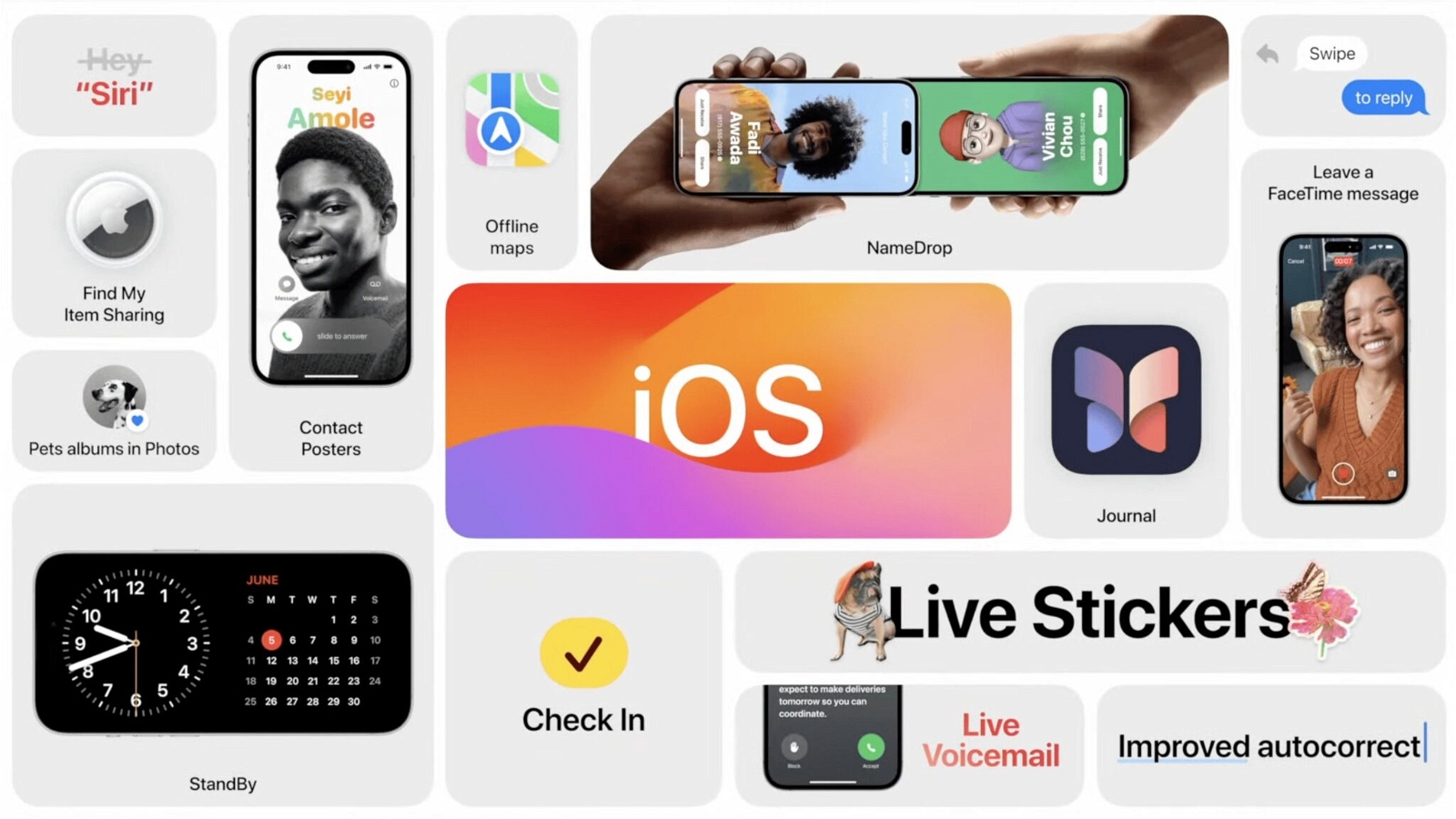 Standby – The tech giant also introduced a new feature called Standby which brings real-time updates, monitoring & status checks for everything, such as weather, sports, etc., when the user is not using the phone.
This is not all, as Apple also announced a brand new App called Journal.
Journal – The journal will use machine learning to generate prompts & give a suggestion to help users to keep their journals up to date. The app brings in photos, travel history & more into the app as well.
iPad OS17
Well, most of the iOS 17 features are also making way to the iPadOS, and it also brings the new customize lock screen & Health app to the iPadOS 17.
Although there are some iPadOS-specific features too, such as Widets & PDF documents.
Customizable Widgets make their way to iPads as well. Users will now be able to widgets to the home screen, track real updates & more.
The iPad will now be able to identify fields in PDF, fill names, etc. & users will be able to view PDF in Full Screen.
WatchOS10
Apple has completely redesigned the Ui with the WatchOS 10 as it introduces Smart Stack widgets that focus on users. Users can set up widgets for upcoming meetings, favorite podcasts, tasks & more.
WatchOS 10 also introduces health-related features. In WatchOS 10, there are new ways for cyclists, runners & hikers to connect their Apple watches to other Bluetooth sensors. Alongside these, WatchOS 10 also brings a mindfulness app.
MacOS Sonoma
Just like iOS17, iPadOS17 & WatchOS 10. macOS Sonoma also received the Widgets too. Widgets will no longer have a separate screen; users will be able to put widgets on the home screen itself.
Safari is also getting an update as now users will be able to split their browsing from their work browsing and also will be able to make standalone web apps for Safari.
Presenter Overlay- simply allows the host a presentation with a sideshow displayed behind their video. Also, it does not require any app.
There are also noteworthy changes to Airpods & Apple TV.
Apple AirPods received new features in the form of Adaptive Audio, Personalised volume, and Conversation awareness.
Apple TV with the new TVOS17 will receive an important feature in the form of Find My Remote. TVOS 17 also gets the FaceTime feature
Using the continuity camera feature, users will be able to make Facetime calls from AppleTV.
Leave a Comment