Highlights
Voice assistants have become part of our daily lives as AI and natural language processing take over the world.

It has redefined how we interact with technology through its remarkable AI voice assistant, VoiceGPT.

We rely on it to help us with various tasks and provide personalized experiences because of its capability to understand and generate natural language. 

So, if you want to know more about VoiceGPT.us, this guide will help you. 
TechLatest is supported by readers. We may earn a commission for purchases using our links. Learn more.
It has taken a long time for artificial intelligence to reach the stage it is at today. Various AI platforms are available in the market, including ChatGPT, Midjourney AI, etc., each offering its own features.
However, surprisingly, a voice assistant is available on ChatGPT itself, which you can even use to create your own audiobook.
Well, VoiceGPT.us is one of the widely used voice assistants that you can use to get answers easily just by speaking to it within a few minutes.
So, if you want to know about VoiceGPT.us, then make sure to read this article all the way until the end. Therefore, let's get started with the guide. 
What is VoiceGPT.us?
For OpenAI ChatGPT (Chat GPT) users, VoiceGPT.us is the ultimate voice assistant and Android chatbot application. Using ChatGPT is just like communicating with a human, just by talking.
You can input text or voice and output written or spoken messages. Moreover, ChatGPT can automatically detect and respond to texts from images with OCR support. 
---
How Does VoiceGPT Work?
VoiceGPT works in two steps: input processing and response generation.
#1. Input Processing:
In order to interact with VoiceGPT.us, a user interacts through a variety of devices, including smartphones, smart speakers, or computers equipped with microphones.
After the audio data has been captured, automatic speech recognition (ASR) is used to convert it into text.
With automatic speech recognition, machine learning algorithms translate spoken words into text that AI models can analyze.
#2. Response Generation:
InvoiceGPT's AI model processes the transcribed text using its deep learning algorithms based on the transcribed text.
In order to understand the context and semantics of the user's request, the machine learning model employs its pre-trained knowledge honed on a vast corpus of text data.
When AI models comprehend intent, they generate contextually appropriate and coherent responses.
Because VoiceGPT is heavily pre-trained on multiple text sources like books, articles, and websites, it can produce human-like responses. By learning grammar, syntax, and context before it responds, it is able to construct more relevant and coherent responses.
---
What are the Features of VoiceGPT?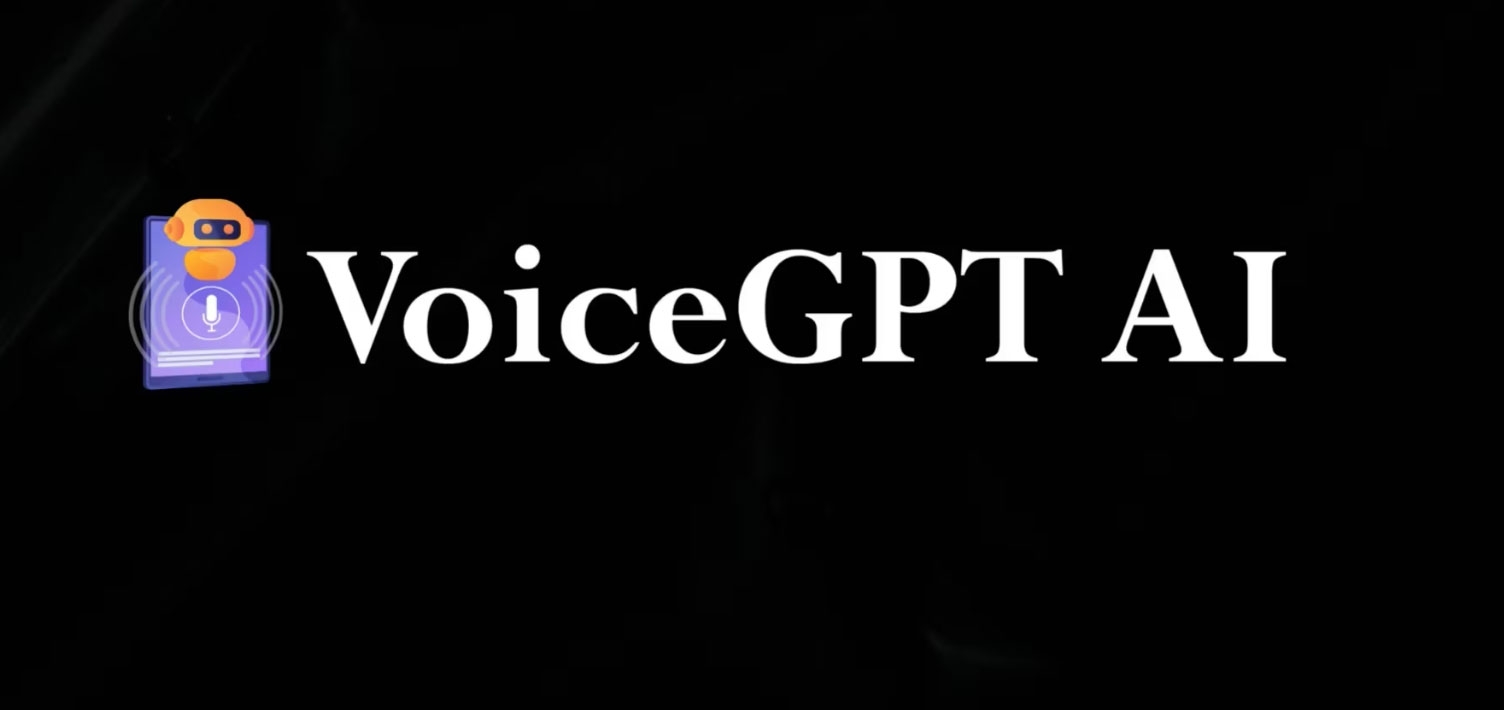 #1. Unlimited Free Messages: ChatGPT allows you to send and receive unlimited messages.
#2. A professional, cloud-based platform: VoiceGPT.us AI offers a range of features that enhance user experience through a professional, cloud-based platform. VoiceGPT AI allows you to create voiceovers, audiobooks, sales copy, email, and ad copy.
#3. Platform Powered by ChatGPT4 Version: ChatGPT4 offers enhanced natural language processing capabilities, making it an ideal choice for platforms powered by ChatGPT4. By doing this, voice responses can be tailored to meet the user's specific needs and be more accurate.
#4. ChatGPT4 Powered Real Human & Emotion Based Voice Over Feature: With VoiceGPT AI, your voice will be matched to your emotions. Your voice assistant will be able to express emotions such as happiness, sadness, and excitement through a natural, human-like voice. Using this feature helps make the user experience more engaging.
#5. 1 Million DFY Articles With Full PLR License: A database of 1 million articles with full PLR license is included with VoiceGPT AI. In this way, you won't have to worry about copyright issues when using the articles in your content.
#6. There are no limitations – it is absolutely free: Using VoiceGPT.us AI without limitations does not have any restrictions whatsoever. Hence, it makes a great solution for businesses that need to create unlimited content without spending a fortune.
#7. Integrated "Social Sharing" Feature To Gain Unlimited Traffic: You can also share your content on social media via the platform's social sharing feature. By doing this, you will be able to increase the reach of your website or app and increase the amount of traffic.
---
How to Get Started with VoiceGPT?
Here are the steps you need to take to get started with VoiceGPT:
Step 1: Download and Install the App
On your Android device, search for "VoiceGPT.us" in the Google Play Store. Install the app. (or you can visit its official website, https://voicegpt.us/, and register there)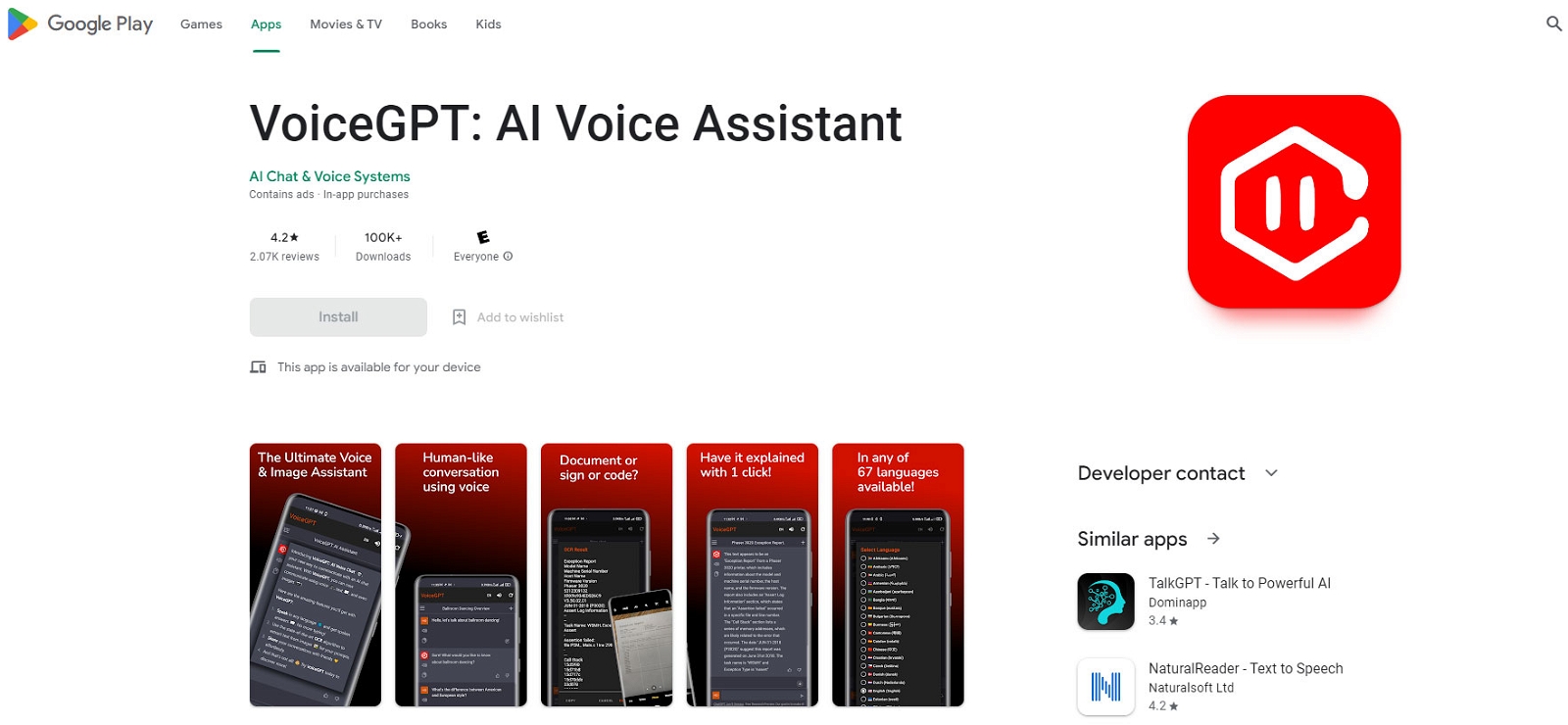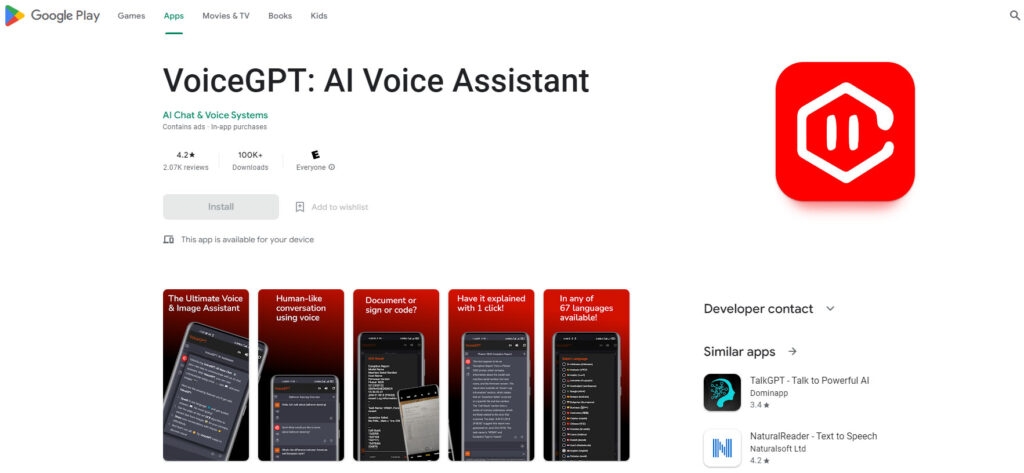 Step 2: Grant Necessary Permissions
To utilize the microphone and other essential features of the app, open the app and grant the required permissions.
Step 3: Log in with ChatGPT Credentials
If you already have one, you can log in with your current ChatGPT credentials. If you do not have an account, create one.
Step 4: Enable Voice Inputs
Using VoiceGPT requires voice input, which can be enabled by clicking the microphone icon in the bottom menu.
Step 5: Activate InstaBubble
Using a floating icon, you can quickly access VoiceGPT with Show InstaBubble.
Step 6: Start Conversing
Using the powerful GPT model, VoiceGPT will take your question or command and generate a response.
Note: To use VoiceGPT, you need an invitation code. To get an invitation code, you will have to visit its forum and ask other users.
---
What is the Future of VoiceGPT?
There are many exciting possibilities and challenges in the future of VoiceGPT:
#1. Improved Accuracy and Understanding:
Using AI research, VoiceGPT's understanding of user intent and generating appropriate responses should continue to improve over time. With this continuous improvement, users will experience a smoother and more intuitive experience.
#2. Integration with IoT and Smart Devices:
With VoiceGPT, users will be able to control a broader range of smart devices via voice commands through the Internet of Things (IoT) ecosystem. Using this approach, the smart home experience could become more efficient and interconnected.
#3. Multimodal Interaction:
It is possible for AI assistants to understand and respond to both spoken and visual input through the integration of voice and visual input. In this way, we would be able to interact with artificial intelligence in a more natural and context-sensitive way.
#4. Ethical AI Development:
There will be more focus on ethical development and risk mitigation in the future of VoiceGPT and similar AI systems. In order to ensure the responsible use of AI technology, stricter regulations and guidelines may be established.
---
Sum Up
So, that's all we have for you about VoiceGPT. We hope that this guide has helped you. But if you need more information about this topic, feel free to comment below. 
Further Reading:
Leave a Comment