Highlights
Wall-mounted PC designs are one of the most remarkable ways to install a system indoors.
While you are thinking about how it looks, then it's incredible. Besides, indeed it has its advantages and disadvantages.
We have covered you all whether you are thinking of how it would look or want one to take an idea for your next custom build.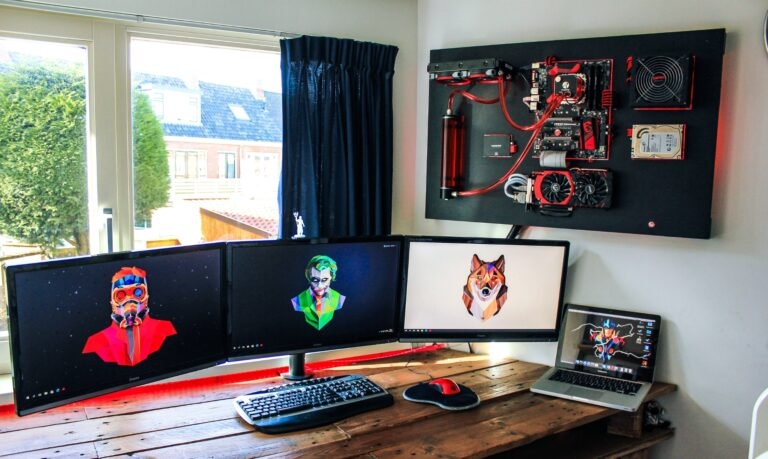 TechLatest is supported by readers. We may earn a commission for purchases using our links. Learn more.
Do you want a space-saving PC that's sleek and stylish in appearance? Would you prefer it to have a remarkable design? If yes, then you would think of some wall-mounted PC Examples!
These help with both of the above reasons and help you with more customization. So, their unique design and appearance would be a great inspiration when you think of building a custom PC like that for gaming or other hard-core tasks.
You can utilize your ideas, modify them and create the best ones! So, without any further ado, let's proceed further.
Top 7 All-Time Wall-Mounted PC Examples
There are plenty of wall-mounted PCs from various forums, social media, and other platforms. Some help you seek inspiration, while the rest would be blissful for your eyes.
Let's check the best ones below!
1. Aesthetic Black and Blue
How about an incredible Black and blue Wall Mounted PC that looks stunning on Wall? Well, that's what this PC is about!
However, to avoid too much bright and extra shiny Blue light, this one instead has minimal light. Due to such lighting, it is pretty elegant.
Further, though it's one of the earliest models available, yet too modern in appearance.
Regarding the hardware, this one has an Intel core in-920 and a GTX 590. It won't overheat much as it also has a water cooling system. Besides, it's noteworthy that since it dates back to 2014, so its setup is simpler than most others.
---
2. Steampunk Style Wall Mount
Would you love to see a vintage setup with steam-type machinery inculcated in a Wall-Mounted PC? Well, as the name Steampunk implies, this wall-mounted PC features that design. Its eye-catching design and systematic setup are what add more appeal.
Chris Howell has carefully planned its setup, so he didn't need to spend an extra penny on its looks. The PSU grills painted with copper make it look rustic and enhance its appearance.
Apart from that, its hardware and fan blades are carefully handpicked. Thus, the outer coverings' colors coordinate with each other.
However, it doesn't have an SDD but rather an HDD. Along with it, its copper cable routing efficiently conceals the wiring.
---
3. Red and Black with Faster Processing 
The combination of red and black never fails to impress anyone. As the name suggests, what makes it a faster processing PC is the hardware used in it.
This is because it incorporates specialized hardware for tasks like gaming.
The PC creator specified that he had even tested it without the GPU, although it functions much faster.
Some of the hardware includes
Intel Core i5-6600K Boxed,
MSI Z170A GAMING M5,
MSI GeForce GTX 970 GAMING 4G,
Seagate Desktop HDD ST2000DM001,
2TB Raijintek Triton AIO Water Cooling Solution,
Kingston HyperX Fury Black HX426C15FBK2/8,
Sharkoon WPM600,
Samsung 850 EVO 250GB.
Whether using cardboard and drawing a diagram of the power supplies, power cable sleeving, or the result and setup, the creator's efforts are evident from the pictures he shared.
---
4. Streambuild Aqua Blue and Black 
Do you like to see one wall-mounted PC example, which is quite incredible in looks yet budget-friendly? If yes, this is something you cannot miss to read!
The combination of black and blue never is something that few people can think of. However, it's always remarkable, and you can't deny it's stunning; more bluishness renders it a 3D touch.
Further, the creator had designed it to be budget-friendly, as you can create this excellent PC to mount with a budget of USD 1200.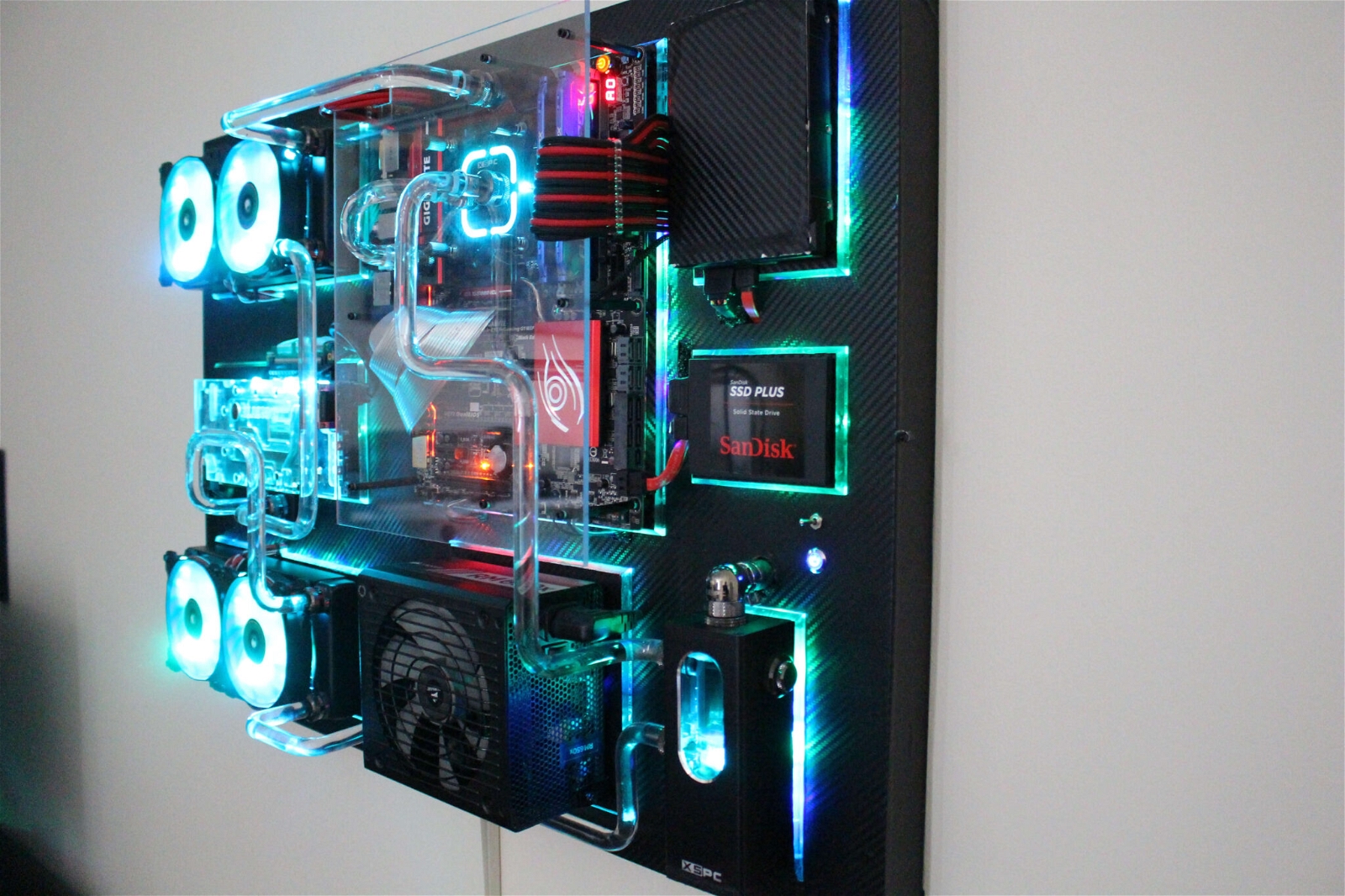 ---
5. Multi-Color Wall-Mounted PC Setup 
How about a Wall mounted PC example which looks best for indoors like bedrooms? Would you like to see one that neatly hides all the cabling and hardware alongside?
In either of the cases, Ora_cle posted the look of the final appearance in 2018. It's one of the most striking ones available out there.
Plus, its multicolor LED lights near the setup are another unique idea instilled, and a large-inch front monitor shows only the lightning. It smartly hides the cabling also.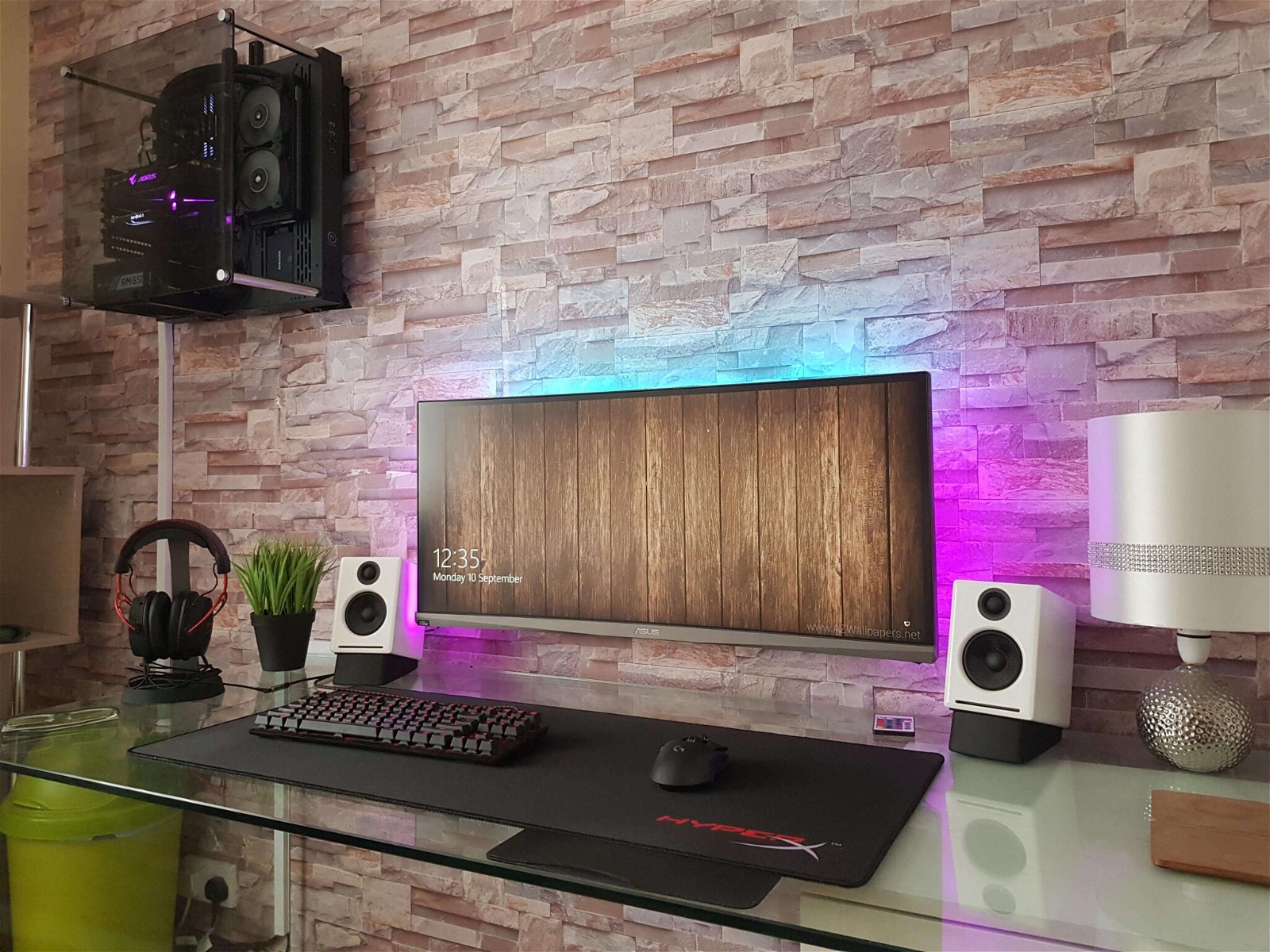 The user on Reddit posted that the setup is for gaming. Much about the hardware isn't available, but viewers expressed their opinions about how they feel it would have looked better with a brick-wall setup behind.
The creator specified how his wall background helped the user achieve the appearance of the multicolor wall-mounted PC for bedrooms.
---
6. A Modern Yet Classic PC 
Are you excited to see what the PC will look like? It has modern components installed, yet its rustic theme makes it look classic.
Further, it does power gauges, and such things to make its hardware modern. The image is a clear example of how antique the PC build seems, yet what's unbelievable is that it's pretty stable.
Whether talking about the ideas, craftsmanship, build of quality, or anything, the Creator has nailed each aspect perfectly. It's right in performance also.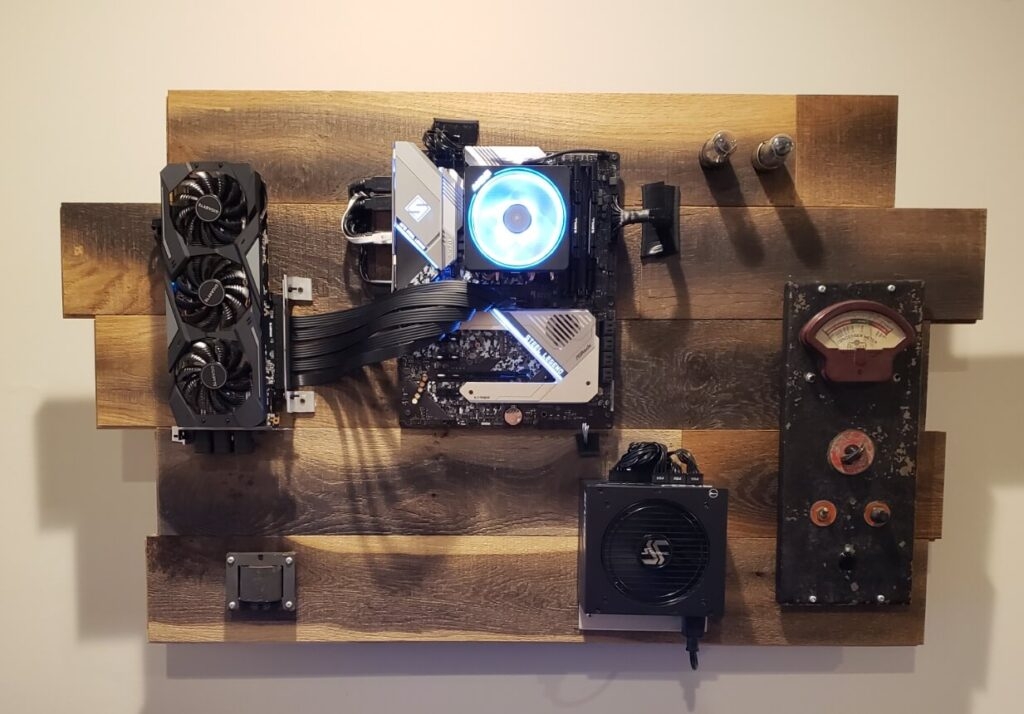 The first impression can be of dust and grime accumulation, but the stability of the PC makes it easier to clean. The creator made it back in November 2019 and was relatively smooth in performance then.
---
7. Bumblebee PC: Transformers Style 
Did you love human-like robots? Many of you have guessed we are talking about the Transformers movie series! Would you love to see one of the PC builds incorporating the style?
The Bumblebee PC is excellent in features of the Transformer style. Besides, it's heavier in build and hence much more durable.
The yellow-and-black colored combination, remarkable craftsmanship, and pretty-good hardware make it suitable in almost all respects.
Its complex Transformer styled hardware appearance in the theme is sorted and hence doesn't look messed up.
The creator has used
Intel i7 5820k,
ASRock Extended ATX DDR4 Motherboard X99 OC,
FORMULA/3.1 motherboard,
EVGA Nvidia GTX 1080 Founders Edition GPU,
EVGA 1000P2 Power Supply,
4 x 8 GB Corsair Vengeance DDR4 2666MHz LED RAM,
2 x WD Black 2TB Performance Desktop Drives,
Samsung 850 PRO 512 GB SSD and
Digikey PCIE Riser.
The use of SSD and other robust equipment used to ensure its efficient performance.
---
Frequently Asked Questions
Can you mount a PC to the wall?

Yes, you can mount a PC to the wall. However, before doing so, ensure that you have expertise. Besides, you can create a custom PC for mounting or buy a pre-built one.

Are wall-mounted PCs good?

Like everything has pros and cons, the same applies to wall-mounted PCs. They look good, are compact, space-saving, and can be significantly customized. However, some drawbacks include being challenging to maintain and more vulnerable to damage like leakage. But it isn't easy to create one, and they are expensive. 

Which cabinet is best for a PC?

Corsair and ASUS cabinets are usually best for PC. And if you are on a strict budget, check this article; we have listed budget PC Cases.

How many types of wall mounts?

Flat, Tilt, and Turn are the three wall-mounted types.

Can an all-in-one PC be wall mounted?

All-in-one PCs can be wall mounted or kept on a surface. You can choose one that depends on your preferences.
---
Wrapping Up
When searching for the best wall-mounted PC Examples, you would have got your answer! Undoubtedly, we all have loved the Steampunk Style Wall Mount for its appearance and neatness.
Many of you would have been Transformers fans, and then you would have found Bumblebee PC attractive. But, if you were looking to build one under an affordable budget, then Streambuild Aqua Blue and Black is something you must check.
How hard-core gamer are you? Would you install one wall-mount PC in your bedroom? If yes, then Multi-Color Wall Mounted PC Setup would be your inspiration!
Further Reading:
Leave a Comment