TechLatest is supported by readers. We may earn a commission for purchases using our links. Learn more.
It is a known fact that many chipset manufacturers like Qualcomm, MediaTek, and Samsung are struggling to catch up with the latest A16 bionic chipset of Apple. This article covers a detailed comparison of A16 Bionic and Snapdragon 8+ Gen 1 chipsets.
A16 Bionic vs. Snapdragon 8+ Gen 1
CPU
To start off with the CPU, the A16 Bionic chip comes with a 6-core CPU that contains nearly 16 billion transistors and is built on a 4nm fabricated chipset. The A16 Bionic chipset also consists of 4 high-efficiency cores and 2-high performance cores like any other A series chipsets of the Apple phones.
In contrast, the Snapdragon 8+ Gen 1 processor consists of 8 cores, with one core clocked at 3.2GHz, three cores clocked at 2.5GHz, and the rest four cores clocked at 1.8GHz frequency.
Based on the chart released by Apple, the A16 Bionic chipset is 25% more efficient compared to the Snapdragon 8+ Gen 1 processor. Also, Apple has stated that the power consumed by the high-efficiency cores is one-third of the power consumed by competitor chipsets.
GPU
Apple's A16 Bionic comes with a 5-core GPU like its predecessors. However, the bandwidth of the A16 chip has increased by 50% compared to the earlier A-series processors. Moreover, the latest A16 Bionic has a new display engine to handle the always-on display and graphic intensive work very smoothly.
Snapdragon 8+ Gen 1, on the other hand, comes with an Adreno 730 GPU, which is best suitable for gaming, rendering, and highly intense graphics. If you are looking for sustainable graphic performance at a high refresh rate, then the Snapdragon 8+ Gen 1 comes with a dedicated Frame Motion Engine.
Overall, the A16 Bionic has a 50% edge in terms of performance compared to the Snapdragon 8+ Gen 1 processor.
Image Signal Processor
A16 Bionic on iPhone 14 Pro can handle 4 trillion operations for every photo clicked. The photography computation on the 14 Pro and Pro Max is excellent, especially for the 48MP primary sensor. Additionally, the A16 Bionic chip also comes with a Photonic engine that helps in generating photos with high-end clarity, highlights, and shadow.
While shooting the objects in motion, the ISP in A16 Bionic uses the Optical Image Stabilization feature. Dolby Vision and ProRes videos also can be shot on the A16 Bionic.
Snapdragon 8+ Gen 1, on the other hand, comes with an 18-bit triple ISP that is capable of capturing 3.2 gigapixels per second. Even 8K HDR videos can be captured without any lag on the ISP.
Both the processors are powerful enough when it comes to Image Processing. However, based on the hardware utilization by the manufacturer, the output of the image varies.
Gaming Performance
A16 Bionic is powerful enough to handle graphic-intensive games because of its 5-core GPU and Image Signal Processing. Due to its amazing processor optimization, the chipset can handle any high graphic games without any lag.
The Qualcomm Snapdragon 8+ Gen 1, on the other hand, is a high-end SoC that comes with powerful graphic processing to handle high-end games like PUBG, Call of Duty, and Fortnite.
Again, both of the processors are good enough to handle graphic-intensive games.
5G Connectivity
A16 Bionic uses Qualcomm's 5G modem for connectivity. Sub-6GHz and mmWave frequencies are supported in Puerto Rico and the US region. In the other regions, all other bands of 5G are supported.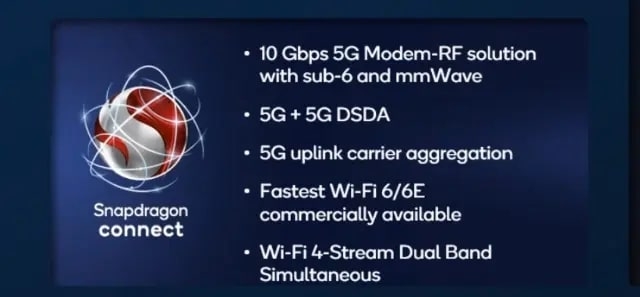 On the other hand, Qualcomm's Snapdragon 8+ Gen 1 chipset uses an integrated X65 modem for the 5G connectivity. However, the speed of the internet and the signal reception varies based on the manufacturer. This chipset supports Wi-Fi 6, LE, and Bluetooth 5.3
Conclusion
| | | |
| --- | --- | --- |
| Features | A16 Chipset | Snapdragon 8+ Gen 1 |
| Bluetooth | Uses Bluetooth 5.3 | Uses Bluetooth 5.3, LE |
| Camera | 48MP Photonic Engine with ProRAW | Capable of taking 240 12MP photos per second. |
| CPU | Hexa-core CPU consisting of 16 billion transistors | Kryo CPU, Octa-core CPU |
| CPU Cores | 4x High-efficiency cores and 2x High-performance cores | 4x 1.8GHz (Cortex A510), 3x 2.5GHz (Cortex A710), 1x 3.2GHz (Cortex-X2) |
| GPU | 5-core GPU designed by Apple | Adreno 730 GPU |
| ISP | New Image Signal Processor designed by Apple | 18-Bit ISP |
| AI and Machine Learning | Latest 16-core Neural Engine, 17TOPS | 7th-gen AI Engine, 3rd Gen Sensing Hub, 27TOPS |
| Modem | 5G modem from Qualcomm | X65 5G Modem-RF |
| Processor | 4nm processor of TSMC | 4nm processor of TSMC |
| Video | Cinematic 4K@24FPSAction mode4K HDR Dolby Vision @ 60FPS | Dedicated Bokeh Engine, 18-bit RAW, 8K HDR |
| Wi-Fi | Wi-Fi 6 | Wi-Fi 6 and Wi-Fi 6E |
Compared to the previous A-series chipset (A15 Bionic), Apple has tried to focus on the battery life improvement of the iPhone. So, in terms of performance, one might not find a huge difference apart from the battery life on the Bionic A16. Meanwhile, Snapdragon 8+ Gen 1 is a new processor from Qualcomm, and it is yet to be stable in terms of the GPU and CPU compared to the A16 Bionic.
Leave a Comment