Highlights
If you are a gamer or a coder, the number of buttons on the keyboard's right edge may not matter as much. 

Many mechanical keyboard enthusiasts are switching to 65 % keyboards, which have recently gained popularity. 

It comprises just 65 % of the buttons of a standard qwerty keyboard with a numeric pad, compared to a full-sized tenkeyless keyboard.  

If you want to know more about the 65% keyboards, read the guide until the end.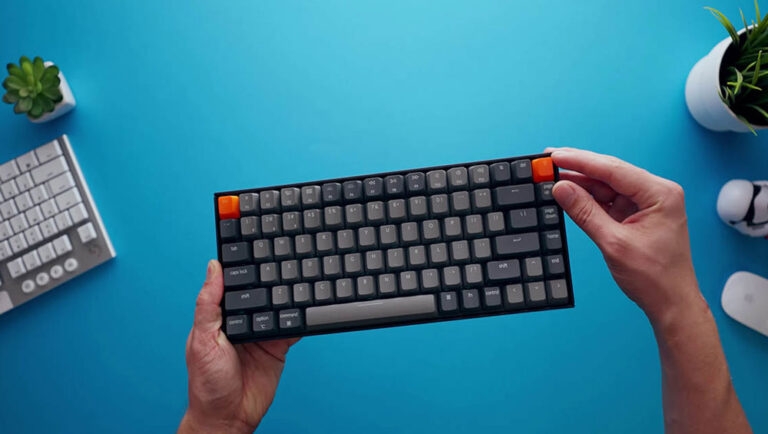 TechLatest is supported by readers. We may earn a commission for purchases using our links. Learn more.
For mechanical keyboard enthusiasts, the perfect combination of form and function is always in search of perfection.
Over the past several years, smaller, more compact keyboard layouts and the standard full-sized keyboard have gained popularity for their minimalist design and ergonomic features; 60% and 65% keyboards have gained popularity.
65% keyboards are a relatively new technology, and this article explores what they are, how they differ from 60% keyboards, and why you might consider buying one. So, without further ado, let's get started with the guide and check out all the needed information.
What is a 65% Keyboard?
Keyboards with 65% keyboards contain only alphanumeric, modifier, and arrow keys. In addition, there is no Numpad, no function keys, and no navigation keys. Furthermore, programmers and developers are increasingly using them.
With an additional set of keys, 65% keyboards offer more functionality and compactness than 60% keyboards.
Best 65% Keyboards List
#1. Keychron Q2
With several different options and a sleek, compact design, the Keychron Q2 keyboard is an awesome keyboard from Keychron.
With multiple keycap designs and themes, these keyboards truly feel premium. In addition to feeling almost custom, you can modify them as you wish.
As soon as you plug it in, the keyboard sounds great. In addition to pre-lubricated keycaps and durable PBT switches, Keychron offers the kit in a kit format (without keycaps or switches).
It comes in at around $180, making it a premium keyboard. Alternatively, you can get one with a knob. Due to its gasket-mounted construction, it provides a bouncy typing experience. It can be taken apart and modified on the inside as well.
Since it comes pre-installed with QMK/VIA software, you don't have to download sketchy software from unknown sources. With VIA, customize your keyboard in your browser.
---
#2. Ducky One 2 SF
You can choose between a black or white Ducky One 2 SF, depending on your aesthetic preference.
There are two colorways with RGB LED lighting available. There are two colorways available, and they both feature the same durable and long-lasting double-shot PBT plastic keycaps.
You can choose from Cherry MX Black, Brown, Red, Blue, Silver, or Silent Red switches. Despite the fact that the case is made of ABS plastic, it is well-constructed. From the top view, the black version appears black, but the bezel and bottom are white.
On the left side of the device is USB-C connectivity, while on the bottom are rubber feet and two kickstands that can be adjusted at two different angles.
Due to its nonstandard bottom row, this keyboard will take more effort to change the keycaps than other 65% keyboards. In addition to the keycaps, Ducky sends you some extra colorful sets to make your keyboard stand out.
There is something pretty about both colors. In general, this keyboard does a great job. A lot of people recognize Ducky in the keyboard community, and it receives no complaints.
---
#3. Fnatic Streak 65 LP
We recommend the Fnatic Streak 65 keyboard for competitive gamers who want all the features they require in a small, convenient package.
As Fnatic's own mechanical switches make it easy to double-tap in shooters and action games, the keyboard features 'speed' mechanical switches that are silent, linear, and low profile.
With a 22mm height and 420g weight, this keyboard is not only small in size but can also fit into a bag or even a hoodie's front pocket. In addition to the compact dimensions, the aluminum frame gives the device a very sturdy feel.
Fnatic also nails the details here beyond the form factor. There is a USB-C port offset to the left to avoid interfering with your mouse, and the legends on the keycaps are engraved with a legible font to make the keyboard more comfortable.
The larger keys are pre-lubricated for a silent and easy operation, and the USB-C port is offset to the left to avoid interfering with your mouse.
Under the space bar, two extra LEDs ensure that the RGB lighting is evenly distributed throughout the board because the switch housings are transparent.
In addition to the 'competition mode,' which dims the lighting and locks the Windows key, people mostly liked the inclusion of a 'learning mode.'
---
#4. NuPhy Air75
This keyboard is extremely well-made at a great price, and it comes with a lifetime warranty. Even without a wrist rest, the slim and ergonomic design of this compact mechanical unit makes it surprisingly comfortable, even without excellent build quality.
In addition to being thin, the low-profile keycaps are also very stable and pleasant to type on, and their low profile prevents you from straining your hands upward to reach them.
If you move workstations frequently or are looking for an on-the-go keyboard, this is a great choice. Unlike other mobile devices, this one does not require a cable since it has excellent wireless connectivity options.
With its Bluetooth or USB receiver, the keyboard can be paired with three devices. It doesn't have the best battery capacity, so you'll have to charge it about once a week, depending on how often you use it.
NuPhy's Halo lineup of keyboards offers a similar level of performance to the Halo75 but in a more high-profile form factor.
Because the Halo75 is equipped with several layers of silicone-dampening material on the inside, the acoustics are better overall, and the typing experience is improved slightly. Despite its portability, it cannot be used without a wrist rest and isn't as comfortable.
---
#5. RK Royal KLUDGE RK68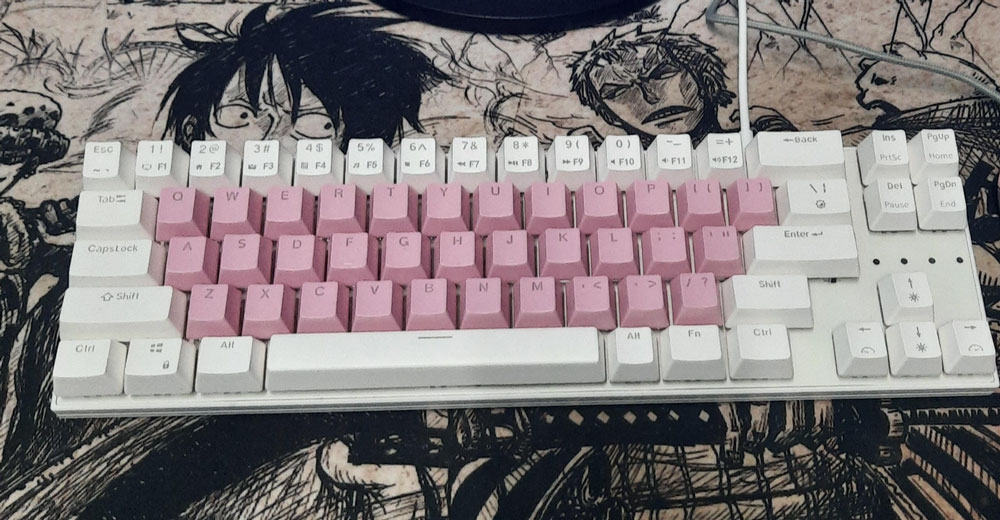 There are a lot of great entry-level 65% keyboards out there, but the RK Royal Kludge is one of them. With its lower price point, it still offers translucent letters that won't fade on a double-shot keycap. It can be hot-swapped with any three- or five-pin key.
Furthermore, it comes in three default switch configurations. There's no need to be fooled by the budget price; you're getting a well-made product.
Its construction is very well received, with very few negative reviews. Due to its lack of Bluetooth compatibility, it does not require batteries internally. In the middle of the back, a USB-C port supplies power and connects it to the computer.
There is compatibility with various operating systems, including Windows, Macs, and Linux. Furthermore, the body is lined with sound-reducing insulation.
It provides a variety of color options when it comes to looks. There are two color options for the body: black and white. Regardless of how you set it up, you must be able to adapt it to your setup.
Aside from that, it is also equipped with RGB lighting. It is possible to program and change various lighting modes, brightness levels, and speeds using RK software. Furthermore, you can completely customize the lighting effects.
---
#6. Razer BlackWidow V3 Mini HyperSpeed
For minimalist or smaller setups with limited desk space, the Razer BlackWidow V3 Mini HyperSpeed is a perfect choice. Its mechanical switches are optimized for professional-level performance and durability and have been designed from the ground up for gaming.
This device offers low-latency gaming and hyper-responsive inputs thanks to advanced wireless technology. Even in data-saturated, noise-filled environments, ultra-fast radio frequency optimizes data protocol and enables seamless frequency switching.
Boards have either green or yellow mechanical switches (clicky and tactile) that produce a low sound profile with smooth keystrokes. Battery life for both devices is 200 hours, and they can be charged from zero to 100 percent in 5 hours.
You can also check the latest addition to the BlackWindow group, i.e., Razer BlackWidow V4, but note that it is 75% keyboard.
---
#7. ASUS ROG Falchion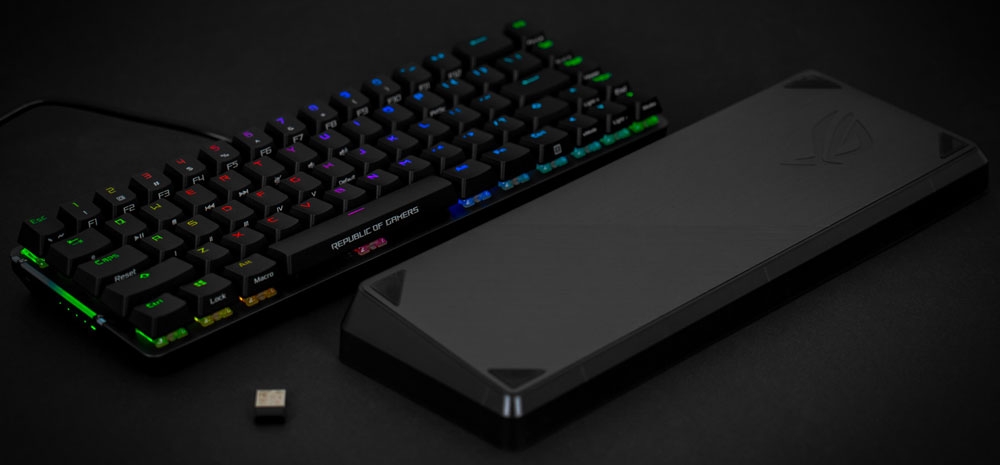 With ROG Falchion, Asus has taken a more focused approach. Wireless USB-only connection, instead of Bluetooth, makes Falchion a unique premium wireless gaming keyboard. This device offers dual-mode connectivity via wired USB and 2.4 GHz RF with a millisecond response time.
There is a very low latency and customizable RGB backlighting on this keyboard, which is well-built and well-built. With Armoury Crate, macros can be assigned to any key (directly from the keyboard or through the program).
On its left side, there is a configurable touch panel that can control volume, switch applications, or perform other tasks.
You can choose between Cherry MX RGB Red, Blue, Brown, or Speed Silver switches on the ROG Falchion. With all models, you will not notice any input lag during typing.
This model comes with a transparent polycarbonate cover to provide excellent protection. Under the keyboard, you can also diffuse the RGB lighting by placing the cover under it.
---
#8. Keychron K6 
In terms of entry-level 65% products, the Keychron K6 is a great choice. With OEM profile curved keycaps, it provides high-quality performance.
In addition, you can hot-swap keys depending on your choice. If the key type is not compatible with your device, you may pick a different type of key. In order to increase the durability of the body, ABS plastic has been used.
On the bottom are two rubber feet that can be adjusted for height. In order to make it comfortable for you, these feet can be positioned at different levels. There is an internal battery of 4000mAh that can provide up to 200 hours of use (without using the backlit).
This modern-looking model is a good choice when it comes to looks. Besides the red escape button, the keycaps are light grey, dark grey, and a combination of the two. In addition to the keycaps, there is RGB backlighting underneath.
With over 15 different lighting modes preprogrammed, you will definitely find something to suit your needs. Keychron's K6 can be connected to a computer, tablet, smartphone, and more via either USB-C or Bluetooth.
Using Bluetooth 5.1, it is capable of connecting to three devices at once. In addition to being designed specifically for Macs, this option has a few other unique characteristics. To make it better interface with MacOS, the alt buttons were replaced with command buttons.
---
Sum Up
So, that's all we have for you, about 65% Keyboards. It's our hope that this guide has helped you choose the right keyboard according to your needs. Meanwhile, in case you need more info, comment below and let us know.
Further Reading:
Leave a Comment