Highlights
Are you searching for the best mini-ITX case in 2023? If so, your search ends here!

A mini-ITX PC is often the best choice if you have a small desk space. It's designed to accommodate a Mini-ITX motherboard.

This article includes the top six mini-ITX cases that are suitable for building small-factor computers.
TechLatest is supported by readers. We may earn a commission for purchases using our links. Learn more.
If you're a PC enthusiast looking to build a compact and powerful gaming rig, choosing the right case is crucial.
A good mini-ITX gaming case will have enough room for all your components. Despite their compact size, they're lightweight, have plenty of cable management options, and have good ventilation.
But with countless options available on the market, finding the right mini-ITX case can be overwhelming. But fear not! We've done thorough research.
We spent approximately 38 hours researching and testing various models and compiled a list of the six best Mini-ITX PC cases available today. We considered factors like space, weight, CPU and GPU compatibility, cable management, and ventilation to ensure your gaming setup performs well in its small size.
So let's dive into our top picks for the best mini-ITX case!
Top 6 Best Mini-ITX Cases in 2023
PC cases come in different sizes, but three main types dominate the market: full-sized ATX, microATX, and mini-ITX. If you have a small desk space, a mini-ITX PC is often the best choice.
When choosing a Mini-ITX PC case, it is important to consider the size of the motherboard, the size of the graphics card, the size of the power supply, and the number of hard drives or solid-state drives that you plan to install. It is also important to consider the features that are important to you, such as water-cooling support, cable management, and noise reduction.
While most mini-ITX cases prioritize size over performance, there are some PC cases available that can even handle top-notch CPUs and the fastest GPUs.
Here are the top six mini-ITX PC cases you can buy in 2023:
Lian Li Q58
Key Specification
Brand: Lian Li
Size: 16 x 16 x 10 inches
Motherboard Support: Mini ITX
CPU Cooler Clearance: 70mm
GPU Clearance: 320mm
PSU Clearance: SFX/ SFX-L/ATX (160mm)
Fan Mounts: 2 x 120mm or 140mm top; 1 x 120mm bottom
Lian Li is a popular name in the computing world, known for making various PC peripherals like cases, coolers, and fans. The company is primarily known for its mid-tower and full-tower chassis, but it recently entered the ITX market with the Q58 case.
The Q58 is our overall best mini-ITX choice from Lian Li. It comes in black or white and is made of aluminum, glass, and mesh panels.
The top half of the side panels are glass, while the bottom half is mesh. The front panel is aluminum with a split finish, matching the other panels. The top panel is also aluminum with a mesh finish for ventilation. The Q58 includes magnetic dust filters.
The Q58 supports up to two 120mm or two 140mm fans on the top, and one 120mm fan at the bottom. It can also fit a 240mm/280mm radiator on top and a 120mm radiator at the bottom. The case has enough space for a GPU up to 320mm long and three slots high, as well as CPU coolers up to 67mm tall. It supports both SFX and ATX power supply units.
All in all, the Lian Li Q58 pc case is an excellent choice for a mini-ITX build. It's priced at $145 for the PCIe 4.0 version and $80 for the PCIe 3.0 version, making it affordable compared to other options.
---
NZXT H210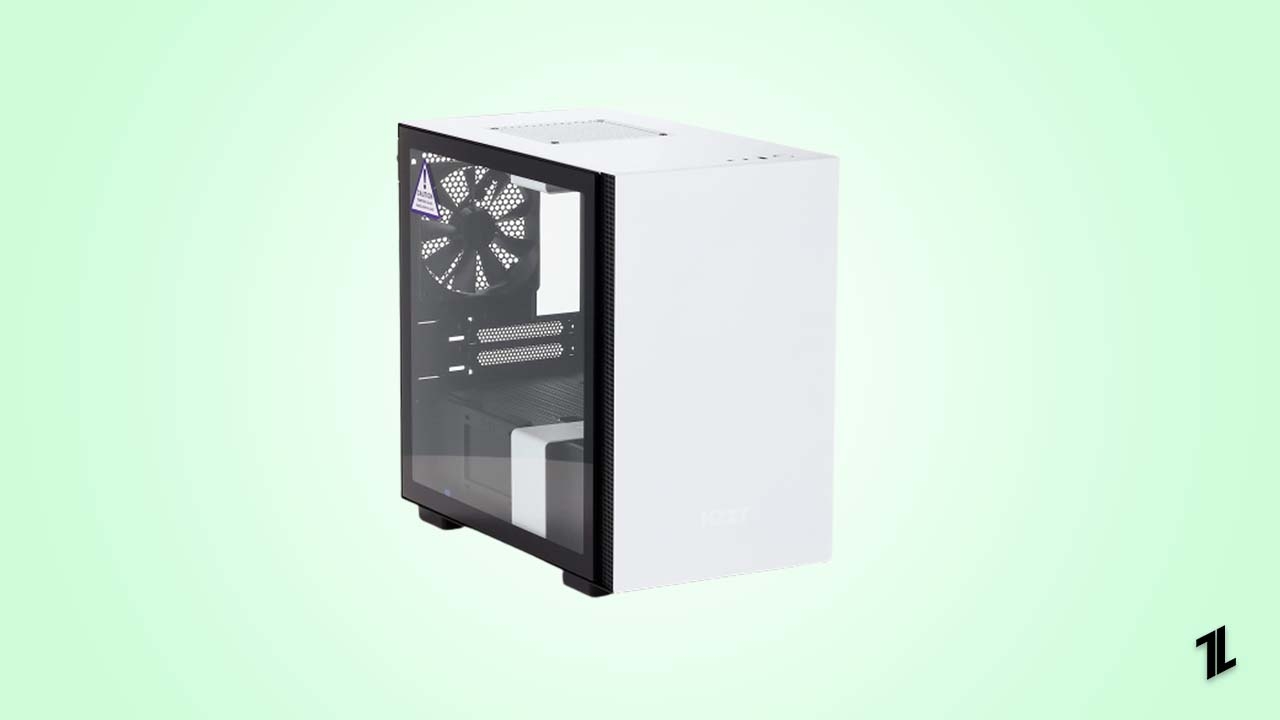 Key Specification
Brand: NZXT
Size: 14.65 x 8.27 x 13.74 inches
Motherboard Support: Mini ITX
CPU Cooler Clearance: 165mm
GPU Clearance: 265 – 325mm
PSU Clearance: Regular ATX
Fan Mounts: Front: 2 x 120 or 2 x 140mm; Top: 1 x 120mm; Rear: 1 x 120mm
Our second choice for the best mini-ITX computer cases is the NZXT H210. NZXT's H210 line offers two options: the H210 and the H210i. The only difference is that the H210i has integrated RGB lighting and costs more.
If you don't care too much about the look of your case, I recommend going with the base version to save money. The base H210 is quite affordable and offers many great features found in other NZXT cases.
One of its most impressive features is support for custom liquid cooling. There's a small metal strip inside where you can attach a small reservoir for a custom loop.
However, the space is limited, so the reservoir needs to be small. The H210 can only fit a 240mm radiator at the front. This might limit the performance of your custom loop or an AIO cooler for your CPU or GPU.
Unfortunately, the H210 has a big drawback when it comes to GPU space. There isn't much room for GPUs larger than two slots. Even if your GPU fits, the PSU shroud sits right below the GPU fans, which restricts airflow and can lead to higher temperatures.
It's best to use liquid cooling for your GPU to avoid overheating. Otherwise, you'll need to choose a smaller and more power-efficient GPU, which limits you to midrange graphics cards.
Ultimately, the NZXT H210 is an excellent choice if you're into custom liquid cooling. But if GPU airflow and space are important to you, it might not be the best option. Nonetheless, it can still get the job done.
---
Thermaltake Core V1 SPCC
Key Specification
Brand: Thermaltake
Size: 10.2 x 12.4 x 10.9 inches
Motherboard Support: Mini ITX
CPU Cooler Clearance: 140mm
GPU Clearance: N/A
PSU Clearance: Standard PS2
Fan Mounts: Front: 1 x 120mm or 1 x 140mm or 1 x 200mm; Rear: 2 x 80mm
The Thermaltake Core V1 Extreme is an excellent option if you want to build a small gaming computer on a tight budget. At around $50, it's one of the cheapest cases you can get.
It supports full-sized PSUs, CPU air coolers, and graphics cards. However, since the Core V1 is a few years old, it has some limitations compared to newer options, especially for high-end components.
When it comes to looks, the Core V1 is pretty decent. The front and side panels have a lot of small holes to let air flow through easily. The top panel has a clear window so you can see inside the computer.
Inside, there's a big fan that moves air around to keep everything cool, like the processor, graphics card, motherboard, and power supply. Also, there's a dust filter for the PSU. You can also install two smaller (80mm) fans at the back for better airflow. This PC case keeps things cool well.
In terms of compatibility, the Core V1 can handle standard-sized PSUs, GPUs up to 260mm long and two slots tall, and a CPU air cooler up to 140mm tall. It can also fit a 120mm or 140mm radiator, but an air cooler is a better choice at this size.
Remember that it doesn't have much clearance for high-end GPUs and CPU coolers, so it's not suitable for top-of-the-line components like an RTX 4090 or a Core i9-13900K.
The Core V1 has some downsides. It's an older model, so it doesn't work well with liquid cooling systems. Also, it can't support all graphics cards.
---
Cooler Master NR200P Max
Key Specification
Brand: Cooler Master
Size: 13.98 x 11.54 x 18.03 inches
Motherboard Support: Mini ITX
CPU Cooler Clearance: 67mm
GPU Clearance: 336mm (L), 160mm (H), 75mm (W)
PSU Clearance: SFX, SFX-L
Fan Mounts: 2 x 120mm or 140mm top; 1 x 120mm bottom (with 3.5″ HDD)
Cooler Master NR200P Max is one of the best mini-ITX cases in 2023. It's an excellent choice for beginners because it comes pre-installed with both the PSU and the AIO cooler.
The NR200P Max is an improved version of the older NR200 case, which had some issues. This updated version solves those problems.
It also makes it easier for users to build their computer because it comes with a 280mm AIO cooler and an 850W power supply pre-installed out of the box. That should be enough to support even the most powerful CPUs currently available.
One cool feature of the NR200P Max is that it includes a special cable for the GPU called PCIe Gen 4 compatible Riser cable. This chassis has three expansion slots, so you can vertically mount even the newest triple-slot GPUs.
Additionally, you can install a CPU cooler with a height of up to 67mm and a GPU with a length of up to 336mm. Another great thing about this case is that it has dust filters for all the intake and exhaust, so dust won't get into your components.
As a whole, the NR200P Max mini-ITX case has many great features and deserves a top spot in our collection. But it's also the most expensive at around $450 since it includes the PCIe riser, power supply, and cooler. These items are worth around $200-$250.
If you don't need these extra items, you can get the NR200P (non-Max) case for about $130.
---
SilverStone Technology SUGO 16
Key Specification
Brand: SilverStone Technology
Size: 11.02 x 7.87 x 9.13 inches
Motherboard Support: Mini-DTX, Mini-ITX
CPU Cooler Clearance: 85mm ATX, 172mm SFX
GPU Clearance: 275mm
PSU Clearance: 140mm
Fan Mounts: 1 x 120 mm front; 1 x 120mm rear
If you want to save space and money, the SilverStone Technology SUGO 16 is an ideal choice. It is a small and compact computer case that looks like a cube. It is shorter and stouter than most cases, so it can fit in tight spaces.
Inside the case, there is enough room for a standard ATX power supply. Using a standard ATX power supply can save you money, but it means that the graphics card you can use will be shorter. However, it can still fit graphics cards up to 275mm long.
The case is made of steel and has mesh panels on the front, side, top, and back. This helps with airflow, which is important for keeping your computer cool.
But when you install certain hardware, it might block the airflow. To cool your PC, you can add a 120mm fan or a radiator at the front, or an 80mm fan at the back if you have an ATX power supply.
If you have a smaller SFX power supply, you can still fit a 120mm fan or a radiator. Just remember that this case might get hot if you put too much stress on your computer's components.
---
Phanteks Evolv Shift 2
Key Specification
Brand: Phanteks
Size: 10.35 x 22.6 x 13.86 inches
Motherboard Support: Mini ITX
CPU Cooler Clearance: 85mm
GPU Clearance: 335mm(L)
PSU Clearance: SFX, SFX-L
Fan Mounts: 1 x 120 mm or 1 x 140 mm bottom; 2 x 120mm or 2 x 140mm rear
If you're looking for a small computer case, the Phanteks Evolv Shift 2 is a fantastic option. You can get it for just $99, which is a reasonable price. This computer case has a sleek and tall design and looks great. It's especially appealing if you like the look of the Xbox Series X.
The Evolv Shift 2 is made of glass and aluminum, which makes it look better than most other cases. It has a unique shape that may not be for everyone, but people who like computers will find a lot to like about this case.
One thing you'll notice is that it's tall, standing at 19 inches. But even though it's tall, it takes up less space on your desk than other towers.
The inside of the Evolv Shift 2 is set up in a different way than most other cases. It's divided into three sections. The bottom part holds the power supply and a cooling system. The top part is where you put the motherboard and the graphics card, using a special cable. In the middle, there's space to add more storage drives.
The Evolv Shift 2 comes with a fan that has lights, or you can get a version without lights if you prefer. Either way, you'll also get a controller to change the lights. It doesn't support very big cooling systems for the CPU, but it can handle most graphics cards.
Overall, the Phanteks Evolv Shift 2 is an excellent mini-ITX case for people who are really into computers and want to try building a small one. But if you're new to this, it might be too complicated for you to set up.
---
Conclusion
We hope that this article has helped you find the best mini-ITX case for building a tiny computer.
If you're still unsure which one to choose, we highly recommend Lian Li's Q58 mini-ITX computer case. It's not gimmicky like many other mini-ITX chassis and does everything you'd expect from a PC case.
Also, this case is suitable for midrange and high-end components, while many others aren't. If you're planning to build a mini-ITX system, the Q58 is probably your top option.
Now, we'd love to hear from you!
Which is your favorite mini-ITX case? And why? Share your thoughts in the comments!
Further Reading:
Leave a Comment