Highlights
A wall-mount PC case is an ideal choice for creating a unique and eye-catching centerpiece for your gaming rig.
These open-air designs look great and offer practical benefits. They free up floor space, improve airflow, and make it easier to admire your build.
This article includes the best wall-mounted PC case options that will elevate your setup to new heights. Read on to find out what we think is the best!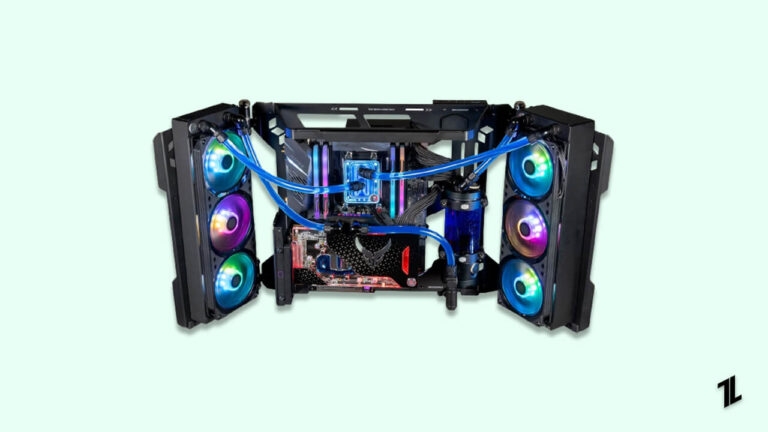 TechLatest is supported by readers. We may earn a commission for purchases using our links. Learn more.
Are you tired of your bulky desktop computer occupying your desk? Do you want to free up some floor space and give your home office a more minimalist look? If so, a wall-mounted PC case is your solution for you.
Wall-mounted PC cases are becoming increasingly popular as they offer several advantages over traditional desktop cases. They are more space-efficient, can help improve your airflow, and can make your home office look more stylish.
But how do you choose the right wall-mounting PC case?
In this article, we compiled a list of the 4 best wall-mounted PC cases in 2023 based on their size, airflow, features, and price.
We also included a buying guide to help you choose the right wall-mounted PC case.
Now let's dive into our top recommendations!
How to Choose the Best Wall-Mounted PC Case In 2023
Before we get into our top picks, it's crucial to know what to look for when selecting the right wall-mounted PC case. Here are some of the things to keep in mind when shopping for the best wall-mounted PC case:
Form Factor
When choosing a wall-mounted PC case, it's important to consider the form factor and size. Obviously, you don't want a case that's too large and takes up all your wall space, but you also don't want one that's a small enclosure.
Wall-mounted PC cases come in various form factors, so you must choose one compatible with your components.
Hardware Compatibility
To determine the Best Wall-mount PC Case, you must consider hardware compatibility. The case needs to work well with various computer parts.
The type of case usually determines if it can fit your motherboard. A mid-tower case usually supports ATX motherboards, while a small form factor case is for mini-ITX motherboards. However, it gets a bit trickier when it comes to GPUs and coolers.
The ideal PC case should have enough space to fit most GPUs available, especially the larger ones. It should also have room for liquid or air cooling, like mounting radiators or fans, and fit the right size power supply. If a case is spacious enough to handle all these hardware components, we can move on to the next factor for testing.
Design and Aesthetics
Having an appealing design is equally important when selecting a wall-mounted PC case. Nobody wants a dull case that ruins the overall ambiance.
Therefore, look for unique and attractive cases with tempered glass panels, which can be paired with RGB lighting to create a visually stunning display.
In addition to being aesthetically pleasing, Good Wall Mount PC Cases must have good cable management so it doesn't look messy when showcasing it.
Having a modular design is always a plus. People sometimes like to tweak their builds, so having a case that allows for modification can come in handy.
Mounting Capability
The integrated mount lets you change your computer tower's position flexibly. By installing it in various locations, you can also save space and maximize your working area.
Airflow and Cooling Solutions
Adequate airflow is crucial for maintaining optimal temperatures within your PC. Heat dissipation will significantly affect the performance of your device.
Therefore, choose a model with good ventilation to support the cooling process. Additionally, ensure that the PC case offers sufficient space to install fans or water cooling systems.
Price
Last but not least, price is one of the most important factors to consider when choosing a wall-mounted PC case, especially if you're on a budget. These cases can cost anywhere from 30 dollars to a couple hundred dollars. So, set a budget before you start shopping so you don't overspend.
---
4 Best Wall-Mounted PC Cases in 2023
Here are the top five best wall-mountable PC cases available on the market right now:
Thermaltake Core P3
Key Specifications
Brand: Thermaltake
Form Factor: Mid Tower
Motherboard Support: Mini ITX, Micro ATX, ATX
CPU Clearance: 180mm
GPU Length Clearance: 280mm (With Reservoir), 450mm (Without Reservoir)
Radiator Support: up to 420 mm
Fan Mounts: 3
Dimensions: 20.2 x 13.1 x 18.5 inches
Weight: 10.3 kg
The Thermaltake Core P3 is the best overall wall-mounted PC case you can buy right now. It's an excellent choice for beginners and gamers who want a cool-looking and versatile computer case. It has a sleek design with a glass panel, making it perfect for showing off your gaming setup.
You can mount this case on the wall, which saves space and looks really stylish. You can also position it vertically or horizontally if you prefer. The case is compatible with different motherboard sizes to fit various computer builds.
Inside the case, there's plenty of room for expansion. You can add up to eight components, like graphics cards and storage drives. Additionally, the case supports vertical graphics card installation, which is a neat option. You can remove the radiator or reservoir if you need more space for a long graphics card.
The case is designed to keep your computer cool. It can hold up to three fans or a big radiator for water cooling. Even though it doesn't have as many fan slots as in some other cases, it still allows for good airflow. The case is designed in a way that helps cool your components and reduces noise.
Personally, I have been thoroughly impressed with the Core P3. It is a delight to build in and excel in keeping your components cool. It feels like a high-quality product made by an experienced manufacturer.
Overall, the Thermaltake Core P3 is an unrivaled choice for anyone looking for the best wall-mountable PC case that is both stylish and powerful.
---
Cooler Master MasterFrame 700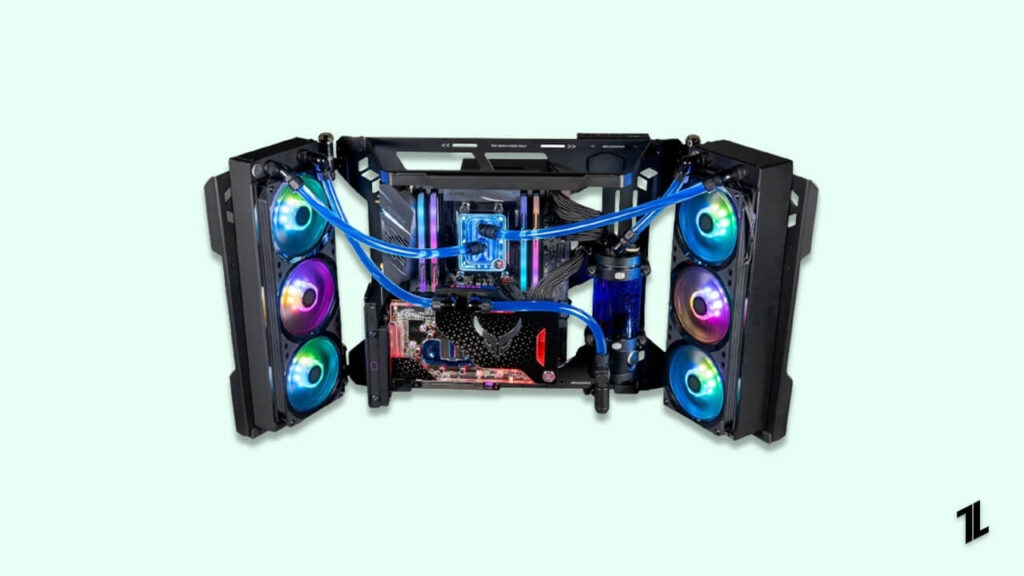 Key Specifications
Brand: Cooler Master
Form Factor: Full-Tower
Motherboard Support: SSI EEB, SSI CEB, XL-ATX, E-ATX, ATX, Micro ATX, Mini ITX
CPU Clearance: 158mm
GPU Length Clearance: 450mm
Radiator Support: Up to 420mm
Fan Mounts: 3
Dimensions: 27.64 x 12.05 x 16.14 inches
Weight: 11.3 kg
The Cooler Master MasterFrame 700 is second on this list of the best wall-mounted PC cases. It is designed for people who are passionate about building their own PCs.
This wall-mounted PC case is a large one that can fit many different types of motherboards, so you have many options when choosing your computer components.
One of the cool things about this case is that it can handle big radiators for cooling. Radiators help keep the PC cool, and this case lets them work really well. How the case is designed allows air to flow easily through the radiators.
That means hot air doesn't get trapped inside the case, which is good. However, because of this design, there isn't direct airflow over certain parts of the motherboard. But for most people, this isn't an issue.
The MasterFrame 700 looks really unique and stands out from other cases. It has a bold and eye-catching design, especially when combined with water-cooling parts. It will definitely grab attention and make your PC look like something out of a science lab.
When working on your PC, this case makes things easy. It has an open-air design, so you can easily access all the parts inside. This makes it simple to install or fix things. For instance, fixing a water pump is straightforward. Any water that might spill won't damage other parts because it just falls onto the table.
But this case has one downside—it is quite heavy, especially if you have water cooling installed. Moving it around can be difficult and uncomfortable. This PC case is made of steel, which makes it heavier. If you need to move your PC often, this PC case might not be your best choice.
The MasterFrame 700 is an exceptional case with a unique yet great-looking design. Its beastly chassis has everything a customer could ask for from a PC case, from customizability to compatibility. 
---
Thermaltake Core P8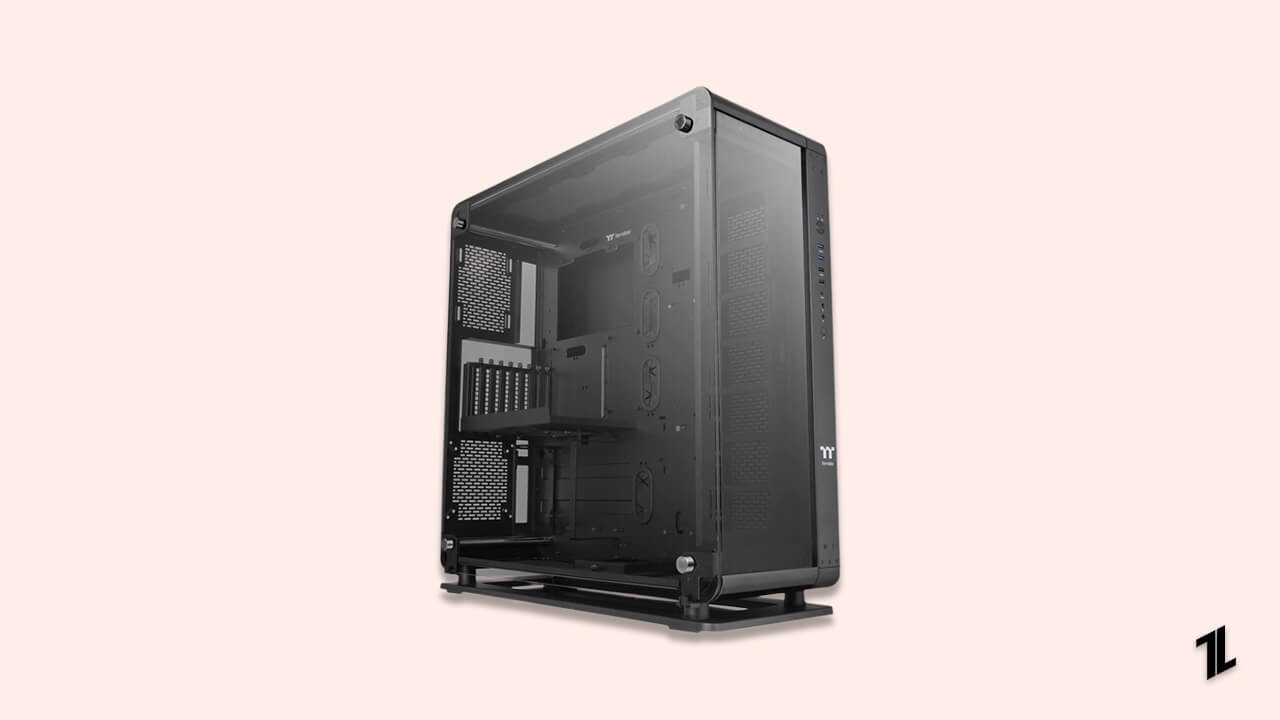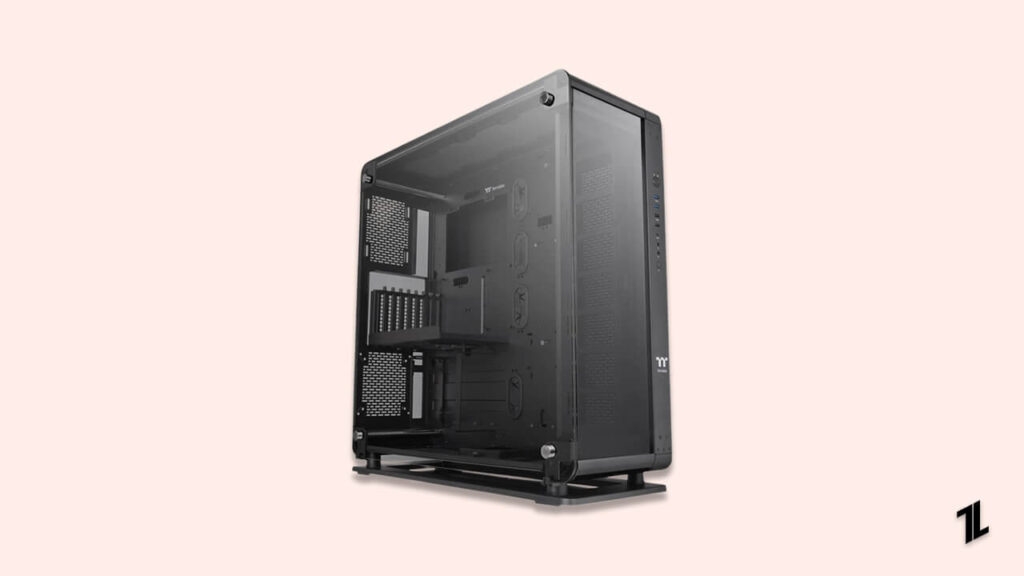 Key Specifications
Brand: Thermaltake
Form Factor: Full Tower
Motherboard Support: ATX, EATX, Micro ATX, Mini ITX
CPU Clearance: 180mm
GPU Length Clearance: 280mm (with Reservoir), 320mm (without Reservoir)
Radiator Support: Up to 480mm
Dimensions: 26 x 10.24 x 24.65 inches
Weight: 22.6 kg
Thermaltake Core P8 is a beautiful computer case you can mount on a wall. It looks best when used with a custom water cooling system, as other cooling methods also won't work.
It has many features, and a unique design will make your setup look great. However, the case is large and heavy, so it might not be the best choice if you want something lightweight.
The Core P8 has tempered glass panels on the front, sides, and top to see your water-cooling system in all its glory. It's also modular, meaning you can change parts to fit your needs. You can even remove the front and top panels to turn it into a wall-mounted case.
Inside, the Core P8 can fit different sizes of motherboards, including ATX, micro ATX, mini ITX, and E-ATX, providing ample room for expansion. and has plenty of space for water-cooling components. It can accommodate different sizes of radiators, and you can attach many fans for extra cooling.
While the Core P8 may be heavy and a bit expensive for a wall-mounted case, it offers customization and features that cheaper alternatives don't have. If you're willing to invest the time and money, the Thermaltake Core P8 is the best wall-mount PC case you can buy.
---
Thermaltake Core P1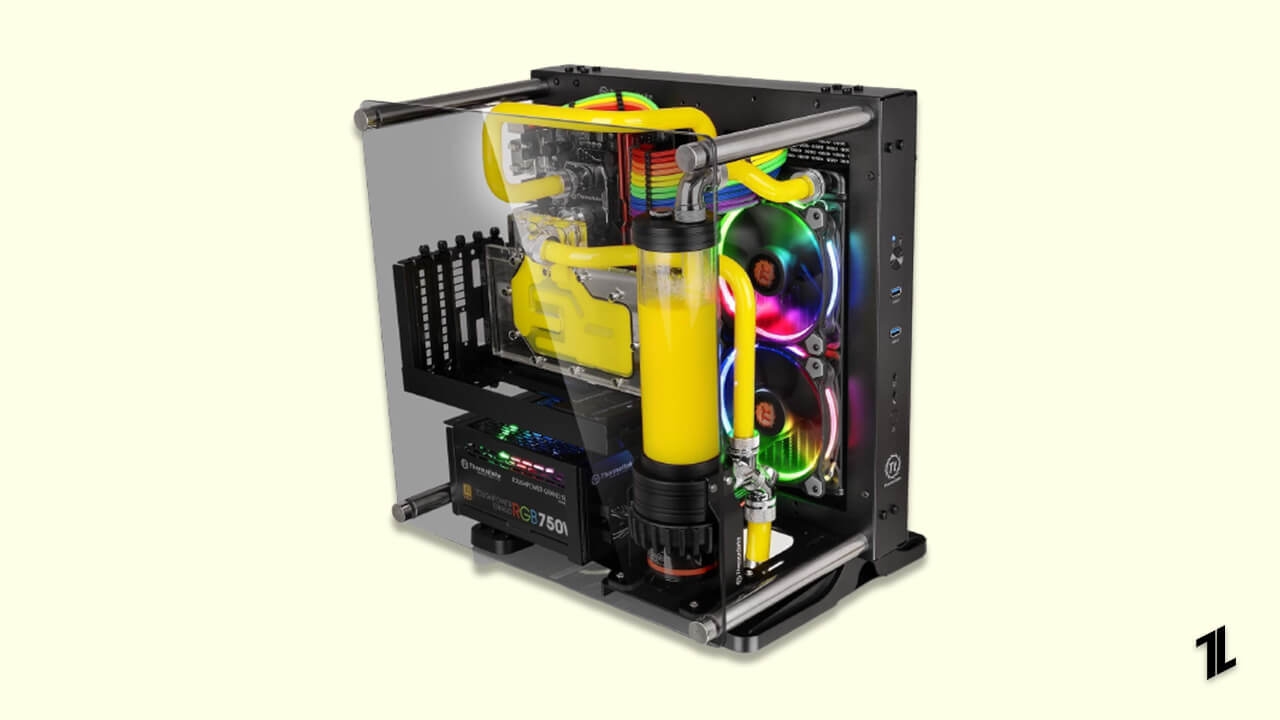 Key Specifications
Brand: Thermaltake
Form Factor: SFF
Motherboard Support: Mini-ITX
CPU Clearance: 170mm
GPU Length Clearance: 380mm
Radiator Support: Up to 240mm
Fan Mounts: 2
Dimensions: 16.6 x 13.1 x 15 inches
Weight: 9.5 kg
The Thermaltake Core P1 is the final computer case on our list. It's an impressive wall-mounted PC case that offers a compact and stylish solution for those seeking a smaller build. Designed with a Mini-ITX form factor, it provides a great balance of functionality and affordability.
The case supports a Mini-ITX motherboard, so it may not offer the same hardware support as larger cases, but it is ideal for single GPU setups. The spacious interior allows for a GPU length of up to 380mm, and you have even more flexibility with the option for vertical installation.
The Core P1 features excellent cooling capabilities with support for two 120mm fans or a 240mm radiator. The open-air ventilation ensures efficient airflow so your components remain at optimum temperatures.
One of the standout features of this case is its modularity and design quality. The high-quality tempered glass top cover adds a touch of elegance, while the built-in wall-mounting options provide versatility and space-saving benefits.
Considering its Mini-ITX size, the Core P1 offers remarkable compatibility with full-size components, making it a cost-effective option. It's also notably lighter and cheaper than larger cases, allowing for greater portability.
If you're searching for a wall-mounted PC case that combines functionality, affordability, and a sleek design, the Thermaltake Core P1 is an excellent choice.
---
Conclusion
So there you have it, our top 4 picks for the best wall-mounted PC case on the market, each with its own unique features and benefits. What's the best case for you will depend on your specific needs and preferences.
If you're looking for a stylish, powerful, and versatile case, consider the Thermaltake Core P3 and Cooler Master MasterFrame 700. They're compatible with various motherboard sizes and can accommodate large and demanding components.
If you prefer a small and compact case, the Thermaltake Core P1 is ideal. It's perfect for mini-ITX builds and provides enough space for essential components.
We hope this article has helped you find the right wall-mounted PC case.
Further Reading:
Leave a Comment