Highlights
A good PC case is essential for keeping the cables well-organized and enhancing your PC's looks.
Finding the best PC cases is daunting due to durability, the number of ports, and several reasons.
We have mentioned the best ones under the category.
TechLatest is supported by readers. We may earn a commission for purchases using our links. Learn more.
Do you want to elevate the look of your old PC or cover your newly built PC with an aesthetic Case? If yes, then you must get yourself a Unique PC Case. It protects your PC Components while giving your old PC the best possible aesthetic update.
At the same time, it will complete your newly built PC with protection, a high-quality design, and a sturdy exterior. Modern PC Cases come with transparent glass to give a clear view of its interiors to showcase your hard work.
To help you shop for the best PC Case, we have listed the top 11 Unique PC Cases to elevate your Gaming PC in 2023.
Further Reading:
Best Unique PC Cases
1. KEDIERS C-570 Computer Case
How about having an open design PC Case for yourself?
If the idea seems fascinating, you must get the KEDIERS PC Case with an open design. It has two pcs of 4mm thick tempered glass that protects your PC and gives a dynamic transparent view.
The case has space for maximum cooling for 240mm radiators with fans. Further, it can support 11× 120 mm fans inside that design. A unique aspect of the KEDIERS PC Case is that it has Kediers Airguide Technology. The Anti vortex vanes direct airflow and increases the Static pressure to concentrate the cooling.
If you love colors, then this PC case is available in four colors: White, Pink, Red, and green. In addition, you get intelligent lighting control through the C570 RGB and controlling software. Using the software, you can customize the RGB lighting and immerse in the fantastic lighting.
---
2. ASUS ROG Hyperion GR701 PC Case
Are you looking for a PC Case that offers adequate cooling options?
For this purpose, the Asus ROG Hyperion GR701 PC Case will be the ideal choice. It has an improved airflow. So, you don't have to stop your games in the middle when your PC overheats to enjoy a continuous gaming experience.
In addition, it supports up to 2×420mm radiators for large AIOs. Alongside, it's suitable for including a custom water cooling setup. On the other hand, it has a Sturdy diecast aluminum-alloy frame that offers a sturdy build quality.
You may have to carry and shift the PC Case in many situations. To make it easy, the ASUS ROG Hyperion GR701 PC Case has a top bar that can be used as a carry handle that can support up to 80. Moreover, you don't have to arrange everything to open the PC Case because it has a hinged tool-free side panel for better convenience.
Inside the PC Case is a built-in storage drawer and an integrated graphics card holder that will offer a high-quality PC Building experience. Its built-in graphics card holder is relevant for vertical and horizontal installations.
It has been made with CNC machine accents to give you a luxurious yet rugged look. Also, there is an Internal ARGB lighting Panel to showcase the ROG identity. Another unique aspect of the PC case is a hidden drawer to keep essential items like screws and cable fasteners within reach for a more organized setup.
Further, you get a Hyperion's Dual Type C connector to quickly transfer data at up to 20 Gbps and fast charge up to 60 W.
---
3. Antec Torque Black/Red Aluminum ATX Mid Tower Computer Case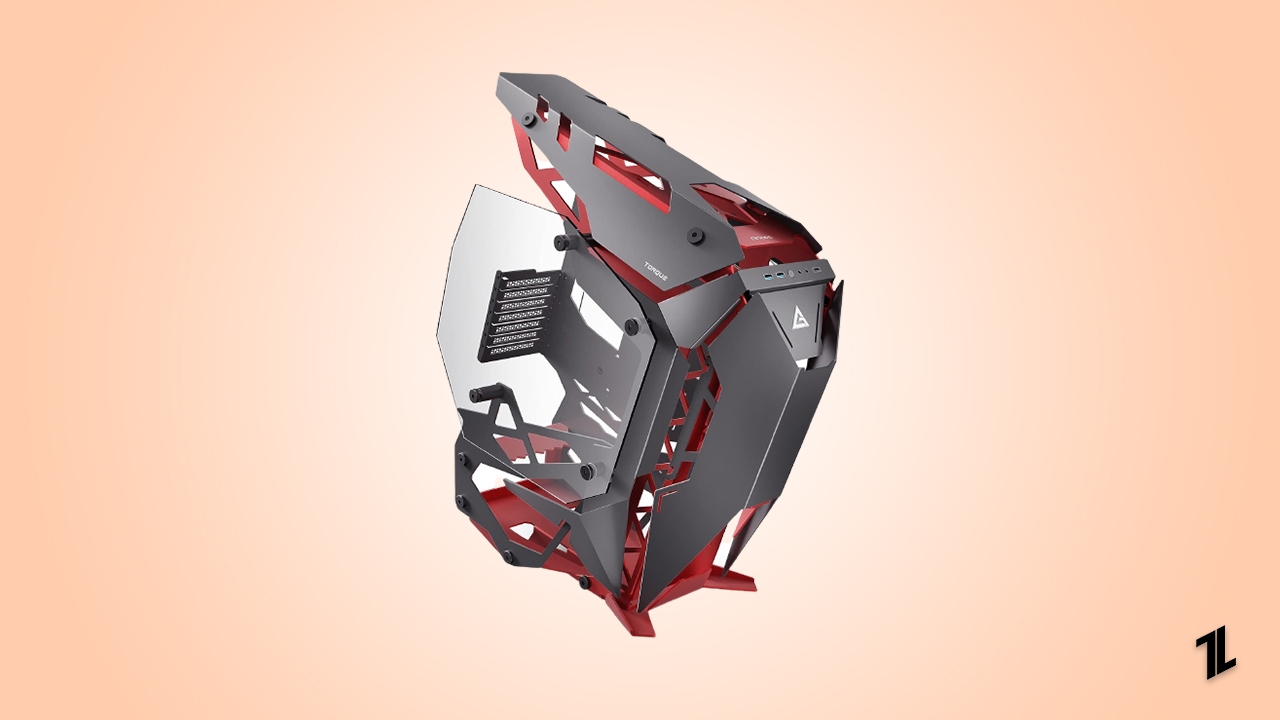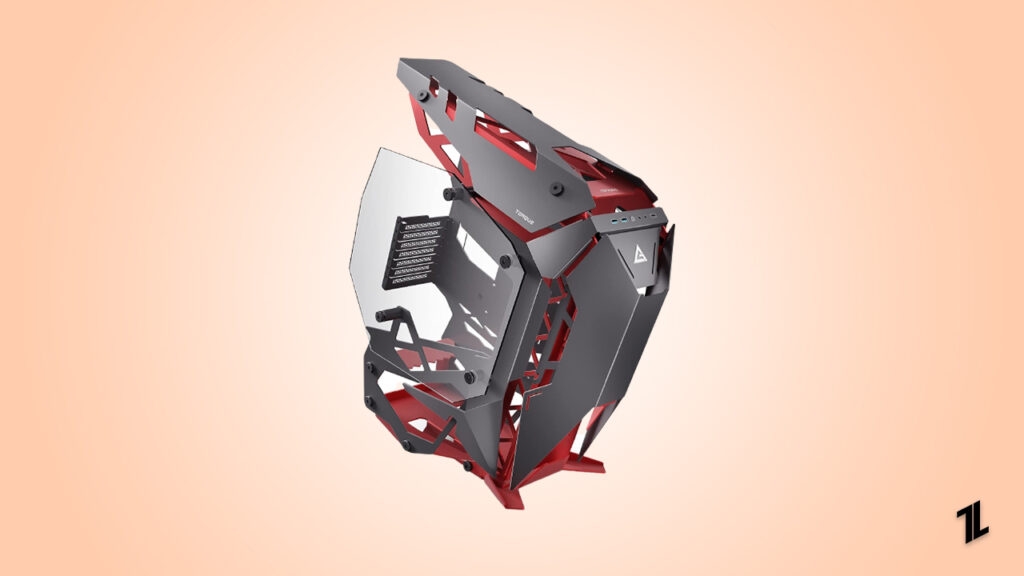 Antec Torque is another unique case that you can try out. It is comprised of 14 aluminum panels which offer perfection in every curve and edge.
Also, it comes with 4mm tempered glass on both sides, which lets you show off your gear. Also, it offers you extensive liquid cooling support.
It allows you to install a 360mm cooler easily in the front and the top. Also, it comes with a USB 3. 1 TYPE-C port. Overall, it is an open-air case that offers vast airflow and cooling management measures.
---
4. Thermaltake Core P90 PC Case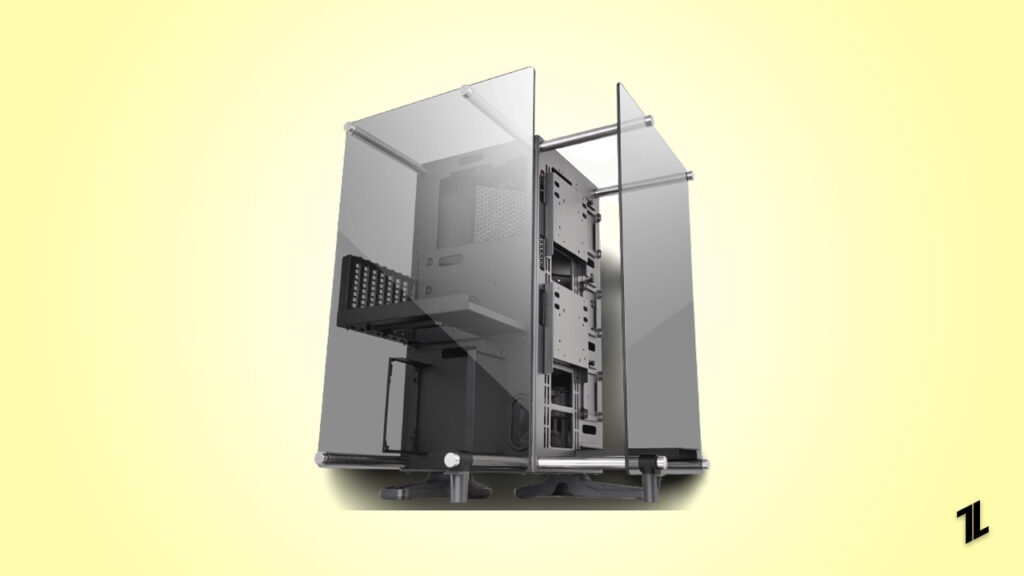 Are you looking for a PC Case with thick tempered Glass that will be more strong?
You must get the Thermaltake Core P90 PC Case with a 5mm Thick Tempered Glass if yes. Despite the transparent look, your PC body will be sturdy and robust.
Unlike many others, it is an enlarged glass window where you can see a complete display of every component. If you are building it, this will be the best way to highlight your skill set.
The Thermaltake Core P90 PC Case is not any regular PC Gaming case. It is designed from a different angle to ensure smooth heat dissipation, preventing overheating. At the same time, there is ample space inside to ensure that components are placed at a safe distance for optimal cooling performance.
The extra space and thick tempered glass are suitable to help to clean the PC easily. Further, you can easily maintain and repair your PC due to them.
In terms of layout, it supports 3-way placement layouts, including Wall-mount, Vertical, and Horizontal angles. All these configurations can be supported, and the angled frame design brings more flexibility.
If you already have a PC made, a shift to this cover shall give a modern redesign to it. You can reshape your PC components from the base with its modular panels, racks, brackets, and pre-design mounting arrays. The makers of this PC case have left no unreachable screw corners or gaps that have significant support during installation or maintenance.
For cooling, it supports all types of AIO liquid cooling solutions. It can install 480mm DIY liquid cooling radiator fitment. Also, you can extend the GPU performance with virtually no limit to GPU sizes for a good presentation. The case supports up to four 120mm or three 140mm fans or up to 480mm radiator.
---
5. AZZA CSAZ-804L Pyramid Innovative ATX case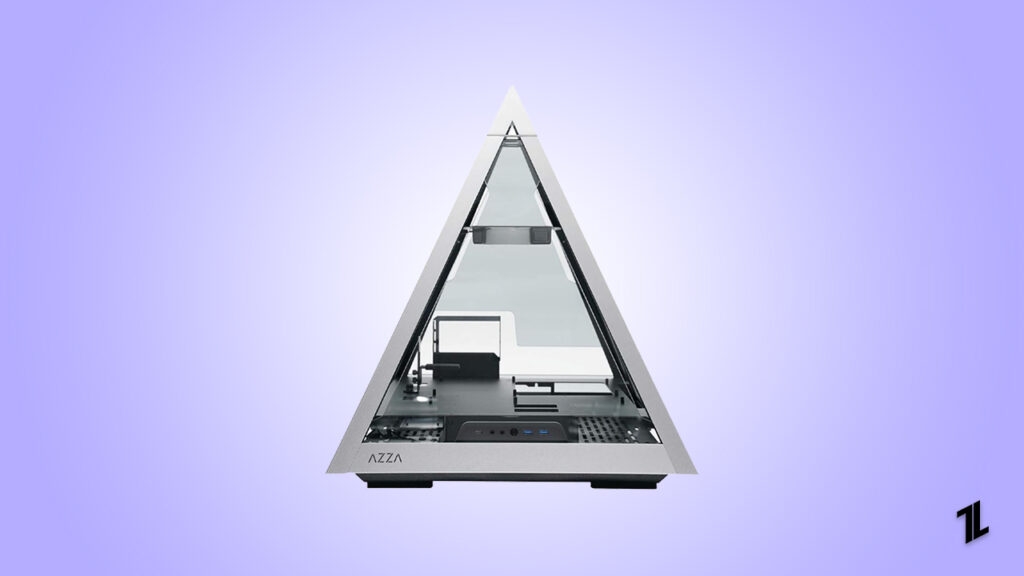 As you can see in the name, this pyramid-shaped PC case looks quite cool. This case comes in pretty handy for easily fitting larger graphics cards up to 330mm. Also, it can accommodate most of the RTX 30-series graphics cards.
Along with that, it comes with an updated interior and allows greater hardware compatibility and cooling potential.
Moreover, it also features a sporting look and an iconic exterior finish. Also, the pyramid design is surely an eye-catching one.
---
6. Azza Cube Mini 805 Innovative Mini-ITX Computer CASE
For my next pick, I have the Azza Cube Mini 805. This one is a mini ITX tower case that comes with an anodized sandblasted aluminum computer case.
Along with that, it offers you support for up to 200mm long video cards and comes with slidable tempered glass panels.
On the case's front panel, there is a single 120mm or 140mm fan. Also, you can attach an 80mm fan at the back for enhanced air circulation.
Plus, it comes with a 140mm digital RGB fan on the front, which can be controlled directly by motherboard software with any compatible motherboard.
---
7. CYBERWOOD Mirco ATX PC Case
How about a PC Case made with wood's natural beauty that gives your PC a distinct look?
The majority of the PC Cases are made with materials like metal. But, the Cyberwood Mirco ATX PC Case is one of the few PC Cases that has a unique design making it distinct from other models in terms of its look. Consequently, you can get a rustic and natural look rather than a contemporary appearance.
It's not any regular wood; this gaming PC Case is made with the company's proprietary Cyberwood technology. It combines natural wood with modern materials for a more reliable PC Case.
The CYBERWOOD Micro ATX PC Case is mainly designed to include Mirco ATX motherboards for better compatibility with various computer parts. Overall, it's a reliable PC case that can be used for purposes like gaming rigs, home office setups, and media centers.
The PC Case has a sturdy build quality made with the best materials that last long and look aesthetically pleasing at the same time.
---
8. Thermaltake AH T200
In the end, I have the Thermaltake AH T200. The PC case features two 5mm thick tempered glass window panels on the left and right sides.
Also, the glass is more scratch-resistant when compared to standard acrylic. Plus, it comes with a dismantlable modular design.
Along with that, it features swinging doors on the left and right sides. This allows users to access the internal components easily.
In addition to that, it features a sophisticated and special interior design. This offers you enough room to fit all your components and offers you an easy cable management experience.
---
9. CougarBLAZER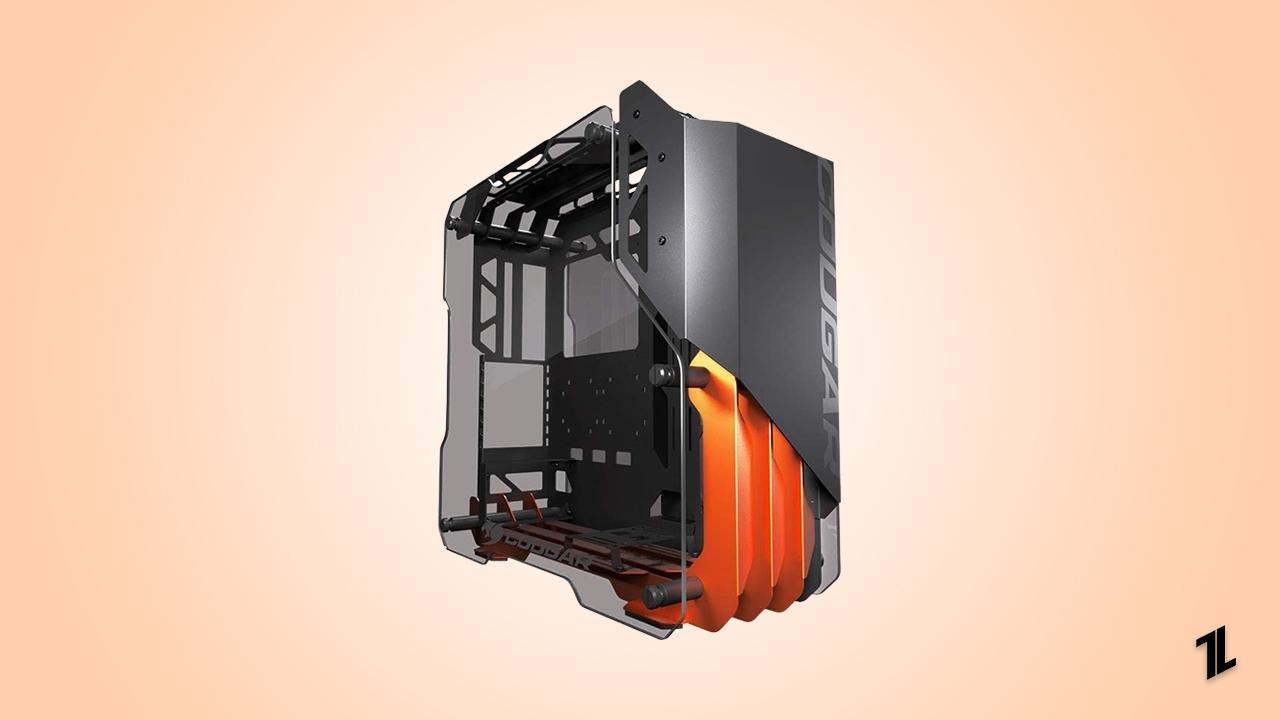 Next, there is the CougarBLAZER. This one is an aluminum open-frame gaming case that comes with a new aesthetic design.
The case features a superior combination of aluminum framing and full-tempered glass panels. So you can flaunt your PC's hardware.
Along with that, it offers you extreme cooling performance as it has support for a 360mm radiator at the side and an aluminum open-frame design to achieve extreme cooling performance.
Moreover, you can also modify the case as per your needs. As well as it comes with an affordable price tag.
---
10. Cougar CONQUER ATX Gaming Case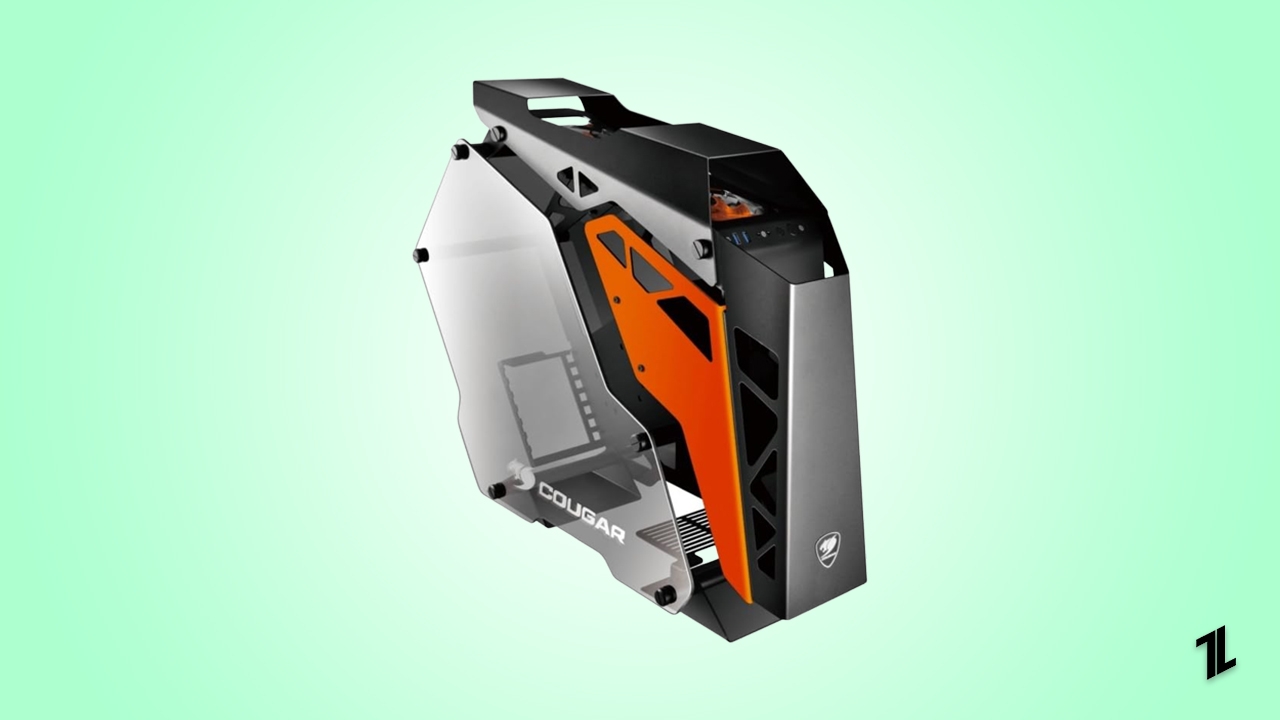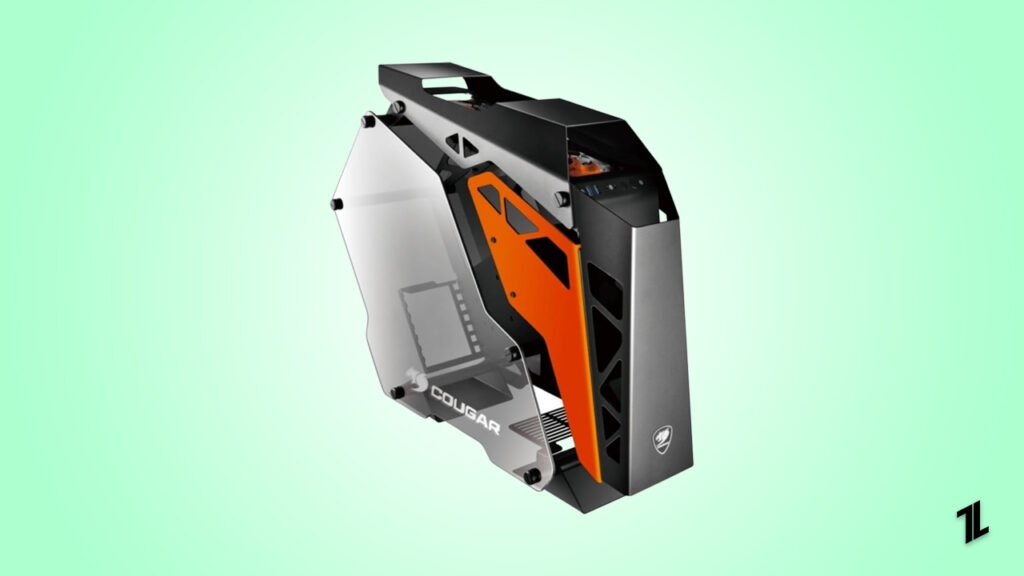 At first, I have this very cool Cougar CONQUER ATX Gaming Case. This one features an aluminum framing and comes with a military style. Also, it features an aluminum alloy frame that forges an all-new ultimate stylish masterpiece.
The case features an open-frame concept which is composed of a strengthened aluminum alloy frame with two 5mm thick tempered glass side panels.
You can easily fit a 350mm full-size graphics card into the case without any issues. Also, it offers you extreme cooling performance. It has support for a 360mm water-cooling radiator at the top and a 240mm water-cooling radiator at the front.
---
11. In Win Signature Motorcycle Steel Tube ATX Computer Case
InWin is also one of the unique PC cases that you can consider buying. The case is handcrafted with 100% fine aluminum, demonstrating In Win's pursuit of absolute precision.
The case comes in a modern technological open-air design chassis which shows uniqueness and aesthetics. The D-Frame's sturdy aluminum piping structure also offers extreme strength.
The coolest part of the case is that it has a unique adjustable PSU holder that allows better flexibility. Also, it offers you ample space to manage your cables and can accommodate up to 160mm CPU coolers.
---
Summing Up – Most Unique PC Cases
A PC Case is the necessary physical enclosure for your PC that can complete and update its look. It will give you the space to add fans and cooling radiators.
At the same time, it provides adequate space for cable management and a visually pleasing look. The PC case is a must for your PC, and choosing the suitable one from this list will enhance your PC Setup.
Every PC case stands different; therefore, compare all these options before selecting one!
Further Reading:
Nayan Roy also contributed a portion of this article.
Leave a Comment