TechLatest is supported by readers. We may earn a commission for purchases using our links. Learn more.
So you have done some mistakes in your PDF document and want to do some editing on it? But how do you do that? Exactly, that is why you are here. Here we will tell you about open-source PDF editors, which help you edit or rewrite anything in your PDF document.
An editor helps us to edit something. Similarly, PDF editor tools allow us to edit the existing PDF document. 
Suppose we have a PDF file of products and their rates, and we are about to share the PDF file with distributors. For some sudden reason, we want to change something inside PDF; the PDF editor comes into the picture. PDF editor does the editing part of an existing PDF file. 
Open-source software is open for free to use. You can download open-source software from anywhere on the web. Similarly, Open-Source PDF editors are open for free to use for everyone. We have discussed a few open-source PDF editor tools below.
Benefits of PDF Editors
PDF editor has some enormous benefits of having it on your system. As we already know, what is a PDF editor, it's time to learn its benefits.
Open any type of file: One of its common benefits is viewing all types of files.
Adjusting content: If you want to change or replace something inside the document, you can do it with PDF editors. Misspelling words, adding words, and removing sentences can do everything without hassle.
Converting file: Converting a file to another is very convenient with PDF editors.
Add more content: Adding additional content such as header, watermark, and stamps is very easy.
Save time: It saves a lot of time. Anyone wants to edit and update the existing document rather than create it from scratch.
Security: PDF editors allow us to create a password for any PDF file. It can protect sensitive PDF files with a password. 
These are notable benefits of PDF editors.
Best Open-Source PDF Editors
Several open-source PDF editors are available on the internet. But we have shortlisted some most useful of them below.
Inkscape PDF Editor
Let's start with a simple and powerful open-source PDF editor named Inkscape, one of the best PDF editors in the market.
The best thing I love about Inkscape is that it is more than a PDF editor; it has some additional features such as graphical design and animation. Inkscape can do all PDF editing tasks like merging, editing text, adding images, and removing images from a particular PDF file.
Second, Inkscape is more like Adobe Illustrator; you can add any additional vector graphic to your PDF document. All you have to know is how to create vector images on Inkscape. Or you can add any images from your device.
Third, Inkscape allows users to add extra plugins or add-ons to get more features. That's why Inkscape is very popular.  
However, Inkscape is compatible with Windows, Mac, and Linux.
Key features
Full-fledge PDF editor.
Additional plugins or add-ons can increase its functionality.
Support multiple file formats.
Download Now: Inkscape
---
Apache OpenOffice Draw
Apache OpenOffice Draw is the second open-source PDF editor on our list. With its advanced PDF editing tools, you can create any type of PDF from scratch and convert those files into different formats. Like the first one, Apache OpenOffice draw has many creative options to use on its dashboard.
Along with a PDF editor, Apache OpenOffice draw can help you do more things, such as remove or add any text, image replacement, and resize the PDF pages with your existing PDF file or a new one.
Moreover, Apache OpenOffice Draw has a spell check feature. With the help of spell check, you can check any spelling mistakes inside a document. This feature definitely enhances the overall presentation of a document.
This open-source, free PDF editing tool supports Linux, Windows, and even Mac.
Key features of Apache OpenOffice Draw
It has multiple creative editing features.
The inbuilt spell-checking feature is very useful.
Rotate and merge PDF files.
Download Now: Apache OpenOffice Draw
---
LibreOffice Draw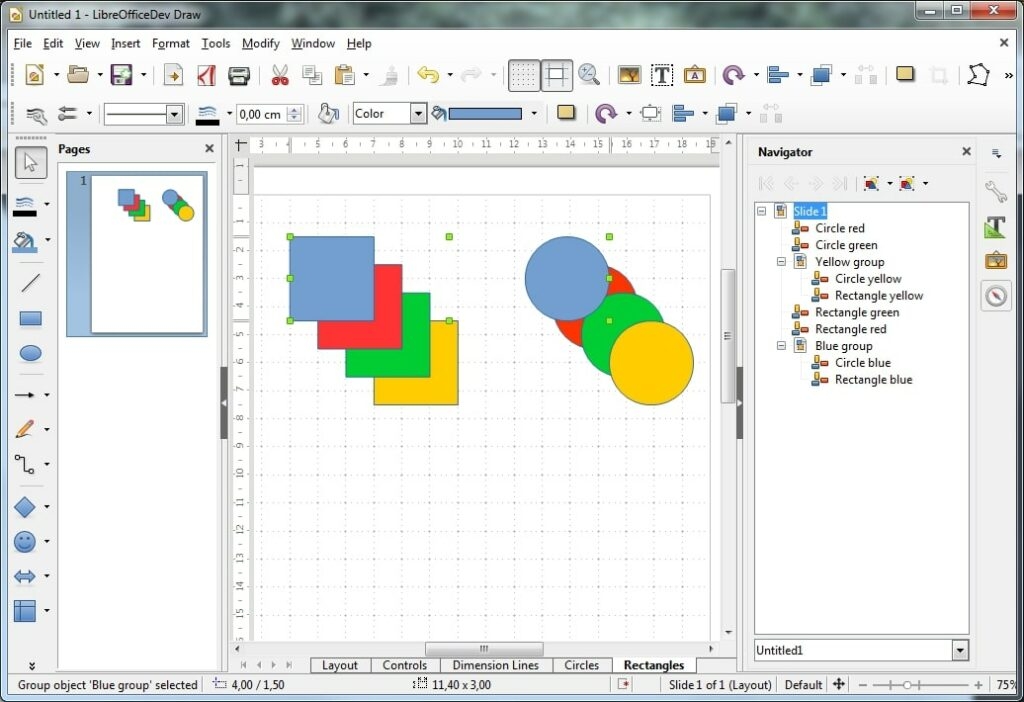 Another powerful and open-source PDF editing tool for Linux and Windows. The biggest talking point of the LibreOffice Draw is its simplicity and understandable user interface. The tool is very similar to Microsoft Word but a very capable and handy PDF editing tool. 
You can open a wide range of PDF files from anywhere you want. Adding your own digital signature can be your cup of tea with LibreOffice Draw. Adding text or removing text from a PDF also can be done very easily. In addition, you can add photos to any existing PDF file.
One thing I notice about LibreOffice Draw is that you can break down a document into a brief paragraph which helps a user to correct noticeable mistakes quickly.
Key features of LibreOffice Draw
Very easy to use for its similarity with popular Microsoft words.
You can add a digital signature.
Customize PDF pages.
Download Now: LibreOffice Draw
---
PDFSam 
Do you want to edit your PDF document with no hassle? Then you can try PDF Sam. It is not like other PDF editing tools with so much clutter. Simple PDF editing tool, few much-needed features available to use, actually what is extremely necessary to edit or create a PDF file than PDFSam has for you.
Its merge and split feature on a PDF document works ‌conveniently. Furthermore, you can convert any document to a PDF format. It can do the rotation of multiple pages or even a single page effortlessly. Moreover, you can split pages with bookmarks.
For professional use, PDF Sam has two mouthwatering functions; first, PDFSam's enhanced features and another is PDFSam's visual.
Above all, the open-source editing tools support Linux, Windows, and Mac. 
Key features of PDFSam
Simple user interface. 
You can merge and split PDF pages.
Its visual feature allows us to organize PDF pages.
Download Now: PDFSam
---
PDF Architect
Another popular and fully functional PDF editor is available in the market. Basic to advance editing features are inbuilt in the PDF Architect. If you are looking for full compatibility with any kind of document file, then you can trust the PDF Architect.
The biggest talking point about the PDF Architect is that it supports more than 300 types of file formats, including Word, Excel, and PowerPoint files. With PDF Architect, you get full control of particular documents for editing or rephrasing. In addition, you can add or replace any media file with a PDF document.
Because the PDF Architect supports several file formats, you can convert them into PDFs from any type of file.
Unfortunately, PDF Architect does not support multiple operating systems. It runs only the Windows operating system.
Key features of PDF Architect
A fully functional PDF editor comes with advanced editing features.
300+ file formats supported.
You can media file into a document.
OCR feature allows you to edit a scanned document.
Download Now: PDF Architect
---
Final Words
The PDF editing tool always saves time for you. Even finding an open-source PDF editor is easy, but which editor can meet your needs is very difficult to find. However, we have shared the 8 best PDF editors for you, which can actually solve your editing problem. 
Let me know which editor you wish to use. Share with someone who needed a list PDF editor.
---
Leave a Comment