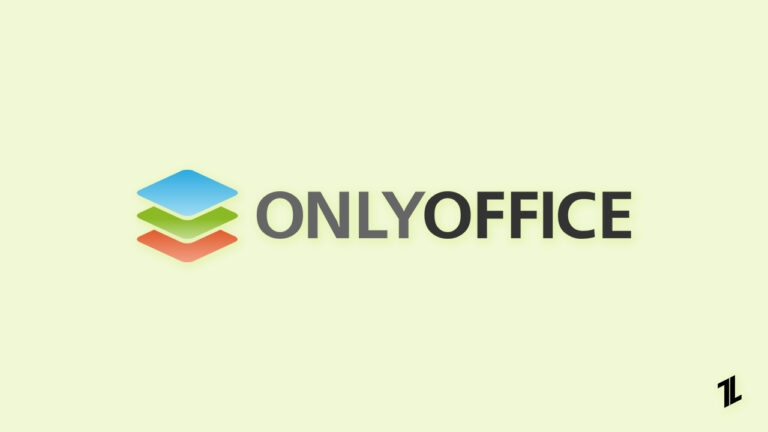 TechLatest is supported by readers. We may earn a commission for purchases using our links. Learn more.
If you think the Microsoft Office suite has no alternatives for Windows users, you need to reconsider your point of view. OK, it's no secret that Microsoft Office has been the most popular and complete office package for many years.
However, today, in 2022, there are so many alternative solutions for Windows that it seems to be a good idea to try them out of curiosity.
The existing alternatives might vary in terms of functionality and user interface. If you need something like Microsoft Office but more affordable, we recommend installing and testing ONLYOFFICE Desktop Editors.
This office suite comes with all essential features and doesn't try to copy Microsoft Office. Importantly, it works on all popular operating systems, including Windows, macOS, and even Linux. Here is our ONLYOFFICE Desktop Editors review.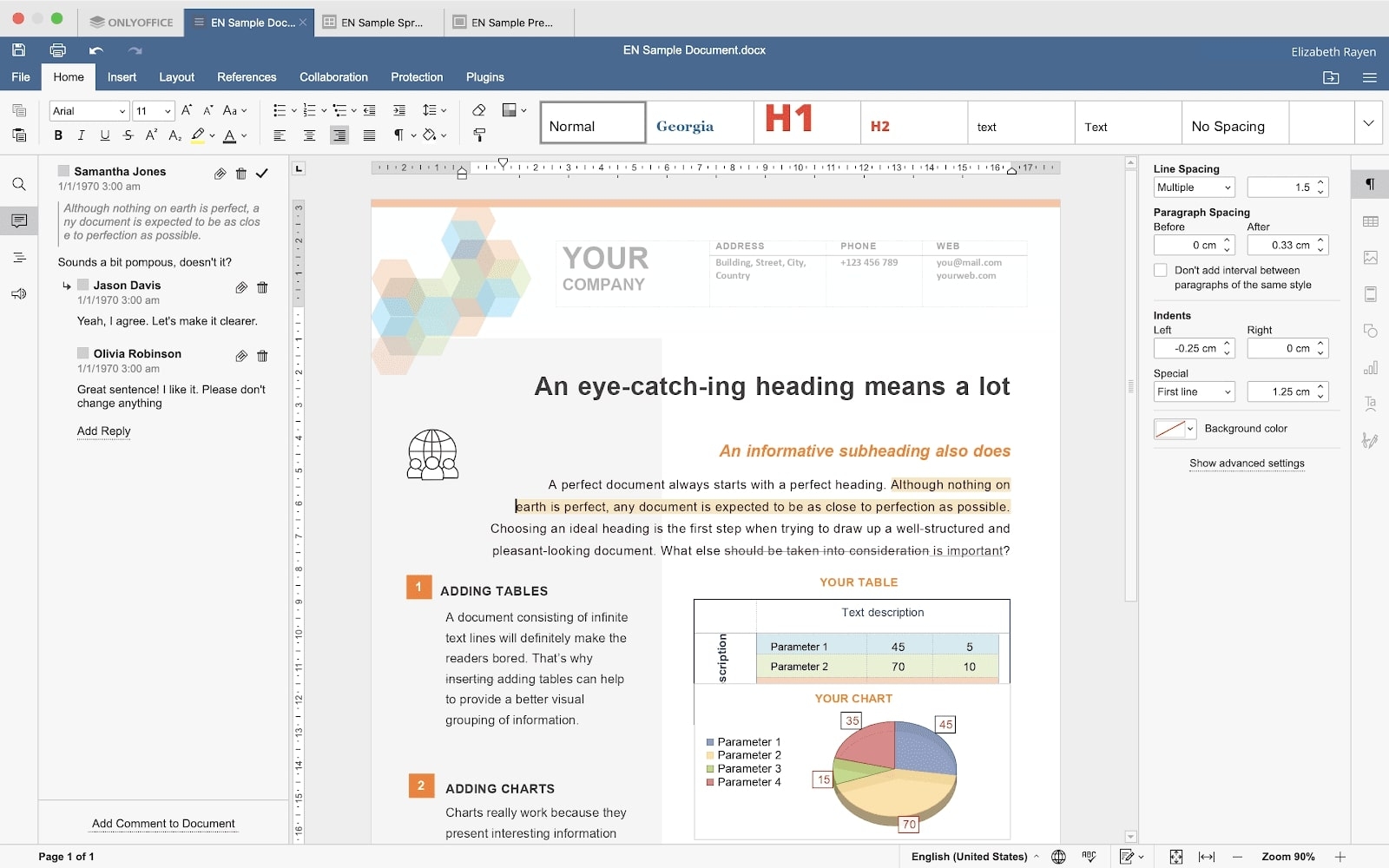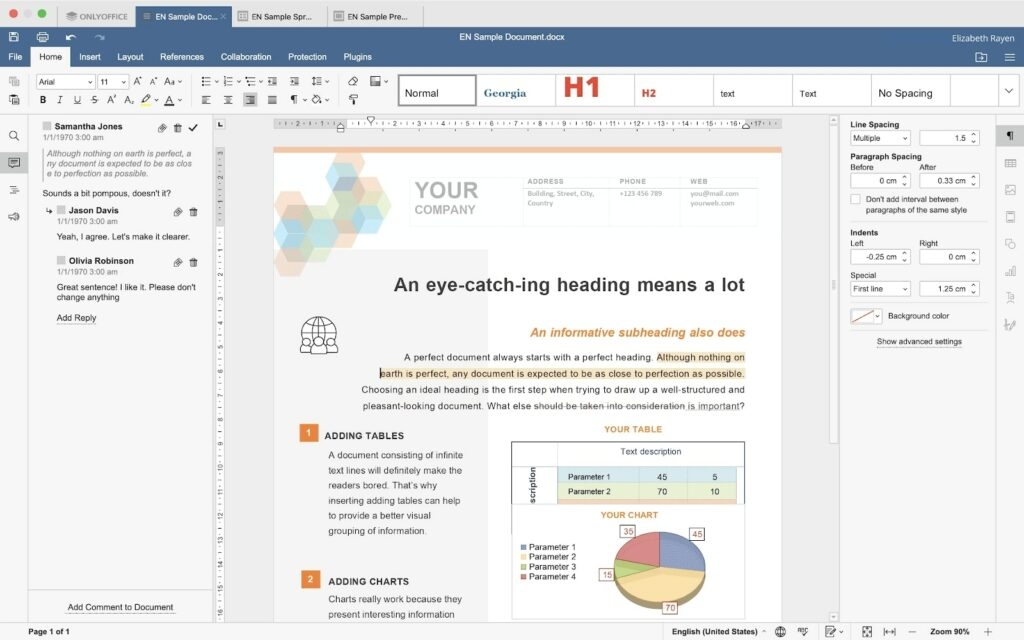 ONLYOFFICE Desktop Editors
Introduction
ONLYOFFICE Desktop Editors is a free cross-platform office package for text documents, spreadsheets, presentations, PDF files, and fillable forms that have native clients for Windows, Linux, and macOS. There is also a web-based version of this software called ONLYOFFICE Docs that is designed for self-hosted deployment on a local server or in the cloud.  
Except for the desktop and online editors that are based on the same engine and have the same user interface with a few differences, the ONLYOFFICE project also comprises free mobile apps for iOS and Android. The ONLYOFFICE mobile apps are quite easy to use and provide simple document editing on the go.
ONLYOFFICE Desktop Editors can be easily installed on all modern versions of Windows, including Windows 7. You might find it surprising, but there is also a client for Windows XP and Windows Vista that regularly gets updated.
Let's take a look at what makes us believe that ONLYOFFICE Desktop Editors is a good alternative to Microsoft Office.
---
Main Advantages
The following features and characteristics allow the ONLYOFFICE desktop app to stand out among other desktop office suites:
Free distribution. ONLYOFFICE Desktop Editors sticks to the open-source concept, according to which its source code is publicly available to everyone on GitHub. You can use the program for any purpose at no cost, and you are even allowed to modify its code for your needs if you have the required programming skills. ONLYOFFICE has no hidden subscription offers and doesn't bother you with ads. 
Highest compatibility with OOXML. ONLYOFFICE Desktop Editors natively supports DOCX, XLSX, and PPTS, which guarantees 100% compatibility with Word files, Excel sheets, and PowerPoint presentations. Other popular formats, such as ODF and obsolete Microsoft formats (DOC, XLS, and PPT), are supported, too. ONLYOFFICE works with other formats through conversion to OOXML. The conversion quality is usually good, but small glitches are possible sometimes. Nothing is perfect, right?
Real-time document collaboration. ONLYOFFICE Desktop Editor is not that good for local editing on your PC or laptop. If you have an Internet connection, you can connect the desktop app to Netxcloud, ownCloud, kDrive, Liferay, Seafile, and ONLYOFFICE SaaS to start co-authoring your documents in real-time with other people.
Third-party plugins. A plugin is a software extension installed on ONLYOFFICE Desktop Editors to enhance its basic functionality. There are many plugins to any taste; some are already pre-installed, while others require manual installation.  For example, you can translate words and phrases with Google Translate or Deepl, connect your Telegram account for text messaging, insert YouTube videos, add citations with Mendely or Zotero, hold video conferences with Jitsi, and more.
Digital signatures. With ONLYOFFICE Desktop Editors, you can add digital signatures to verify the authenticity of your documents and protect their contents from alterations. You just need to have a valid digital signature issued by a trusted certification authority. 
Password protection. You can set up secure passcodes to prevent unauthorized access to your confidential documents. In this case, no one will be able to access your files even if you forget your password. 
Now that you know what ONLYOFFICE Desktop Editors are and their main peculiarities let's find out what you can do with each editor. 
---
Document Editor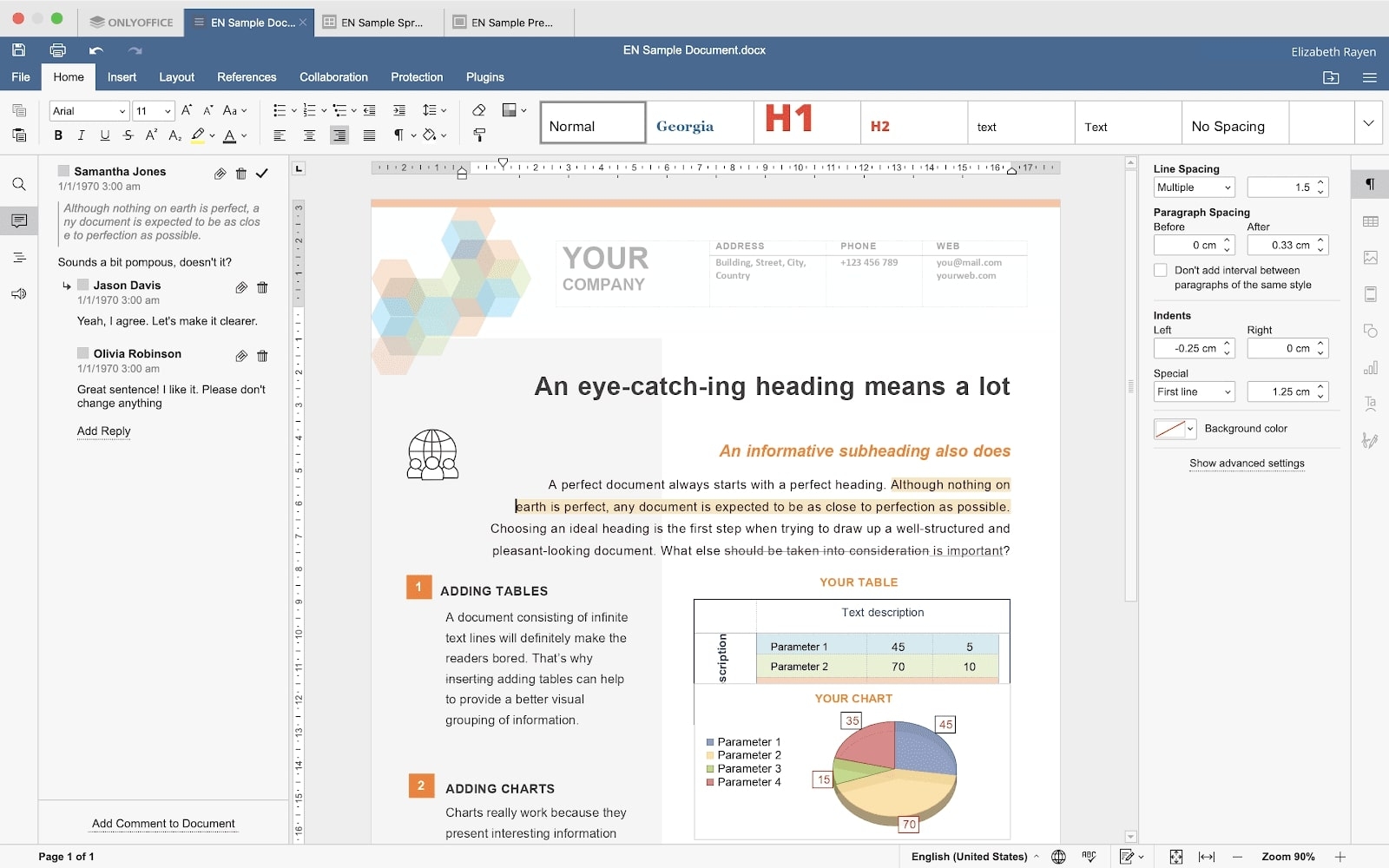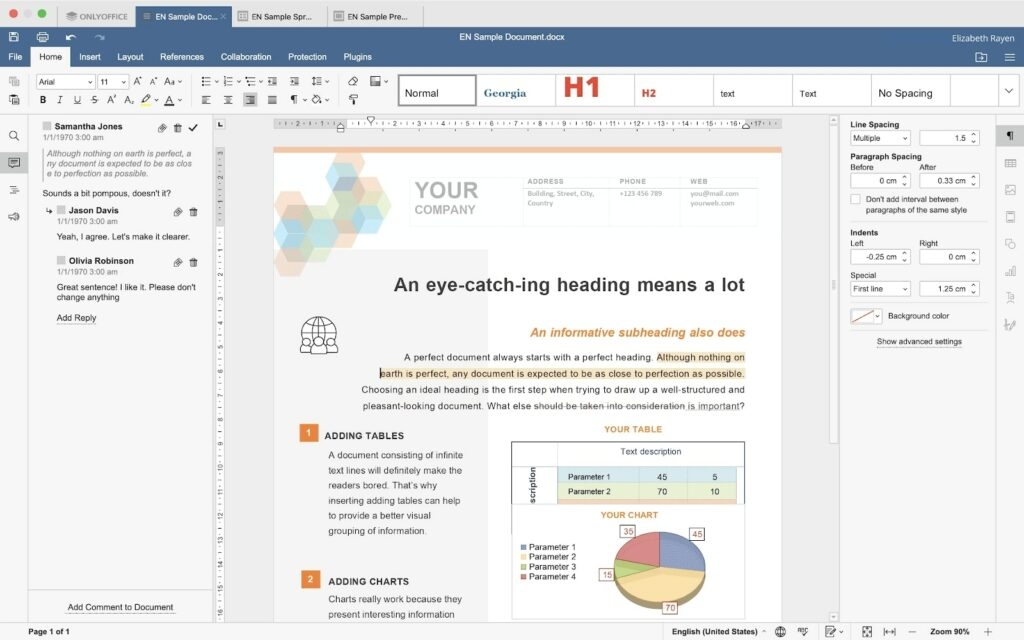 With ONLYOFFICE Document Editor, you can do almost everything you are used to in Microsoft Word. The editor allows you to create, edit, view, and browse text documents in different formats. Apart from its native compatibility with DOCX, Word's format, you can also work with DOC, ODT, TXT, RTF, and HTML files.
When it comes to editing functionality, the ONLYOFFICE editor has a lot of useful tools. You are allowed to manage fonts, adjust the spacing between paragraphs and indents, add headers and footers, insert bulleted and numbered lists, customize page layout and choose from different margin presets.
ONLYOFFICE also supports various objects. You can insert images, charts, diagrams, autoshape, tables, OLE spreadsheets, Text Art, special symbols, equations, drop caps, and more, including content controls similar to those in Microsoft Word.
Finally, the ONLYOFFICE text editor makes it easier to navigate through the different elements of your document with the help of tables of contents, bookmarks, tables of figures, and cross-references.
---
Spreadsheet Editor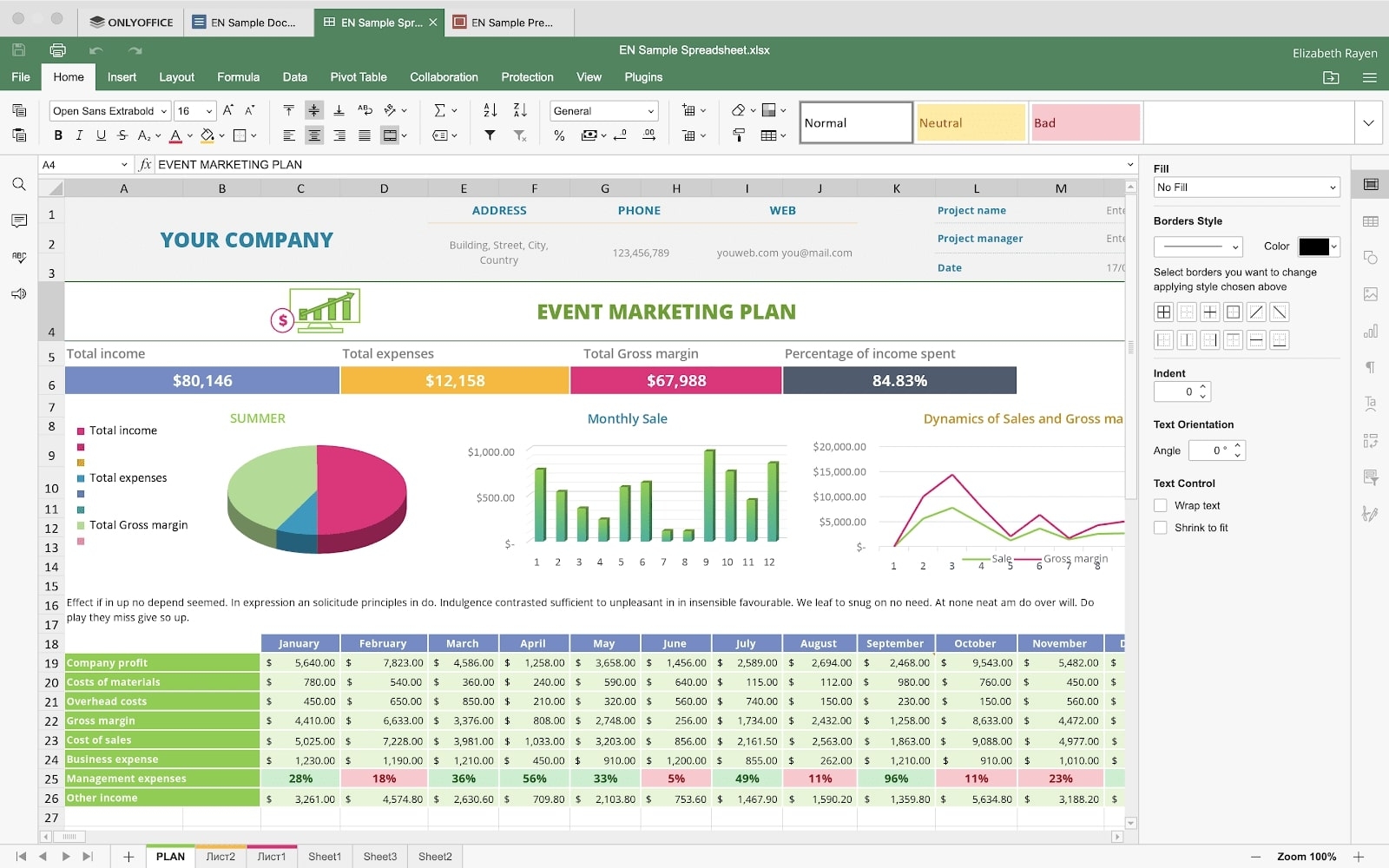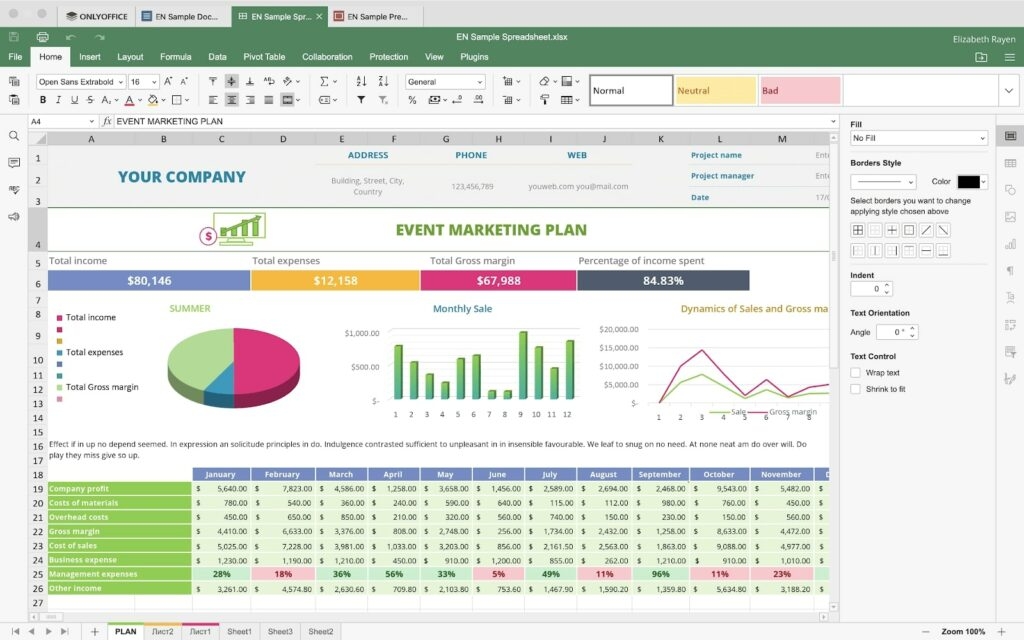 ONLYOFFICE Spreadsheet Editor is an alternative to Microsoft Excel, so it comes with very similar features. Using this editor, you can easily open any Excel sheet due to its compatibility with XLSX. It also opens and edits XLS, ODS, and SVS files and allows you to save your spreadsheets as PDFs. 
The program has a large number of functions and formulas (more than 400) for quick and precise calculations. These features are also present if you need to work with pivot tables, slicers, and conditional formatting. Moreover, you are allowed to create drop-down lists and use data validation, which is quite useful in some situations.
As for macros, ONLYOFFICE supports them. However, it uses JavaScript, not VBA. Despite this, ONLYOFFICE macros are easy to work with.
---
Presentation Editor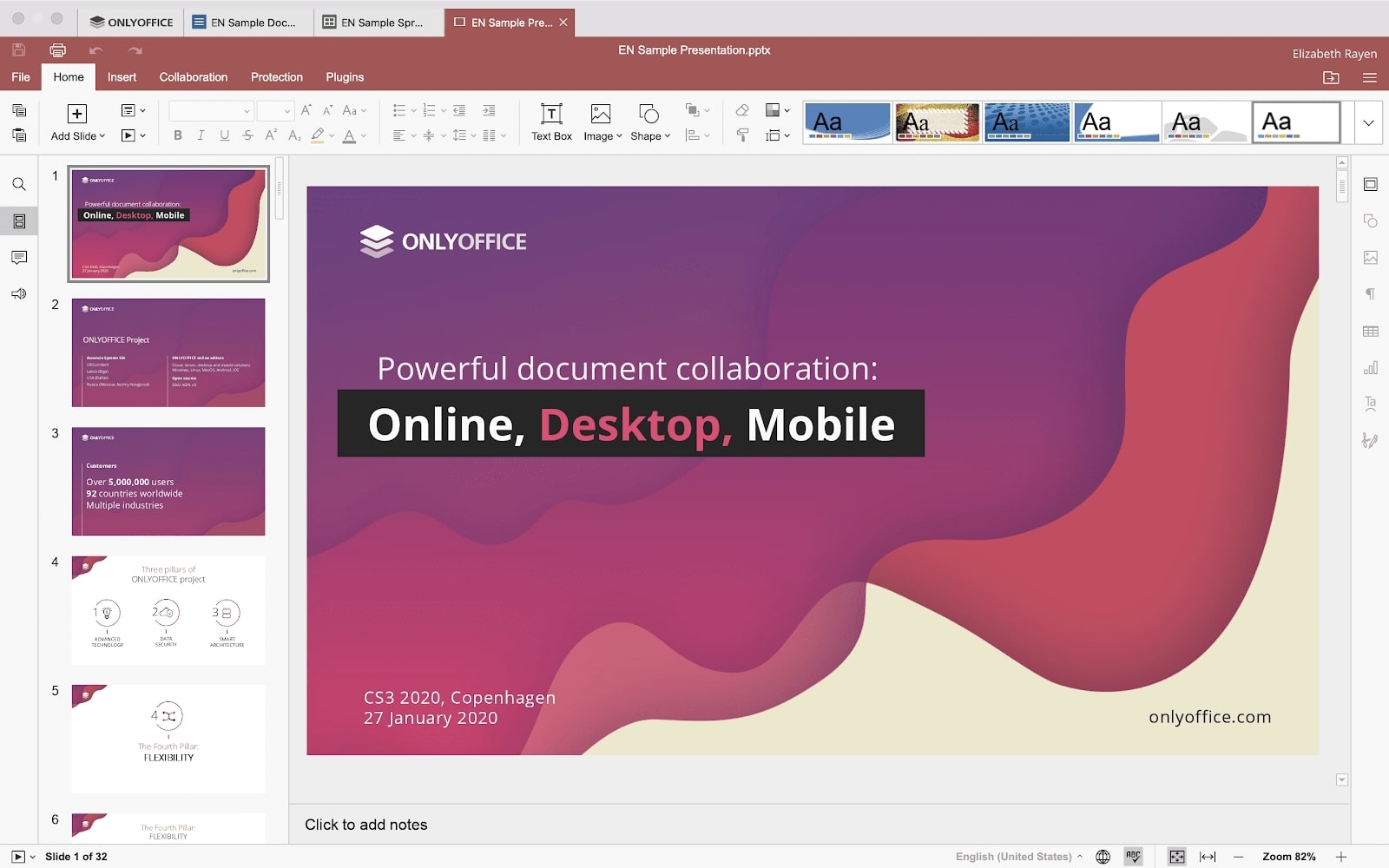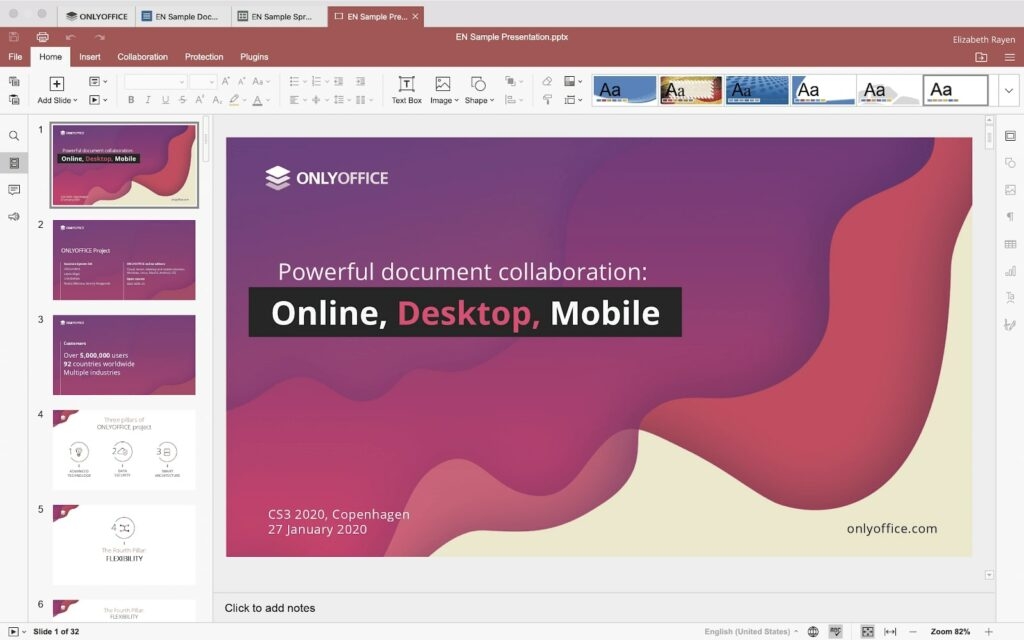 As a PowerPoint replacement, ONLYOFFICE Presentation Editor is totally compatible with PPTX presentations and allows you to save them to PDF, PNG, and JPG if necessary. It also supports PPT and ODP files so that you can work with presentations created in different office suites.
The ONLYOFFICE Editor provides all the required features to create stunning slides. You can apply animation and transition effects, create custom paths for various objects, and insert auto-shapes, diagrams, charts, tables, end even YouTube videos. 
With the built-in Presenter mode, you can add notes and read them from the screen, which makes things easier when you give a presentation in front of a large audience. Other people will only see the slides. 
---
Form Editor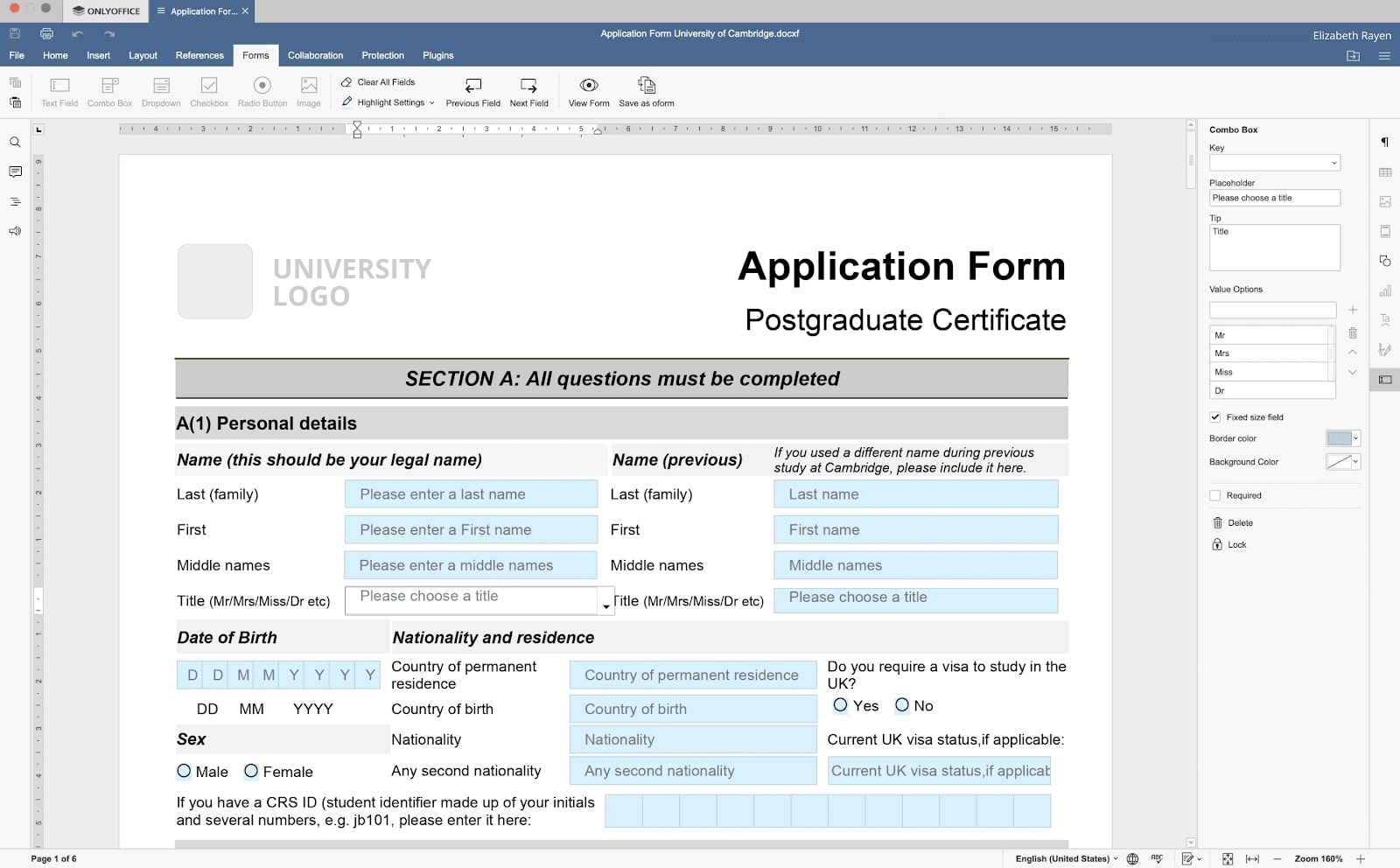 Except for the Word, Excel, and PowerPoint alternatives, ONLYOFFICE also has a form creation tool. You can create documents with fillable fields that can be used to collect information. ONLYOFFICE allows you to create forms from scratch or turn Word documents into form templates.
You can choose many fields for your form, e.g., radio buttons, images, complex fields, drop-down lists, combo boxes, text fields, email addresses, and phone numbers. All fields have their own properties that help you create unique form layouts. 
Form templates can be turned into PDF files. In this case, you get a fillable PDF with interactive fields. Alternatively, you can save your form templates as OFORM, ONLYOFFICE's native format for digital forms, and share them with other people.
---
PDF Viewer
Another useful tool that the ONLYOFFICE suite has is a simple but reliable PDF viewer. You can easily open and browse PDF and DjVu documents and print them out. Also, it's possible to convert PDF files to other formats. For example, if you need to turn your PDF into an editable DOCX file. 
---
Conclusion
ONLYOFFICE Desktop Editors have all the required features to replace Microsoft Office on your laptop or PC. It's compatible with a variety of file formats and allows you to work with Word, Excel, and PowerPoint files without having to buy a subscription.
At the same time, it doesn't copy the Microsoft office suite but offers a similar editing experience. To cut it short, ONLYOFFICE Desktop Editors is something that surely deserves your attention. 
Leave a Comment