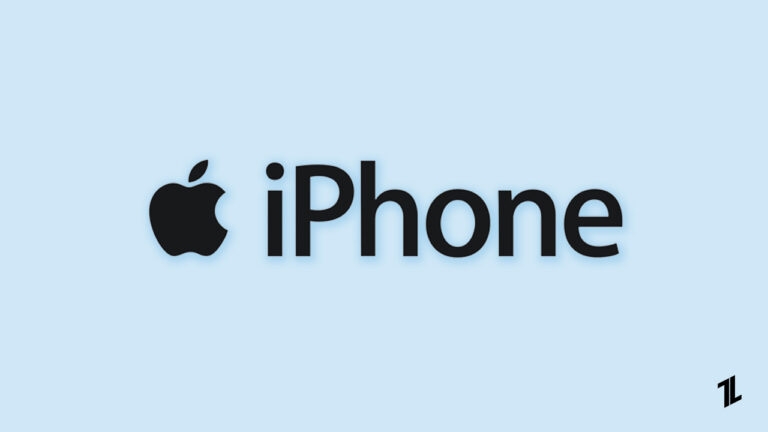 TechLatest is supported by readers. We may earn a commission for purchases using our links. Learn more.
Is the screen on iPhone 14 durable enough to withstand everyday use, or should iPhone users invest in a screen protector? Every new iPhone user often asks this question.
In terms of design and functionality, Apple's new iPhone 14 series models are an improvement over their predecessors.
The iPhone 14 models come with dust, splash, and water-resistant IP68 rating, which means they can be submerged for up to 30 minutes at a depth of 6 meters. But does this brand-new iPhone 14 need a screen protector? Keep reading to find out the answer to your question!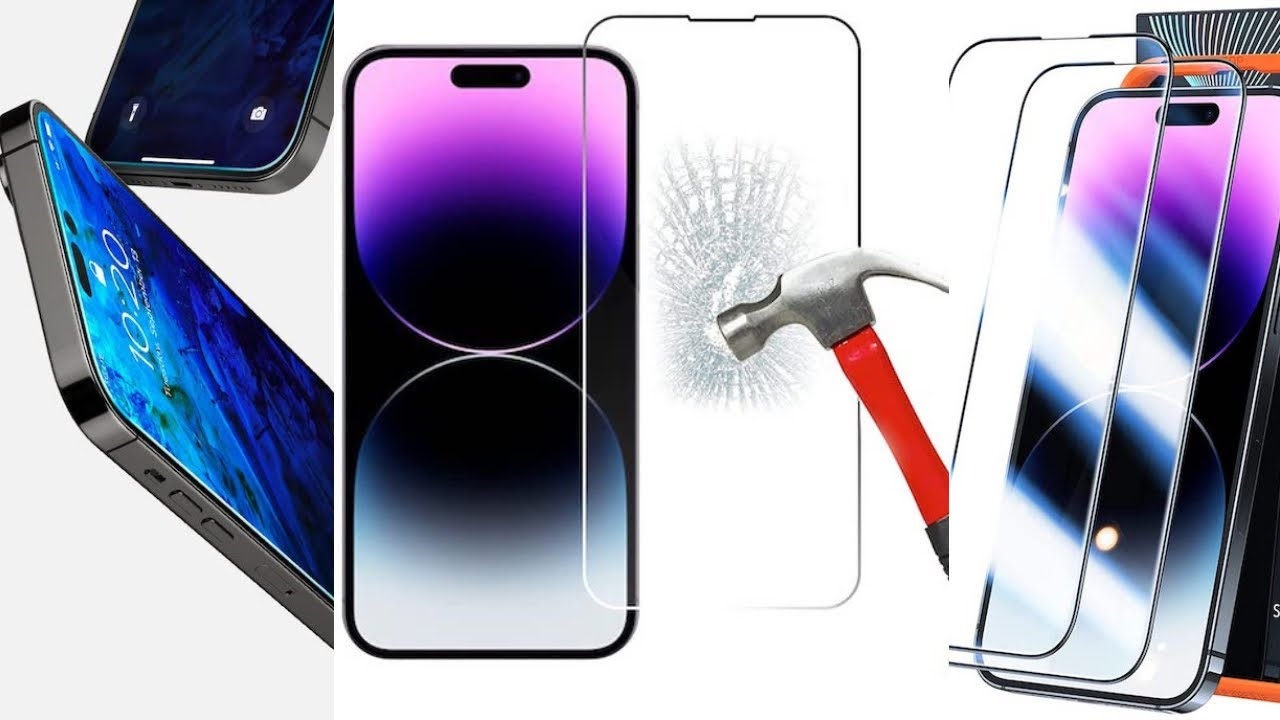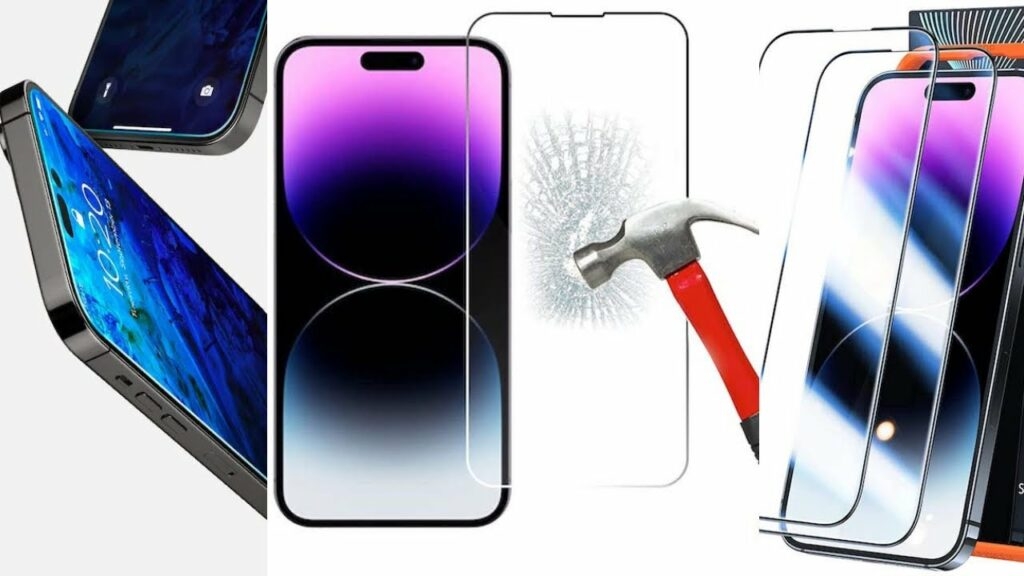 Should You Use A Screen Protector For Your iPhone 14?
The answer depends on how cautious you are with your devices and how much protection you think you will need. Furthermore, the iPhone 14 screen looks gorgeous with the new wallpapers.
While the display is easy to use, it is made of glass and is easily susceptible to breakage. Using a screen protector is an excellent way to prevent this mishap.
Screen protectors not only protect your display from minor scratches but also absorb the shock of a drop, resulting in less chance of your phone shattering. But if you're more careful with your stuff and don't typically break phones, then maybe you don't need one this time.
---
5 Reasons Why You Should Use A Screen Protector
If you're still unsure, here are some reasons why you should buy a case and screen protector for the iPhone 14.
You're Accident Prone
When you drop your iPhone, it is much better protected with a screen protector. It means you're less likely to have to pay for expensive repairs or screen replacements. If the screen protectors get damaged, you will most likely only need to replace them.
You Want A High Resale Value
The second is you want to maintain the value of your iPhone when it comes time to resell it. It is much more difficult for other smartphones to maintain their value over time than the iPhone does. When you use a screen protector on your iPhone, your resale value increases even more.
You Want To Customize Your iPhone
Customizing a case is a great way to express yourself. After you buy an iPhone, you're stuck with the color you've chosen until you buy another device, even if it's not the one you like anymore.
This is because Apple only offers a few colors, but once you choose one, you have to stick with it until you buy another device. However, you can always buy new cases for your iPhone to change the style; some websites even let you customize the case.
Prevent Fingerprints From Appearing
A screen protector will usually prevent fingerprints from appearing, which can be a nuisance. By doing this, they ensure that the screen is as clear as possible, so it can be used more effectively.
Protect Against UV
A screen can become unreadable when exposed to UV light. You can prevent UV light from reaching your phone's screen by using a light-canceling screen protector.
In addition, this reduces glare on your phone screen, ensuring that everything on it can be seen clearly. Either way, it's always a good idea to do some research and find out what's best for your needs. 
---
Best Screen Protectors For iPhone 14
Mothca Matte Glass Screen Protector
With high-resolution screens and bright panels, matte screen protectors seem to have lost their appeal. You can, however, protect your iPhone 14 Pro Max's display from fingerprints and reflections using a matte glass screen protector.
Screen protectors with matte finishes have both advantages and disadvantages. In addition, the display will be less prone to fingerprints and smudges, scrolling and swiping will be smoother, and sunlight will be easier to read. Also, it's a good choice for gamers.
However, matte screen protectors make the display appear hazy and degrade the viewing experience. With a clear screen protector, videos, movies, or any other content will appear more attractive to the eye.
---
Ferilinso Privacy Screen Protector
There are three screen protectors and three camera protectors included in the Ferilinso Privacy Screen Protector, making it an excellent value.
There are also many other features to consider. Among its many benefits are its durability, which will ensure your iPhone 14 Pro is protected from scratches, scrapes, and falls.
Moreover, the screen has privacy features that keep what is shown on it hidden until you look directly at it. As a final feature, it comes with a frame for installation and a cleaning kit.
---
Belkin UltraGlass Screen Protector
You can find the Belkin UltraGlass screen protector for iPhone 14 Pro Max on Apple's official store because it was made in conjunction with Apple. The price is a little high for standard tempered glass, especially since you get only one protector.
This Belkin UltraGlass screen guard is your standard, run-of-the-mill screen guard for iPhone 14 Pro Max that doesn't offer any unique features.
The package comes with an alignment tray, but there are no additional protectors if you break one. Although the glass is of high quality and the dynamic island is also protected, its exorbitant price does not justify it.
The double ion exchange strengthening in this protector makes it up to twice as strong as tempered glass screen protectors. But it's still glass, so it breaks when it's hit.
Belkin screen protectors are almost like Apple's first-party accessories, so get them only if you need tempered glass.
---
Ailun Screen And Camera Protector Combo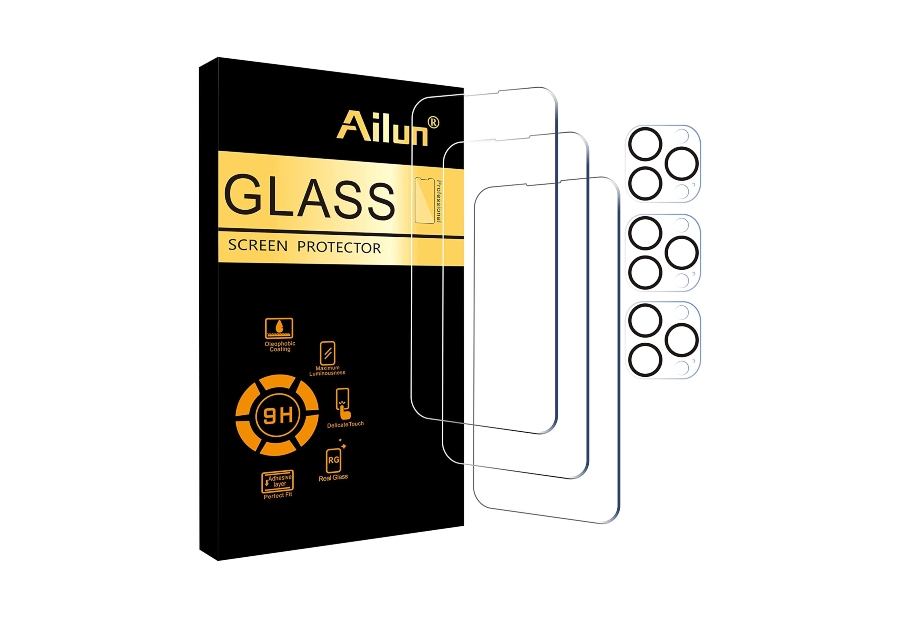 How would it feel to be able to protect both your screen and camera simultaneously? That's exactly what this combo pack from Ailun does. Besides the screen protector, it also comes with a camera protector to protect your lenses on the iPhone 14 Pro Max.
When you hear the best part about the Ailun screen protector combo, you'll be convinced to pick it up right away. You receive 3 screen protectors in the package and 3 camera protectors in the package for the iPhone 14 Pro Max.
You always have two backup options if something goes wrong while applying. Screen protectors are generally tempered glass guards that go across the whole screen. Since it would look awkward to have the dynamic island cut out, there is no cutout for it.
The protector leaves a few millimeters gap at the edges, so you won't have to worry if you use a case. You can rest your iPhone on a flat surface with the camera protector, which is also made of glass. This combo protects the two most important components of your iPhone 14 Pro Max at an affordable price.
---
Conclusion
We hope this article helped you answer the question, "Does the iPhone 14 need a screen protector?" Apple's iPhone 14 still has a glass screen, which can get scratched by hard objects. Although Ceramic Shield is encased on the screen, it can still be scratched and damaged by sand.
A user who purchases either the iPhone 14 Plus or iPhone 14 Pro Max will have to deal with a much bigger, heavier device and may be more likely to cause some damage if they drop their phone.
Generally, people who drop their phones often or are frequently in environments and situations that could result in accidental damage should consider investing in a screen protector.
If you have any further questions or thoughts about this blog post, feel free to let us in the comment section below.
Thanks for reading!
Leave a Comment