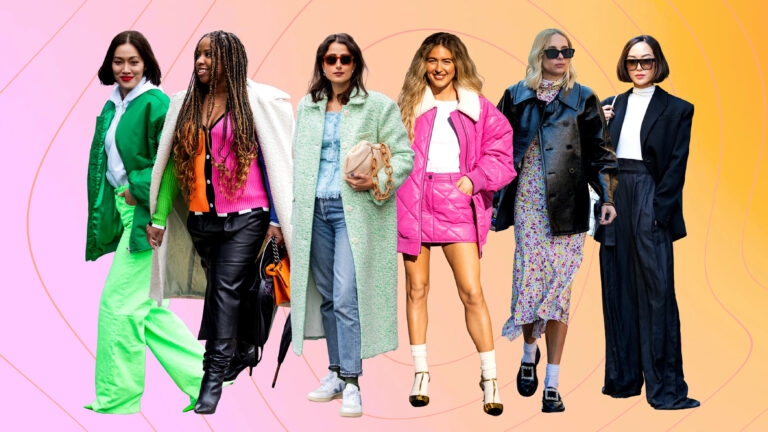 TechLatest is supported by readers. We may earn a commission for purchases using our links. Learn more.
Have you ever seen a shirt or dress online and wanted to buy it but didn't know where to find it? Or maybe you saw a post on social media of someone wearing a really cute outfit, but you don't know the brand.
This can be really frustrating, especially when you really like the clothes! But don't worry, I'm here to help.
In this post, we are going to show you how to find clothes by picture. So whether you want to buy something that's been posted online or just want to find a similar piece of clothing.
Keep reading for helpful tips.
Best Apps For Finding Clothes By Pictures
Here are 10 apps for the best attire and accessories that you can use to find clothes by pictures.
Google Lens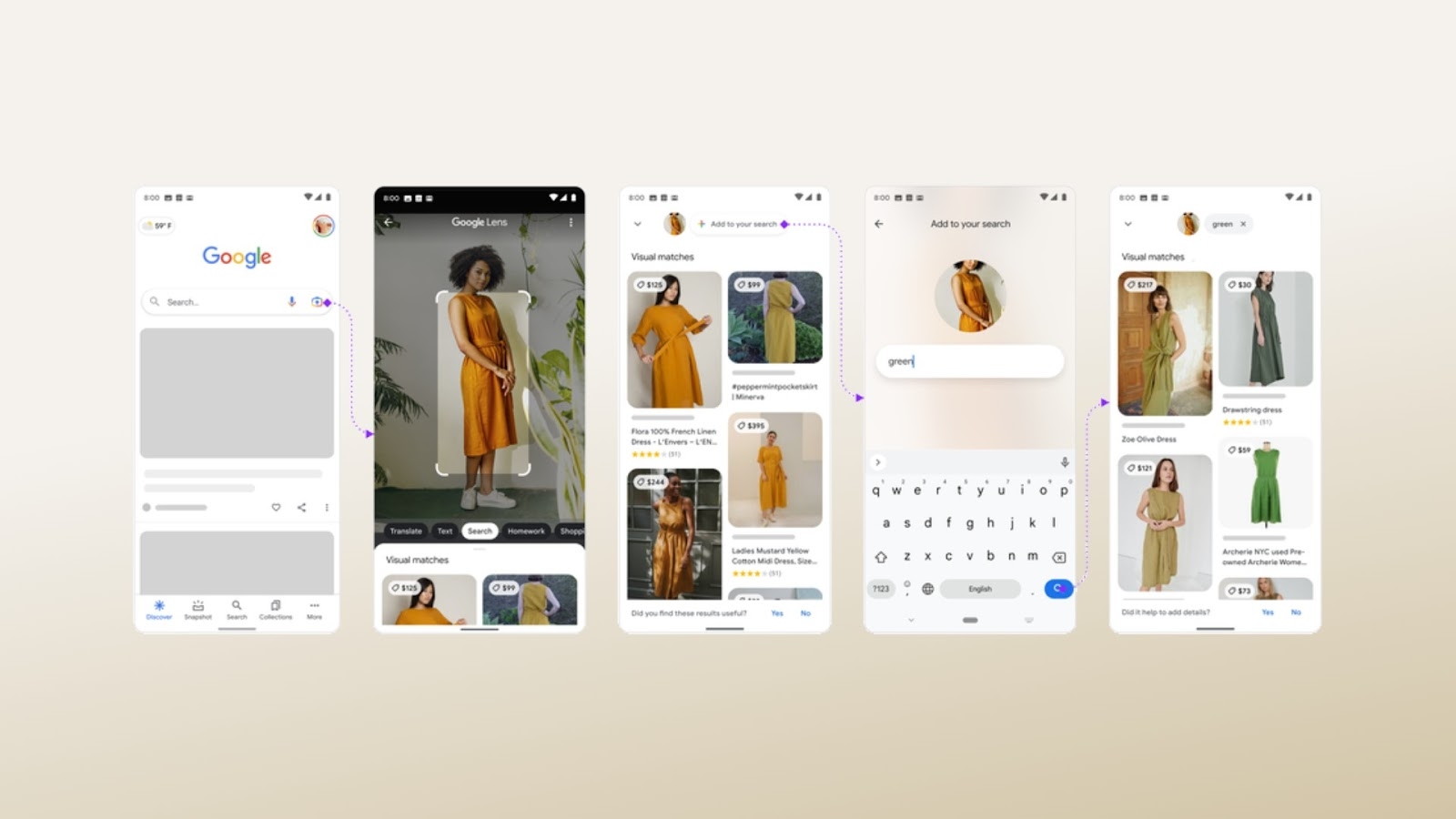 Google Lens is another great option for finding clothes by pictures. This app works similarly to Pinterest Lens. With Google Lens, we can recognize objects visually in photographs. Among other things, Google's lens is used to translate languages and find shopping things, places, and dining options.
However, if you want to shop for clothes, it will show similar clothes to those available online. 
You can use Google Lens by following these steps:
First, install Chrome on your device.
Then, select the Camera icon.
Select the clothes you want by clicking the image.
On the search bar, click the search button.
On your device screen, you will see a list of the same or similar products. The online shopping platform allows you to choose and purchase one of the items.
Get it Now: Google Lens
---
Amazon StyleSnap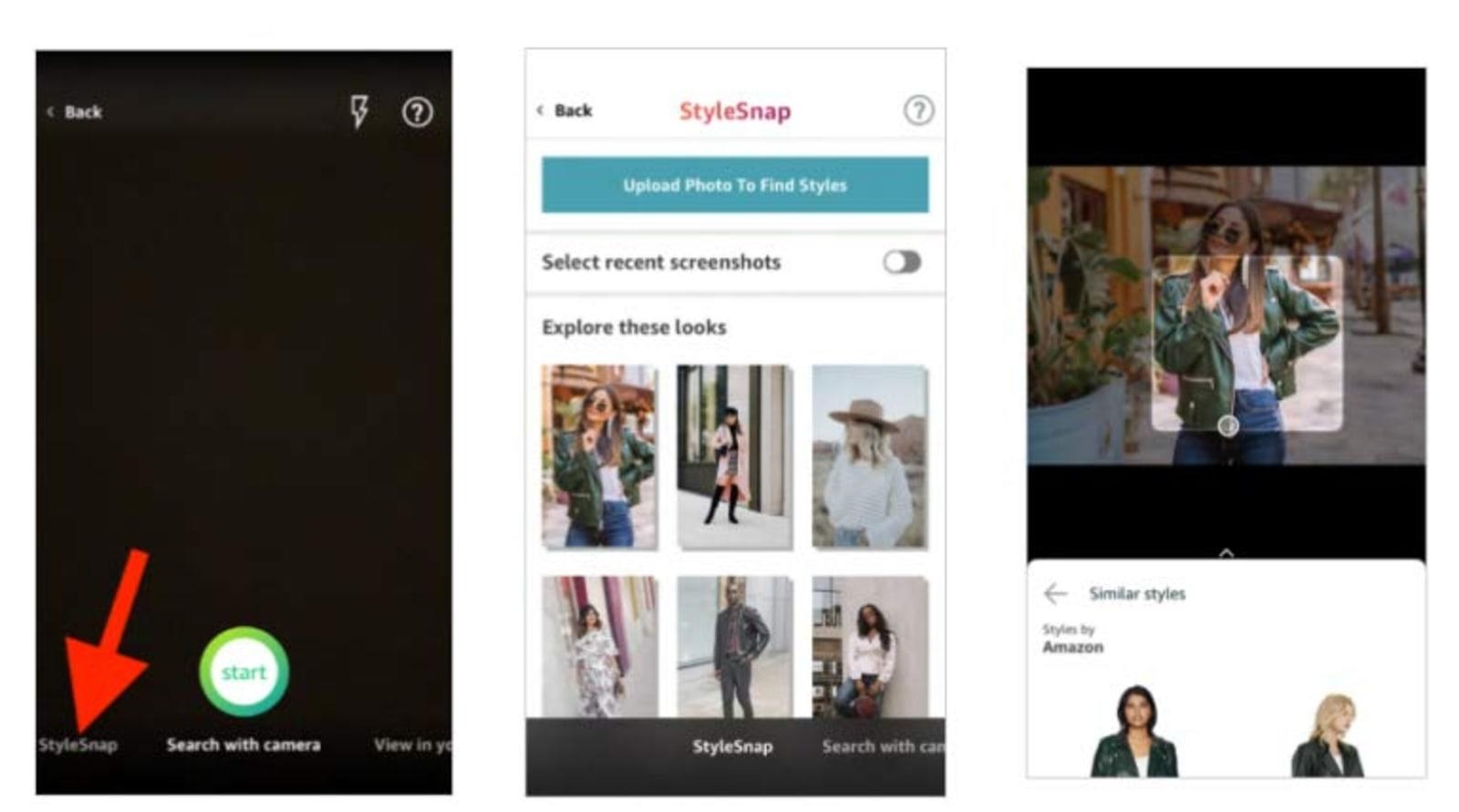 This is one of the most popular Amazon tools. It's available on both Android and iOS devices.
To use this app, take a photo or upload one from your gallery. The app will show you similar clothes and accessories that are available on Amazon.
You can also filter the results by price, category, or brand. Then you can add the items to your cart and purchase them directly from Amazon.
You can use Amazon StyleSnap by following these steps:
First, open the Amazon app on your device.
Then, select the Camera icon.
Upload a picture from your gallery or take a new one.
You can filter results by brand, category, or price.
Purchase the items by adding them to your cart.
Get it Now: Amazon StyleSnap
---
Pinterest Lens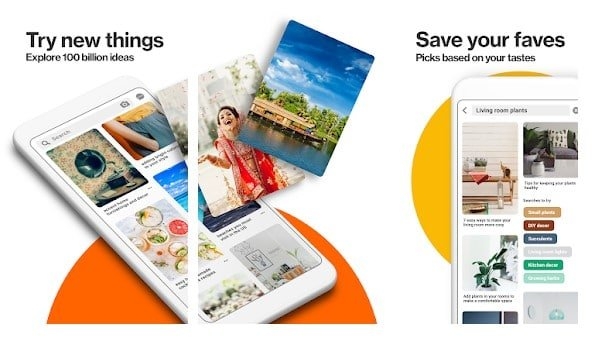 If you're looking for an app that's specifically designed to help you find clothes by pictures, then Pinterest Lens is a great option. The Pinterest app also offers a visual search feature known as Pinterest Lens. You don't need to download anything else if you're already a Pinterest user.
This app allows you to take a picture or upload one from your camera roll. You can then use the Pinterest image search engine to find similar clothes and products.
You can use Pinterest Lens by following these steps:
First, Download the Pinterest app on your Android or iOS.
Then, Go to the search icon.
At the right of the search bar, choose the camera icon.
Now, to upload your picture, click on the lower left corner.
Tap your camera on a specific object to focus or pinch to zoom.
To take a picture, tap the button or select a photo from your camera roll.
If you're interested in seeing the results, scroll down.
Get it Now: Pinterest Lens
---
Lykdat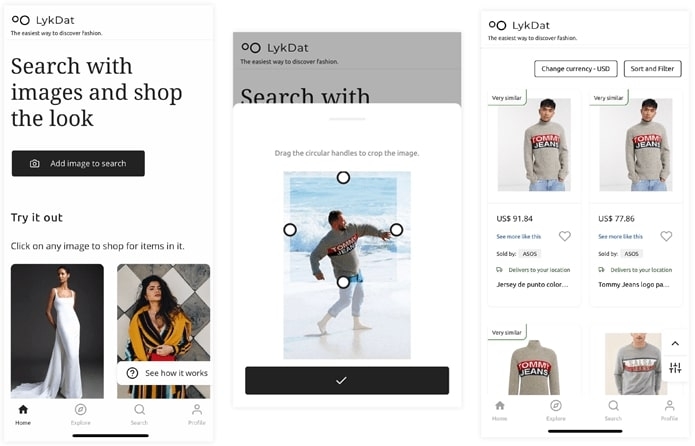 The Lykdat platform also allows you to shop for fashion online. It's a great place to find amazing clothes, shoes, and fashion accessories. In addition, there is no app for Android & IOS. If you want to shop online, you need to go to their website.
As with other websites, Lykdat also offers an image search option to help users find clothes and shoes. According to its website, it offers the same products as its competitors.
You can use Lykdat by following these steps:
On your device, access the Lykdat website.
In the lower right corner, click the camera icon.
Select or click the image to upload it to Lykdat.
Then, select the tick icon.
Take a look at the products and pick the one you like.
Unlike other social media apps, Lykdat does not have a mobile app. Another issue is that they only display products that are available on Lykdat's website.
Get it Now: Lykdat
---
ASOS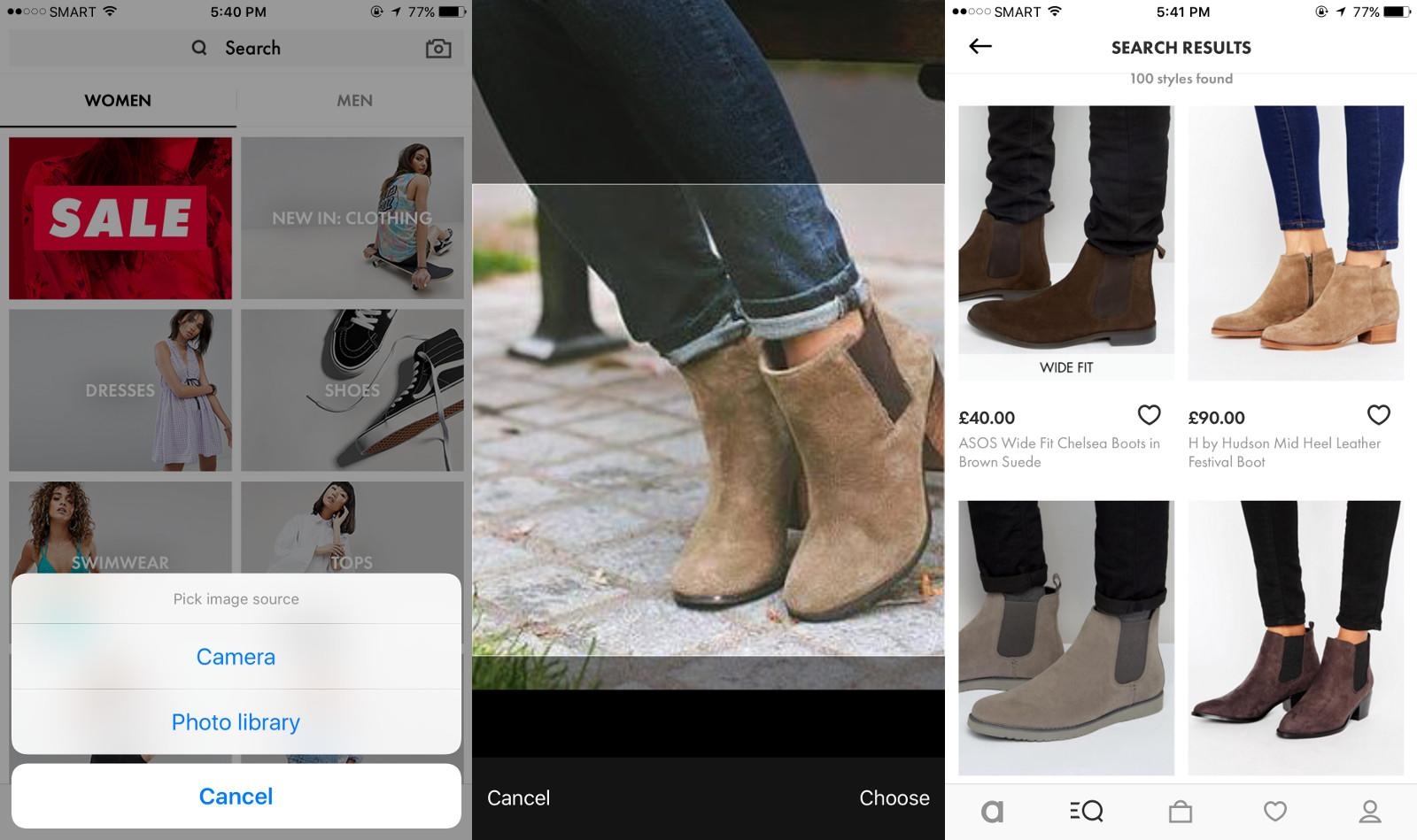 The Asos shopping platform is an online store for fashion and cosmetics. You can find almost any fashion trend on Asos. Asos is one of the most popular websites for buying fashion accessories and cosmetics. 
With the Asos image search option, you can search for items on Asos by clicking on the image or adding it to the Asos image search field.
Obviously, there is a difference in that you will only be able to see results from Asos' inventory, which is a lot more limited than searching Google for broad terms.
You can use Asos by following these steps:
Download the Asos app to your device and open it.
Then press the search button.
Press the camera button (lower left corner of the screen).
Add or click an image on Asos.
Select one of the products from the list.
Similar to Amazon, Asos can only display products that are available on the Asos website. However, the products will look very similar to the images. 
Get it Now: ASOS
---
CamFind
The "CamFind" tool also makes it easy to find the clothing you're looking for just by inserting a picture. The app is free and available for Android and iOS users.
Using CamFind on your device, you can find anything by clicking a picture. You won't believe it, but CamFind can identify all kinds of things, such as clothes, accessories, electronics, etc.
You can use CamFind by following these steps:
First, take a screenshot of the Instagram or Pinterest image that you are searching for.
Then, download the CamFind app and launch it.
Allow the location, storage, and camera roll to be used.
Find a screenshot of the clothes you're looking for by taking a picture of them or by tapping the media picture in the left corner.
Once the picture has been scanned, wait for it to appear.
By using the "CamFind," the source of the image will be located, and so will the link to the relevant website, and you will be redirected accordingly.
Get it Now: CamFind
---
Fashn.me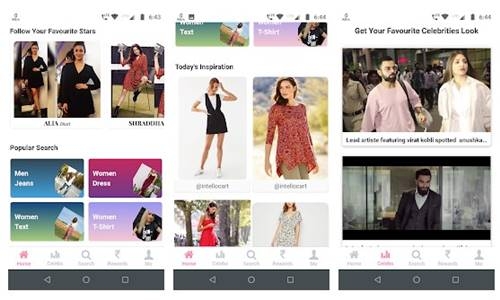 Fashn.me is a fairly new app for Android. As far as fashion search engines and recommendations go, this app is the best. Fashion products from more than 35 Indian e-commerce stores are displayed in the app, which covers more than 1500 brands.
The app allows you to purchase fashion items directly from the company. According to Fashn.me, the reverse search feature, you can find visually similar dresses/outfits using the Vishal search feature. Further, it shows you trending styles so that you can find what you're looking for.
Get it Now: Fashn.me(Temporarily Down)
---
Search by image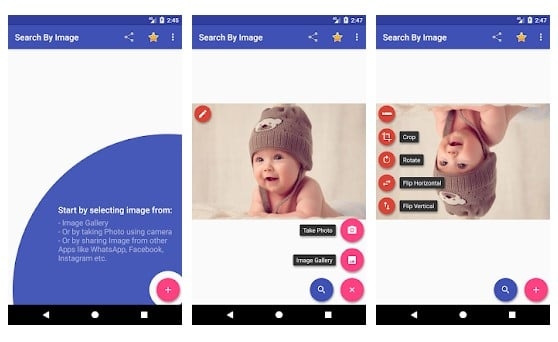 The Search by Image app is easy to use. The app is very similar to Reverse Image Search.
Search By Image is a reverse image search engine that lets you look for similar pictures by using multiple reverse image search engines, including Yandex, Google, Bing, etc. Using the app is straightforward, and there is a camera feature for capturing images.
So, users can also click on photos and upload them to find the exact match immediately through a quick search.
Get it Now: Search by image
---
Shoppers Stop
Online shopping platform Shoppers Stop offers fashion and cosmetics. The website specializes in fashion and cosmetics for Indians. There are millions of products available on this website.
Using pictures, you can find products on Shoppers Stop. You can find the products on Shoppers Stop by clicking on the image. In addition, if your clothes have barcodes or QR codes on them, you can scan them as well.
You can use the shoppers Stop feature by following these steps:
First, download and launch the Shoppers Stop app on your device.
Then, Select the camera option from the search bar.
Create a Shoppers Stop image by clicking or adding one.
Select one of the products on the list.
The only drawback of this app is that it only shows products that are listed on Shoppers Stop. If you are looking for clothes with pictures, this is one of the best ways to do it. 
Get it Now: Shoppers Stop
---
Zalora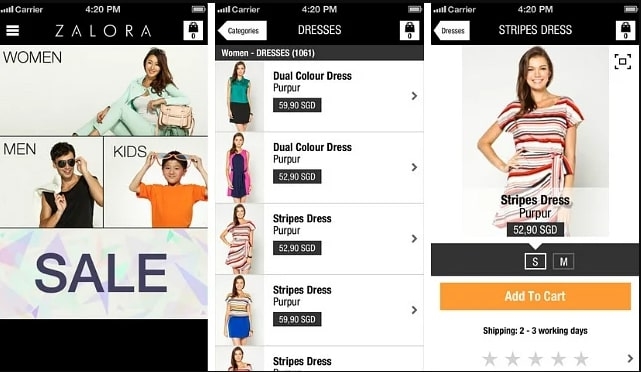 Similar to Shoppers Stop, it allows users to shop online for fashion in Southeast Asian countries. Zalora lists millions of products and thousands of brands as well.
The same technology is also used to find products through pictures. Moreover, you can search for your favorite clothes on Zalora by clicking or adding an image.
You can use Zalora by following these steps:
First, on your device, open the Zalora app.
Then, select the camera option in the search bar on the right.
Add an image to the Zalora website by clicking or adding one.
Choose one of the products from the list.
This site also has the same problem of only showing products listed.
Get it Now: Zalora
---
Conclusion
We hope you enjoyed this article on how to find clothes by picture. The ten best Android or iOS apps to find clothes by pictures are listed above. As you can see, there are many ways that you can use to find the clothes you are looking for.
Is there any other app like this that you know of? If you have any comments, please let us know.
Thanks for reading!
Leave a Comment