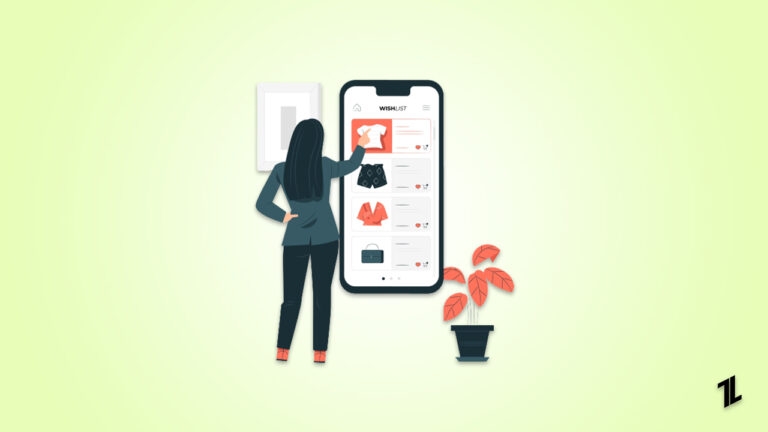 TechLatest is supported by readers. We may earn a commission for purchases using our links. Learn more.
"Fashion is the armor to survive the reality of everyday life."
Whether you want to shop for the latest styles or catch up with some ethically crafted dresses, finding the right one is a hefty task.
Besides, even if you like some tomboyish stuff, fancy tops, or one-piece dresses, seeing all the choices in one place is impossible. The solution to both of these problems lies in Shopping online.
Shopping online will bring you all the fashion labels and latest styles. Moreover, you don't have to roam here and there in the markets to hunt for your desired stuff. So, if you are looking for the best clothes shopping apps in India, we have you covered.
Best Clothes Shopping Apps
We have listed the top 10 shopping apps catering to various niches in the list below:
1. Nykaa Fashion-Shopping App
How about a cloth shopping App that gives you access to 1500+ brands and exclusive collections?
If yes, then Nykaa Fashion-Shopping App is what you need!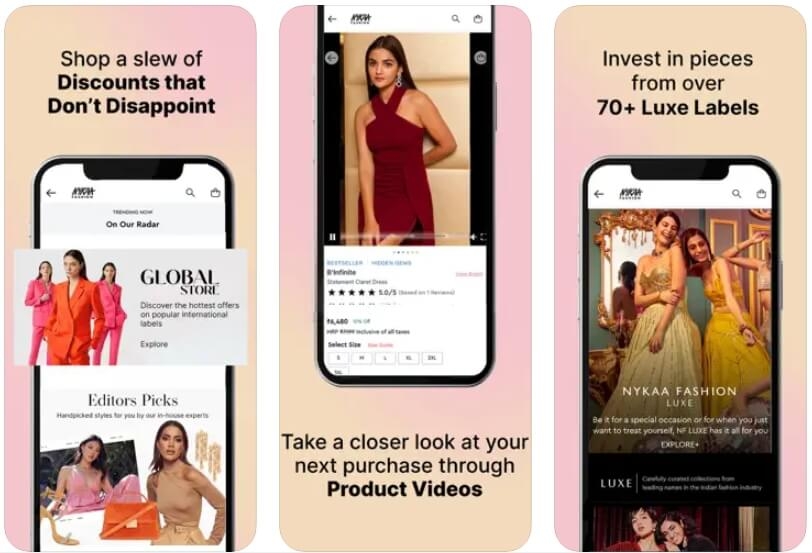 You will find the best brands under one roof, from leading brands to luxurious ones. You can discover the trendiest clothing and even style them with accessories. Further, many of you would find it challenging to style clothes according to the latest fashion.
The Editor's Picks is where the in-house experts style clothes, and you can discover it. Many of you would love the top global labels, but those are too pricey.
The developers have added a feature that shares the hottest deals and offers on international brands. There might have been instances where the product looked quite different from that of the image.
Here's where the app has product videos that give you a closer look. Hence, you can view your clothes better. Whether you want to buy something for your tiny tot, yourself, or your spouse, the app has a comprehensive collection.
You won't find duplicate or first-copy products, as Nykaa has authentic and incredible brands. So, every product that you order will be durable enough. You can add your favorite outfits to the Nykaa wishlist.
Easy Exchange and return policy are why you won't regret your purchase. The PUSH notifications section will keep you updated with the latest fashion know-how.
So, what are you waiting for? Shop Now!
---
2. Myntra
Do you think your Indian cloth shopping app doesn't satisfy your craving for the latest fashion?
If yes, then Myntra should be a must-check on your list!
Most online fashion veterans already know the charm Myntra fashions add to the looks. No matter the age group or the size, whether skinny or plus-sized, you will find fashionable outfits in all categories suitable for everyone.
It gives you access to the latest exclusive deals wherein you can avail the rarest and most reasonable offers on the best stuff.
A further ado is that the app doesn't charge you shipping costs the first time you order. Besides, every time you do anything on Myntra, it gives you some credits to earn and later avail of the best offers.
With plenty of Filters and Sorting options, you can narrow your search and conveniently shop on the go.
You might be confused with the clothes you purchase. Hence, it gives you an option of a 30-day return and exchange, so you don't have to regret your purchase.
With accurate and real-time order tracking, you won't find it difficult to anticipate your order's arrival.
It tracks your cloth choices and recommends styles; thus, it tailors to fashion needs and provides Cash on Delivery.
---
3. Pantaloons-Online Shopping App
Are you a vlogger who wants to keep yourself presentable in your videos? Or do you love to try different styles of clothes in daily life?
Well, in either of the cases, Pantaloons-Online Shopping App is what you need!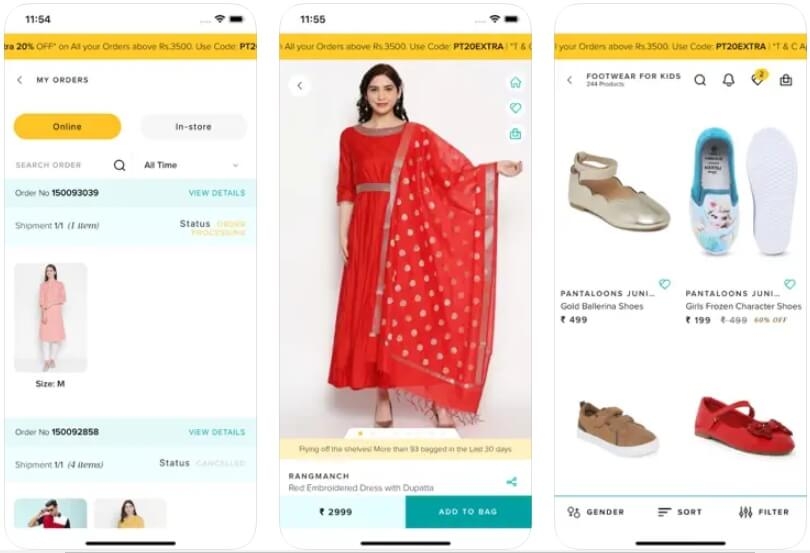 Whether traditional, ethnic, western, funky, sportswear, or nightwear, you will find a huge variety in all categories. The brand's prime focus is to provide you with the most incredible clothes. Hence, it covers most of the excellent brands, local or intentional.
All the dresses are ell-organized for easy search and navigation. Further, you can save your favorite ones by adding them to the wishlist. You can apply the coupon code for 10% off your first purchase.
The platform will ship your order for free if your online shopping bill exceeds INR 1000. The app has a smooth interface and offers easy product cancellation and returns. It does have affordable deals on the latest clothes also.
---
4. Flipkart
Are you looking for shopping clothes at affordable prices?
If yes, then Flipkart should be your go-to shopping destination!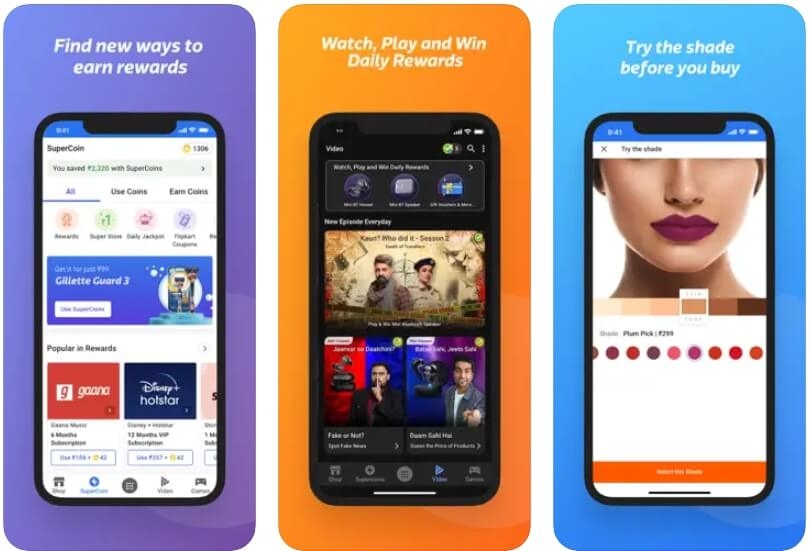 Another ado is the multilingual support for India that the app provides. It supports shopping in languages like Hindi, Marathi, Tamil, Telugu, etc. Therefore, It's unnecessary to be familiar with English to shop on the go.
Besides, you can even communicate with the app using its voice assistant. The clothing variety is comprehensive for all age groups and categories.
Additionally, you can shop at affordable prices. It has a Flipkart feed that will inspire you about celebrities' and influencers' latest fashion. It makes online shopping quite interesting with games.
By playing those games, you can earn Supercoins on Flipkart. With an adequate amount, you can use them and avail discounts on your shopping. The sort-by exact and the app's minimal interface make things easy.
---
5. Ajio-Online Shopping App
How about an Indian cloth shopping app where you get an exclusive and handpicked collection stylized to perfection?
If yes, then Ajio-Online Shopping App is what you need!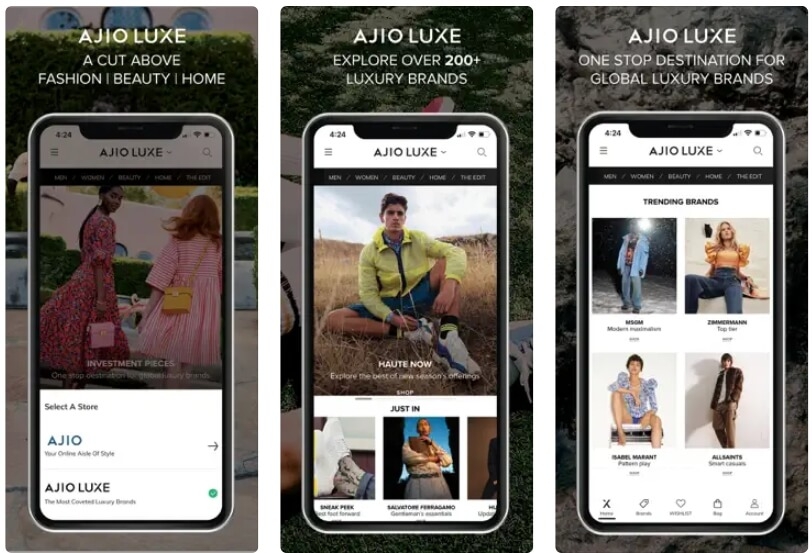 You don't need to spend much time browsing through multiple monotonous outfits. Their collection has the best-selected outfits to suit your fashion needs.
If you love handcrafted authentic Indian Wear, Ajio's exclusive Indie collection will take you through it. Even in case of dissatisfaction with your purchase, you can use its 30-day hassle-free return policy.
Further, if you want to upgrade your wardrobe, an in-house label id will help you.
---
6. Indya- Indian Wear for Women's
Do you love Indian outfits but expect them to be Curated to the latest fashion? You are probably in love with Indian ethnic, and Indya-Indian Wear for Women has covered you all!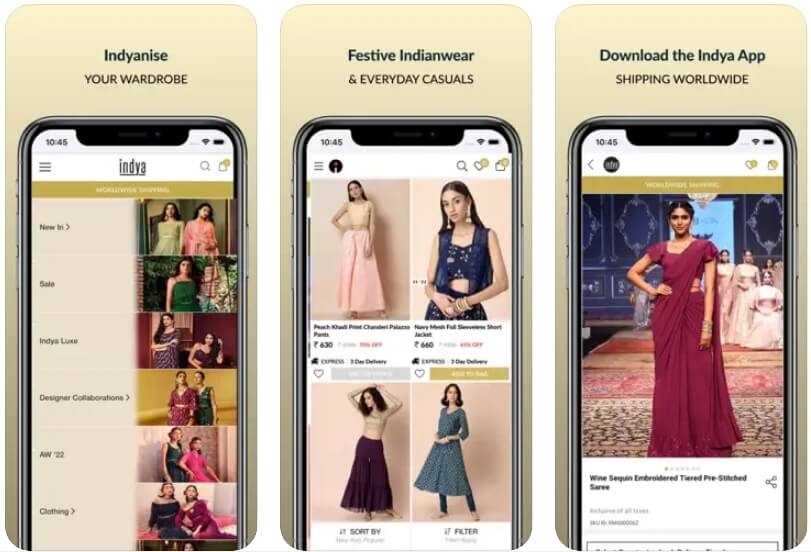 The brand's app is known for providing the most intricate and finest Indian outfits. With contemporary design and styles, they are curated to the ethnicity. The best part is that though ethnic, it's not an absolute fashion.
Since it incorporates traditional Indian patterns, embroideries, prints, and similar modern styles, you can complete your attire styling by pairing it with the app's matching jewelry.
Its incredible yet remarkable clothes suit all sizes, including a plus size. Further, you can check every detail about the design, style, fabric, and lots more for every product on the app.
Apart from that, a 360° view for each of them helps you visualize and shop better. You can narrow down your search results by using filters like color, fabric, trend, occasion, pattern, discount, and price.
The fusion and ethnic clothing app also gives you a 15 days exchange and return policy. So, what else do you need? Shop and watch out for crazy deals now!
---
7. Tata CLiQ Online Shopping App
Would you like to avail of 50% discounts on brands like PUMA and BIBA and 75% off on W, Jaipur Kurti?
If all the above is a yes, then Tata CLiQ Online Shopping App is something you can't afford to miss!
It's a one-stop shop with collections of up to 1900+ leading brands. You can sort your searches to find stuff in the lowest possible time.
Further, exclusive deals on leading brands will ensure an affordable purchase. You don't have to wait long for your parcel to arrive; it will let you easily track your order.
You won't find it difficult to fetch your favorite stuff among multiple brands and products. This is because its friendly UI makes things simpler. With its support team helping out, you can contact them in case of any issues.
---
8. Bewakoof- Online Shopping App
How about buying some funky clothing amongst two crore+ products?
If yes, then Bewakoof- Online Shopping App is what you need!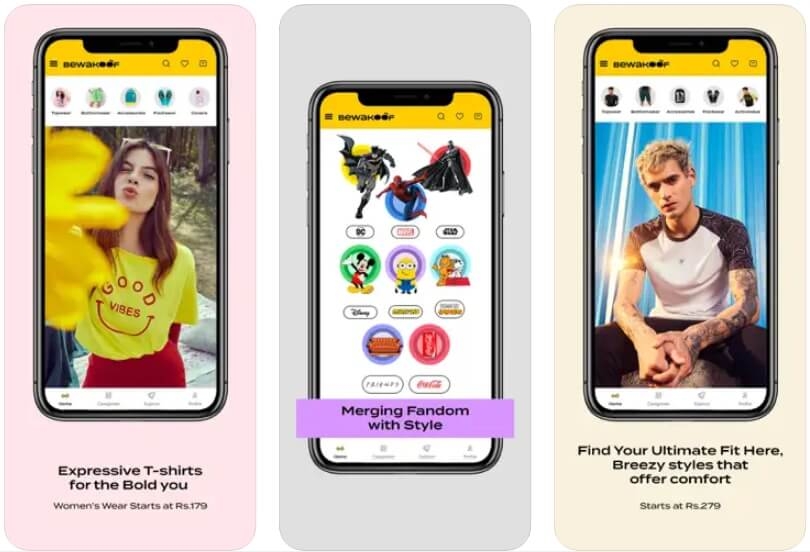 As cool as the name sounds, so is its collection of joggers, tracksuits, t-shirts, and many more. Because the app has tie-ups with Disney, Marvel, Star Wars, DC Comics, and Minions, you get excellent quality stuff that's durable enough.
All the products are original, yet if you regret your purchase, the platform has a 15-day exchange and return policy. The delivery is quick and offers easy tracking.
It has a massive stock of trending and modern designs pioneering for creating distinctive fashion in India. You can shop for both men's and women's quirky and 100% original clothing. Quirky and unique designs on high-quality products are the best part of bewakoof.
---
9. Craftsvilla
Are you looking for handcrafted fashion in India?
If yes, then Craftsvilla is the ideal destination for finding them.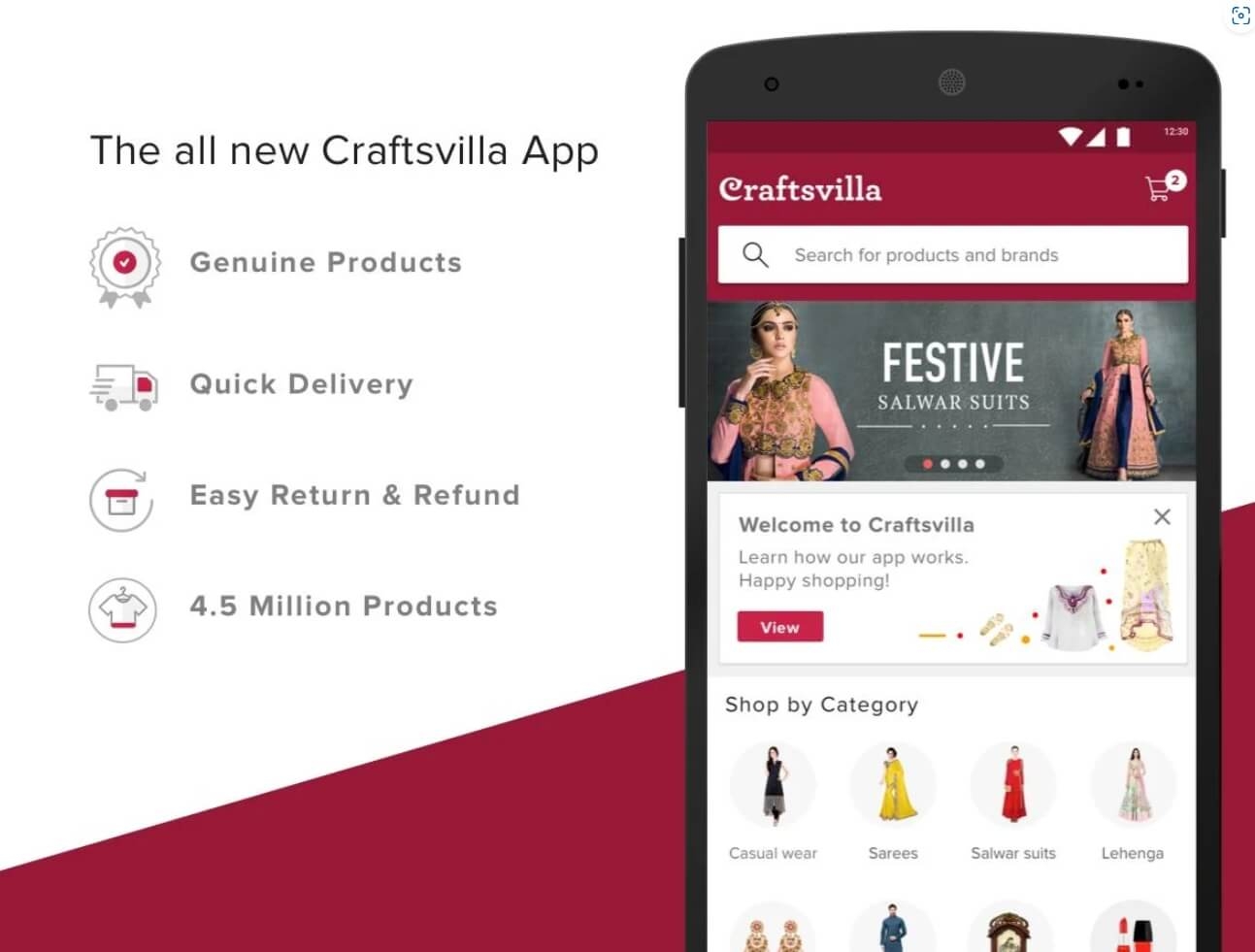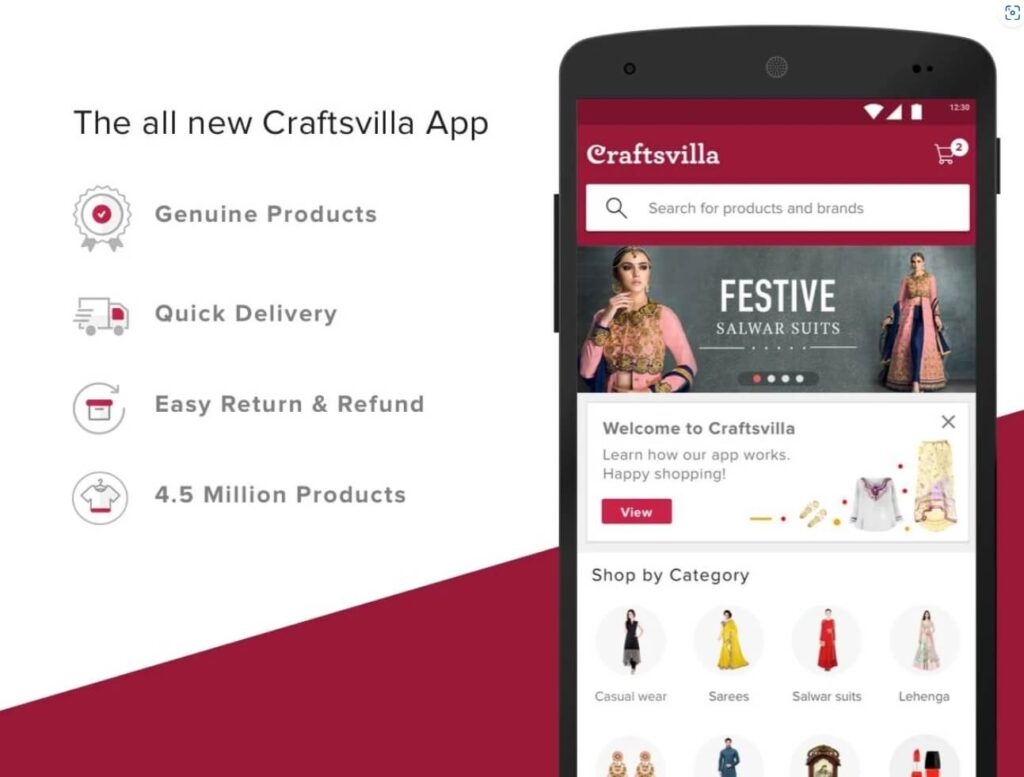 Craftsvilla has carved its name on making handcrafted and green-crafted products. The clothing for this app reduced the shades of Indian culture.
Also, you can find clothes for men, Women, and people of all ages for every background on this one-stop site. The tagline, 'The Marketplace to Discover India, ' describes its products. You can find all kinds of traditional Indian designs and designs and other accessories on this site.
At the same time, it is the perfect destination where you will find over 4 million product styles from more than 24,000 vendors. The products range from kurtas, palazzos, and sarees to salwar suits, lehengas, and Kurtis.
Download Now: Android
---
10. Club Factory
Are you looking to find all your favorite clothes-shopping brands in one place?
If so, our list's last name, Club factory, is the ideal destination.
You can shop for your men, women, and kids n one place. At the same time, Club factory offers the latest styles with free shipping nationwide.
You can shop by category in various sizes with 12*7 customer care support for any query. It has an app and website with an easy-to-use interface where you can shop confidently.
Not to forget, Club factory organizes a weekly flash sale where you will get the best deals to buy your favorite clothes.
Download Now: Android
---
Wrapping Up
If you were looking for the best clothes-shopping app in India, you would have found the best among countless other options.
India is a significant marketplace for global brands, and it houses some of the best Indian brands where you will get a massive variety of sizes and styles. If you are looking for the best ethnic wear collection- Craftsvilla is the best choice.
Similarly, if you are looking for the best and most affordable deals- Flipkart is our top pick. Lastly, Bewakoof steals the show by offering quirky and unique clothing. Check them out and get the best clothes to impress others with your fashion sense.
Further Reading:
Leave a Comment