Highlights
With the Apple Watch, you can access the flashlight, theater mode, internet connection, and more from the Control Center by swiping up.
However, the swipe-up feature on the Apple Watch doesn't always work. In general, the problem affects watchOS 8.5.1 users only.
Fortunately, the problem can be easily resolved. Hence, let's resolve the problem now by checking the fixes.
TechLatest is supported by readers. We may earn a commission for purchases using our links. Learn more.
In 2023, we can easily say that the Apple Watch is one the best smartwatch to buy if you are an iPhone user. But, there are still some technical issues that users are facing right now.
Yes, recently, some users started reporting that they can't swipe up on their Apple Watch. Well, that's the reason why we are here.
In this troubleshooting article, we will help you fix if you can't swipe up on your Apple Watch. So, let's get started with the guide.
My Apple Watch won't swipe up. Why?
You may not be able to swipe up on the Apple Watch for several reasons, including a software update. Users report that the issue began after they updated to watchOS 8.5.1 on the Apple Watch.
You should clean the screen and edges of your Apple Watch, remove the screen protector, and swipe up gently before troubleshooting your gesture problems.
---
Method to Fix If You Cant Swipe Up on Apple Watch
So, here are some fixes that have the potential to resolve if you can't swipe up on Apple Watch. Therefore, let's check them out:
Fix 1: Force Reboot the Apple Watch
It may be necessary to reboot the Apple Watch to resolve some minor issues, such as problems with swiping up/down.
Hold the Side Button down.
To turn off your Apple Watch, slide the Power Off slider.
To turn on the Apple Watch, wait at least five minutes and press and hold the Side Button.
Reboot the Apple Watch to see if the issue has been resolved.
---
Fix 2: Change the Watch's Face
It's possible you're wondering what the relationship is between changing the Apple Watch's face and the swipe-up gesture not working. Some users, however, have reported success after changing their Watch faces. So, let's see the steps.
On your iPhone, go to the Watch app.
Choose Face Gallery.
From the gallery, select one face and tap Add to set it as your current watch face.
On your Apple Watch, swipe left or right to change the Watch's face.
You can check if the issue has been resolved.
---
Fix 3: Clean Your Watch Screen
When your screen is dirty or wet, your finger touch may not be detected. It is important to clean your screen. To clean it, use a soft cloth.
Moreover, if a protective case or screen cover protects your Watch, this may be the issue. It should be removed and tested again. Afterward, if swiping up works again, clean the cover or case.
---
Fix 4: Remove Any Screen Protector or Case
It is an expensive accessory to own an Apple Watch. Therefore, it makes sense to protect it with a screen protector or Apple Watch case. In many cases, screen protectors and cases can be counter-productive.
Since thick screen protectors or cases restrict touch input, Apple Watch swipe-up gestures might not work.
In other words, there's a possibility that something as harmless as a screen protector is preventing you from sliding up on Apple Watch. If it's there, remove it and swipe up.
---
Fix 5: Reset Apple Watch Firmly
If the above fixes don't work, then try forcing an Apple Watch restart. It is not recommended to force a restart on your Apple Watch if an OS update is in progress.
Initially, you must hold the side button and the Digital Crown button together for 10 seconds. Lastly, once your Watch's screen displays the Apple logo, release both buttons automatically.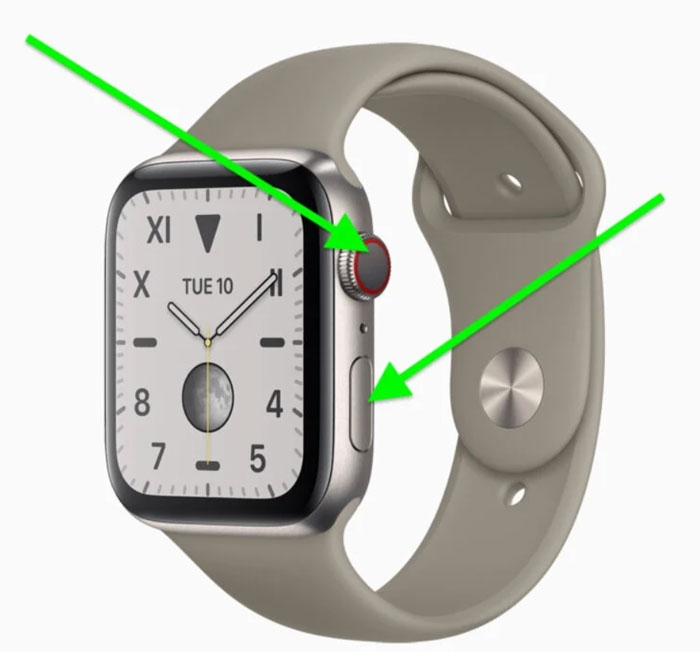 ---
Fix 6: Unpair and Repair the Apple Watch
You must unpair and repair your Apple Watch if the problem of swiping up was not resolved by restarting.
It may be helpful to unpair your Apple Watch and repair it in order to resolve many issues. Make sure you set your Apple Watch as a new watch instead of restoring it from a backup when you want to repair it.
Launch the Watch app.
Select General.
To reset, scroll down and tap Reset.
Then choose Erase Apple Watch Content and Settings.
Verify the pop-up message.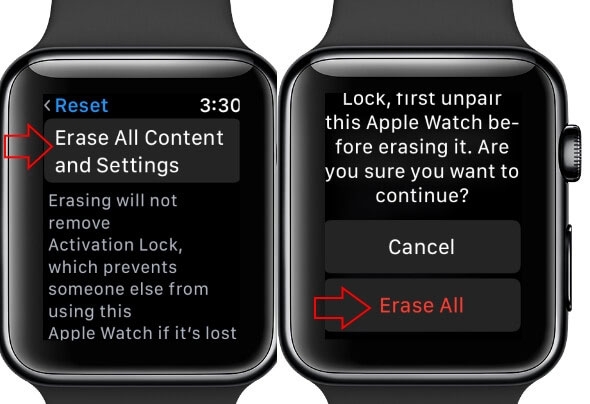 Please enter your Apple ID password and allow the process to finish.
Check if the problem persists by pairing your Watch again.
---
Fix 7: Turn Off System Haptics
If you aren't aware, your Apple Watch has a feature called Sounds & Haptics in Settings. However, it has been reported that some users have experienced trouble restoring the swipe-up gesture on their Apple Watch after turning this off and back on again. It is worth a try to see if it works on your Apple Watch.
Navigate to Settings > Sounds & Haptics.
You must turn off System Haptics, then wait a few seconds.
Turn on System Haptics, then swipe up.
---
Fix 8: Contact Apple Support
There is a good chance that if you have noticed scratches or cracks on your Apple Watch and you were unable to find a solution through all these fixes, then it might be a hardware problem.
Last but not least, you can contact Apple Support and let them know what's wrong. Hope you can fix the problem from there.
---
Sum Up
So, that's all we have for you on how to fix if you can't swipe up on Apple Watch. We hope that this guide has helped you. Nevertheless, comment below and let us know if you have any doubts or queries.
Further Reading:
Leave a Comment