TechLatest is supported by readers. We may earn a commission for purchases using our links. Learn more.
With the Sleep app on your Apple Watch, You can now keep a record of your sleep schedule to achieve your sleep goals without hassle. From working professionals to senior citizens, the sleep app is a boon to all. As we all know, How lightweight the Apple Watch is, makes it easier for users to wear the watch while sleeping.
The native Sleep app was released two years ago with the launch of WatchOS 7. Although the app brings several valuable features like 14 days sleep records, sleep goals, sleep focus, and more.
But, some third-party sleep tracking apps are giving neck-to-neck competition to the native sleep app in terms of new features. Are these third-party sleep-tracking apps any better than the native app? Read on as we have listed the best sleep apps for your Apple Watch.
Best Sleep App For Apple Watch
There are plenty of Sleep Apps for Apple watches, but each has pros and cons, making it difficult to choose the best one. We have listed some of the best Apple watches to help you determine the best sleep app for your Apple watch.
The following are the best sleep app for apple watch:
Pillow – Auto Sleep Tracker
How about the sleep-tracking app with the best user interface? If you are looking for a minimalist sleep app with the most organized interface, PIllow might be the one for you!
The first one on the list is Pillow, which has an organized interface and several other distinctive features. The app is available to download on iPhone, iPad, and iWatch stores.
Good sleep does have numerous health benefits, and what could be better than having an accurate record of it in the most summarised manner?  
Pillow does the same just for you. Talking about the app's features, it can track your sleep automatically and manually. The manual options help you to track your sleep without an Apple watch.

At the same time, the automatic option helps you to track your sleep without pressing any buttons or opening the app. Pillow tracks, sleep cycle, heart rate, and audio recording for those who want to know whether they snore.
Although the app is free, it requires a premium version to integrate with the Apple Health App. It has an average rating of 4.4 out of 5 stars and has a fantastic interface that is super easy to use and agile.
---
AutoSleep Tracker for Watch
The easy-to-use sleep-tracking app comes with a sleep bank that alarms you if you are in sleep debt or sleep credit. Moreover, it also advises you to improve your sleep patterns. The app also has a fantastic feature, arousal mode. While in arousal mode, the app can tickle you with the watch's haptics to wake you up.
The haptics slowly increases with each minute passing. Unlike harsh alarms that suddenly wake you up, the Auto sleep tracker for a watch does it better. The gentle watch taps help you wake up smoothly from a deep sleep.
The app presents your sleep data in Sleep Rings, similar to the Activity Ring on the Apple Watch.
It also analyzes how deep your sleep is, your heartbeat, restlessness, and your sleep score.
The app does have some cons; the app is not free. The full version of the app starts from $2.99 and is the most affordable option of all other plans. Auto sleep Tracker can also run on your old iWatch. The app requires WatchOS 3.2 or higher.
---
SleepWatch
The most ingenious sleep-tracking app for your apple watch. With SleepWatch, you can see your light, restful, and disrupted sleep cycle through visualizations.
SleepWatch adds artificial intelligence to your sleep data and recommends steps to improve your sleep pattern. The premium version allows you to access an online community to compare sleep patterns and get expert recommendations.
The best thing about SleepWatch is that it automatically syncs your sleep data with the Apple Health App. The app has a premium version for $2.99, but it may not be worth it for everyone unless you want to join an online community to compare your sleep data.
---
Sleep ++
How about a sleep-tracking app with a colorful interface and adjustable sensitivity? Sounds pretty helpful. Sleep ++ does it all.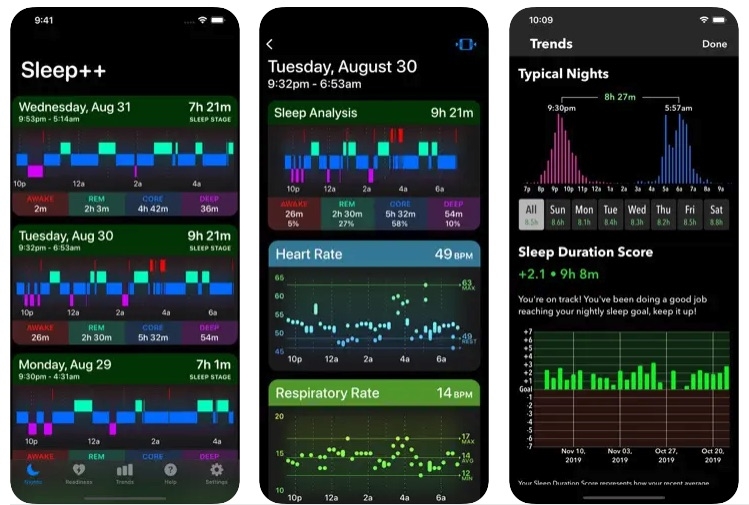 Sleep ++ is a popular sleep analysis app for Apple Watch. The app supports automatic sleep detection, goals, reminders, and many more. The interface provides a deep and detailed analysis of your sleep patterns.
The best thing about Sleep ++ is that it is free and has no unnecessary in-app purchases. However, you can buy a premium version if you want to remove advertisements. 

The app allows you to customize the sensitivity of movement detection. Apart from that, it also provides trendy graphs which efficiently organize sleep data. However, some users might find the app irritating as it requires patience while adjusting the sensitivity for accurate sleep tracking.
---
Heartwatch
If you are looking for an accurate sleep-tracking app that motivates you, Heartwatch is just for you.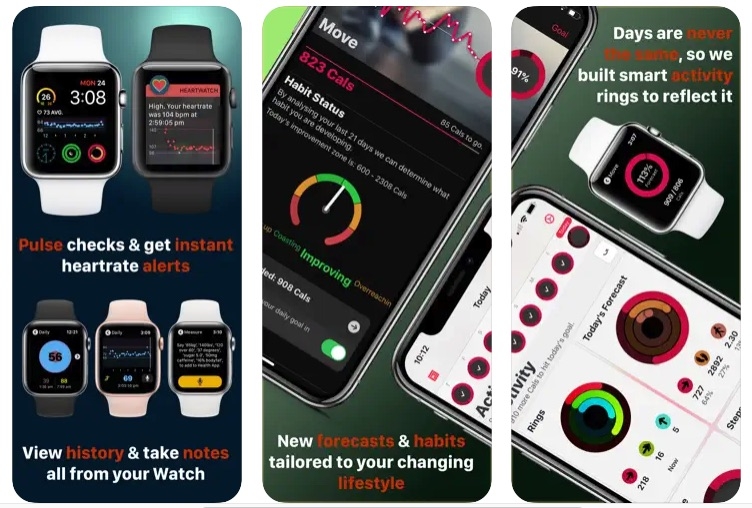 HeartWatch tracks your heart rate and alerts you if it goes beyond or below normal levels. The app is highly recommended for heart patients. Moreover, it also keeps track of your sleep
patterns and heart rate and monitors stress. HeartWatch also records your heart rate when you are not sleeping to compare it with your heart rate.
HeartWatch is famous for its accuracy in sleep tracking. In the recent update, you can now view the heart badge on Apple Watch. Apart from that, the app constantly motivates its users to achieve their desired goals.

However, some users find the app's interface messy and crowded. Another negative aspect of HeartWatch is its size. The app is almost 20MB, and some users might have problems installing it.
---
NapBot
The all-new sleep tracking app records your sleep pattern in a fun way.
NapBot uses artificial intelligence for better automatic sleep tracking and allows you to see a detailed analysis of your sleep trends. The easy-to-navigate interface makes it easier to use the app. NapBot provides a calendar option; you can get a detailed sleep analysis and heart rate for any specific day or period.
Recently, NapBot released its Apple Watch, a standalone app. You don't need to pair it with your iPhone. Now, you can only see the previous day's sleep, but hopefully, with more updates, the app will launch a new feature over time. NapBot has a rating of 4.5 out of 5 on the apple store.
---
Sleep Tracker
If you are also bored with the native sleep tracking app and are looking for a colorful and attractive sleep app for the apple watch, then Sleep Tracker is the one.
The user interface is very similar to FitBit. Sleep Tracker allows you to track both overnight sleep and daytime sleep. Sleep Tracker gives a detailed analysis of your sleep habit and sleeps cycle. The data is presented in the form of minimalist graphs.
This app also lets you adjust the sensitivity for motion detection. This feature is helpful for restless sleepers and often changes your sleeping position.
However, getting familiar with all the features may take some time. To track your sleep cycle accurately, adjust the sensitivity beforehand. Sleep Tracker is an affordable app as it's just $1.99.
---
Sleep Pulse 3
Sleep Pulse 3 is a standalone Sleep app that does not require to be paired with your iPhone.
The app can track your heart rate and sleep activity without being connected to your phone. It allows you a sleep view that can be checked if you often wake up at night. The sleep view showcases your current heart rate and the duration of your last sleep.
If you also sleep talk, Sleep Pulse 3 allows you to record your sleep talk and snoring. Unlike other apps where sleep analysis is done on your mobile screen, Sleep Pulse 3 does everything on your iWatch.

The recent update made it more optimized and bug-free. The latest apple watch models support Sleep Pulse 3 and let you see sleep graphs on your watch face.
---
[BONUS] NightWare
Well, NightWare is not just any ordinary sleep-tracking app. 
You can only download this app after getting a doctor's prescription. The app mainly targets ex-military personnel. The FDA has approved Nightwear, and doctors recommend it for patients suffering from PTSD nightmares. The app uses motion detection and heart rate sensors to detect nightmares.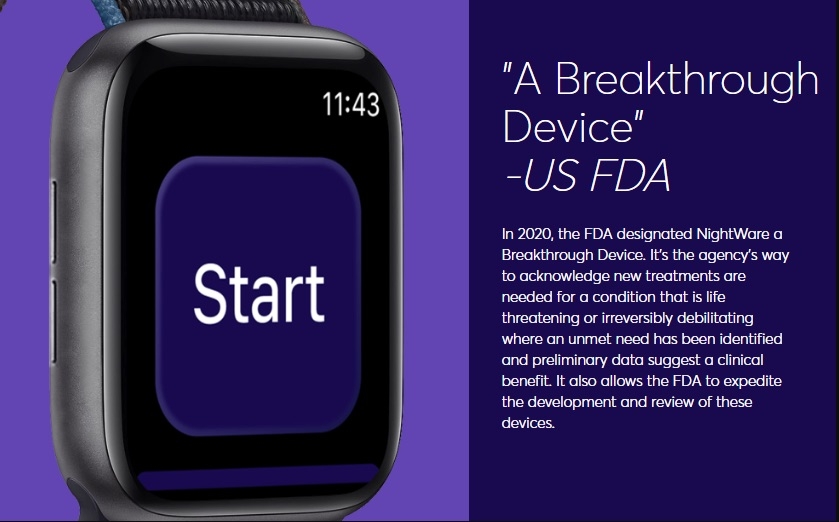 The app uses a haptic engine to wake the user using vibrations to save you from nightmares. NightWare is a perfect example of how far wearable computing has come, from monitoring the sleep cycle to a life-saving device. 
NightWare monitors your sleep patterns for one week, using heart rate, gyroscope data, and motion detection to make a stress threshold. You can also say an ideal level of heart rate and sleep time.
If your sleep surpasses the threshold, the app indicates a nightmare and immediately sends you slow vibrations through the haptic motors present in the iWatch.
---
The Final Words
If you were searching for the best sleep app for the apple watch, you must have been through our top 10 picks! Pillows and Nightwear are the best in the category.
The native sleep app for Apple Watch is also excellent. But if you are bored with it and looking for new sleep apps with distinctive features, our guide will help you.
Leave a Comment