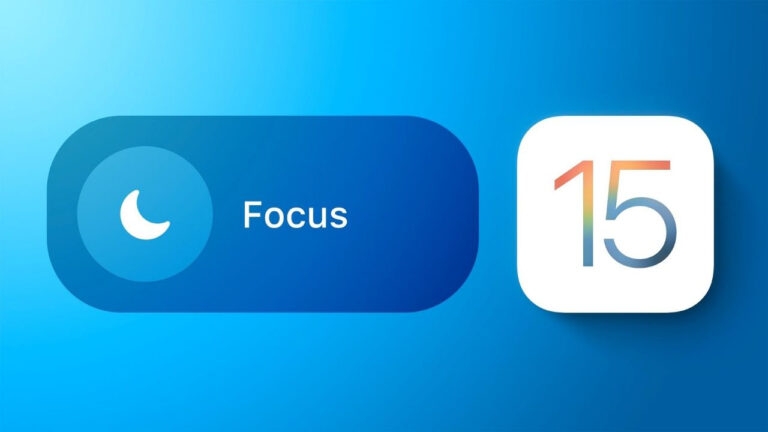 TechLatest is supported by readers. We may earn a commission for purchases using our links. Learn more.
Apple has been always considered a reliable brand. Share Focus Status is one of the latest features included in iOS devices.
iOS's Focus feature helps you be as productive as possible with its newly-introduced features. When you use Focus at work or for your passion project, you can cut out all the chatter and focus on the apps you need.
In this guide, we'll explain What Share Focus Status Means and how to use it.
Let's get started!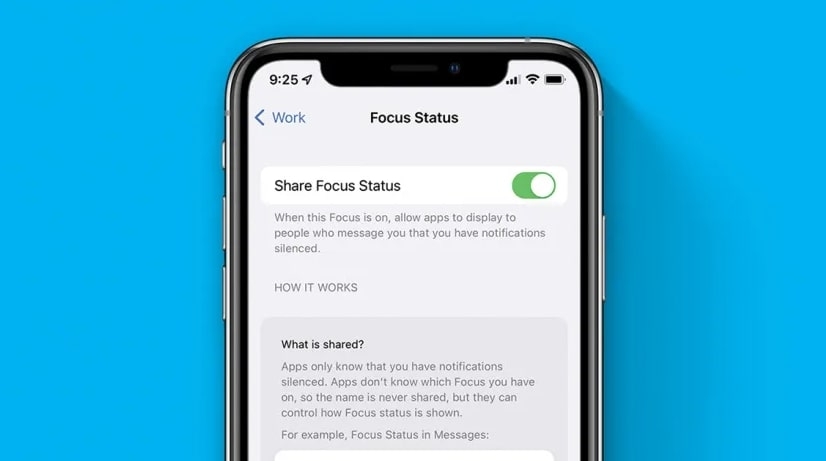 What Is Focus Mode on iOS?
Focus Mode was introduced on Sept. 15, 2021, as a relatively new feature on iOS. It is primarily intended to help you curb distractions. When you need to concentrate at work, drive, or want a quiet night's sleep, this feature is perfect.
You can turn on this feature to stop notifications from distracting or disturbing you. You can choose from several Focus Modes, including Sleep, Work, Personal, and Do Not Disturb, plus you can customize your own Focus Mode.
With focus mode, you have a lot of options. Your focus time can be controlled by selecting which apps and contacts can still send you notifications.
Also, you will be able to receive time-sensitive or emergency notifications, as well as important calls. Your Focus Modes can be scheduled and automated, and you can share them across your iOS devices.
---
What Does Share Focus Status Mean?
iOS Focus Mode has a great feature called Share Focus Status. It is impossible for your contacts to know why you are not responding to them if you do not share your Focus Status. You may be contacted persistently without success.
However, when Share Focus Status is enabled, your contacts will know you cannot come to your phone. When someone attempts to message you, they'll receive a note that you're in Focus Mode.
When they reach out to you, they will have the option of informing you otherwise or waiting for your response. That means if there is an emergency, they can still reach you.
---
What Happens When You Turn On Share Focus Status?
During WWDC 2021, Apple highlighted Focus Status usefulness, showing us how valuable it can be for users. As a result, the Share Focus Status option is always on by default. Therefore, sharing your Focus Status will not require any action on your part.
When Share Focus Status is enabled, people in supported apps will see a banner stating that your notifications are silenced. They will see a hyperlink called 'Notify Anyway' underneath the message. Upon pressing the button, Focus will ignore your Focus guidelines regarding notification and treat their message as Time Sensitive.
---
How to Share your Focus Status?
You can easily share your Focus Status with others. Here are the steps you need to follow:
First, find the Focus option indicated by the moon symbol in your iOS settings.
Then, choose the focus mode of your choice (Sleep, Work, etc.)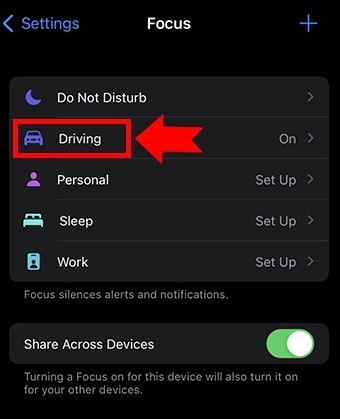 Select Focus Status from the options menu.
Select "Focus Status" and turn it on. You will now be able to notify those trying to reach you that you are away whenever this Focus Mode is turned on.
Tip: Focus Status might already be activated. Unless you have previously turned it off, this feature is enabled by default. In that case, clicking it on the next screen will reveal more information about this feature.
The same steps can be repeated for all the different Focus Modes you would like to share with your contacts.
---
How To Turn Off Share Focus Status?
On iOS 15, sharing your Focus Status is the default setting. Although transparency is great, it might not be appropriate to keep everyone in the loop.
When you turn off your Focus Status, you can use Focus Mode privately.
To do this, open your Focus Status Settings:
Select Focus from the Settings app.
To stop sharing Focus Modes, choose the one you want.
Click Focus Status under the options, then toggle it. When using this Focus Mode, you won't have to notify your contacts about your Focus Status.
The Share Focus Status toggle appears at the top. If you hit it, it will turn off.
Likewise, when you want to share other Focus Modes, repeat these steps.
---
How to Share Focus Status With Only Select Contacts?
When you want to build a transparent relationship with your contacts, it's useful to share your Focus Status, giving them the option to interrupt your zen even when you're on Focus. However, some of your contacts might bother you even for the tiniest inconvenience even if you're on downtime.
If you're in a tricky situation, you can choose to shut down Focus Status Sharing for specific contacts.
First, click on the Messages app.
Now, open the chat with the contact you want to hide from.
Next, click the thumbnail of their profile at the top of the screen.
Toggle off Share Focus Status by clicking their profile. In this case, these contacts will not be able to bypass the restriction since the "Notify Anyway" option will not be available to them.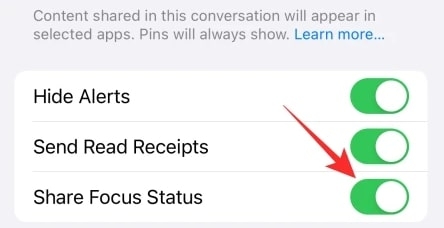 You can use the same method to allow certain contacts to share Focus Status. Before enabling Share Focus Status for your contact, make sure they are running the latest iOS version. You can change your Focus Modes, so you don't get notifications from certain people.
---
Which apps support Share Focus Status?
The Focus Status feature came into existence with iOS 15, which means that developers have not yet baked it into their apps. As a result, it is unlikely that you will find any third-party apps that support Focus Status at this time.
The Messages app from Apple supports the Focus Status, so if anyone on your contact list uses the Messages app to contact you, they will know when you silence your notification. 
---
Benefits Of Share Focus Status
If you share your focus mode with others, they'll be able to find out if you're available. When an emergency occurs, the Notify Anyway button can be tapped to alert you. However, if it is turned off, the Notify Anyway button will not appear.
It comes with four different focus modes, so you can choose what suits you best. Additionally, you can customize it without any restrictions in Personal Focus mode.
Using Focus Modes on the iPhone will greatly increase your productivity. It improves work-life balance and minimizes miscommunication. Relaxation and worry-free living are made possible by it.
---
FAQs:
Does Focus Status Work In Whatsapp?
No, WhatsApp does not support iOS 15's Focus Status. Since the new Focus Status and Focus rules are still in their infancy, so many developers are still getting used to them. It is possible that WhatsApp will add the feature in the near future.
Should You Stop Share Focus Status While Working?
Whenever you are desperately trying to focus on work or a project, you should minimize distractions. It's definitely a good idea to engage Focus Mode on iOS 15, but it's not a foolproof plan when Focus Status is on. If you don't have an extremely sensible contact list, it's wise to turn off Focus Status.
Otherwise, contact list members will be able to choose whether their casual messages are time-sensitive or not. Even when you are in Focus Mode, your phone may buzz or beep when they do that.
Does Focus Mode On iPhone Block Notifications?
Yes, by default, notifications and calls will be blocked in all four focus modes on iPhone.
Does Focus Status Work With Third-Party Apps?
The Focus Status feature is still relatively new, so there are some limitations. You cannot share your Focus Status with third-party apps. However, some third-party apps, like Slack, have already integrated Focus Mode, so keep an eye out.
Does Focus Mode Block Incoming Calls?
You can select whether you want to receive calls when setting up your Focus Mode. It is also possible to customize who can call you in this mode. There is no effect on this from sharing the Focus Status.
---
Conclusion
We hope is these above steps will help you understand "What Does Share Focus Status Mean" as well as share your focus status with your friends.
If you are an iOS user who doesn't like to turn off their phone or silence their notifications when they are away from their phone for some time. With this feature, you can relax and be present in the moment. Additionally, you have the option of choosing who can contact you.
If you have any further queries or thoughts, please let me know in the comments section.
Thanks for reading!
---
Leave a Comment