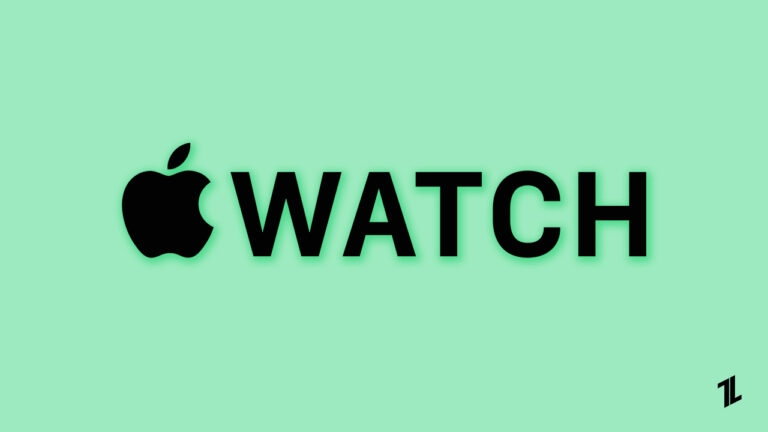 TechLatest is supported by readers. We may earn a commission for purchases using our links. Learn more.
Apple is known for designing aesthetically appealing smartwatches. These smartwatches are suitable to wear for any occasion.
Interestingly, you can make the watch look more rugged by using a military band to it. The military band is more studier compared to the classic bands provided by Apple.
In this article, we have listed some of the military-style tactical bands that you can look at.
We may earn a commission for purchases using our links.
Learn more.
Tactical Apple Watch Bands
Carterjett Nylon Olive Apple Watch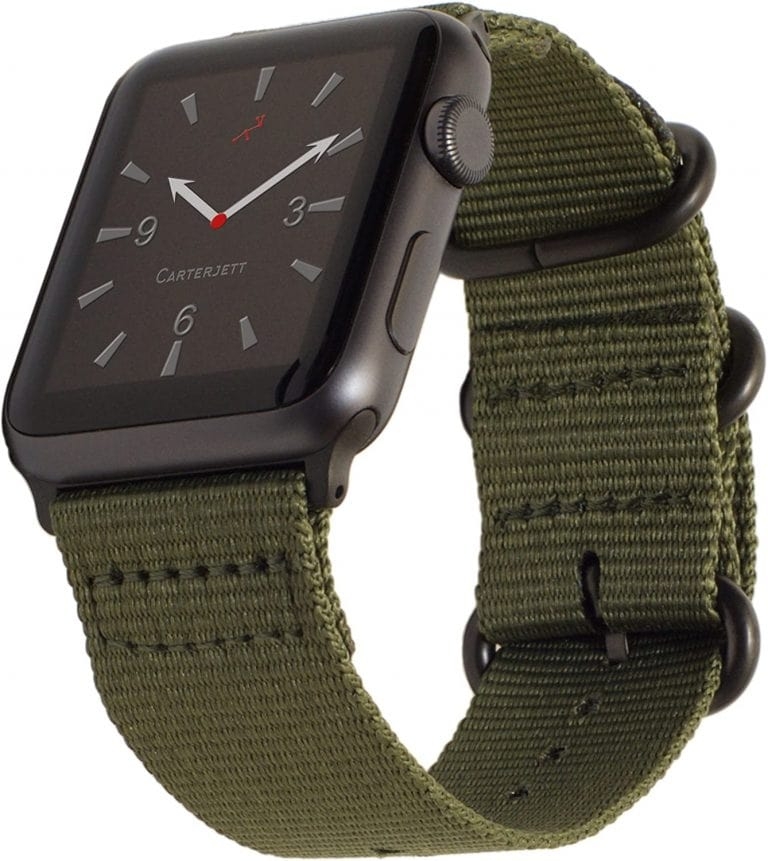 The olive color represents the pure army style. If you are someone who loves going hiking and adventurous trips, then the Carterjett band is the right choice.
You can wear this band all day long without worrying about scratches or stiffness. The overall look of the Apple watch is enhanced by the military-style buckle.
---
Archer Seat Belt Nylon Band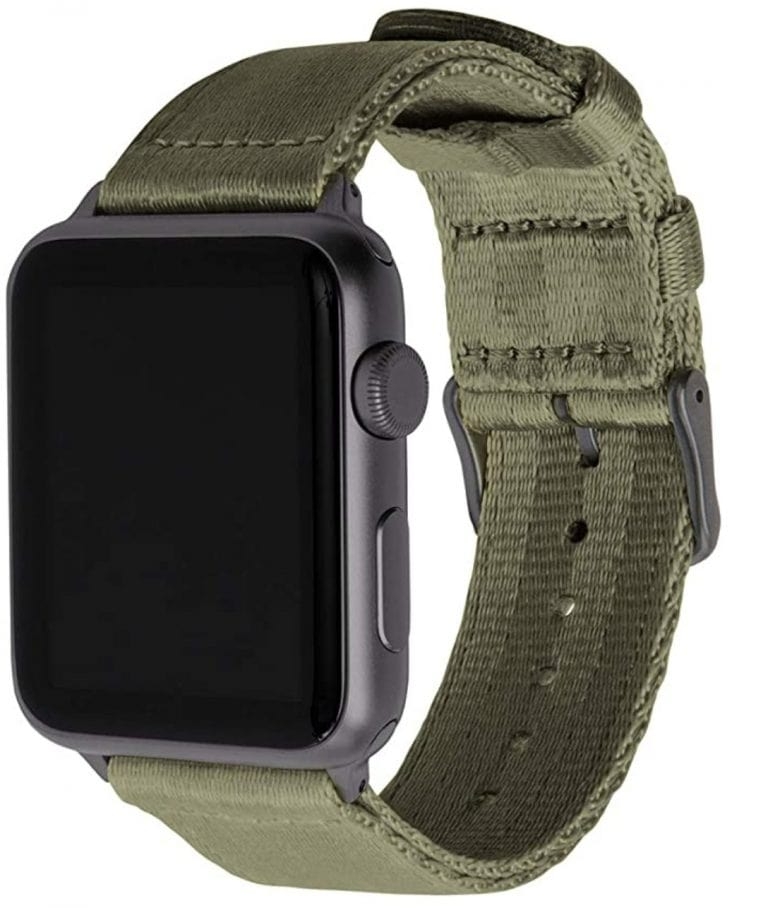 If you are looking for an aesthetic NATO strap, then you must definitely try this Nylon band from Archer. The strap is made of premium Nylon, and the hardware is made of heavy-duty stainless steel.
So, if you are looking for a high-quality tactical Apple watch band, then Archer is the right choice. Moreover, this band comes in a variety of colors. You can pick the colors based on your mood and occasion.
---
Mifa Rugged Sports Band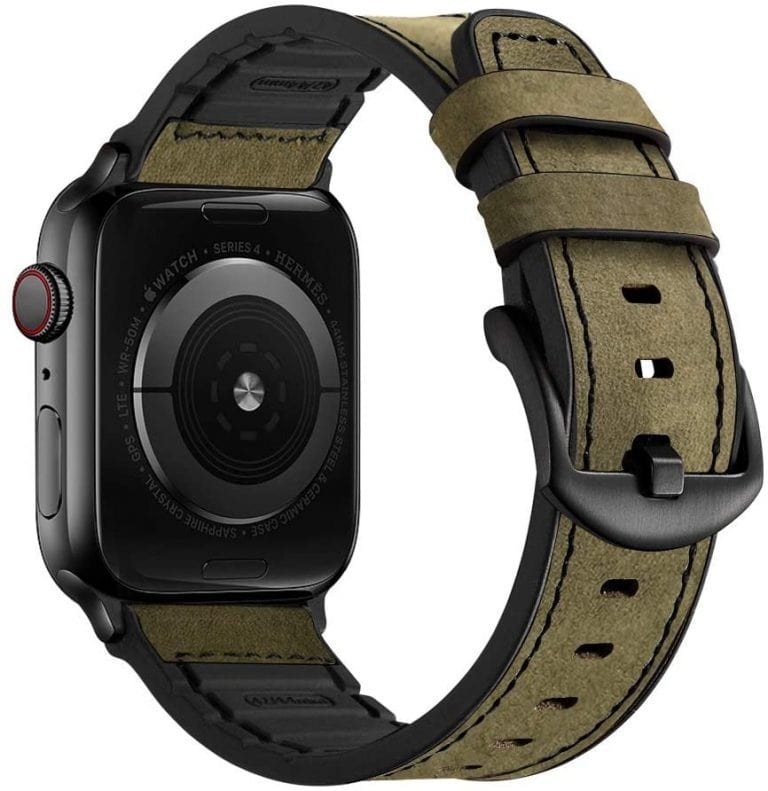 If you are looking for a hybrid tactical band, then the Mifa sports band is the right pick. This band comes with vintage dark brown leather coupled with a black silicon strap inside.
Unlike the traditional smartwatch bands, the Mifa rugged sports band is sweatproof. Since the buckle is made of stainless steel, you need not worry about it getting rusted.
---
AhaStyle With Bumper Case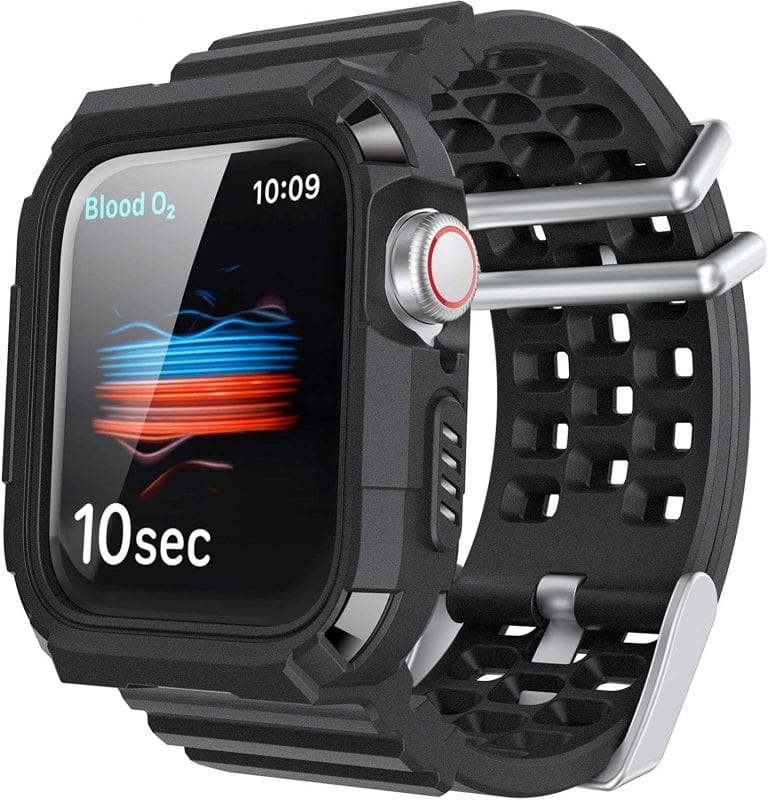 The AhaStyle band comes with an appealing bumper case that can protect your smartwatch from anything. It can protect the watch from bumps, scratches, and drops as well.
If you are much into outdoor activities and adventurous trips, then you must try the AhaStyle.
---
Loxoto Protective Case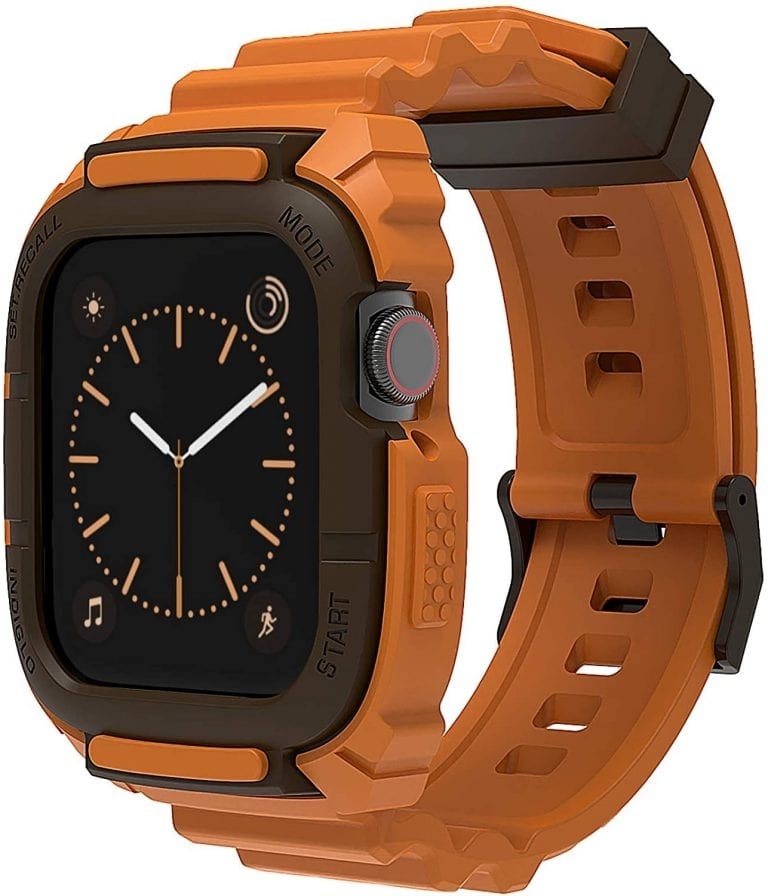 Unlike other bands that come with dark colors to match the military style, the Loxoto smartwatch band comes with bright colors to suit anyone's style. This smartwatch band is designed with premium materials, and the build quality is sturdy.
---
Supcase Unicorn Beetle Pro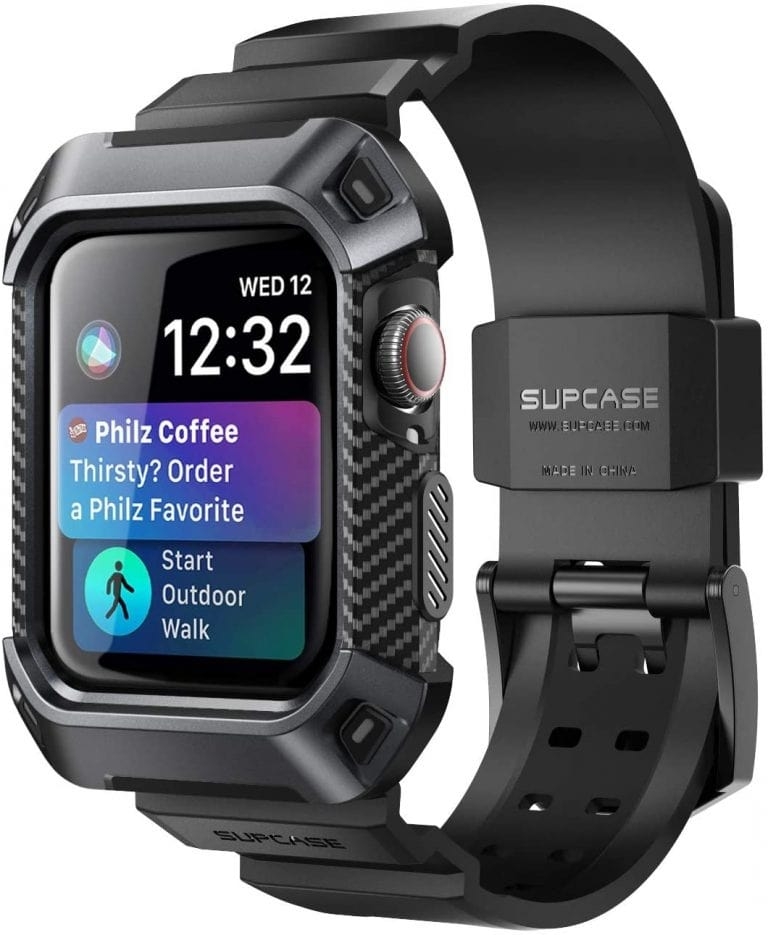 Want to enjoy the military style but a dark look? If yes, Supcase is the best Apple watch band you can pick. You can wear this smartwatch band for all kinds of occasions.
On one side, it looks aesthetically pleasing. On the other hand, it gives you a sense of ruggedness along with the design. It has an excellent shock absorption feature that ensures your watch is well-protected.
---
SPIDERCASE Waterproof Case
If you are into underwater activities, then SPIDERCASE is the right choice for you. This tactical band is waterproof and can protect the Apple watch for an hour with a water depth of up to 6 inches.
It has dual covers to protect the front and back of the watch. Though it looks heavy-duty from the outside, when you wear it, it is extremely light in weight.
---
Addsmile Soft Silicone Band (Waterproof)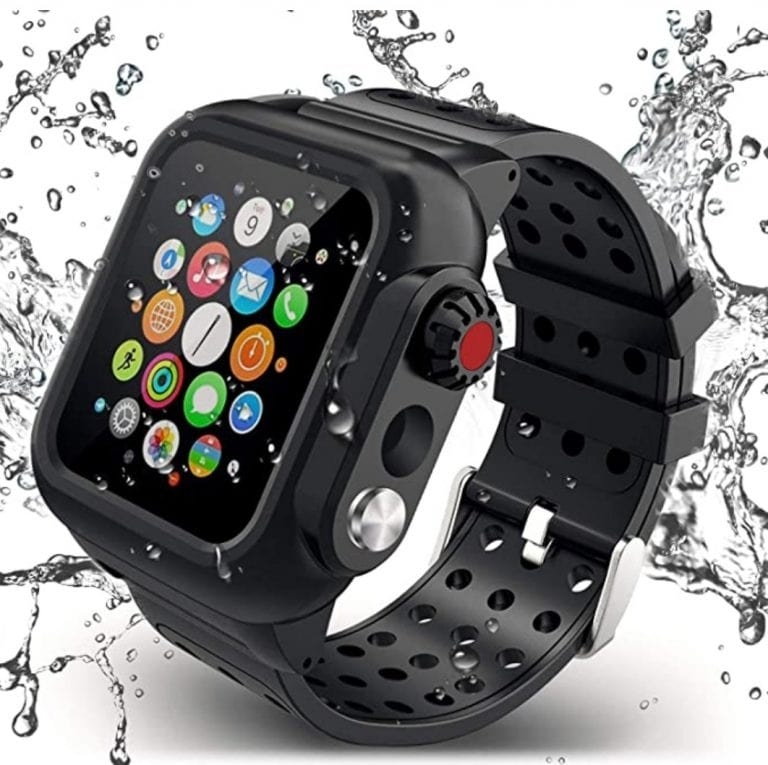 Compared to the Supcase's band, the Addsmile silicone Apple watch band is more rugged and offers a high level of protection for your watch.
Some of the distinct features of this band are it is scratch-resistant, waterproof, shockproof, and also dust-resistant. You can also charge the Apple Watch wirelessly.
---
Spigen Rugged Armor Pro
Spigen has designed this band in such a way that you need not remove the watch frequently, to access its features. For ease of use, the cutouts on this band are placed strategically.
This band is extra durable, as the clasp is made of metal. The only downside of this band is that there is no screen protector. You need to buy one.
---
MOBOSI Military Grade Strap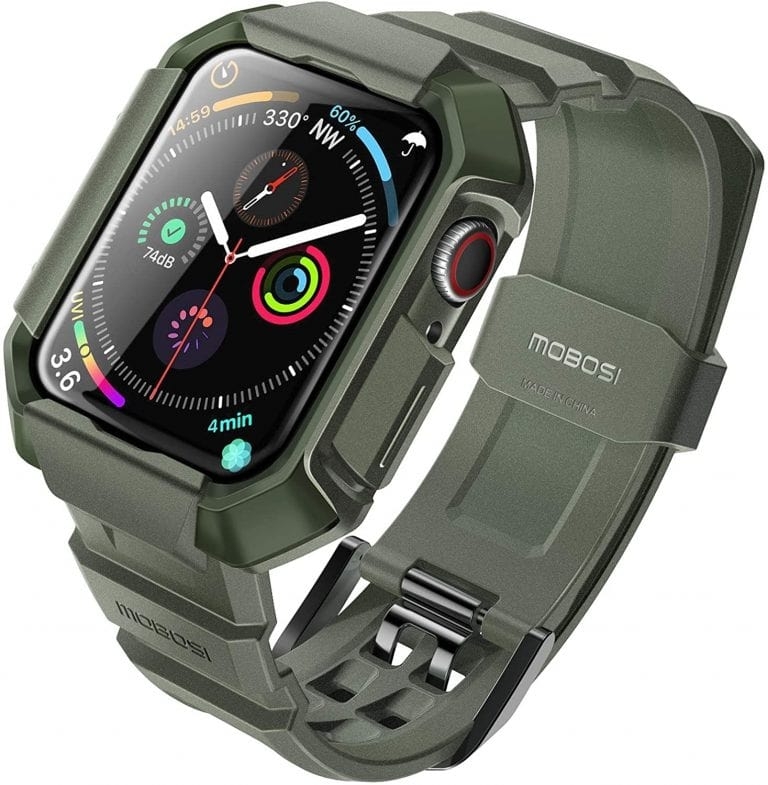 MOBOSI is best known for designing sporty-looking watch bands for Apple. This band is made of waterproof material, and it is shockproof as well. Unlike other bands that weigh heavy, the MOBOSI strap feels lightweight and comfortable on the skin.
---
Coobes Leather Strap for Apple
If you want a pure leather band strap for an Apple watch, then Coobes is the right choice. The only downside of this strap is that it is not suitable for any extreme sports activities. Instead, you can wear it only for casual outdoor activities like walking, hiking, etc.
---
Watpro Nylon Rugged Band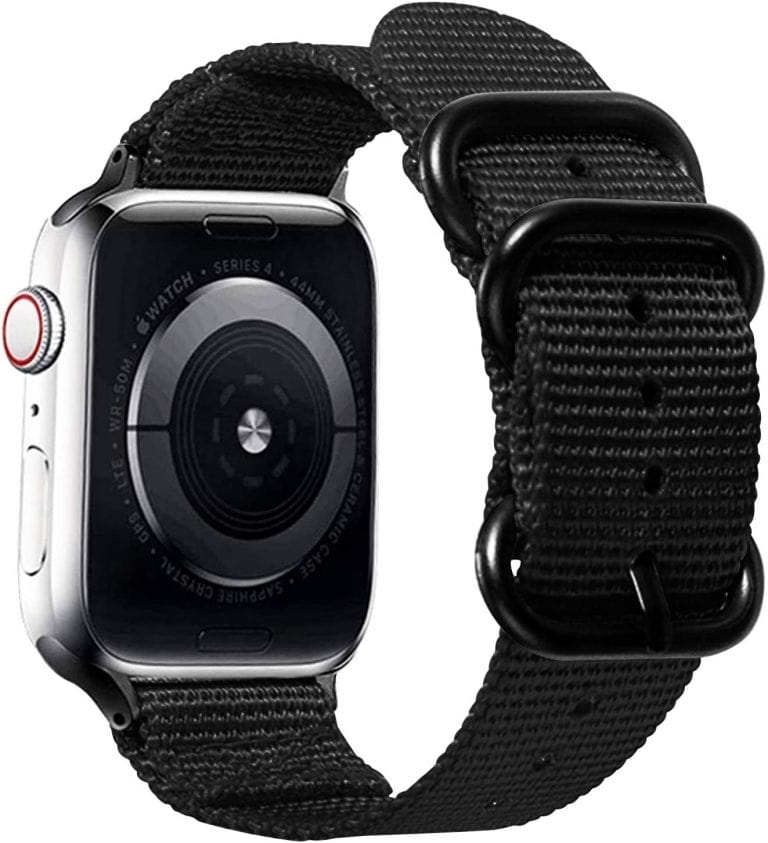 If you are not too much concerned about the protection of the watch, but looking for something casual looks, then Watpro Nylon Rugged Band is the best band to buy.
This Apple watch is water-resistant, flexible, and also breathable. Hence, you won't find it irritating even after prolonged hours of usage.
---
Conclusion
These are some of the best Tactical Apple watch bands that you can give a try! Some of these bands offer extreme protection, while some of them (like Watpro) are designed only for aesthetic looks. Choose the band that goes with your style and requirements (like protection, breathability, etc.).
Leave a Comment