Highlights
Many iPhone users face an issue while downloading Snapchat, and the download doesn't complete.

While the exact cause is unknown, there are plenty of freaking which can account for it, like unstable internet, content and privacy restrictions, and more. 

Depending upon the causes, we have solved the problem for you with nine methods for troubleshooting.
TechLatest is supported by readers. We may earn a commission for purchases using our links. Learn more.
Streaking daily, connecting with friends on the go, and trying out fantastic selfie filters is a different delight. Yes, we are talking about Snapchat.
Further, your iPhone camera hardware paired with Snapchat can give you excellent and ultra-sharp bezels in photos and beautifies them. But what if you try downloading Snapchat on your iPhone but can't?
Well, it would leave you thinking, why won't Snapchat download on my iPhone? We have covered you all with it. Besides, we will help you to troubleshoot the issue.
Why Won't Snapchat Download on my iPhone?
There are plenty of reasons why Snapchat Won't download on iPhone error.
Below-mentioned is a list of the same:
Too many background apps, processes, or much of the App Store cache becomes problematic. Further, even temporary glitches lead to the issue.
Unstable Internet Connection
An unstable internet connection makes it problematic for the App Store to download Snapchat. Your iPhone won't have robust internet connectivity, or there will be an issue with your ISP.
When the maximum storage space of your iPhone is occupied, then you won't be able to add new apps like Snapchat.
Content and Privacy Restrictions
The Content and Privacy Restriction settings on iPhone restrict you from downloading apps. This mainly implies social media apps. Thus, you won't be able to download Snapchat.
Issues with Payment Method
The app Store requires a payment method to download apps. Even for free apps, you should have an updated payment method. If not, then it can be problematic to download apps.
Outdated software cannot function well with the software leading to Snapchat won't download issues. Further, if the firmware has become corrupt, it can also lead to a problem.
Improper Settings on your iPhone can lead to an issue with downloading Snapchat. It can be challenging to figure out the exact one responsible for the error; hence default settings work.
Despite the causes, you can troubleshoot it quickly from your end.
---
How to Fix if Snapchat won't Download on my iPhone?
There are several reasons responsible for Snapchat not downloading errors on iPhones. Therefore, follow each solution until you find one that works for you.
Method 1: Reboot Your iPhone
Too much cache and temporary glitches do account for the Snapchat Download on iPhone issue. Therefore, the simple one-stop solution is to reboot your device.
It clears the cache for all the apps and eliminates temporary glitches. Thus, you would resolve the issue if it was the cause.
---
Method 2: Fix your Internet Connection
Another reason Snapchat won't download on iPhone is its poor internet connection. Even after a restart, if it persists, you should perform a speed test like that of OOKLA by visiting the link.
If the test shows low speed, then a quick fix can help you. Put your iPhone in flight mode and wait a while. Afterward, disable the flight mode, and your iPhone will re-establish your internet connection. Thus, it boosts internet connection.
Further, if you use WiFi, then restart your router instead of using flight mode. So, it will resolve the issue if a poor internet connection is the reason. But if it persists, then the problem can be something else.
---
Method 3: Check iPhone Storage
When your iPhone is low on Storage, it won't be able to make room for new apps. Therefore, you should check storage space if that can be the case.
Follow the steps given below to check iPhone Storage:
Open iPhone Settings and go to General.
Tap on iPhone Storage.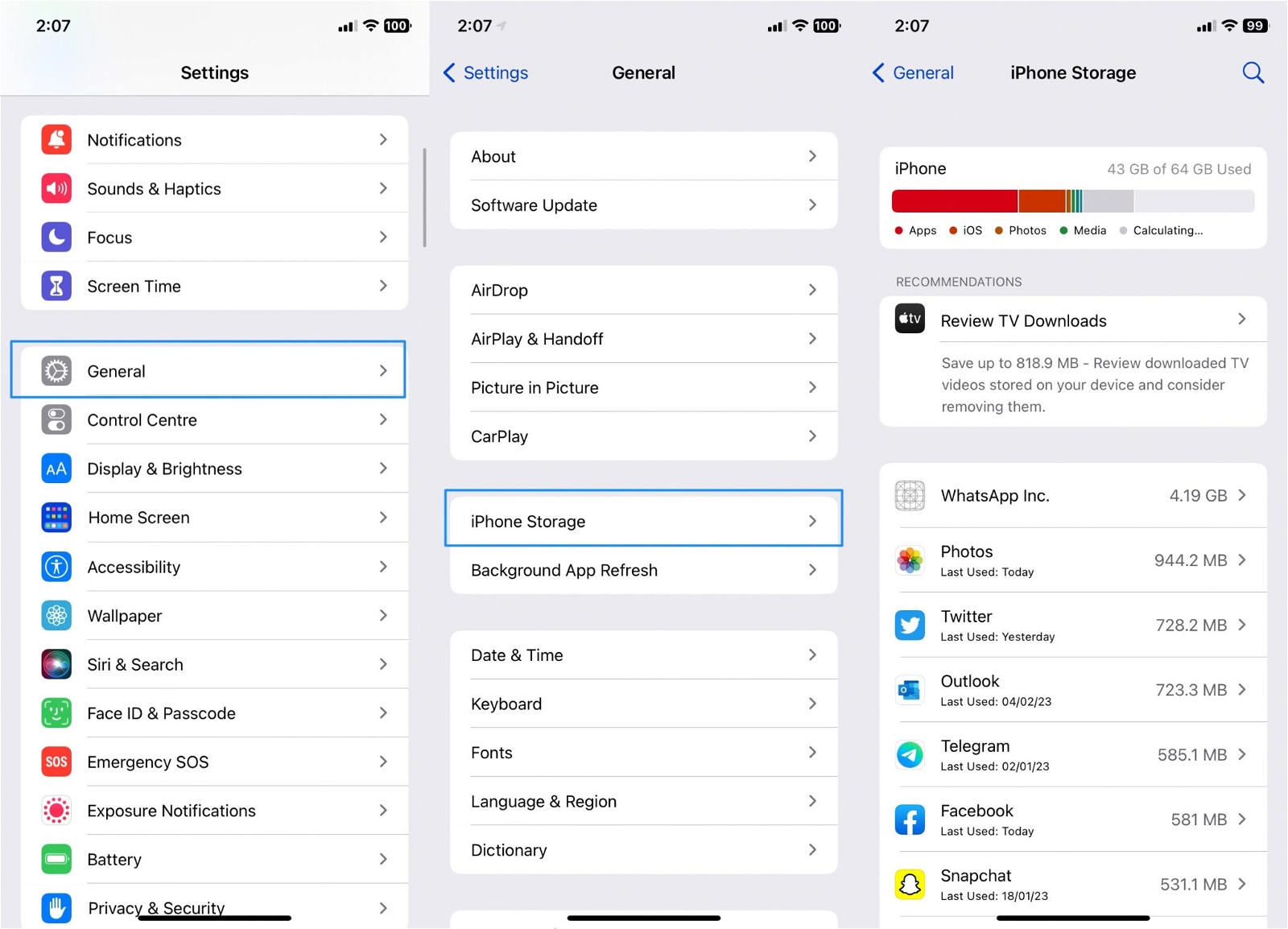 If you find low iPhone storage, free up some space and try downloading Snapchat again.
---
Method 4: Check Content and Privacy Restrictions in Screen Time
iPhone has a content and privacy restrictions feature. It's mainly for parents to control children's device usage.
If you haven't enabled this feature, then too, it's possible that you would have accidentally allowed it. This causes Snapchat won't download on iPhones issue.
Further, even if you want to use the feature and don't want it to restrict you from downloading apps, there's a workaround.
Follow the steps given below to disable content and privacy restrictions on iPhone:
Head over to iPhone Settings and go to Screen Time.
Select Content and Privacy Restrictions.
If you see a Content and Privacy Restrictions toggle on, tap to turn it off.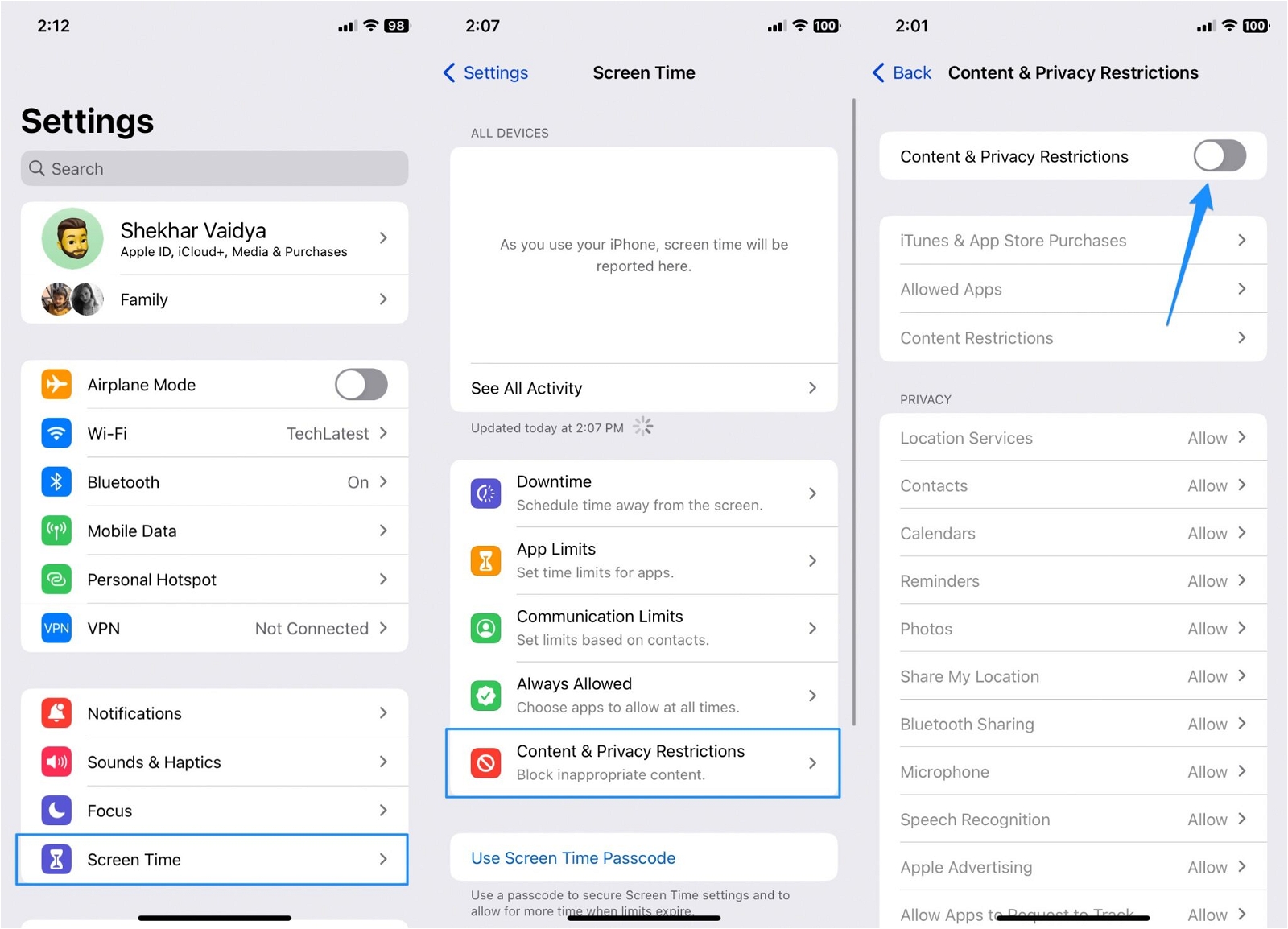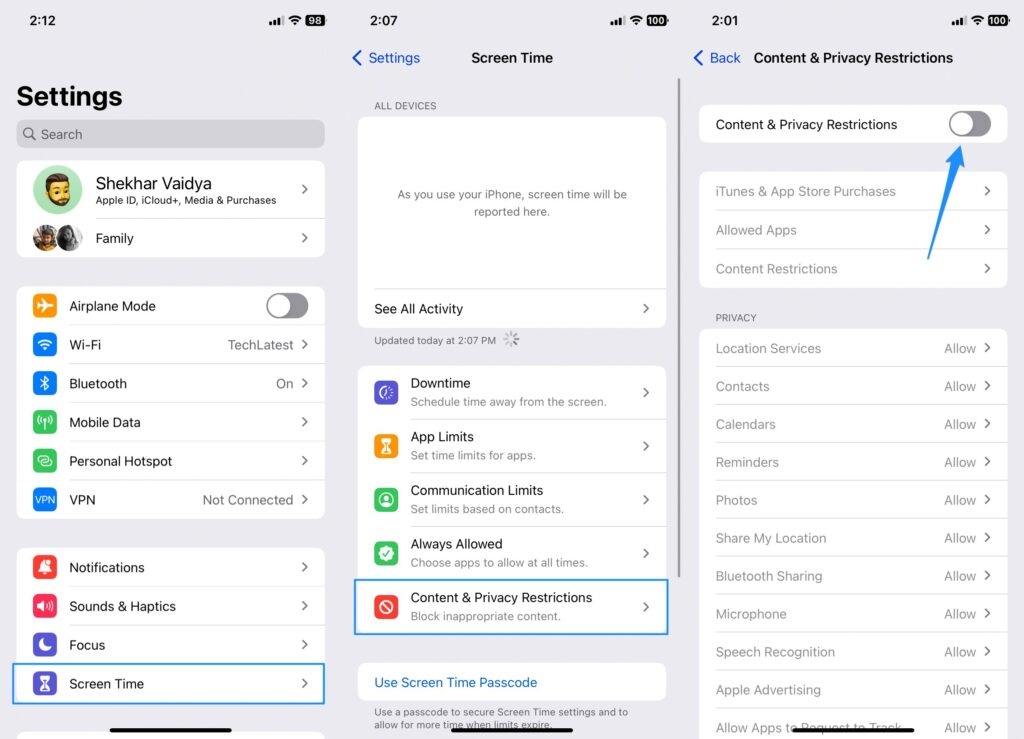 Further, if you don't want to turn off the feature and then too, download the app, then here's how!
Grant Permissions to iTunes and App Store
Open Screen Time on iPhone Settings.
Navigate to iTunes and App store Purchases.
Tap to select Allow if it was set to Don't Allow.
Now head over to download the app again, and you won't face any issues. But if it was already set to Allow, then there can be an issue with your payment method.
---
Method 5: Check your Payment Method on iPhone
Undoubtedly, the Snapchat app is free to download, yet the App Store does check your payment information. It does restrict you from downloading if you haven't updated your payment method or have it missing. This doesn't mean that the App Store will charge you for Snapchat.
Here's how you can check your payment method on your iPhone:
Head to App Store and click on your profile icon at the right.
Tap on the name to open Apple ID and select Manage Payments.
Tap on the payment method which you have set and check its details; if you have to update, then do so.
Further, if the payment method isn't accessible now, add another payment method.
Now, close the App Store and restart your iPhone to resolve the issue. However, if the payment method was updated, the following would help you.
---
Method 6: Perform Software Update on iPhone
An outdated firmware makes it problematic and leads to performance issues like Snapchat Won't download on your iPhone. The reason can be software bugs or that it has gone corrupt. Hence upgrading software is the key solution here.
Follow the steps given below to update the Software on your iPhone:
Head over to iPhone Settings and tap on General.
Select Software Update.
iPhone will now check for available updates and prompt you to install if any.
After downloading an update, it will install, and you must set up the update. Now, check by downloading Snapchat.
---
Method 7: Reset iPhone Settings to Default
Improper or corrupt network settings also lead to Snapchat not working on your iPhone issue. Hence, you have to reset them to default to troubleshoot them.
Follow the steps given below to reset iPhone Settings to default:
Open iPhone Settings and tap on General.
Select Transfer or Reset iPhone and tap on Reset.
Now tap on Reset All Settings, and in the further pop-up, select Reset All Settings to proceed.
Doing so will not wipe any of your data but will reset all settings to default. Further, if you added Pay cards, dictionary settings, WiFi passwords, etc., you will have to add them again.
Fortunately, it will also resolve the problem of Snapchat not downloading on the iPhone.
---
Method 8: Report About it to Apple and Snapchat
If none of the above solutions help, then the last resort is to contact the support team of Apple and Snapchat. Reach out to Apple support here and Snapchat here.
Describe your issue; the support teams would then reach out to you and suggest possible reasons to fix it. By implementing them, your problem will be resolved.
---
Frequently Asked Questions
What version of iOS is needed for Snapchat?
Your iOS should have version 12.0 or later for downloading Snapchat.
Why is Snapchat not working on my iPhone 6?
If Snapchat doesn't work on your iPhone, you should clear its cache, restart your iPhone or reinstall the app to resolve the issue.
Does Snapchat work with iOS 16?
Yes, Snapchat is already compatible with iOS 16.
Is the Snapchat ban linked to Apple ID?
The Snapchat app isn't linked to your Apple ID. So, you can download the app and create a new account easy-peasy.
Can an iPhone 5 run Snapchat?
No, iPhone 5 isn't compatible with Snapchat. Hence, you will have to buy a new phone or iPhone.
Does iPhone 6 Plus support Snapchat?
Yes, iPhone 6 Plus supports Snapchat now. Initially, it did not, but now Snapchat has updated itself to make it available. 
---
The Final Word
When you were thinking about why won't Snapchat download on my iPhone, then you would have got your answer! Too much cache, unstable internet connection, and insufficient can lead to the issues.
Content and Privacy Restrictions, missing or outdated payment methods, obsolete software, and corrupt settings are also reasons for it.
Therefore, accordingly, you can resolve the issues, and you can download Snapchat once more. These include restarting the phone, fixing the internet, removing content and privacy restrictions, updating payment methods and software, or resetting settings to fix it.
Leave a Comment