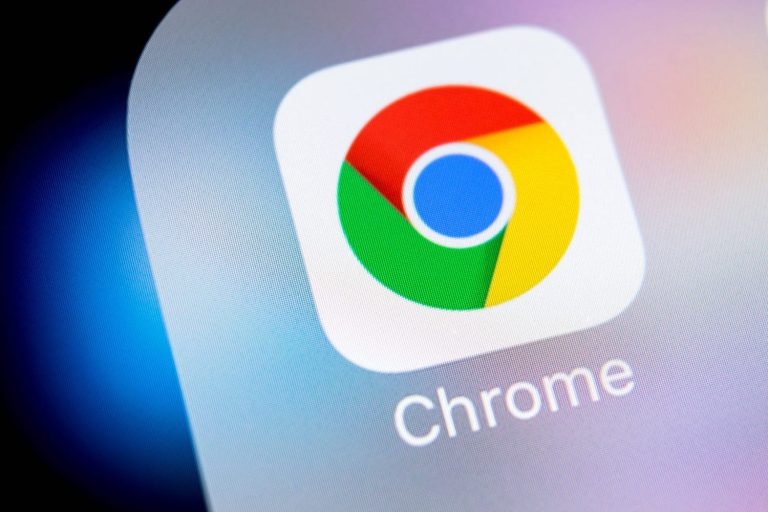 TechLatest is supported by readers. We may earn a commission for purchases using our links. Learn more.
Hello Readers, Today in this article we will tell you about google chrome themes. As you all would know, Google Chrome is one of the most popular browsers which is used by almost 70% of the people in the world. It has a minimalistic design inside, which is user-friendly and has high-speed performance.
Additionally, the Chrome browser has several customization options that allow users to personalize the browser with extensions and fun themes from the Chrome Web Store. Specifically, the Google Chrome theme helps you add something unique to the usual boring look of your browser.
When you open a new tab in it and along the edges of chrome you will see the theme as wallpaper. Plus, you can easily sync the theme with your Google account and use the same theme on your other devices.
If you are completely bored with the tired look of default Chrome and want to see some unique changes in it, then try these best Chrome themes.
Is it safe to use Chrome themes?
Themes do not affect the content displayed by the browser, unlike some Chrome extensions. For your information, let us tell you that Chrome Theme is just a .JSON file that consists of a background image and multiple color profiles.
They don't have any server-side components or code that can compromise your browsing experience. However, for security reasons, we strongly recommend that you download and install the theme from the Chrome Web Store.
As you might know, Google also offers a number of themes that appear to you as "Powered by: The Chrome Team". You can filter with Google Developers to find official Google themes.
Downloading Chrome Themes
So let us now know how you can download Google Chrome themes on your PC. For this, you just have to follow the steps given below.
So first of all open the Google Chrome browser on your PC, and click on the Chrome menu. 
Now go to the "Settings" option, and in the "Appearance" section click on "Theme".
This will open the "Chrome Web Store" in a new tab. Search and select your favorite theme for preview.
Click the "Add to Chrome" button at the top of the preview page and your new theme will be added to the browser.
Now we look at some best Google Chrome themes for theme lover users.
Here are some of the best Google Chrome Themes for you
Blue/Green Cubes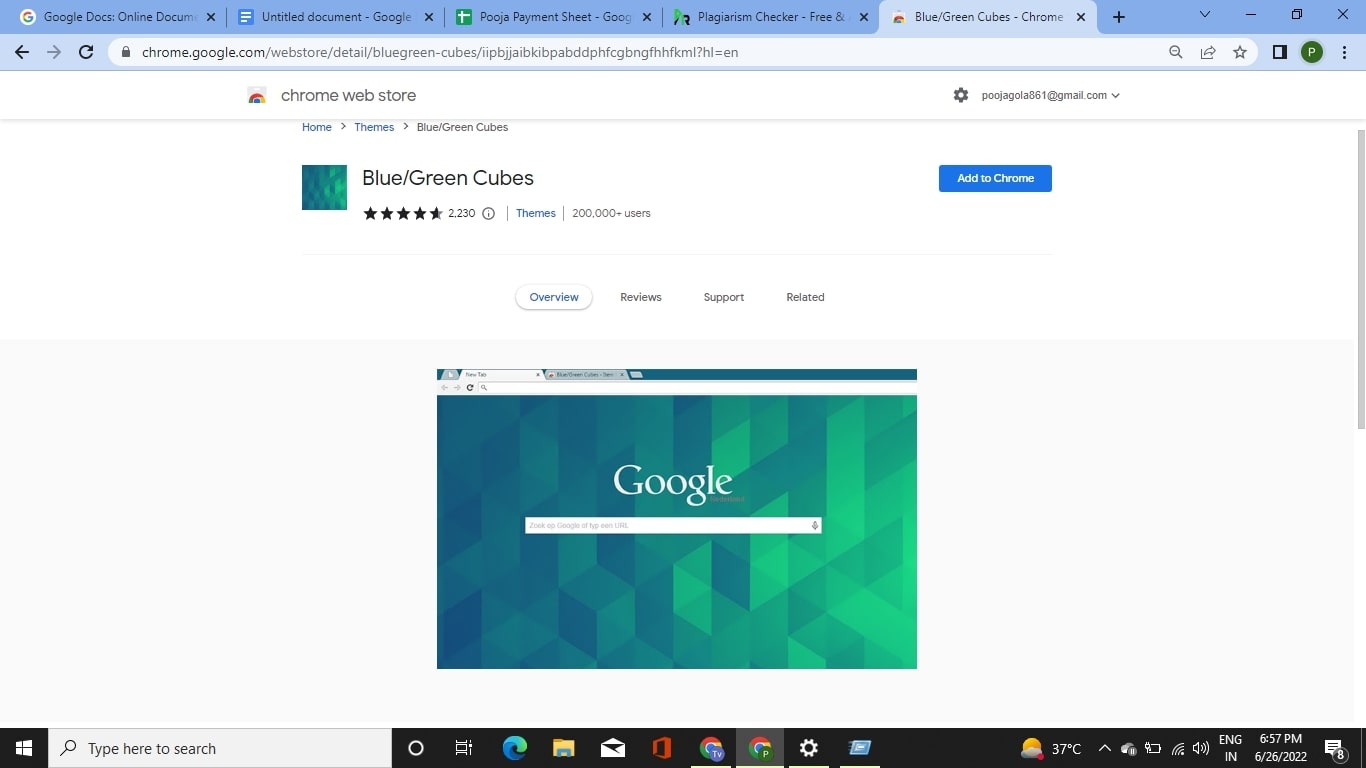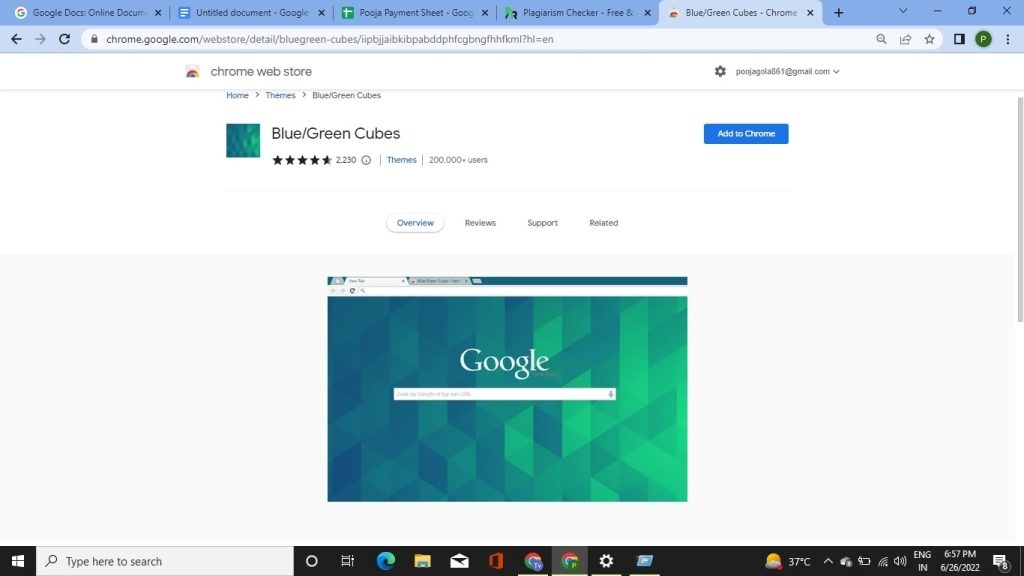 Oriented blue and green cubes have a minimalist theme with pattern design. If you like minimalist pattern themes then you will definitely love this theme.
Other important features:
200,000+ users are using this fantastic theme.
This theme is just 1.45MB.
---
Polytheme
This theme is a cute-looking theme with purple polygons all around. If the purple color is really your interest, then you should definitely try this theme. This theme offers a huge variety of purple color shades.
Other important features:
A purply, polygony theme for Chrome!
5,000+ users are already using this theme.
This theme size is 2.83 Mb.
---
Iron Man material design
This is another top-notch minimalist Chrome theme. It features Iron Man floating on the browser screen. To create a safe browsing feeling. The Iron Man theme uses soft colors to create a relaxing and elegant environment for browsing. Excellent fusion of colors and hyperspace. 
Other important features:
It is only 1.6 Mb which makes it easy to download and use on your browser. 
100000+ users use this theme. 
Original result of the material design.
Elegant design for comic lovers.
---
Dark Material – Dark Chocolate
The theme draws inspiration from the minimalist dark material design and largely follows Google's material design principles.
Just like its name, Material Dark Chrome Theme is compatible with Windows 10 Dark Theme and optimizes the readability of text on the browser. It can prove beneficial for those who want to read long study pages. 
Other important features:
Great look with more consistent color combinations.
Improve readability and clarity of text on all active and inactive tabs and tabs.
Small size (8.2 KB) and smooth interface.
Ideal color and background contrast.
---
Galaxy – View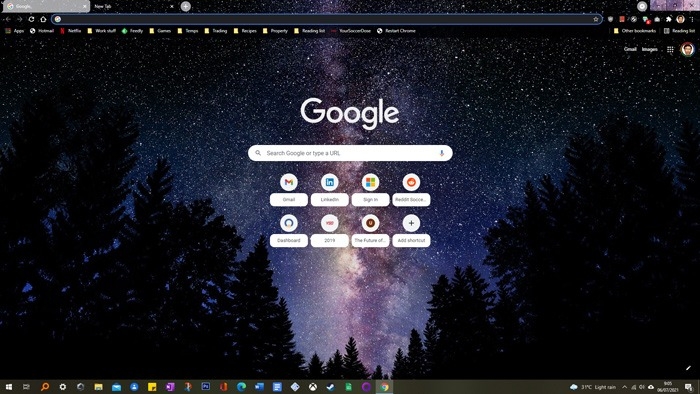 This theme key is surrounded by dense darkness, and it has a shower of light on the top, when looking at it, it seems as if we are moving in space. It captivates our mind, this theme is one of the best themes, if you like the light night light feel then you will definitely love this theme, which one can you go with.
Other important features:
It is only 3.65MiB which makes it easy to download and use on your browser. 
500,000+ users use this Fabolous theme. 
Original result of the material design.
Elegant design for space lovers.
Shower of light in dense darkness
---
Raindrops (non-Aero)
This theme gives your browser a natural look in rainy weather. You feel cold when you browse through this. It creates the feel of real-life raindrops on your Chrome and is an ideal way to create a virtual rainy world on your screen. It offers a lot to users including:
Other important features:
The theme size is just 4Mbs, which makes it easy to download and install.
The natural and inspirational backdrop.
Elegant and relaxing look on Chrome.
The clear raindrops create a calming effect on the mind.
---
Dark Reader
Dark Reader is technically an extension rather than a theme, but it does what a theme does and more. The download includes a menu where you can adjust the dark settings to suit your browsing environment as needed.
And this doesn't just apply to the Chrome window, but also to all Google sites, social media sites like Facebook, and more. It's basically a dark mode for all of your browsing!
Other important features:
4,000,000+ users
Size: 590KB
The dark mode is available for every website. Take care of your eyes.
---
Flying Paint
If you like painting, then this is only for you. The theme shows multiple colors like a rainbow in the background, which blends seamlessly with the texture and surface of the white garage.
Other important features:
The Flying Paint is one of the lightweight Chrome themes with a size of only 2.13 MB, which translates to ease of download and installation.
400000 + users
High resolution (1920 x 1200) and huge display aspect ratio of 16:10.
Minimalist and clean background.
A great choice for a painting lover. 
---
City and bridge in the fog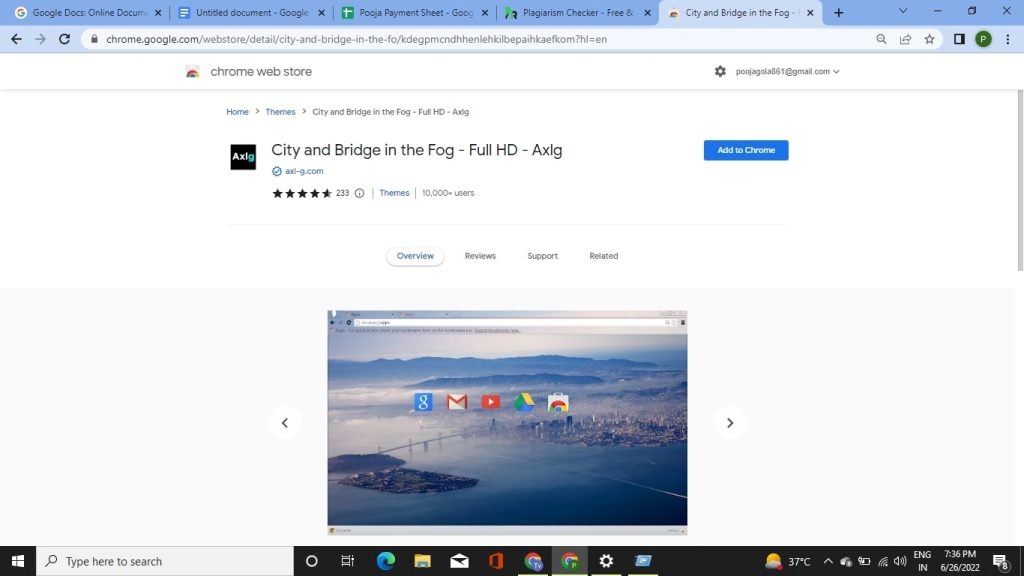 City and bridge in the fog are the best landscape themes to borrow an excellent photo and skin your browser based on the colours and overall feel of the original image.
Other important features:
10,000+ users are using this theme. 
Full HD City and Bridge in the Fog.
It's 833KiB in size. 
16:10 and 16:9 aspect ratio displays.
Higher resolution displays. 
---
Greek beach theme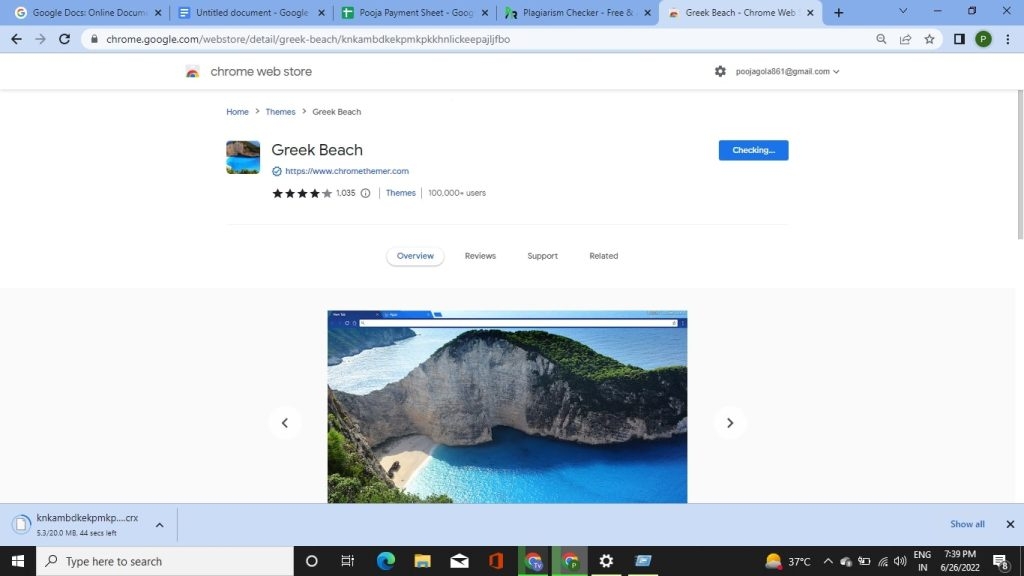 There is water all around it, and in the middle of it is a lush green island that looks very beautiful as if it will just come out. If you love nature then you can use this theme. 
Other important features:
100,000+ users are using the theme. 
Size:19.95MiB
Higher resolution displays. 
---
Isle of Skye Scotland
Just like its name, it is amazing in appearance, it has green mountains on one side of the surface on which the setting rays of the sun are falling, the theme can prove to be the best for those who love nature.
Other important features:
Size:5.16MiB 
20,000+ users use this nature theme. 
Higher resolution displays
---
Seattle Night
Seattle Night is one of the most beautiful and trendy themes for Chrome. It looks as if it is a narrow path full of dense darkness which is centered in the background.
The more we get lost in it, The fog that appears on the underside of the darkness promotes the dense color of the theme, giving a feeling of cold weather. 
Other important features:
This theme is 2.51 MB and boasts over 950,000 users. 
Rating of 4.7 out of 5 stars from 30,000+ users.
An exception in contrasting black and white.
Create an elegant dark and gothic feeling.
Simple and powerfully dark design.
---
People Also Ask
Are Google Chrome themes free?
Here you are provided with both types of themes, in which you can use a paid theme or a free theme whichever you want. Most of the themes on Chrome extensions are available for free.
You can choose from thousands of themes using the Chrome Web Store, whether you want to create your own custom Google theme using a third-party app or an image on your computer. Can design accordingly.
Which is the best Chrome theme?
We have told you about many themes above which are not only free but also the best, you can use any of them as per your wish.
Are Google themes safe?
As we have already mentioned that these themes can be used without any worry, it will not harm your PC and it is completely safe.
How to Set the Chrome background image?
For this, you will see a personalization gear or icon in the lower right corner of the New Tab page in the latest version of Chrome. You can click on the icon and go to the "Chrome Wallpaper" option.
Select Chrome Wallpapers, Now you have to choose one of your favorite images and set it as Chrome wallpaper. At any time, when you want, you can restore the wallpaper to the original browser appearance.
---
Conclusion
You can customize your browsing experience by adding some style with Chrome themes. There are many themes to choose from, which can get a little confusing, you can try changing with one of the tips above.
Leave a Comment