TechLatest is supported by readers. We may earn a commission for purchases using our links. Learn more.
Most of you tend to buy more groceries before your requirements. All such extra items end up going in the bin. To prevent such stuff and help you manage your diet, HelloFresh is the ultimate rescue.
However, as it's a subscription based-service, due to your reasons, you would think of canceling the subscription but are unable to do so. We have covered you all if you are looking for how to Cancel HelloFresh! 
You can do so via its official website or mobile app but doing the same on-site is relatively more straightforward!
How to Cancel HelloFresh Subscription?
Due to XYZ reasons, you would think of canceling your meal-kit delivery plan subscription. You do not want to be a HelloFresh regular customer anymore. In such a scenario, canceling its subscription helps.
Follow the steps given below to cancel your HelloFresh Subscription:
Go to HelloFresh.com and sign in with your credentials
Tap on your name at the top-right corner of the webpage
Navigate to Account Settings
Click on Cancel Plan under Plan Settings
You will be prompted to follow some instructions, and then you will successfully cancel HelloFresh. Then you will see a message stating that your HelloFresh Subscription plan has been canceled.
If you now need a Low quantity of supplies from HelloFresh, you can change your subscription by adjusting your meal preferences. Thus, you do not need to cancel the plan in such a situation.
---
How to Modify HelloFresh Subscription?
You are never confined to your HelloFresh subscription. When you change the number of meals, the number of servings for every recipe, and similar, thus modify your HelloFresh Subscription by adjusting your meal preferences.
Certain situations when you wish to change your HelloFresh Subscription, like changing your diet plan, increasing or decreasing the quantity you cook, and such things.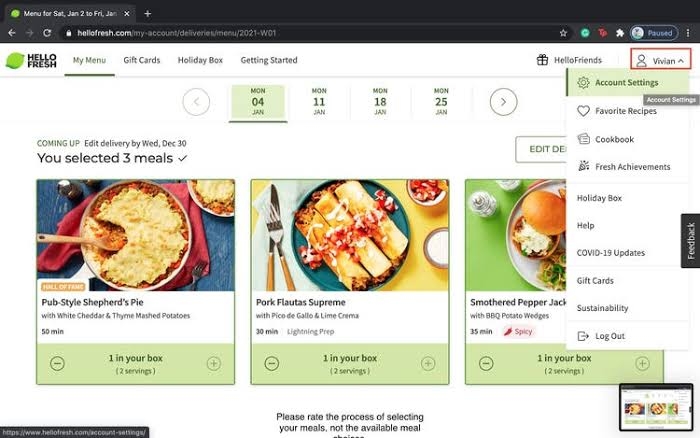 You must head to the HelloFresh website and sign in with your customer account. Now, you can modify your HelloFresh Subscription by changing the number of meals, adjusting the servings for every recipe, and the kind of recipes you wish to get.
---
How to Skip a HelloFresh Order?
There might be a situation like when you have plans to travel or are gearing up for an upcoming occasion and decide not to cook. In such a scenario, you can skip an order if it's not shipped yet!
Follow the steps given below to skip a HelloFresh order:
Head over to HelloFresh and log in with your account
Go to your Account section
Navigate to My Menu
Select one delivery day that you want to skip for a day
Choose the Edit Delivery option at the top of your menu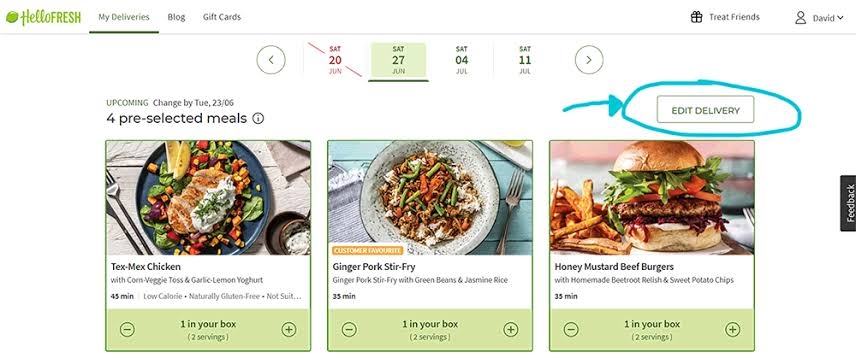 Now, click on Skip This Week amongst the variety of options that appear
Thus, you successfully skipped an upcoming HelloFresh order!
---
Frequently Asked Questions:
How do I contact HelloFresh customer service?
You can mail to the HelloFresh customer service at hello@hellofresh.com or connect on a call at (646) 846-3663. 
How often does HelloFresh charge?
HelloFresh charges every week. 
How do I cancel my subscription to EveryPlate?
To cancel your subscription to EveryPlate, you can visit EveryPlate.com and live chat with them. Alternatively, you can also call on (973) 210-4915.  Make sure to have your account credentials along with it. 
---
The Wrap Up
If you were looking for how to cancel HelloFresh, you would have gotten your answer! It's easier to do so using the official website. Additionally, that's possible if you want to adjust servings or meal preferences. Besides, you can also choose to skip a day when you do not need to.
If you have any queries, please let us know in the comments section below!
Leave a Comment