TechLatest is supported by readers. We may earn a commission for purchases using our links. Learn more.
Are you looking for ways to help you maintain a healthy body weight? If yes, we are here with some of the best Calorie Counter Apps designed to track your daily calorie consumption.
These apps locate calorie information from scanned food levels or photo uploads, or food databases. Some apps even design a daily calorie consumption plan based on your personal health goals and specific needs.
Not all calorie counter apps are the same and offer their specific features. Many come with an expensive price tag. So, you need to choose the one suitable for you depending on your specific requirements.
To ease your task, we have developed a well-thought-out guide to help you select the correct calorie counter mobile application.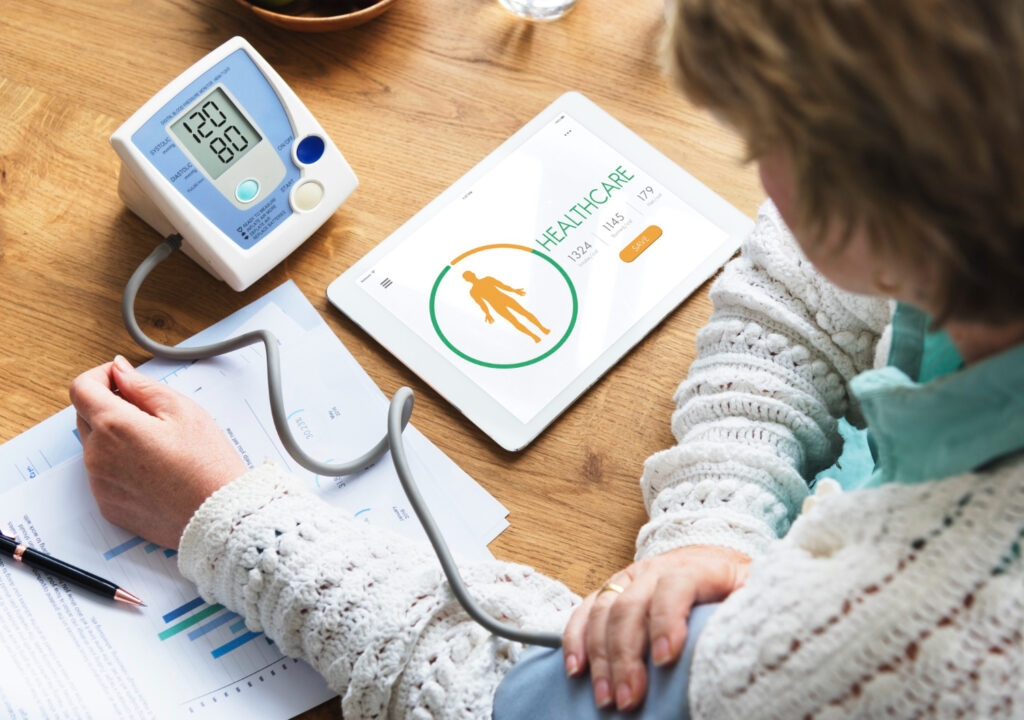 Benefits of Using a Calorie Counter App
Most of the Calorie counter apps are not only easy to use but signing them takes not even a single minute. Plus, you can use their device-specific apps as per your need.
Below we are providing you with some fantastic benefits these apps can offer.
Calorie Counter apps effectively monitor your dietary choices and food intake.
These apps significantly contribute to weight loss.
Such apps can also help alter unhealthy habits by encouraging behavior changes.
Besides telling you about your maximum calorie intake, these apps also help you know if you are eating too little. This can help you maintain a normal RMR after losing weight.
One of the primary purposes of calorie counter apps is to offer consistency while providing accountability. This leads to assured weight loss success.
Now that you know how useful these apps can be, you would want to choose the right app for you. Below we are sharing some of the best calorie counter apps that can help significantly boost your lifestyle.
---
Best Calorie Counter Apps
We have carefully selected the nine best calorie counter apps for you to choose from. Our app selection depends on various parameters, including features, website transparency, user-friendliness, price, and the latest user reviews.
So, let's see how these apps can assist you in your calorie-tracking journey.
FatSecret
If you are looking for a free and reliable calorie counter app, then FatSecret can be an excellent choice for you. Along with a weight chart, it offers you a journal, an exercise log, healthy recipes, a nutrition database, and a food diary.
This user-friendly app tracks your overall progress. Its monthly summary view provides data for exact per-day calorie intake and per-month averages. The homepage depicts total calorie consumption followed by the breakdown of fat, protein, and carbs for each meal and each day, respectively.
On this app, you can also get recipes, tips, and a lot more. Its chat community lets everyone share their success stories. Besides, the Challenges feature enables you to participate in or create dietary challenges among users.
Its Android app has a rating of 4.6, while its iPhone counterpart has a 4.7 rating.
---
MyFitnessPal
This popular calorie counter app has an efficiently designed exercise log and a food diary. It suggests your daily calorie intake while tracking your weight.
On its homepage, you will find information regarding your calorie consumption, calories burned by exercising, and recommended intake. This app can perfectly sync with your fitness tracking device for updating the exercise log.
MyFitnessPal's chat forums offer tips, recipes, conversations, and success stories of fellow users. This progress-tracking app has a comprehensive nutrition database with over eleven million foods. It also lets you create custom dishes or foods or download recipes from the internet.
With this app, you can instantly add the nutritional information of many packaged foods. Besides depicting daily carbs, protein, & fat breakdown in pie charts, it also lets you express your feelings in daily notes.
You can either use its free version or switch to premium to get all the additional features enabled on your app. With a 4.4 Android rating and a 4.7 rating for the iPhone app, this app can be all you need.
---
Calory
Calory is one of the simplest calorie counter apps that track your calorie intake when you log calories or foods. The bar chart on its home page displays your calorie consumption percentage and the remaining calories required to reach your goal.
It also lets you customize your calorie goal. You can find weekly, monthly, and yearly charts of your weight changes and overall calorie consumption under the history tab. The same tab depicts the breakdown of calories and food consumption for every meal.
You can easily log your food on this app as it saves your recent logs, besides offering a list of common foods to enter. Plus, its food database is linked with the Foods Database of USDA.
You can use the basic version of this calorie counter app for free. But if you wish to access a premium food database, a barcode scanner, and macro & water tracking features. Its premium, annual version costs just $14.99.
---
MyNetDiary
If you are looking for a calorie tracker which can advise and motivate you throughout your weight loss journey, then MyNetDiary can be just the one for you.
You can easily log your food in this app manually, using a barcode scanner or even a voice log. To accurately measure the food quantities, the food log also provides a picture-based portion guide. 
Like a nutrition expert, this app grades your food based on its serving size and nutrition profile. This food scoring feature aims to improve your diet quality and help you choose the best option by allowing you to compare the different foods.
You can even import recipes on this app to evaluate their nutritional data. Besides, it provides access to various gluten-free, vegetarian, or vegan recipes.
This weight loss-supporting app lets you customize your regular calorie and macro targets. With its premium version, you can unlock micronutrient tracking, diet plans, meal planners, and cholesterol and blood pressure tracking.
On top of everything, you can monitor your blood sugar and track medication with its diabetes-centered dashboard.
---
Lifesum
Do you want to learn how to live healthier lifestyles? If yes, then Lifesum can help you with that. Besides tracking calories, this user-friendly app rates your meal to help determine whether it is healthy, nutritious, or imbalanced. It revises your daily calorie targets based on your burned calories and tracks body measurements and water intake.
With a breakdown of foods & calories per feed along with total calorie and macro intake at the homepage, this app lets you record manually or using a barcode scanner.
Plus, it allows you to develop meals, foods, & recipes. For accessing more features like educational content for making healthy food selections or a more detailed nutrient breakdown, you can upgrade to its premium version. 
The current rating for Lifesum's iPhone app is 4.7, while its Android app has a 4.4 rating.
---
MyPlate Calorie Tracker
If you are looking for an app that can offer a complete data and chart representation of your daily food intake, then you can go for MyPlate Calorie Tracker. The unique thing about this app is that it also records net carbohydrate, saturated fat intake, cholesterol, and salt. These set it apart as most of its rival apps do not offer the feature.
Moreover, if you don't like to go to the gym, this app offers various workout exercises you can try at home.
It supports community chat, where you can share your experiences from your weight loss journey.
---
Cronometer
With over 6 million users, Cronometer is a popular calorie counter app that helps you discover your nutrition while counting calories. Tracking diet, exercise, and health data are much easier with it. You need to log your meals, and the app will let you track up to 84 micro and macronutrients. Besides, it enables you to view your overall progress.
You can use health reports and charts to ensure that you meet the nutrient targets. A further ado is that you can create metrics, exercises, custom foods, and recipes. Cronometer offers diet support for all diet types, including vegan and keto. Its fasting timer feature lets you track your intermittent fasts and check their influences over time.
Plus, the custom diet settings let you set macro, weight, and nutrient targets to meet your targets.
On upgrading to Gold, you can access extra features like advanced analysis and ad elimination. The Android and iPhone apps of Cronometer have received 4.6+ ratings from users.
---
Lose It
Lose It has made weight loss easy and fun. Learning about the foods you are eating and tracking your calories after every meal can keep you focussed and consistent toward your goal.
You can always set your personalized goals on this app and achieve them for satisfaction and healthier life. For easy exercise tracking, its device integration feature lets you connect to Google Fit or Apple Health with it.
The Scanner feature scans package barcodes for instant tracking or creates new foods with auto-filled nutrition labels. Here, you can also log your food information by clicking its picture with the help of the smart camera.
To ensure that you get sufficient carbs, proteins, and other nutrients, you can set personalized macronutrient goals. Further, its water tracking feature ensures you get the recommended water daily.
On upgrading to premium, the app offers many additional features like logging additional information or setting more goals. The app has got good ratings for both android and iPhone.
---
Noom
Noom is a fantastic calorie counter app that helps promote sustainable weight loss. It focuses on losing weight without giving up on your favorite foods or without carb-cutting and point systems.
It instead directs calories and nutrients as a way to facilitate weight loss.  By devoting just 10 minutes daily to Noom, you can learn valuable tips and tricks for attaining your weight loss objectives.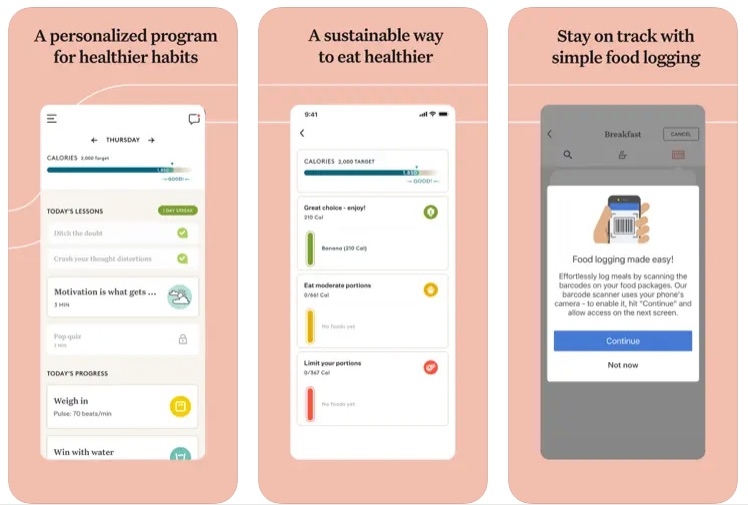 The app asks you to provide specific information such as height, weight, age, lifestyle, and gender to form your calorie budget. This budget helps you attain a calorie deficit. The app motivates you to check your weight daily for better results.
Since Noom has no free version, you need to buy its subscription to use it.
---
The Final Words
You should choose your calorie counter app according to your preferences and requirements. Before finalizing, you should also ensure that the app supports your specific dietary pattern, like vegan, keto, or low-carb diets. Lastly, if needed, you should consider the app's compatibility with other apps and its billing method.
We have carefully tested the above calorie counter apps before listing them here. We hope our list will help you get the app that can be a perfect partner in your weight-loss journey.
Leave a Comment